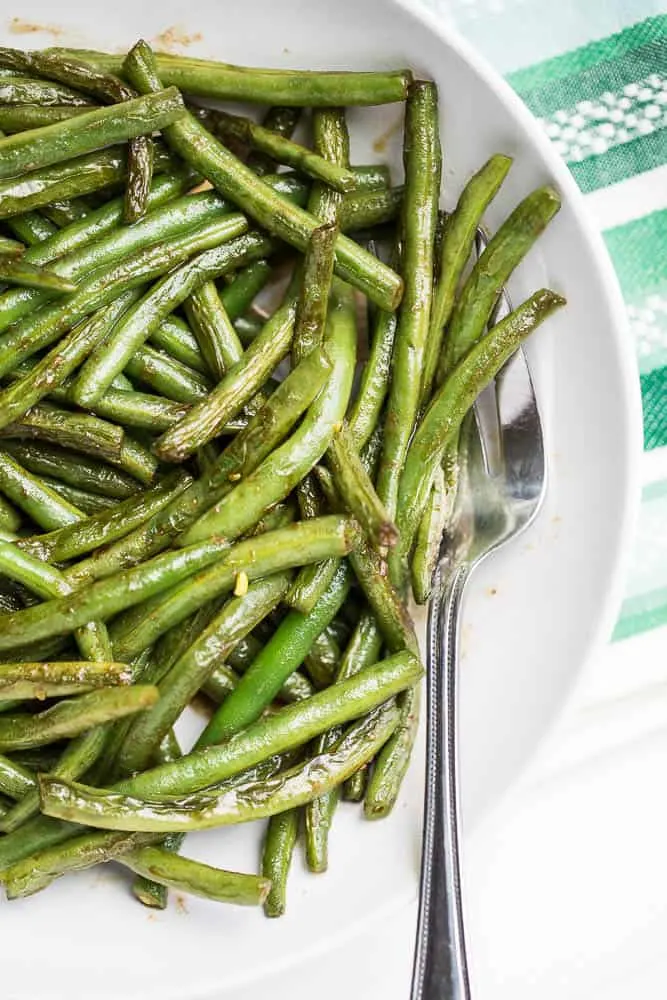 I wasn't a fan of vegetables as a kid unless it was in the form of baby carrots dipped in ranch dressing. Or (insert cooked vegetable) covered with Cheez Whiz. And green beans were completely off my list. Well, until I was an adult and tried fresh green beans that had been sauteed.
Then, I made a complete 180 and became a lover of that long-hated vegetable. But only cooked certain ways.
If you've been around here for a little while you'll know that I have a healthy obsession with roasted vegetables.
Roasted green beans are so-so, and I feel like they need a little richness to be palatable to me. Like the Bacon Green Beans I posted last fall which are sauteed in bacon drippings. You really can't go wrong with that.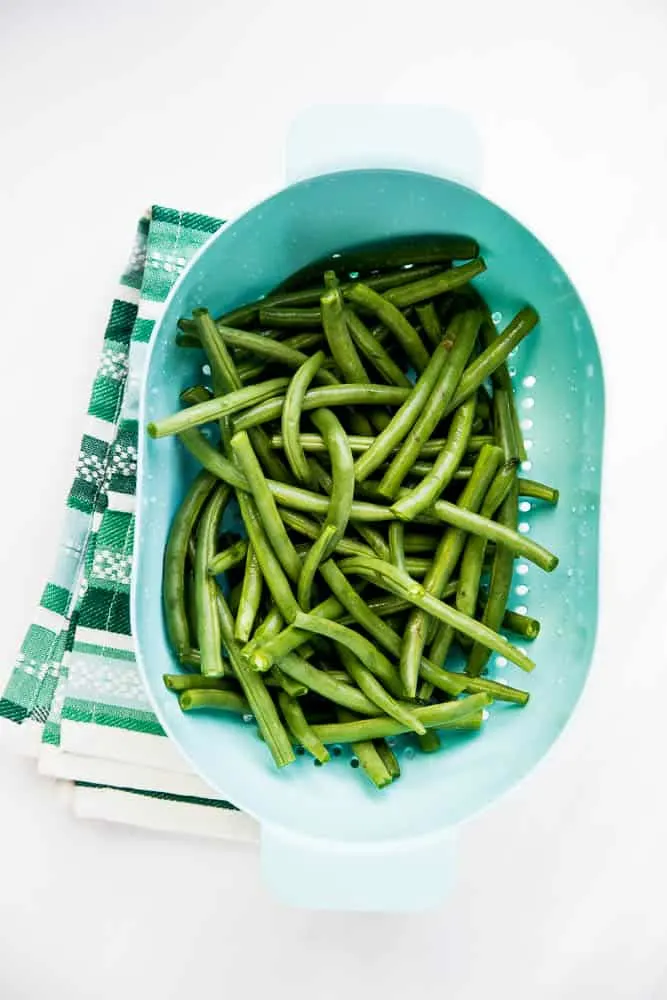 It turns out fresh green beans aren't as horrible as I thought. (And bro, if you're reading — these are WAY, WAY better than the canned ones we ate as kids. Promise.) Even sauteed with a little salt and pepper makes them turn out well. But they have a lot more potential — let me tell you.
One thing I learned since leaving the nest was that I rarely enjoy any kind of vegetable that is canned or has been boiled. I just can't do it. It's like all of that bubbling water sucks the life out of them, leaving them sad and flavorless afterward.
Once I started roasting vegetables, I never looked back. Grilled veggies are good, too. I think radishes are the only type of vegetable that I've roasted and didn't care for. Back when we were getting CSA boxes regularly, we were "blessed" with bag after bag of radishes. I don't mind a few sliced into a salad, but it was more than I knew what to do with. So, I turned to roasting. And then I went back to slicing them into salads. *shrug*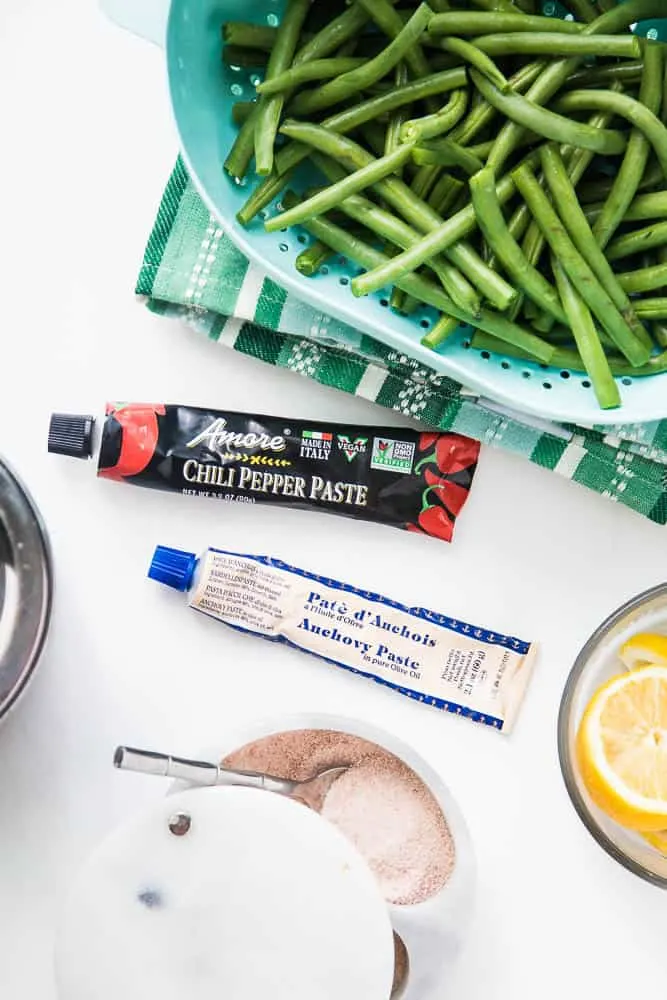 What makes these green beans so magical are two ingredients. I REALLY try to use common ingredients, but these are maybe not so commonly used — anchovy paste and Calabrian chile paste. They're not hard to find, though. And they'll stay good for a LONG time in the fridge.
Ingredients for Magic Green Beans
Anchovy paste is something I keep on hand all the time because I use it when I make Whole30 Caesar Dressing or Spicy Shredded Zucchini with Anchovies. If you're turned off at the thought of using anchovy paste, hear me out. When used in small amounts, it adds a rich, deep, salty flavor to recipes. It's DELICIOUS. If you've ever used fish sauce, it's similar, but with a more subtle flavor. You can find anchovy paste at any grocery store or you can order it on Amazon.
Calabrian chile paste is like the Italian version of sriracha. I recently discovered it when I reviewed Giada de Laurentiis's new book. I didn't see any in a few places I checked locally, but found it in about 30 seconds on Amazon. (Seriously, Amazon is the best.) You could also use harissa paste or another kind of spicy chile paste. Asian or Latin chile pasts might be good as well, but they'll introduce another family of flavors here. If you try it, drop me a comment and let me know how it turned out.
Lemon is obviously not hard to find. But it brightens things up really well, so don't leave it out!
Some flavorful fat. I love using bacon drippings or ghee. Either one makes these REALLY shine. You could definitely use avocado or coconut oil, though.
Green beans. Duh.
Fresh garlic goes well with green beans, too, but this time I held back. I can't put garlic in EVERYTHING. (Well, I suppose I can. I'm a grown up. I just decided not to this time.)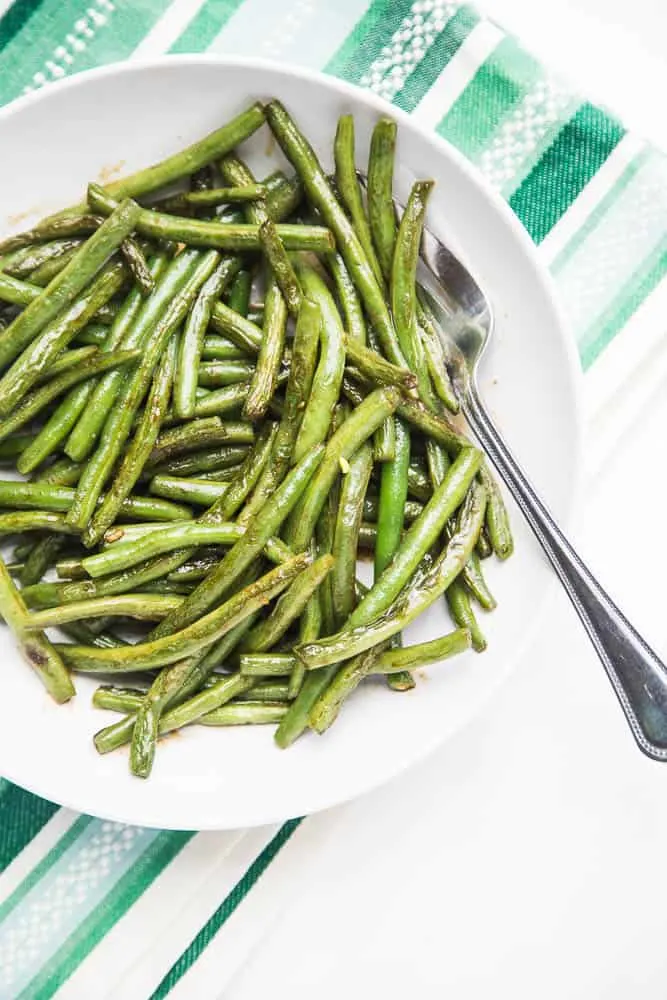 I'm not joking when I say these sauteed green beans are magical.
The first time I made these, I needed a quick side dish for company who was coming for dinner and started cooking from the hip. I don't have a lot of green bean recipes (for obvious reasons) and I didn't have time to cook package of bacon to make my other favorite green bean recipe that I know if. So I grabbed something salty (the anchovy paste) and something spicy (the chile paste) and hoped for the best.
Everyone who tried these commented on how delicious they were. (Like, who comments on the green beans when there's pulled pork baked potatoes on the table?!)
It's a perfect blend of earthy and salty with a touch of heat and some brightness from a squeeze of lemon juice. I'm not sure I can eat green beans any other way after this. This method would work well with string beans, too.
Also, just cook them until they're tender crisp. You don't want them totally floppy and borderline mushy. Ew.
A lot of recipe suggest boiling them first and then plunging them into ice water to stop the cooking (and draining on paper towels) BEFORE sauteeing them. This is good insurance to keep their pretty bright green color, but honestly, it's a little fussy for me.
As long as you don't overcook them in the skillet, they should be fine. And I'm all about removing unecessary steps.
When I made them again to take notes and get some photos, I literally ate half of the platter. My 3-year-old ate the other half. (Note to self: keep feeding these to the 3-year-old while he'll still eat them.)
Is there any other vegetable that you like to saute? Here are a few of my favorites:
Sauteed Vegetable Recipes
Sauteed Beets with Balsamic Orange Glaze
Quick Ham & Brussels Sprout Hash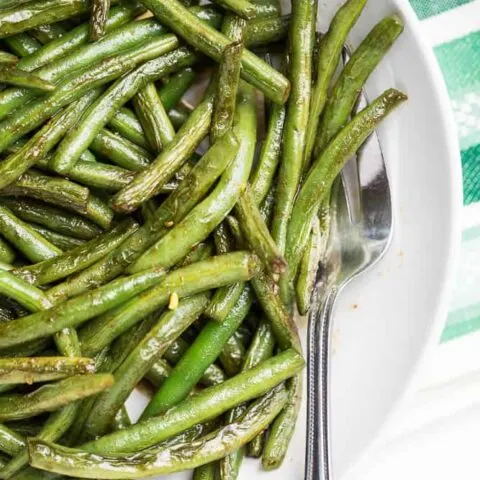 Magic Sauteed Green Beans
Yield:
Serves 6 as a side
These sauteed green beans are the ones that made me love green beans. With just a few ingredients, they come together quickly and easily which is good because you'll have a hard time not eating the entire bowl.
Ingredients
1 pound green beans
2 tablespoons bacon drippings, ghee, or avocado/coconut oil
1 teaspoon anchovy paste
1/2 - 1 teaspoon chile paste (like Calabrian chile paste or sambal oelek/Asian chile paste)
1/2 lemon
Instructions
Trim the ends of the green beans, if they haven't been trimmed previously.
Heat the fat/oil in a large skillet over medium-high heat. Add the green beans and saute for about 4-5 minutes until they turn bright green.
Add the anchovy paste and chile paste and toss to spread it around on the beans. Reduce the heat to medium-low and cover the skillet. Cook for about 4-5 minutes, shaking the pan or tossing the green beans with a pair of tongs a couple of times during cooking, until the green beans have formed some golden brown spots and are tender, but not mushy.
Squeeze some lemon juice over the beans (about 2-3 teaspoons) and toss to coat. Taste, and add a pinch of salt if you feel it needs it. The two kinds of paste usually provide adequate salt.
Serve immediately.
Notes
Nat's Notes:
Use as little or as much of the chile paste as you like. I found that 1/2 teaspoon was a good amount for my spicy-sensitive kids.
Putting a few generous sprinkles of shredded Parmesan on these isn't a bad idea.

Disclosure: This post contains Amazon affiliate links. Purchases made by using these links doesn't cost you any extra and helps to keep my content free.
SaveSave
SaveSave
SaveSave