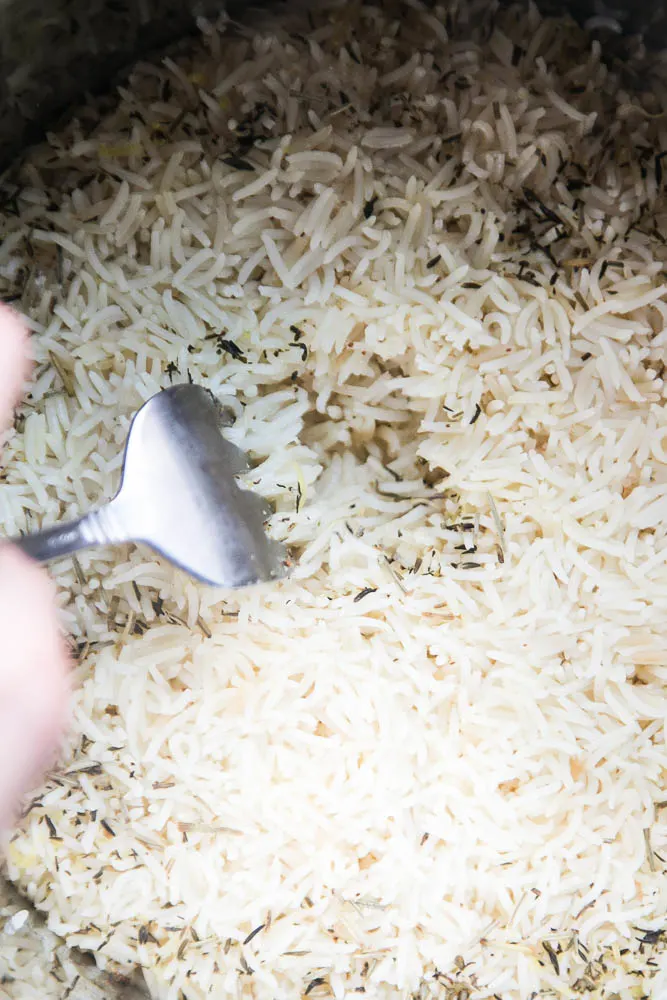 I feel like we've come full circle in the rice department.
2007: Maybe we should switch from brown rice to white rice because it's "healthier."
2010: Oh, quinoa is better for you than rice? Ok, let's do that.
2012: So, no grains? At all? Hello, cauliflower rice.
2016: Wait, what? We're eating rice again? White is actually easier to digest than brown? Cool.
2018: Rice has way too many carbs? SIGH.
ENOUGH. SERIOUSLY.
I try not to overdo it on rice because it does make me a little bloaty, but it's nothing compared to eating too much wheat, corn, or oats.
Plus, it's super easy to throw in my Instant Pot. One of the reasons I got my first Instant Pot was because we were outgrowing our 12+ year old rice cooker.
And I never looked back.
I've been playing with different kinds of rice — have you seen my Cilantro Lime Rice or my Coconut Rice? Both made in the Instant Pot.
For this version of Instant Pot rice, I wanted something I could make to replace regular plain rice. Something that didn't lean far in any ethnic direction or flavored too strongly.
Basically rice I could make when I'm not in the mood for plain rice. That goes with everything.
I added a bunch of lemon zest and juice and some herbs to this version.
I love lemon. Like, a lot a lot.
I feel like it's a classic, universally loved flavor that pairs well with LOTS of things.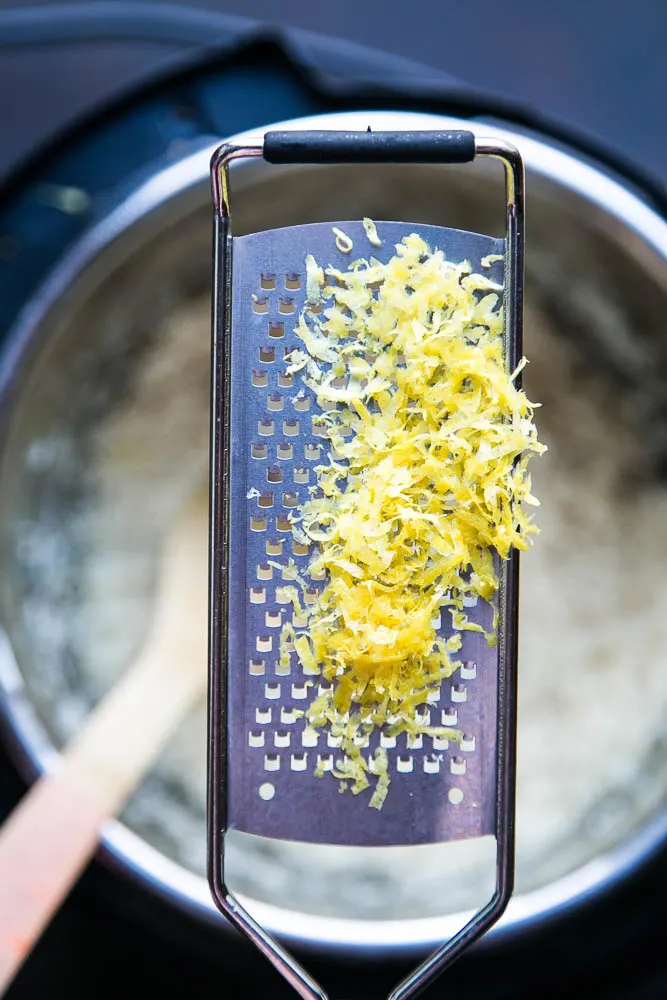 What is a rice pilaf?
Once I looked up what a rice pilaf was (because I'm nerdy and look up everything because I like having answers). Do you know what the difference between rice pilaf and regular rice is?
Browning the rice before cooking. That's about it.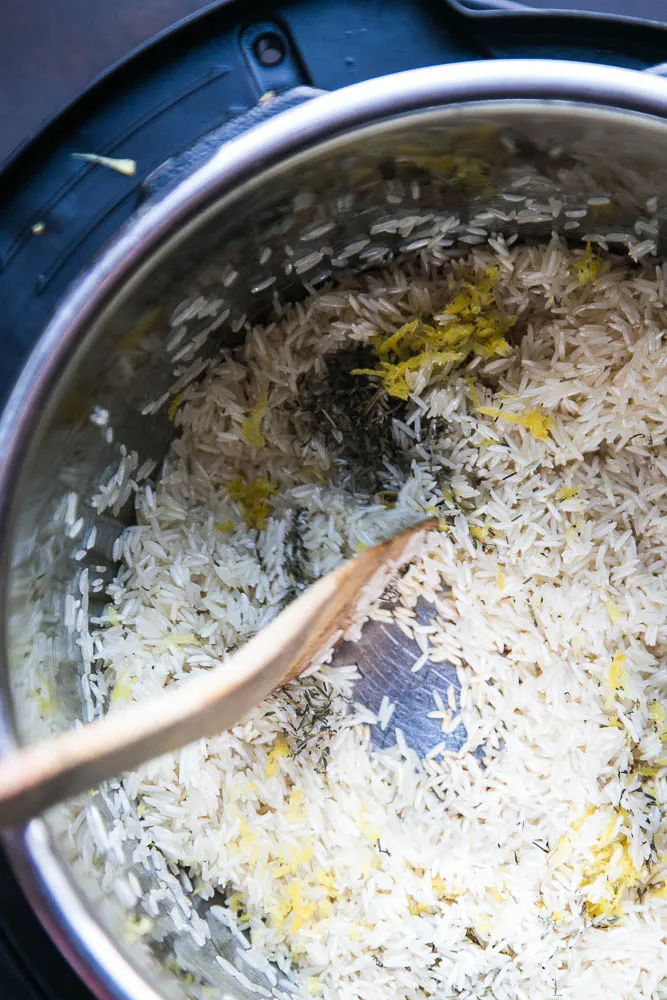 This recipe starts off with some butter-toasted rice. (So does the Cilantro Lime Rice) It makes a big difference in flavor — so does using chicken broth instead of water.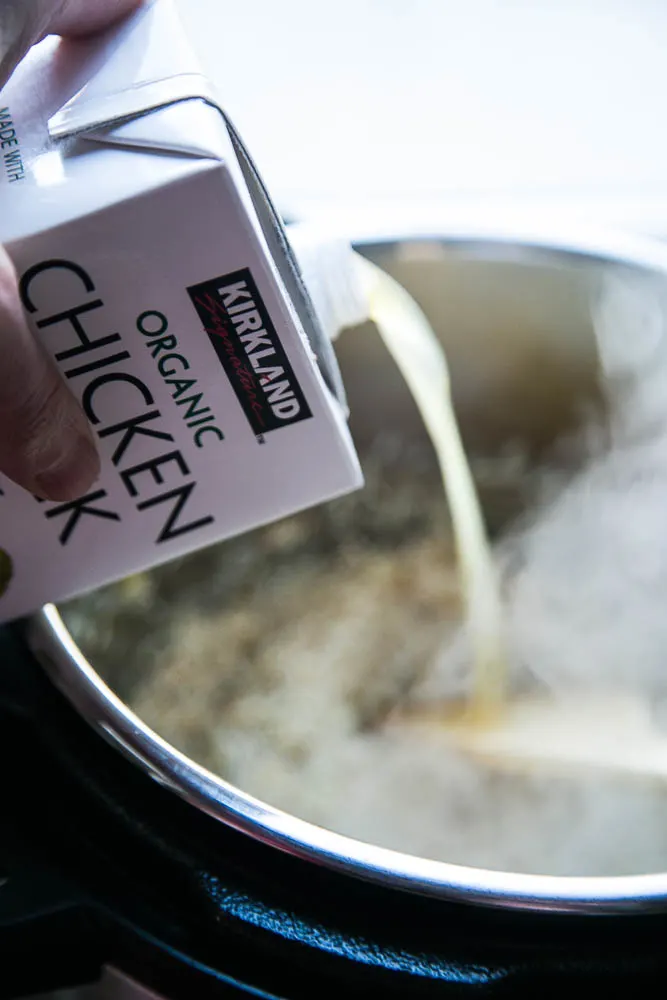 You can use store-bought or homemade bone broth if you like. I keep Costco's Organic Chicken Stock on hand when I'm out of Homemade Instant Pot Chicken Bone Broth.
Or when it's all frozen solid and I don't want to have to thaw anything out.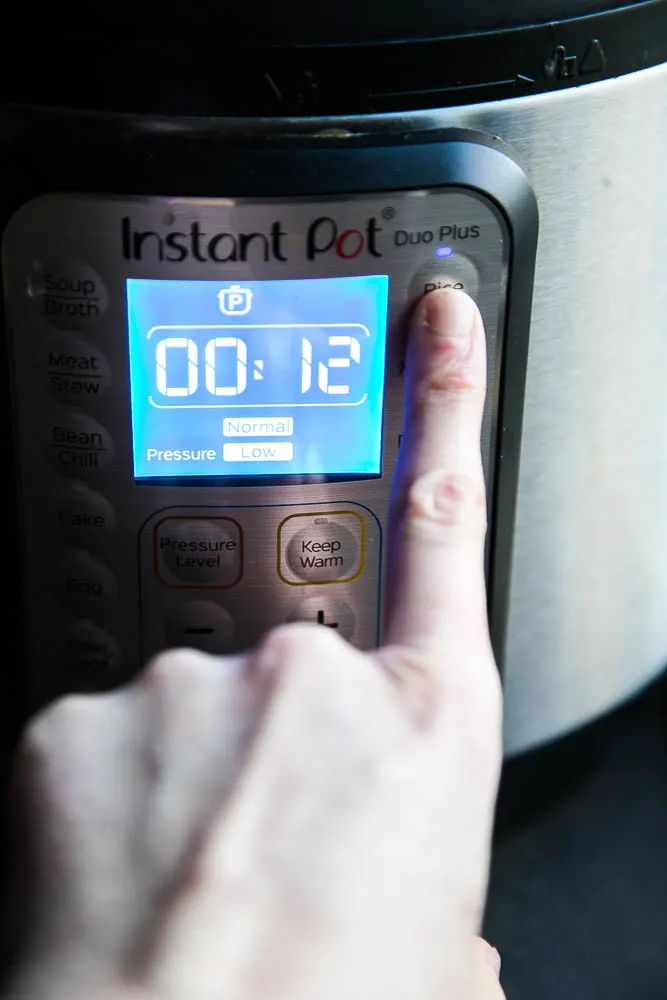 What's the Rice Setting on the Instant Pot?
Like a microwave, Instant Pots have pre-programmed settings. Those settings can be adjusted, too.
(Which makes me wonder why they're there in the first place. Honestly, all the buttons are sort of confusing and can overwhelm an Instant Pot newbie.)
90% of the time I use the "Manual" button and simply adjust the time where I need it to be.
The other 10% of the time I use the "Rice" setting because it cooks the rice on low pressure instead of high. And I don't want to fiddle with the pressure setting on my "Manual" button.
The default time on the "Rice" button is 12 minutes which is pretty perfect.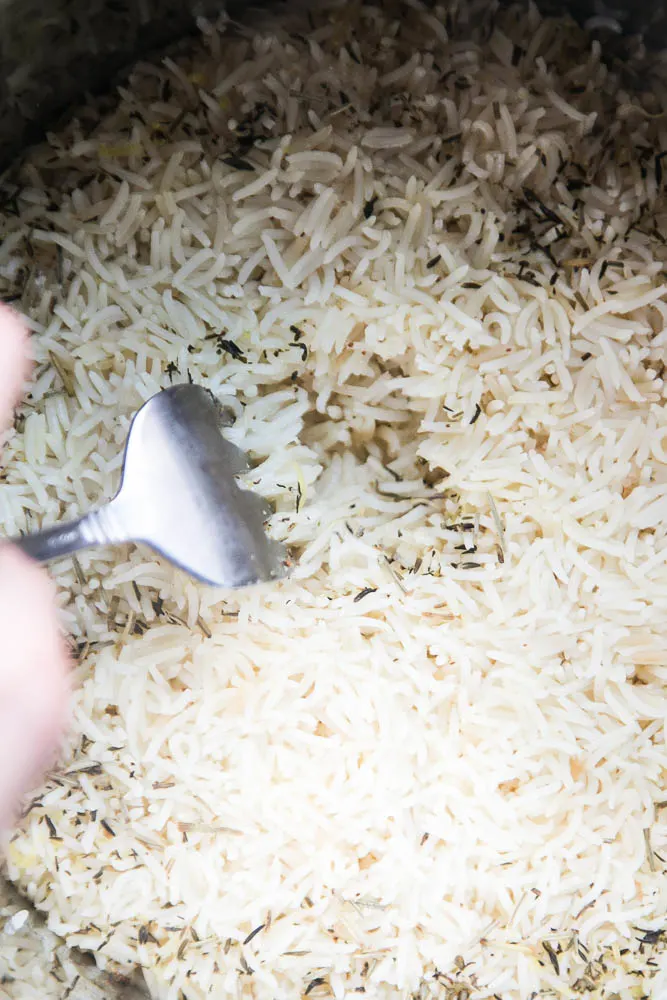 After releasing the pressure, I fluff the rice up a bit to redistribute the zest and herbs, and it's ready to eat!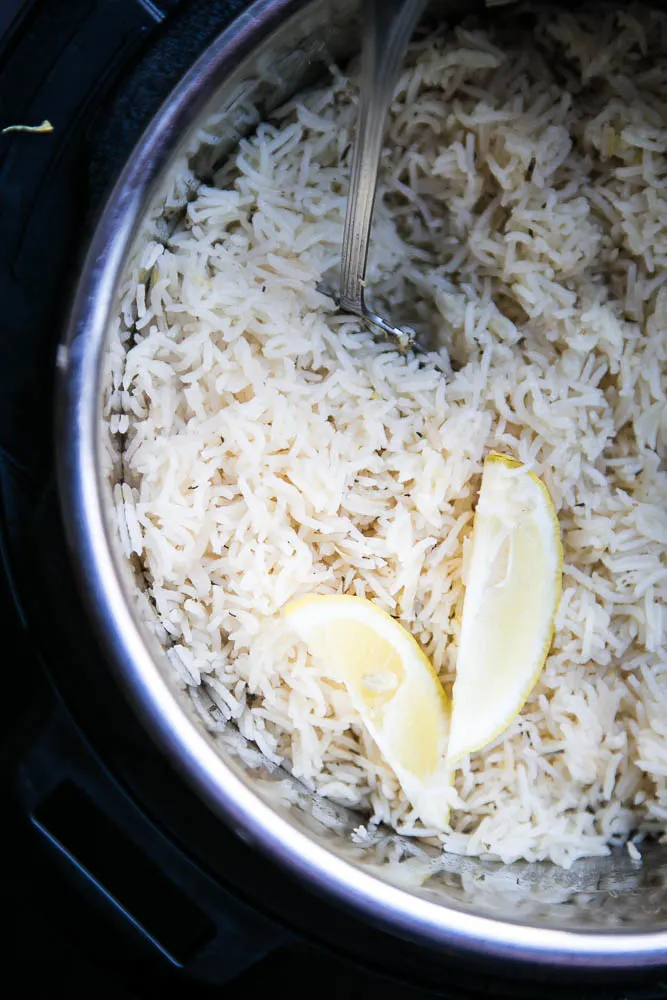 What to Serve with Lemon Herb Rice?
One of our favorite meals is Easy Roast Chicken, a big pan of roasted vegetables, and some rice. This rice is EXCELLENT with roast chicken or my Easy Sausage & Veggie Sheet Pan Dinner.
Things that already have lemon and herbs would pair well with this rice, too. Like my Creamy Garlic & Dill Roasted Salmon or Perfect Grilled Lemon Chicken.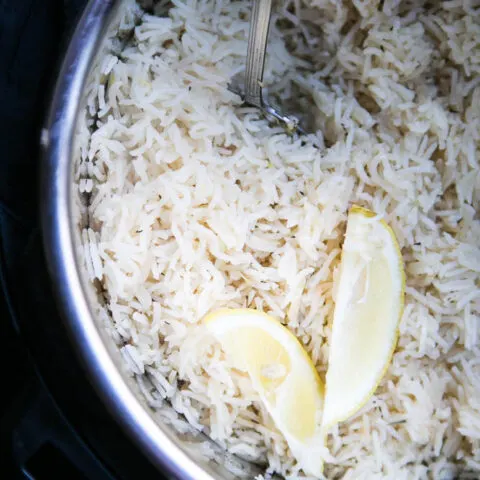 Instant Pot Lemon Herb Rice
When you're in the mood for rice, but you don't want plain rice -- this is the rice you need. Its classic flavors mesh with all of your favorite cozy meals.
Ingredients
4 Tablespoons butter or other cooking oil
2 1/2 cups long grain white rice
Zest & juice from 1 lemon
1/2 teaspoon dried thyme (or 2 tsp fresh)
1/2 teaspoon dried rosemary (or 2 tsp fresh)
1 teaspoon salt
1 quart chicken broth
Instructions
Turn your Instant pot (or other multicooker) to the "Saute" setting. Add the butter to the pot and let it melt.
Add the rice to the pot and cook for 3-4 minutes, stirring occasionally, until the rice begins to turn golden brown.
Add the lemon zest & juice, and the thyme, rosemary, and salt. Pour in the chicken broth. Stir well.
Close the cooker and push the "Cancel" button. Set the cooker on low pressure for 12 minutes. (Or use the "Rice" setting.) Be sure to move the steam valve to "Sealing".
When the pressure cycle is over, flip the steam valve to "Venting" and release the steam.
Open the cooker and use a large fork to fluff the rice up.
Serve.
Recommended Products
As an Amazon Associate and member of other affiliate programs, I earn from qualifying purchases.