Mango Cucumber Rice Salad is a perfect summertime meal with some grilled chicken! Don't turn on the oven unless you absolutely have to!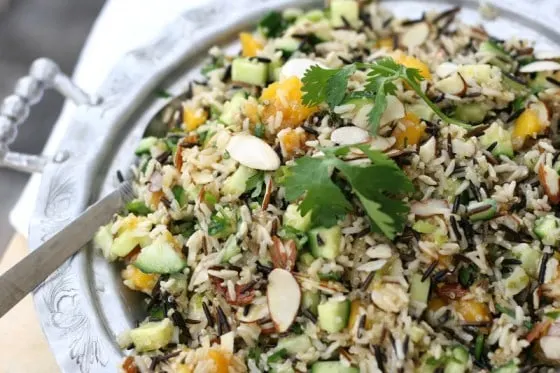 I hear most of the US population is sticking to their leather couches, eating popsicles for dinner and refusing to turn on their ovens. Sound about right? I think we got off easy with our 90 degree temps lately.
Believe me, I'm not rubbing it in. I hear that we normally have hotter weather 'round these parts. Our time will come. Luckily we don't have leather couches.
And when the heat comes, I think we'll eat this Mango Cucumber Rice Salad for dinner every night.
The only heat-producing appliance required is a rice cooker (or stovetop, obviously) and it's packed with cool cucumbers, chunks of mango, crunchy almonds and toothy rice and quinoa. All dressed up in a light lime-cilantro vinaigrette.
What do you eat when you can't bear the heat?
This salad would be great with some Perfect Grilled Lemon Chicken or some grilled chicken apple sausages!
Or by itself, really, if you're feeling like a meat-free dinner.
SaveSaveSaveSaveSaveSaveSaveSaveSaveSave
---
If you make one of my recipes, be sure to post it on social media and tag me at @perrysplate or #perrysplate so I can send you some love!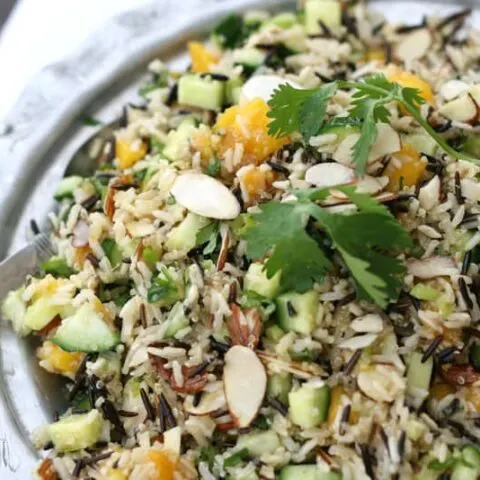 Mango Cucumber Rice Salad
Additional Time:
45 minutes
Mango Cucumber Rice Salad is a perfect summertime meal with some grilled chicken! Don't turn on the oven unless you absolutely have to!
Ingredients
1 1/2 cups rice blend (I used a blend of brown and wild rice)
1/4 cup quinoa
Grated zest and juice from 1 lime
2 T neutral-flavored oil, like avocado
1 tsp honey
Freshly ground pepper
1 mango, peeled, pitted, and diced
1 cucumber, peeled, seeded, and diced (or 1/2 of an English cucumber)
1 jalapeno, seeded and thinly sliced
2 green onions (scallions), thinly sliced
1/2 cup chopped fresh cilantro
1/3 cup sliced almonds or other type of chopped nuts
Instructions
Bring a large saucepan of water to boil over high heat. Add about 2 T of salt to the water, then add the rice.
Cook for about 15 minutes, then add the quinoa to the water. Cook for an additional 15 minutes or so until the rice and quinoa are tender.
Drain and and rinse under cold water until grains have cooled. Shake off excess water.
Meanwhile, whisk the lime juice and zest, oil, sugar, 1 tsp of salt, and pepper to taste in a large bowl.
Add the rice mixture, mango, cucumber, jalapeno, green onions, and nuts and toss to combine. Season with additional salt if necessary.
Notes
Nat's Notes:
1. I didn't have a jalapeno on hand when I made this, so I just added a shake or two of hot sauce to the dressing.
This post may contain affiliate links. Any purchases made by using these links won't cost you any extra and helps keep my content free. These links may be Amazon links as I am part of the Amazon Associate Program.