Cauliflower Pizza Crust (Grain-Free)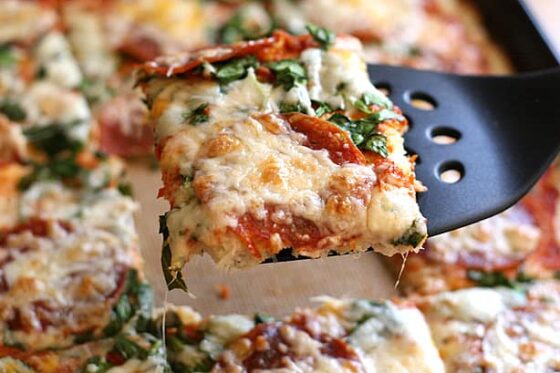 Cauliflower is one of my favorite vegetables because of its incredible versatility!
(No, not because of its taste. There are definitely others that rank higher in that category.)
Cauliflower's subtle flavor and benign color makes it easy to puree and hide from picky kids. It also does well sliced up, breaded, and baked like meat. Or blended into soup. Or masquerading as rice. (My personal favorite.)
For its next trick, it becomes a gluten- (and grain) free pizza crust!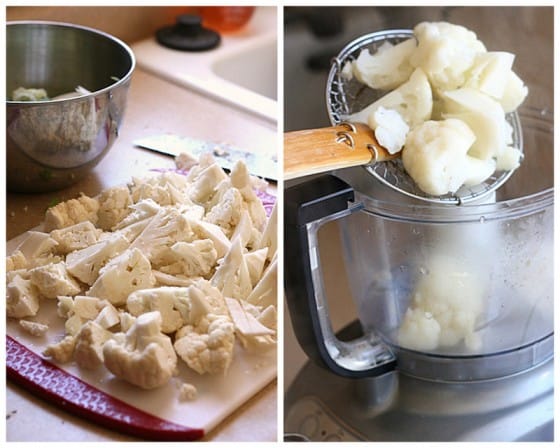 A couple of years ago Steve and I gave up gluten for lent, and to get our pizza fix, I tried out a couple of gluten-free pizza crust mixes & recipes. Um, ick. We're pizza snobs, so those mixes didn't cut it.
We did like this cauliflower version. Instead of trying to (unsuccessfully) mimic the texture of real pizza crust, it takes it in a different direction — more like a cauliflower pizza bake. I've made it several times, and I'm always surprised how much flavor it has! It's easy, too and doesn't require rising.
Just whack apart a head of cauliflower, steam (or boil) it, and make a puree.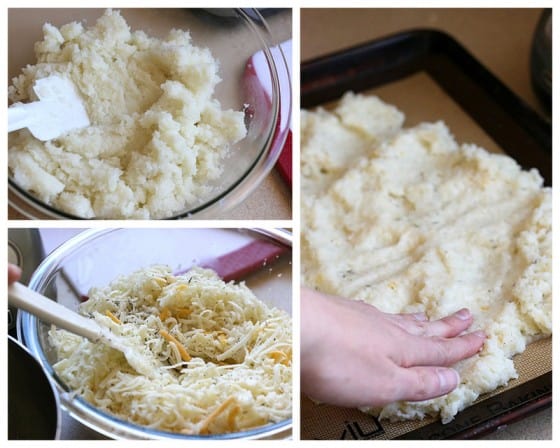 Add some eggs, cheese, and herbs, then spread it out on a baking sheet.
This isn't a dairy-free recipe, but I bet you could omit the cheese and add a couple more eggs. You might have a more eggy flavor in the crust, but at least it will have enough binder to stay together.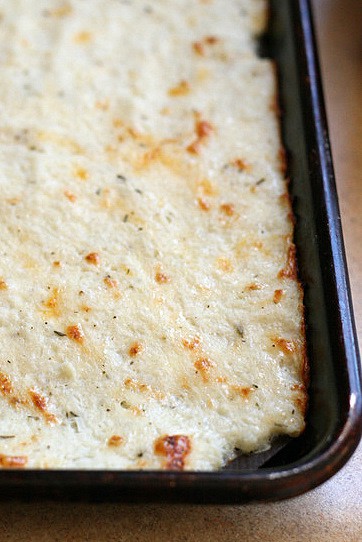 Bake the crust first.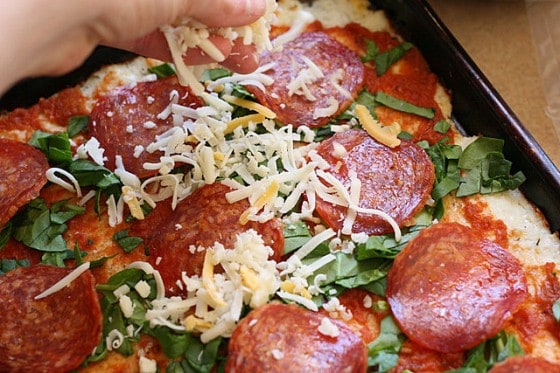 Then add the toppings. I'm so glad I made gobs of Easy Roasted Balsamic Tomato Sauce to freeze last fall. It's fantastic on pizza!
My kids are pepperoni fans and pick off most everything else. (Except spinach. I've trained them since infancy to tolerate green bits of stuff in their food. Best thing I ever did.) So this is our default pizza unless I'm experimenting or feeling adventurous.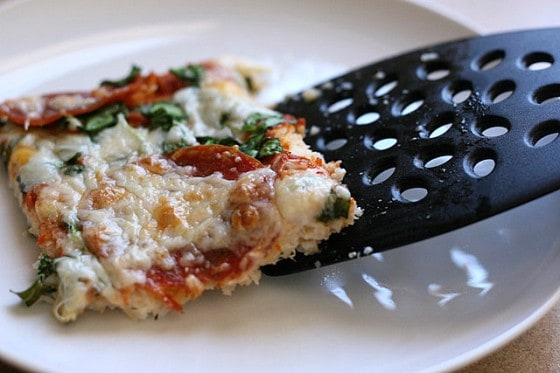 Let's talk about texture. This is not a bready, chewy pizza crust, but it's pretty darn tasty. It has a quiche-like flavor and texture, but the whole thing still tastes like pizza. And once it cools down, you can pick it up and eat it with your hands.
That's the goal, right?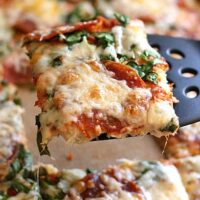 Cauliflower Pizza Crust
I love using cauliflower different ways. This cauliflower pizza crust has more of a soft, quiche-like consistency with all of the flavors of your favorite pizza!
Ingredients
1 head cauliflower, stems removed and cut into 2-inch florets
3 eggs
2 cups mozzarella cheese
1 1/2 tsp dried herbs (oregano, thyme, rosemary, Italian seasoning, etc.)
A couple big pinches of salt
Your favorite sauce, toppings, and cheese
Instructions
Preheat oven to 450 degrees F.
Prepare a rimmed baking pan with nonstick spray or silicone liner.
Boil or steam the cauliflower until it is easily stabbed with a fork. Drain well, transfer to a food processor and process until smooth.
Transfer cauliflower puree to a large bowl and add the eggs, 2 cups of mozzarella cheese, dried herbs and salt. Mix well.
Spread mixture in an even layer on the prepared baking sheet. Bake for about 18-20 minutes or until the crust begins to turn a darker golden brown around the edges with spots on top.
Remove from the oven. Add desired sauce, toppings, and cheese.
Return to oven for 10-12 minutes or until toppings are heated through and cheese is melted and golden.
SaveSave