Perhaps the best paleo burger (or any burger) we've ever had! Caramelized onions have super powers. We're convinced.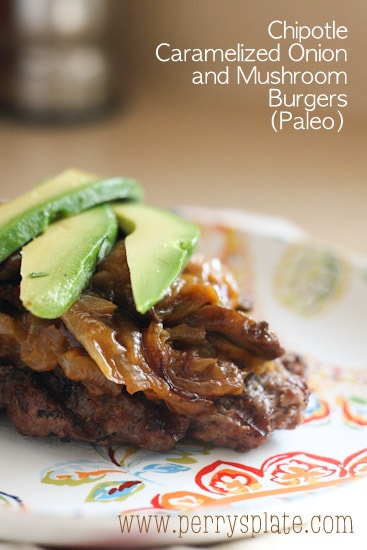 If there could be dust on my WordPress dashboard, I'd be blowing it off right now. Three weeks since I posted!! I don't think I've gone that long without posting in the history of Perry's Plate.
Know what though?
The world didn't come crashing to an end. I didn't get hate mail from anyone. And (surprisingly enough) my traffic didn't take a hit. (Thank you, Pinterest!)
Lesson learned: I should pin more of my stuff on Pinterest. (joking. sorta.)
I'm not sure if this little burger thing will go far on Pinterest because, let's face it, paleo stuff isn't very photogenic. Have you noticed? Once you take away the structure (i.e. the bun, the tortilla, the nice fluffy bed of rice or pasta) it looks like a mess.
What exactly is this mess that I'm posting today? It's a burger. Maybe the best burger I've ever had. Hubs really, really liked it. Know how I can tell? He told me it was good. With words. AND he mentioned it again the next day. Usually if I get a nodding head while he's chewing I know he likes it. Getting a spontaneous verbal compliment from that man is pretty. dang. awesome.
So why is this so great? The caramelized onions and mushrooms spiked with chipotle sitting on top. I hadn't intended to put avocado on there, but as I was plating this… ahem… thing, it needed a color other than brown. Know what? The avocado was a PERFECT addition. It added a nice creaminess to balance the bite from the chipotle. And I really don't have to talk about caramelized onions, right? Nature's best magic trick.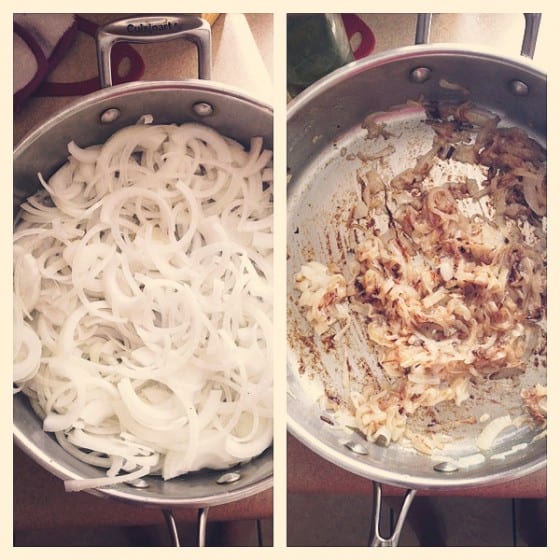 Ya, caterpillars into butterflies are great and all, but seriously… something so pungent as an onion turning into something almost as sweet as candy with just some heat and patience? I'm amazed every time. And no, you do NOT need to add sugar to caramelize onions!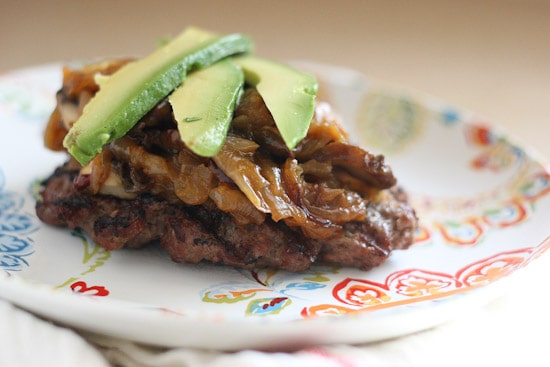 If you absolutely can't stand a naked burger, add a bun. I ate it without, and it was the first time I've eaten a bun-less, cheese-less burger and didn't miss the bun or the cheese. (THE CHEESE! I know, right?)
The only thing that made me sad about this burger was realizing it was our last package of ground beef from our beef share. Of course we had to run out right as we discovered our new favorite burger. Blast.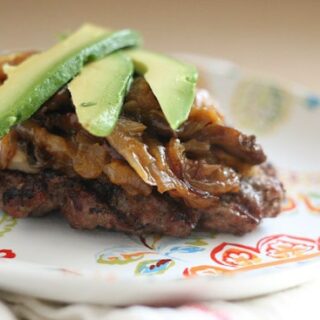 Chipotle Caramelized Onion and Mushroom Burgers (Paleo)
Ingredients
For the topping
4 Tablespoons ghee or coconut oil, divided
2 really large onions (or 4 small ones or 3 medium ones), peeled and sliced thinly
Sea Salt
10-12 ounces of button mushrooms, stems removed and sliced into 1/4-inch pieces
1-2 chipotle peppers from a can of chipotles in adobo sauce, seeded and minced
1-2 avocados, peeled, pitted, and sliced
For the burgers
1 1/2 pounds of ground beef (organic and grass-fed, if possible)
1/2 teaspoon salt
1/2 teaspoon black pepper
1 Tablespoon Worcestershire sauce or coconut aminos
Instructions
Start the topping by bringing 2 Tablespoons of the ghee or oil to medium-high heat in a large saute pan or skillet.
Add the onions and a generous pinch of salt. Yes, it looks like an obscene amount of onions, but they cook down quite a bit. Don't freak out. Cook the onions until they become soft, then reduce heat to medium low, cover, and cook for about 30-35 minutes, stirring occasionally, until onions are golden brown and very, very soft.
Add the other 2 Tablespoons of ghee, the sliced mushrooms, and the minced chipotle peppers. Cover and cook for another 10-12 minutes until the mushrooms are cooked and the onions are a deep caramel brown color.
Taste the mixture. If you want it spicier, then add another chipotle or some hot sauce.
While the onions are doing their thing, add the salt, black pepper, and Worcestershire/aminos to the ground beef, mixing gently with your fingers. Don't squish it in your hands or you'll end up with mushy burgers.
Divide meat into six sections and form wide, flat patties. (If you want. I like my patties thinner.) Let the meat rest at room temperature while your grill or stovetop grill pan heats up to medium-high heat.
Grill meat for about 8-12 minutes, flipping once, until no longer pink inside.
Top each with some of the onion-mushroom mixture and a few slices of avocado.
Notes
Nat's Notes:
Chipotles in adobo sauce can be found in the latin section of your grocery store. Store extras in the fridge for a few weeks or freeze them in an ice cube tray to use later!
Worcestershire sauce isn't 100% paleo, but since I'm only using 1 Tablespoon in the entire recipe I'm OK that there's some sugar in it. If it bugs you, leave it out or substitute a teaspoon of coconut aminos or grill seasoning.