These killer burgers are topped with a chipotle-infused combo of caramelized onions and mushrooms and a special smoky garlic aioli. They're great with or without a bun, too!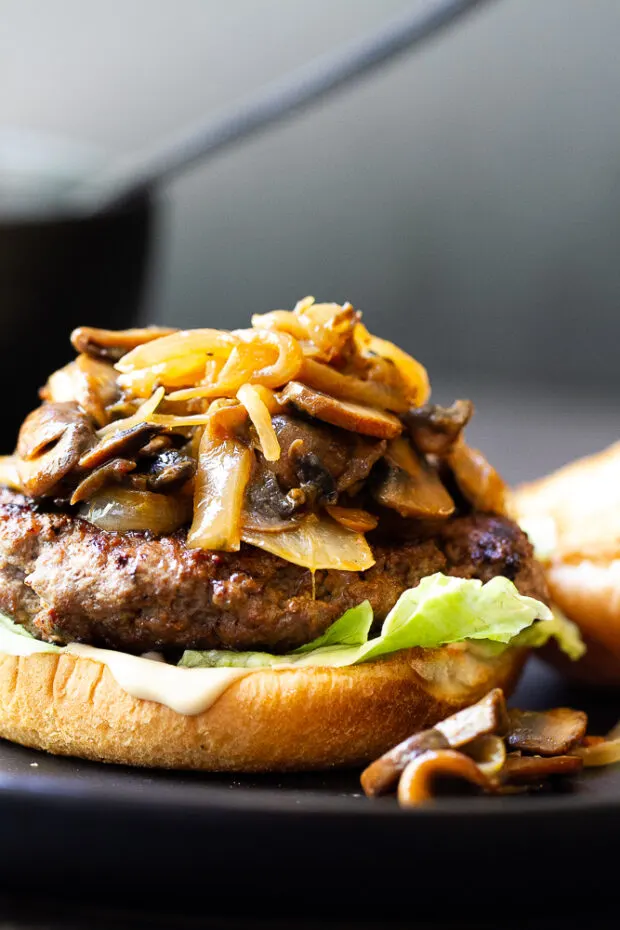 These killer burgers are topped with chipotle-infused caramelized onions and mushrooms as well as a smoky garlic aioli. They're REAL good, friends — with or without a bun!
We'll get to the burger business in a minute. First, a word about that crazy good topping you're going to put on them.
The crown jewels of this recipe are the caramelized onions, of course.
Nothing I've done in the kitchen is so magical to me than taking something as pungent as a raw onion and turning it into something almost as sweet as candy with just butter, heat, and a little patience. It's nature's finest magic trick. *chef's kiss*
I think it's important to note that you do NOT need sugar to make caramelized onions. Nope. None. Onions have plenty of natural sugars — especially sweet onions.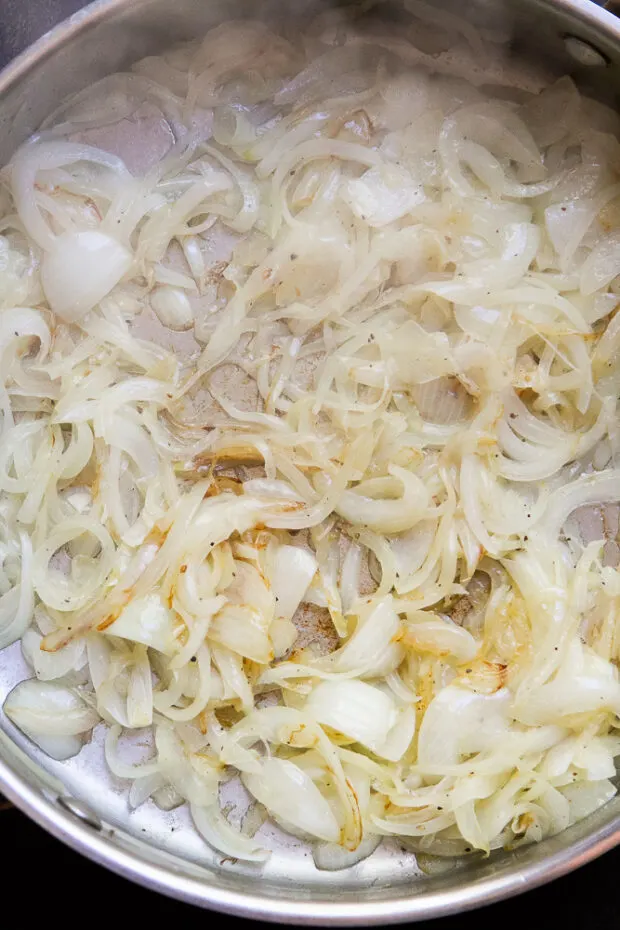 What kind of onions are best to make caramelized onions?
I'd recommend using sweet onions or yellow onions over red onions or white onions. If you can find Vidalia onions, get those. They're a little spendier, but they become incredibly sweet! (They also make the best onion rings, FYI.)
Caramelized onions have the reputation of being time consuming. You could drag out the caramelization process for an hour, if you like. But I don't have time for that. I give them 30-40 min tops.
Quick Caramelized Onion Recipe
Here are some tips for making quick caramelized onions:
Start out the onions on medium-high heat, then continue cooking them on medium heat until they're dark golden brown.
Use plenty of butter/oil. I use butter or avocado oil, but you can use olive oil, too. This keeps them from sticking to the bottom of the pan or skillet and helps them develop their color. If they keep sticking, add a little water to the pan and stir to get the browned bits off the bottom. You could also use a non-stick pan to help with this.
Keep a close eye on them and stir them often.
Don't overcrowd the pan. You can cover the bottom of the pan in a good-sized layer since they reduce quite a bit, but don't fill the pan or skillet to the brim or it'll take FOREVER for them to caramelize.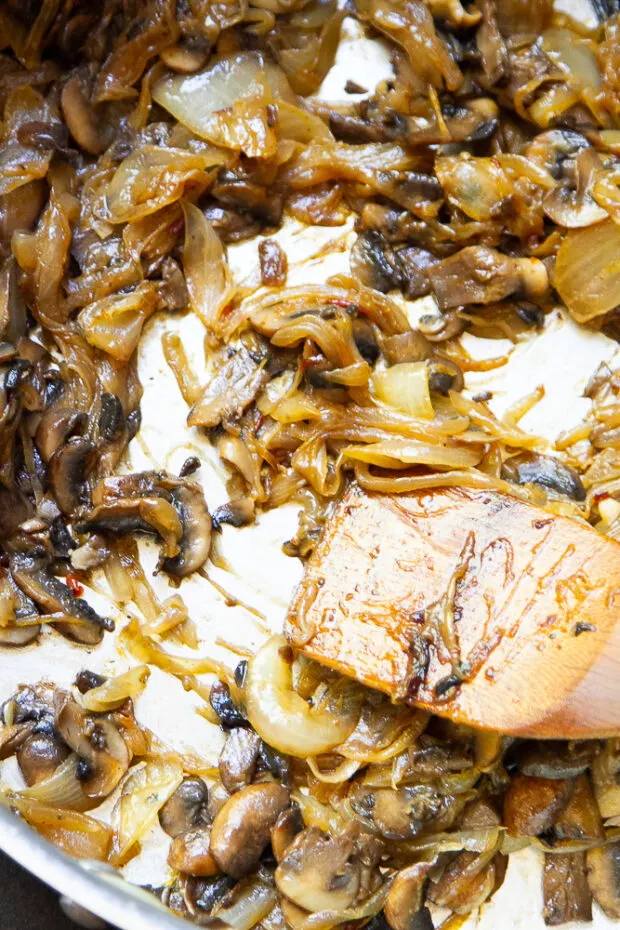 Adding the mushrooms helps the onions from sticking to the pan, too, since they'll release some moisture as they cook and both will be nice and toasty brown at the end. Like that photo above. So good, right?
Do I have to use chipotle peppers?
I love the addition of the chipotle peppers — it adds some heat that works well with that sweet flavor. Not a ton of heat though, if you only use one seeded pepper.
If you really don't want to use them, leave them out. Or add 2-3 Tablespoons of balsamic vinegar to deglaze your onions & mushrooms at the end! (Deglaze, if you don't know, just means adding liquid at the end of sauteeing to release any crispy bits stuck to the bottom of the pan. That liquid also reduces quickly and adds some flavor to what you're making.)
Smoky Garlic Aioli
This easy spread is just a few simple ingredients:
Mayonnaise (I like to use avocado oil mayo to avoid seed oils)
Worcestershire sauce or coconut aminos
Fresh Garlic
Sea salt
That's it! It adds a lot of flavor and is way more interesting than regular mayonnaise.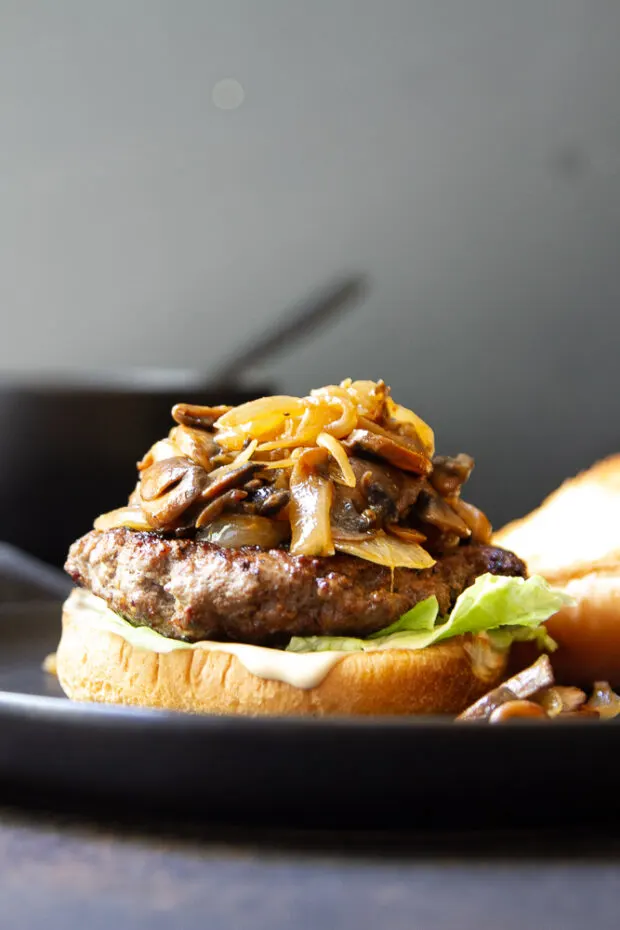 Making the burgers
The burgers themselves are seasoned simply — just salt, pepper, and a glug of Worcestershire, which is my usual when I want a neutral, but flavorful burger.
Spread on some aioli and pile those caramelized onions and mushrooms high!
You could also add some cheese to those burger patties — I'd recommend pepper jack cheese or something smoked for this. Like smoked gouda.
Gluten-free or Grain-free adaptation
If you need this burger to be gluten or grain free, use a gluten-free bun (honestly, I have no recommendations. I'd rather go without than use a GF bun, but if you have one you like, go for it!
Or wrap it in lettuce and…. end up with a big mess. lol
Or smear some of that aioli right on the burger patty underneath the onions & mushrooms and have at it with a fork and knife.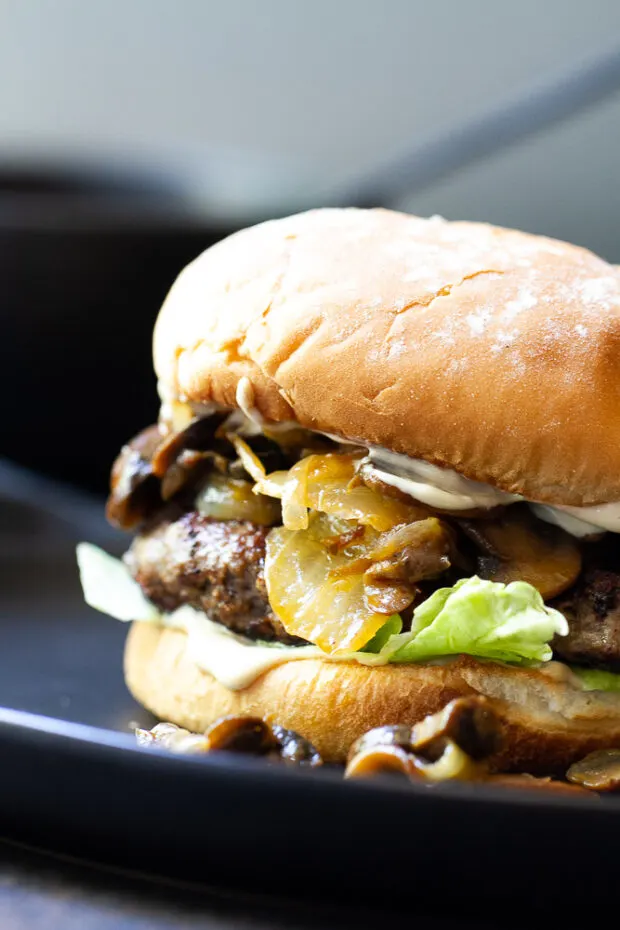 More Ways to Use Sweet Caramelized Onions
Once you've made the best caramelized onions, you'll want to do a lot with them!
Did you know you can freeze them?? Just store them in a freezer bag, a freezer-safe airtight container, or if you need them in smaller-sized portions, try freezing them in ice cube trays.
Here are a few ways to use them:
French Onion Soup — I have a recipe for French Onion Soup in The Big Book of Paleo Pressure Cooking with some added beef stew meat. That sweet onion flavor is amazing in soup.
Patty Melt is basically this burger except with a thinner patty made into a grilled cheese-type of sandwich with sandwich bread.
You could add them to pizza, grilled sandwiches, casseroles (Like this BBQ Pulled Pork Spaghetti Squash Bake), over grilled meats (like my Grilled Chicken with Rosemary Caramelized Onions).
More Burger Recipes on Perry's Plate
If you like this recipe, try another one of my burger recipes! (Apparently I have a thing for onions & mushrooms on burgers…)
Smash Burgers with Caramelized Onions & Jalapeños have a similar vibe to this recipe, but in smash burger form.
Double Mushroom Burgers with Roasted Garlic Aioli have delicious roasted mushrooms and the BEST aioli!
The Ultimate Goat Cheese Burger is one you should definitely not try if you dislike goat cheese. You have been warned.
Green Chile Turkey Burger with Guac-Ranch is my FAVORITE turkey burger!
---
If you make one of my recipes, be sure to post it on social media and tag me at @perrysplate or #perrysplate so I can send you some love!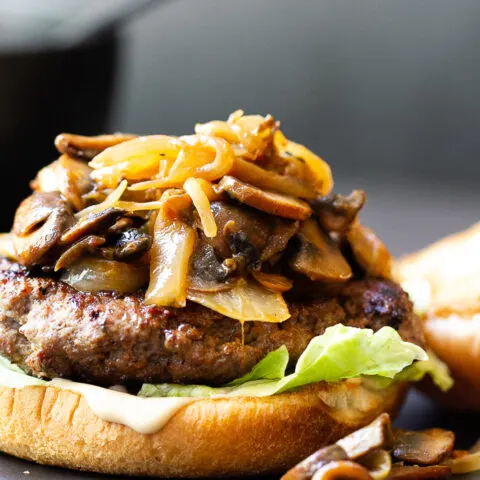 Chipotle Caramelized Onion and Mushroom Burgers
These killer burgers are topped with a chipotle-infused combo of caramelized onions and mushrooms and a special smoky garlic aioli.
Ingredients
For the topping
4 Tablespoons ghee, butter, or coconut oil, divided
2 really large onions (or 4 small ones or 3 medium ones), peeled and sliced thinly
Sea Salt
10-12 ounces of button mushrooms, stems removed and sliced into 1/4-inch pieces
1-2 chipotle peppers from a can of chipotles in adobo sauce, seeded and minced
For the burgers
1 1/2 pounds of ground beef (organic and grass-fed, if possible)
1/2 teaspoon salt
1/2 teaspoon black pepper
1 Tablespoon Worcestershire sauce or coconut aminos
Buns (optional) and other preferred toppings (lettuce, etc)
For the aioli
2/3 cup avocado oil mayo
2 Tablespoons Worcestershire sauce
1 garlic cloves, Microplaned
1/8 teaspoon sea salt, to taste
1/8 teaspoon freshly ground pepper
Instructions
Start the topping by bringing 2 Tablespoons of the ghee or oil to medium-high heat in a large saute pan or skillet.
Add the onions and a generous pinch of salt. Yes, it looks like an obscene amount of onions, but they cook down quite a bit. Cook the onions until they become soft, then reduce heat to medium. Continue to cook, stirring occasionally, until onions are golden brown, about 15 minutes.
Add the other 2 Tablespoons of ghee, the sliced mushrooms, and the minced chipotle peppers. Cover and cook for another 10-12 minutes until the mushrooms are cooked and the onions are a deep caramel brown color. if you find they're cooking too quickly or starting to scorch, turn the heat down.
Taste the mixture. If you want it spicier, then add another chipotle or some hot sauce.
While the onions are doing their thing, add the salt, black pepper, and Worcestershire/aminos to the ground beef, mixing gently with your fingers. Don't squish it in your hands or you'll end up with mushy burgers.
Divide meat into six sections and form wide, flat patties. (If you want. I like my patties thinner.) Let the meat rest at room temperature while your grill or stovetop grill pan heats up to medium-high heat.
Stir together the ingredients for the aioli and set aside.
Grill meat for about 8-12 minutes, flipping once, until no longer pink inside.
Assemble the burgers by smearing some aioli on the buns (or straight on the burger if not using buns) and top with some of the caramelized onion-mushroom mixture.
Notes
Chipotles in adobo sauce can be found in the latin section of your grocery store. Store extras in the fridge for a few weeks or freeze them in an ice cube tray to use later!
Nutrition Information
Yield

6
Serving Size

1
Amount Per Serving
Calories

828
Total Fat

60g
Saturated Fat

18g
Trans Fat

1g
Unsaturated Fat

35g
Cholesterol

124mg
Sodium

558mg
Carbohydrates

38g
Fiber

14g
Sugar

17g
Protein

44g
The information shown is an estimate provided by an online nutrition calculator. It should not be considered a substitute for a professional nutritionist's advice.
This post may contain affiliate links. Any purchases made by using these links won't cost you any extra and helps keep my content free. These links may be Amazon links as I am part of the Amazon Associate Program.