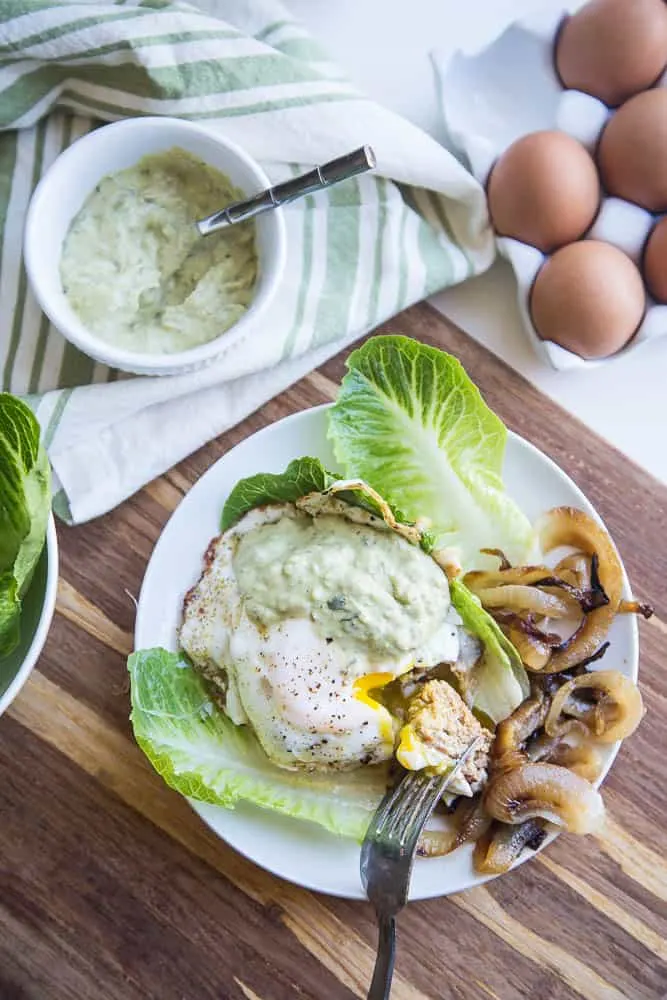 I think turkey burgers get a bad rap. Yes, they're prone to drying out, and can be flavorless, but those are exactly the reasons why they're so versatile! I love ground turkey because it's a blank slate.
Ground beef has quite a bit of flavor — particularly grass-fed beef. Ground turkey lets you flavor it however you like without a strong "meaty" taste underneath. And you can add fun things to it, like salsa or caramelized onions or other flavor-packed ingredients to help them stay moist.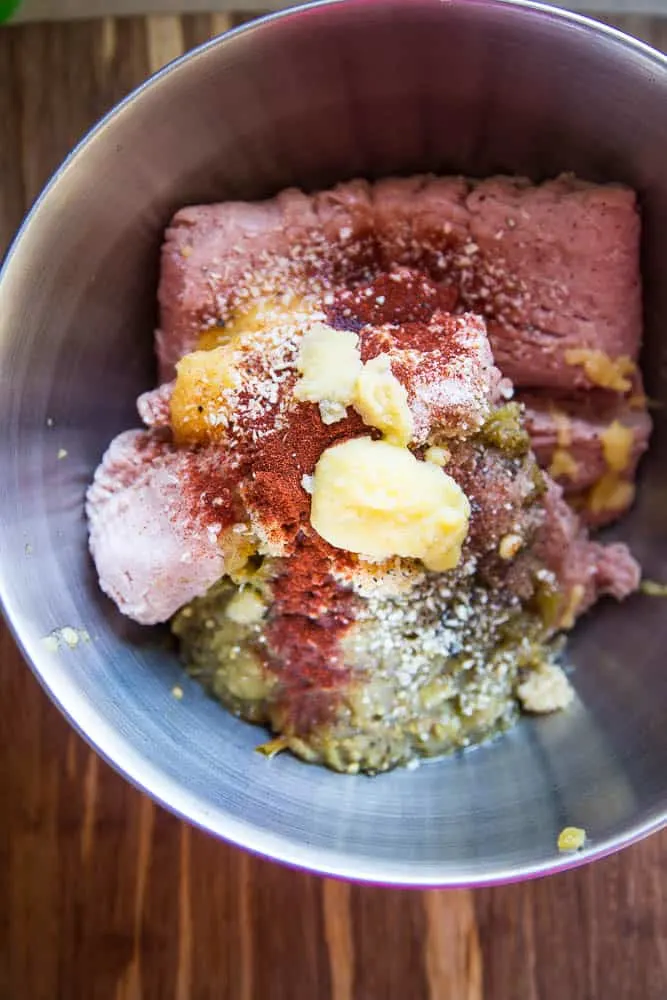 In this case, I added a can of diced green chiles and some ghee. Yes, ghee. *drool*
I love this recipe because it's a one-bowl, dump and mix kind of deal. And you don't even need to get a knife and cutting board out. (You're welcome.) These can also be prepped ahead of time and even frozen. Or made into meatballs. Or little slider-type patties.
OR cooked and crumbled in a hot skillet and made into a hash with some sweet potatoes.
Let's get back to burgers…
My favorite way to eat these turkey burgers is to melt some pepper jack cheese over them, add a fried egg, some roasted onions, and some guac ranch. (Equal parts guacamole & ranch.)
Probably one of the best burgers I've ever had. (Not something I thought I'd ever say about a turkey burger.)
If you're on Whole30 or strict paleo, just omit the cheese.
If you're doing the keto/low-carb thing, go easy on those onions.
Want some side dish ideas? These would be FABULOUS with…
Sweet Potato Fries or Crispy Sweet Potato Chips — just roast them with the onions!
Southwest Cabbage Slaw – This cool, fresh slaw would be a perfect bed for this burger, too!
---
If you make one of my recipes, be sure to post it on social media and tag me at @perrysplate or #perrysplate so I can send you some love!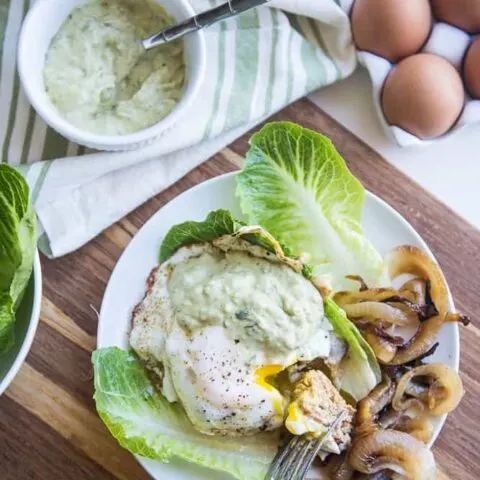 Green Chile Turkey Burgers with Guac-Ranch
These turkey burgers have so much going on! The avocado ranch and fried egg give it so much richness and flavor.
Ingredients
For the burgers:
1 1/2 pounds organic ground turkey
1 4-ounce can fire-roasted diced green chiles
1 Tablespoon melted grass-fed butter or ghee
1 teaspoon dried minced onion
1/2 teaspoon smoked paprika
2 cloves garlic, minced
Pinch of cayenne pepper
On the side:
2 large sweet onions (Vidalia, if you can find them)
2 Tablespoons avocado oil, divided
eggs, for frying
1/2 cup paleo-friendly ranch dressing
1/2 cup prepared guacamole
A few slices of pepper jack cheese, optional
Lettuce leaves, for "buns", if desired
Instructions
Place the ground turkey in a large bowl along with the rest of the burger ingredients (through cayenne). Use your hands to mix everything throughly, but don't squeeze it in your fists. Form the meat into 6 patties, about 4-5 inches wide and put them on a large plate.
Peel and slice the onion into 1/2-inch thick rounds. Drizzle with a Tablespoon of the avocado oil.
If you are grilling, preheat the grill to high heat and grease the grates. Put the turkey patties and the onion rings on the grill and grill until the patties are cooked through and the onions are soft and have deep golden spots, flipping everything once or twice.
If you're doing the stovetop/oven method, preheat the broiler to high and put a little avocado oil in a large skillet over medium-high heat. Cook the onion rings on a rimmed baking sheet and the patties in batches in the skillet, adding more avocado oil, if necessary.
Meanwhile, fry a few eggs, depending on how many you need, in a separate skillet with the remaining avocado oil.
In a small bowl combine the ranch and the guacamole.
If you're adding cheese to the burgers, do it in the last 2-3 minutes of cooking.
Serve the burgers on lettuce "buns" (or not) topped with a fried egg, some grilled onions, and a dollop of guac-ranch. Eat. Swoon.
This post may contain affiliate links. Any purchases made by using these links won't cost you any extra and helps keep my content free. These links may be Amazon links as I am part of the Amazon Associate Program.
Two of my other favorite ground turkey recipes:
Italian Paleo Stuffed Zucchini with Turkey Sausage
Copycat Chipotle ChorizoSaveSaveSaveSaveSaveSaveSaveSaveSaveSaveSaveSave