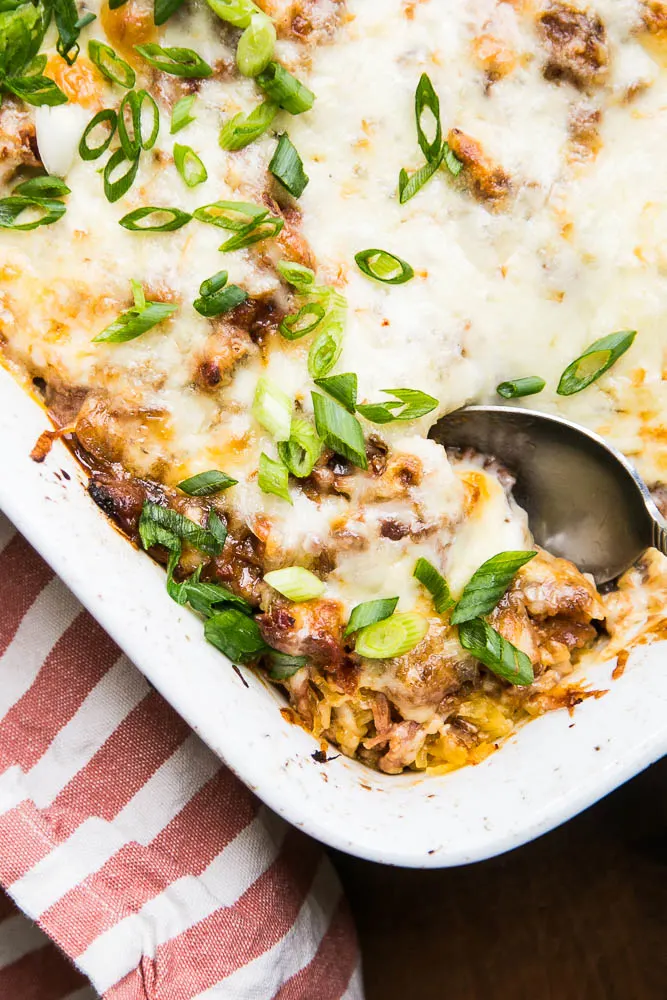 Oh man. I don't remember the last time that I posted something with ooey-gooey cheesiness. It doesn't happen that often these days, but I felt like this spaghetti squash bake could be an exception.
But first, Steve's a patient guy. Have I ever talked about this?
When we're at a restaurant and we're eating something SUPER tasty, I pull out my phone and start taking notes so I can recreate it when we go home.
Or I'm taking pics of what we're eating. Or us eating. #foodbloggerlife
He's such a good sport. But he also knows that patience will yield some tasty food when we get home. I feel like one of my super powers is to hack restaurant food.
The first time we went to Boston in 2018 we ate one of the most DELICIOUS pizzas of our lives at Regina Pizzeria (the one on the north end of town).
It was a speciality pizza that wasn't on their regular menu with BBQ pulled pork, caramelized onions, roasted chiles, pepper jack cheese, and SMOKED MOZZARELLA.
That pulled pork pizza was RIDICULOUS. It totally blew our minds.
Side note: You East Coasters are pizza masters. Between the pizza we ate in Boston and in NYC, I'm getting to be more of a pizza snob.
I created a REALLY good copycat version and posted my BBQ Pulled Pork Pizza over at The Pioneer Woman.
Meanwhile, I wanted to use the same flavors and create a grain-free version for Perry's Plate. Because I love finding ways to use leftover BBQ pulled pork
(Have you tried my Instant Pot Pulled Pork recipe? Another reason why Instant Pots are amazing. I just wish it had a smoker setting.)
So took the toppings and flavors from that fabulous pizza and made it into a spaghetti squash bake.
Have you tried my other spaghetti squash bakes? I linked to them at the bottom of my post. They're my attempt at getting my kids to like spaghetti squash. (So far I have only one taker.) Steve and I LOVE them and often eat them throughout the week for lunch.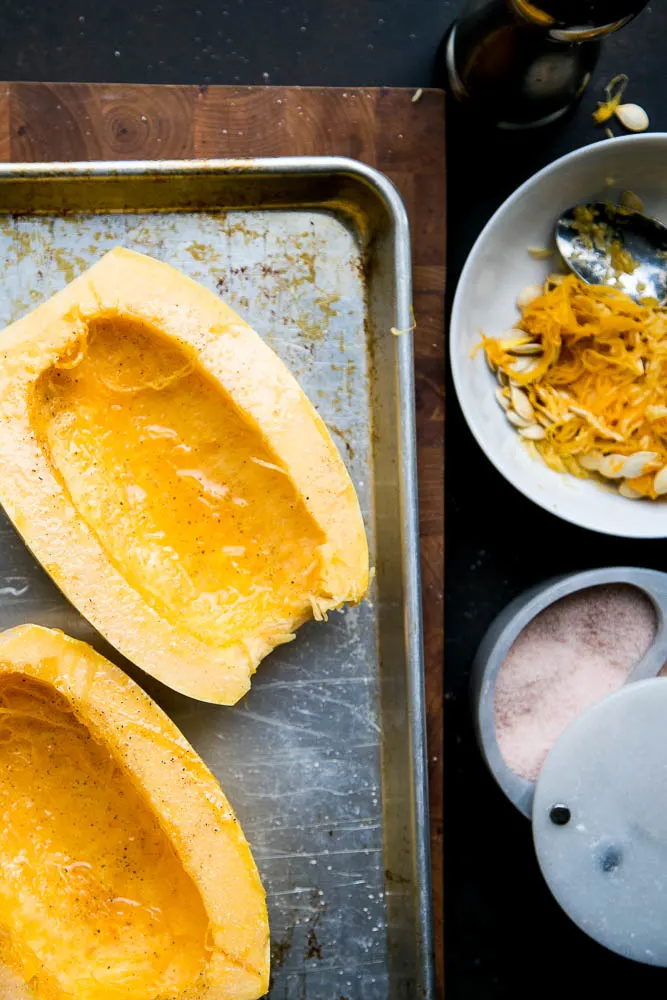 All of my spaghetti squash bakes start off the same way — with roasting the spaghetti squash. You can cook the spaghetti squash in your Instant Pot if you like (6-8 minutes on high for both halves).
I like roasting it for these bakes because more of the liquid cooks out.
You don't want your bake to be soupy. Ew.
Here's how I prep my spaghetti squash:
How to prep a spaghetti squash
Cut the ends off.
Prop the spaghetti squash up on one of the ends and run your knife through it starting at the top. It's easier this way because you have a flat surface to put the squash on and you can rest your other hand on the end of the knife and have more leverage as you work the knife through the squash.
Clean out the seeds & stringy stuff with a spoon. Like cleaning out a pumpkin. Only way easier.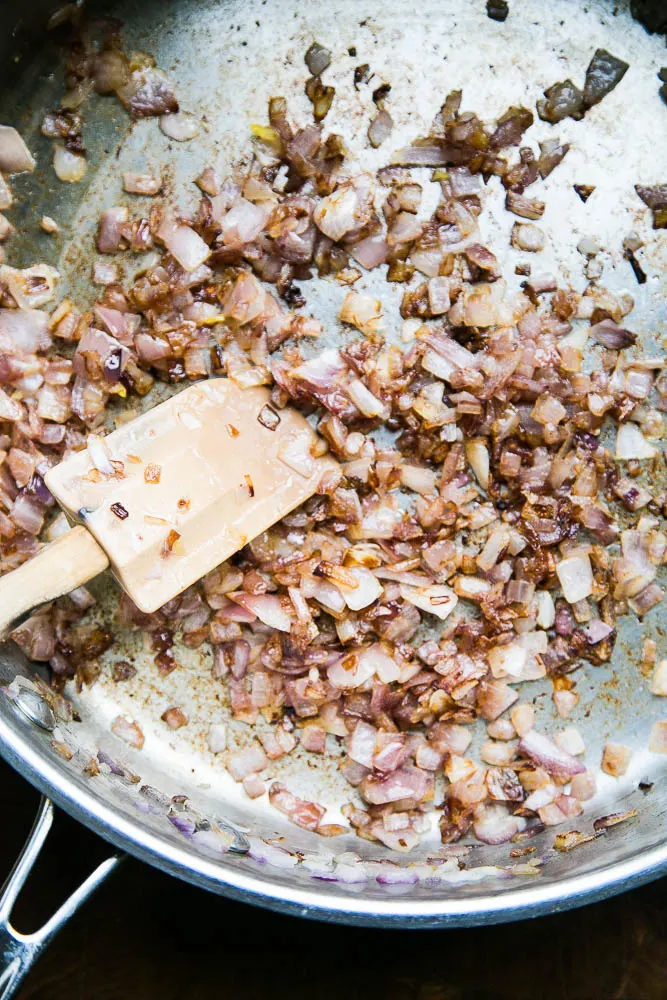 While the squash is roasting, caramelized the onions. It goes a lot faster when the onions are diced — just 20 minutes or so. (Instead of 35-40 when the onions are cut into strips.)
Also, you don't need sugar to make caramelized onions. Just a pinch of salt and some kind of cooking fat. (I like to use butter. For obvious reasons.)
I used a red onion for this, but you can use any onion. Sweet onions make excellent caramelized onions, but if you can find Vidalia onions… those are the BEST. They practically turn to candy. It blows my mind.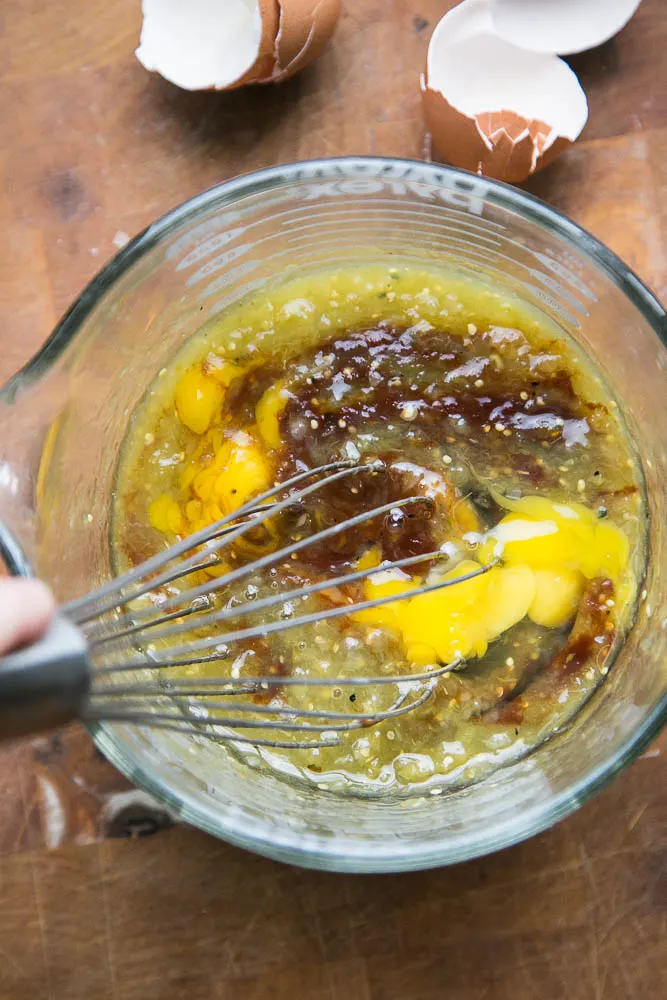 All of my spaghetti squash bakes have a sauce that gets poured over the top. In this one, I used salsa verde (to get that roasted chile flavor in there) with a little BBQ sauce.
I also add a couple of eggs to help the bake hold together and add some richness. You could probably leave them out if you have an issue with eggs.
KETO ADAPTATION: BBQ Sauce isn't known for being low in carbs. If you want to make this recipe even lower carb or keto friendly, use a keto BBQ sauce when you make your pulled pork.
You can use any of my BBQ sauce recipes and sweeten it with a low-carb sweetener:
Homemade BBQ Sauce
I also have several BBQ sauce recipes in my cookbooks. The Smoky Maple BBQ Sauce in The Big Book of Paleo Slow Cooking is particularly good.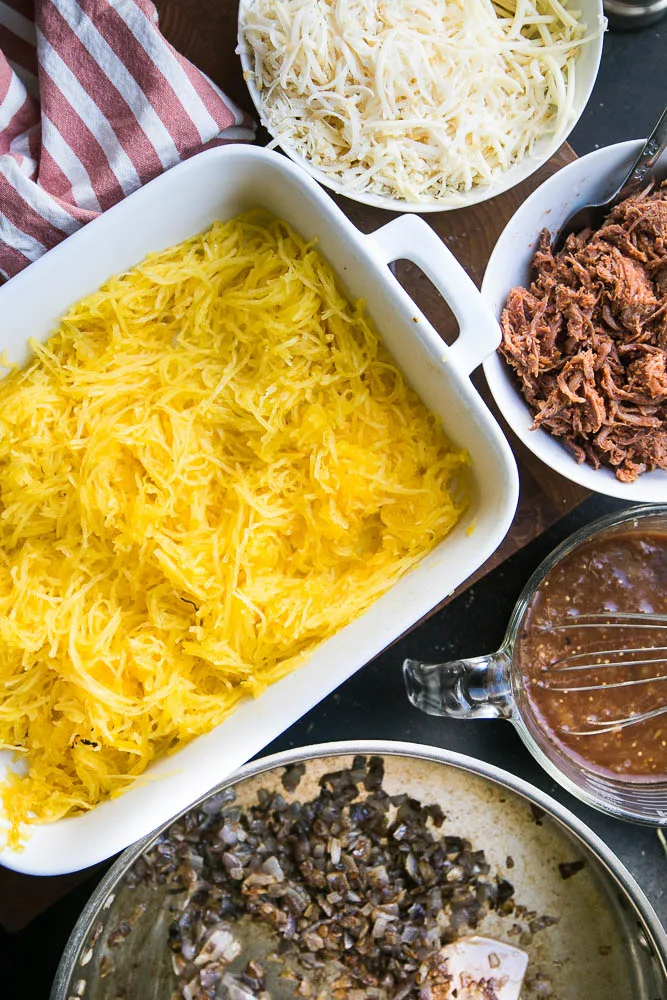 OK, time for assembly!
Scrape the spaghetti squash into a baking pan (I used a 9×13). If the squash seems a little wet or watery, pat it down with some paper towels to remove the moisture.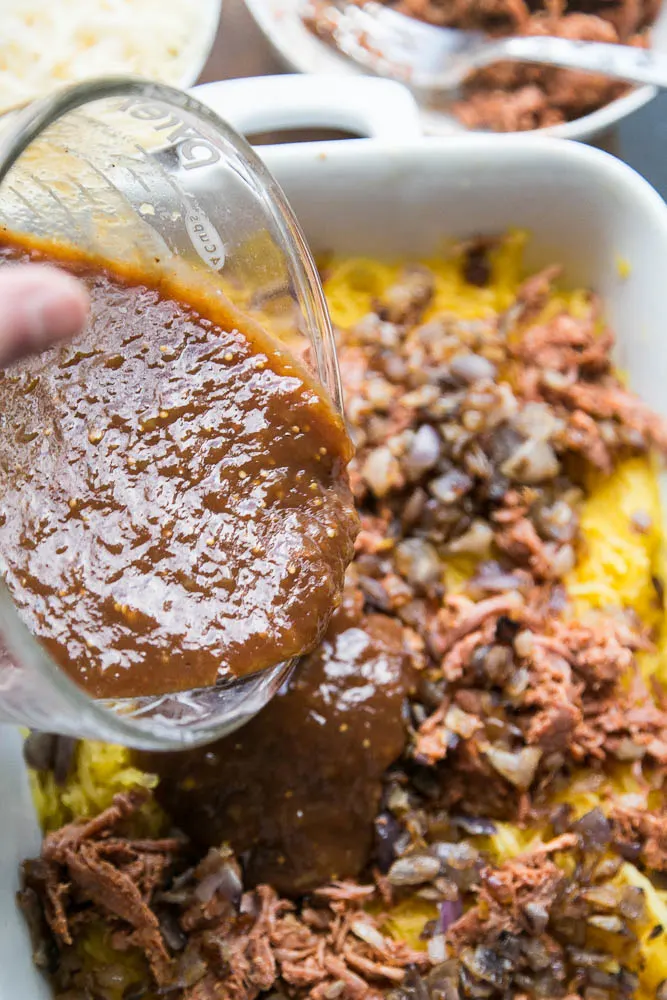 Spread the pork and caramelized onions evenly over the squash and then pour the sauce on top. I use a fork to swirl it into the squash so it gets spread around evenly. You don't have to stir it. Just push the squash around a little.
Am I making any sense?
Now add the cheese — pepper jack and smoked mozzarella.
I found it a little tricky to track down smoked mozzarella, but after making this with and without smoked mozzarella — it's totally worth a hunt.
If you want to make this dairy-free you can totally leave the cheese off!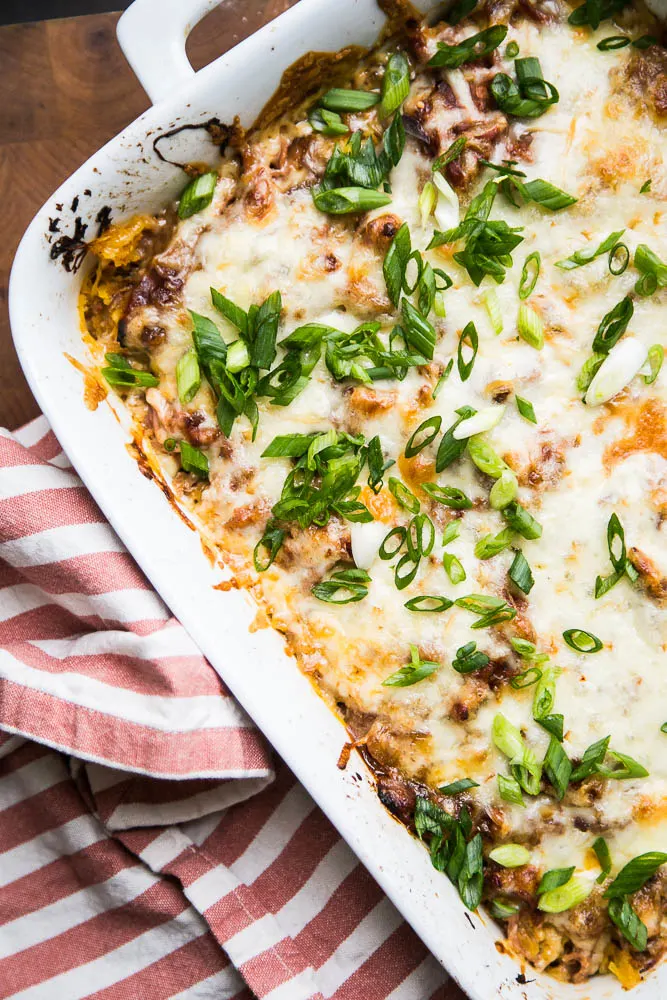 A sprinkle of sliced green onions on top was the perfect garnish, too.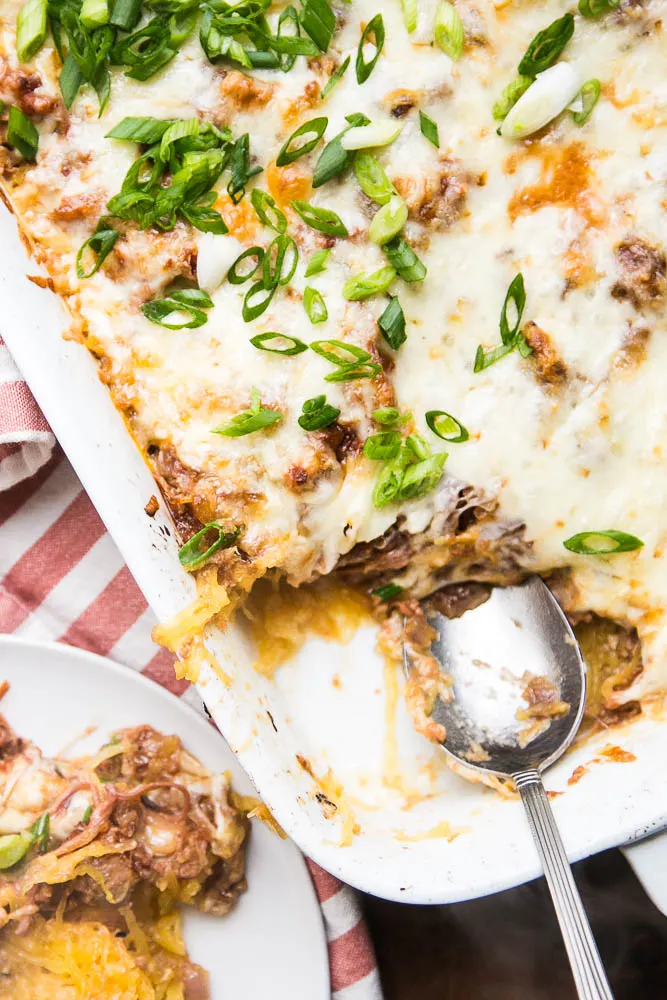 Dish this baby up and serve!
It also reheats beautifully. And it captures all of the flavors of our favorite pizza without needing a crust.
Have you tried any of my other spaghetti squash bakes? They're all dairy-free, Keto, & Whole30 friendly!
By the way, if you'd rather use your Instant Pot to cook the spaghetti squash, see my post on How to Cook Squash in an Instant Pot! (If it's small enough you don't even have to cut the squash in half.)
More Spaghetti Squash Bakes
The Buffalo Ranch Chicken Spaghetti Squash Bake was the first. I was never into buffalo-flavored things until I made this. Now I'm a convert.
After needing to use some leftover Whole30 Enchilada Sauce, I created the Chicken Enchilada Spaghetti Squash Bake. Again, all of the flavors of chicken enchiladas without tortillas! This version doesn't have cheese, but you could totally add some if you wanted.
The most recent bake is my Green Chile Chicken Spaghetti Squash Bake. I LOVE salsa verde. A lot. I also love ranch. So I put them both in here with some roasted onions. It's totally delish.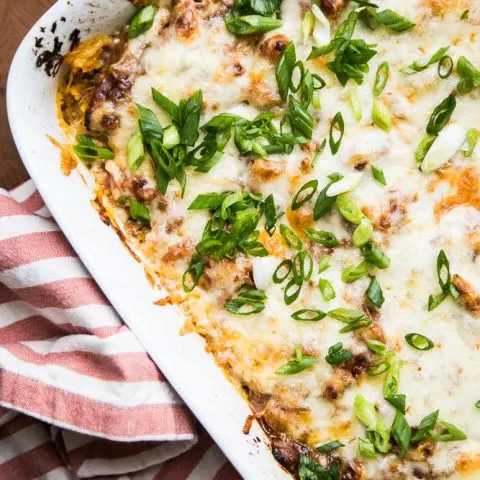 BBQ Pulled Pork & Spaghetti Squash Bake
This recipe was inspired by the most FABULOUS pizza Steve and I ate in Boston. I wanted all of those delicious topping flavors but without the crust! If you've got some leftover BBQ pulled pork, give it a go! (And really try to find some smoked mozzarella. It adds SO much.)
Ingredients
1 medium spaghetti squash (3-4 lbs)
2 tablespoons avocado oil
Pinch of sea salt and black pepper
3 Tablespoons butter
1 very large sweet onion, diced
1 cup jarred salsa verde
1/2 cup your favorite BBQ sauce
2 eggs
1 1/2 cups leftover BBQ pulled pork
2 ounces shredded pepper jack cheese
2 ounces shredded smoked mozzarella cheese
3 green onions, trimmed and thinly sliced
Instructions
Preheat your oven to 425 degrees. Prepare a 9x13 pan with nonstick spray.
Prep your spaghetti squash by cutting the ends off, then place the squash on one end and cut it in half lengthwise. Scoop out the seeds and slime with a spoon and discard. (Or roast the seeds like pumpkin seeds. They're pretty good that way.)
Put the squash halves cut-side up on a rimmed baking sheet. Drizzle each half with a tablespoon of avocado oil and sprinkle salt and pepper on both. Roast for 20 minutes until you can pull the strands out easily, but don't cook it so long that it's mushy.
Meanwhile, caramelize the onion! Bring a large skillet to medium-high heat and add the butter and diced onions. Cook for 10 minutes, stirring occasionally. Reduce heat to medium and cook for 10 minures, stirring a few times until the onions have deep caramel colored spots. If they begin to scorch, turn the heat down. Set the onions aside.
In a large measuring cup or bowl whisk together the salsa verde, BBQ sauce, and eggs.
When the squash is finished cooking, drain any liquid inside the cavity. Scrape the squash strands out into the prepared 9x13 pan. Press a paper towel to the squash to drain off any excess liquid.
Spread the pulled pork and caramelized onions evenly over the squash. Pour the salsa verde mix over the top. Use a fork to gently push the squash around to allow the sauce to spread into the corners and edges.
Bake for 20 minutes or until the edges are bubbly and the cheese is melted and begins to brown. Let it sit for 5-10 minutes before you cut it.
Notes
Nat's Note: You could substitute leftover BBQ chicken or BBQ beef!