Make your own Chocolate Chip Cookie Dough Larabars at home! Tastier and less expensive than the store-bought version!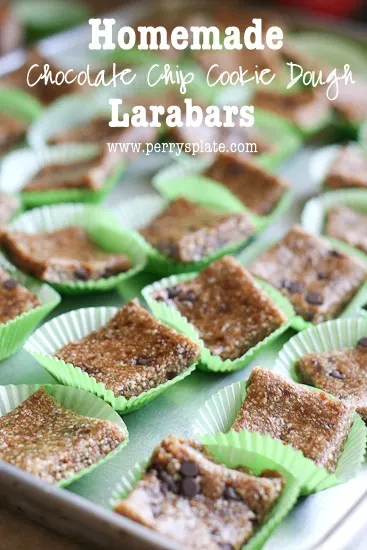 I know a lot of you have been waiting patiently for these Chocolate Chip Cookie Dough Larabars. Here they are, finally!
My favorite Larabars — chocolate chip cookie dough ones, are ridiculously easy to make at home. Not to mention less expensive! My kids love them — especially my 15-month-old monkey-child. It's only a matter of time before she figures out how to climb up on the counter to find them herself.
She's a handful, that one. I'm convinced she threw away my recipe notebook. I haven't seen it in a few weeks, and she loves to throw things in the trash can. We managed to save my husband's wallet and keys a few times, but I'm afraid my notebook is long gone.
I may have stashed it in an unusual place, and if that's the case I will apologize for blaming her. I'm still 83% sure it was her, though.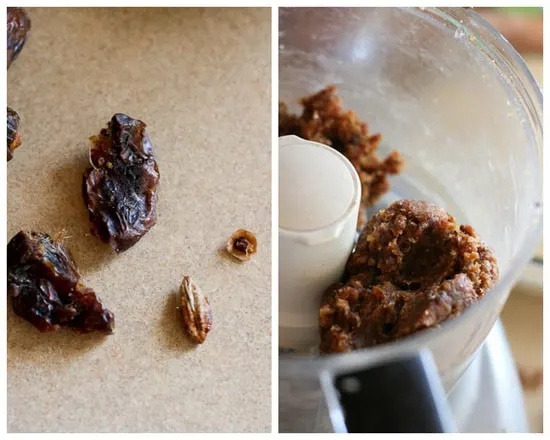 Have you ever worked with dates? For the longest time I thought I didn't like dates. I really dislike most store-bought energy bars, and I thought it was the dates that gave them that funky flavor. When I created my little Snack Ball/Energy Bites I didn't use dates, but I have since realized that dates are just fine. I don't like eating them alone, but I don't mind them in things like this.
I recently found pitted dates at my favorite wholesale warehouse store, but if you can only find the regular ones, they're easy to pit. I just rip them in half with my fingers and take the pits out. Then I put them in my food processor (which has since broken… RIP little buddy. I now use my Twister Jar that fits on my Blendtec. Works like a charm.).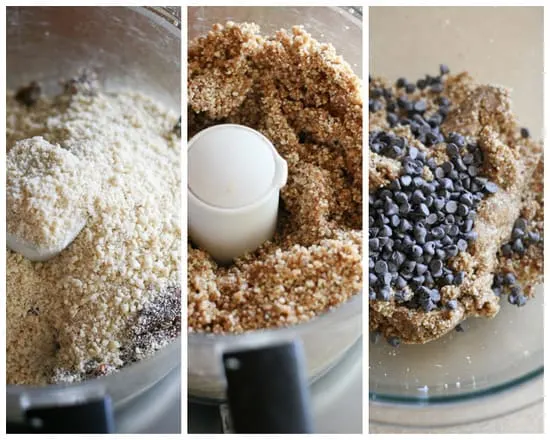 I add the cashews back in (which I ground before the dates), and buzzed it up with a pinch of salt and a splash of vanilla.
At this point you might think the mixture is dry. Dump it into a bowl and knead it a few times. The dates will continue to coat and add moisture to the nuts. Add the chocolate chips and mix them in, too.
Go ahead and taste it. Larabar cookie dough is pretty fantastic. Those cashews and dates give it a great creamy dough flavor. You could also add a little peanut butter to this (or almond butter). But not too much or they'll be mushy. Maybe take out a few dates if you do that.
Oh, and don't forget a pinch of sea salt.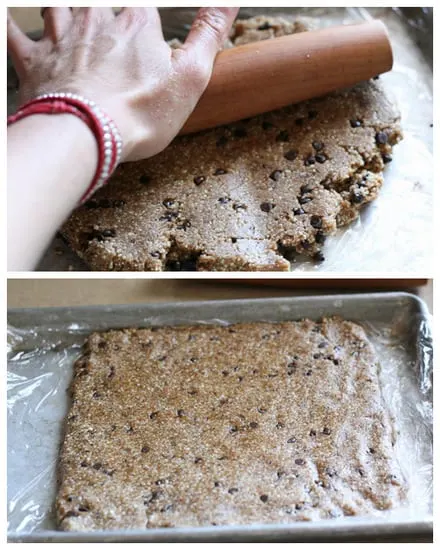 It's hard to tell from these photos, but I actually used a quarter sheet pan (not the half sheet pan that everyone has) to roll these out. It was the perfect width to get the thickness I wanted and nice, flat edges.
Well, on two sides. I also used a child-sized rolling pin because my pan was small. It was perfect for this! We have a couple of those baking kits for kids. We use those little rolling pins when we make sugar cookies, too. Or for play-doh days.
You don't have to do that, though. You can use whatever pan and pin you've got. And you can make them whatever shape you want. Little cookie cutters in different shapes would be so cute! Hearts! Stars! Unicorn-shaped! (OK, that one might be hard to kept in one piece. It would be hard for it to even look like a unicorn, actually. Maybe that's not a good idea.)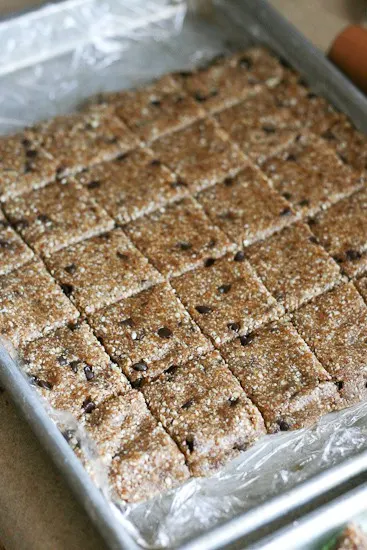 I cut them into 1 1/2-inch squares. I like them that size because they're kid-friendly.
My girls kids adore these, and I feel good about giving them a snack with no added sugar made from real food. Honestly, it's hard to keep them on hand. I almost have to ration them like actual chocolate chip cookies because once they find out I have some, that's all they ask for. Hahaha.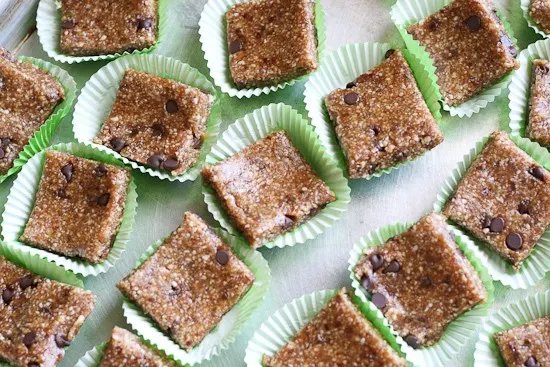 I usually put them into a glass jar and keep them on the counter (maybe I need to use an opaque bowl…).
I made this particular batch for my husband's health lectures he does at the clinic. I just flattened mini cupcake liners and dropped them in! Sadly, we had no leftovers. Not surprising, though. These really do taste like cookie dough!
Larabar copycat treats are super versatile. It's easy to make gluten free bars (that are also dairy free!). Just add different freeze dried fruits, nuts, and spices. Try these other homemade Larabar recipes on my site!
More Homemade Energy Bite Recipes
Homemade Blueberry Muffin Larabars – The secret to these is a drop of lemon essential oil. It gives them a tasty, mysterious flavor and you'll get asked what you put in them.
Paleo Brownie Protein Bites are extra protein packed and taste like brownie batter!
Peanut Butter Protein Bites are made with PB powder — one of my favorite supplement proteins for fun flavor!
I also wrote a post over at The Pioneer Woman: Food & Friends all about making Homemade Fruit and Nut Energy Bites! Go check it out and get the recipes for FOUR more flavors.
If KIND bars are your jam, check out these Gluten Free Vegan Homemade KIND Nut Bars from Demeter over at Beaming Baker!
Or if you're wanting NUT-FREE and allergy-free chocolate chip energy bites, check out these Chocolate Chip Protein Bites from Vegetarian Mama.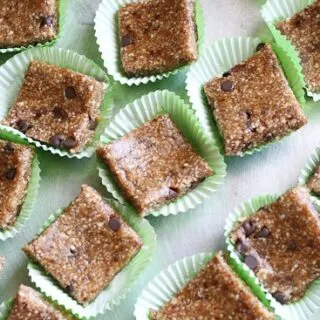 Homemade Chocolate Chip Cookie Dough Larabars
Yield:
About 25 1 1/2-inch squares
I love this homemade version Chocolate Chip Cookie Dough Larabars even better than the store-bought!
Ingredients
2 cups raw cashew pieces
12 pitted medjool dates
1/2 teaspoon vanilla extract
pinch of salt
1/4 cup mini dark chocolate chips
Instructions
Line a small rimmed baking sheet with plastic wrap. Set aside.
Grind the cashews in the food processor until it resembles coarse sand. Transfer cashews to a medium mixing bowl.
Tear the dates in half and add them to the food processor. Pulse until dates are mostly chopped. Add in the ground cashews and pulse until mostly combined.
Dump the mixture back into the bowl and add the vanilla and salt. Mix with your hands for about a minute until the mixture is well-combined and it clumps together when you pinch it.
Mix in the chocolate chips and spread the "dough" out on the prepared baking sheet. Use a rolling pin, a can, or a bottle to smooth out the top. Roll until you reach the desired thickness, then cut them up using a pizza or pastry cutter.
Break into squares and store in an airtight container at room temperature.
SaveSave
SaveSave