Paleo Pesto Shrimp Cucumbers are a healthy, easy appetizer that won't leave you feeling greasy like the typical fried snacks!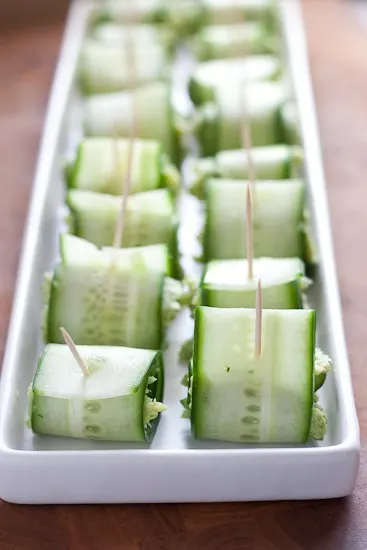 I made these Pesto Shrimp Cucumber Rolls for a baby shower recently and though they'd be a great idea for a game munchie. I thought my timing was brilliant.
Then I said to myself, "Nat, this is baby shower food. Not Superbowl food."
I scowled.
Then I said, "You don't even watch football. Quit being a poser."
I suppose that's that. Here's a baby shower app!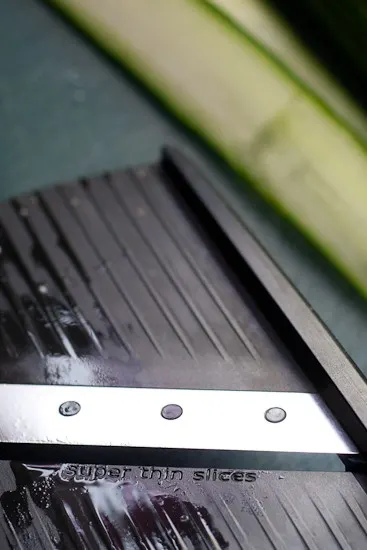 Do you have a mandoline slicer yet? Because seriously… I rave about these all the time, and everyone should have one. They're super useful. Especially for making Zucchini Noodles if you happen to get one that juliennes as well. (Like mine.)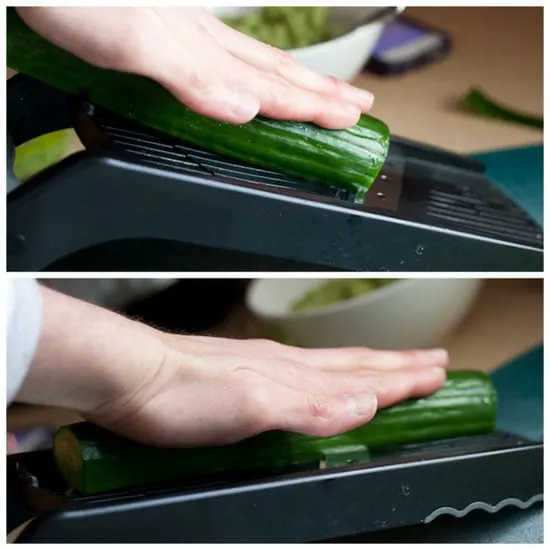 There is a hand guard. But it's hard to use a hand guard when you're slicing a long cucumber. (Otherwise you should use it.) I see chefs slice things all the time this way on Chopped, but their hands are moving at the speed of light.
I'm not that brave. Plus I have a bad track record with kitchen injuries.*
Just keep your fingers curved up slightly, and slice at a responsible speed.
The trick to getting uniform cuts with cucumbers (or any long vegetable) is to maintain pressure where the blade is. If you push hard on one end the entire time, the opposite end is going to suffer. Make sense?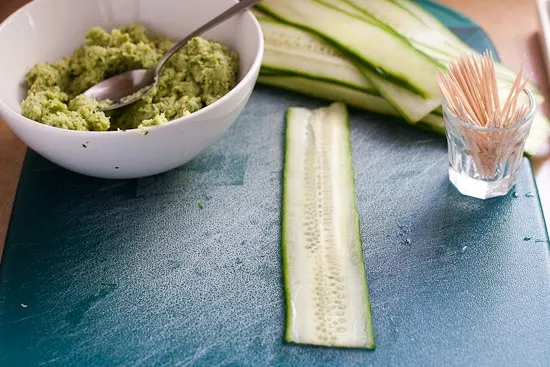 I originally made the filling with cream cheese because, like Paula Deen once said, "You can't have a party without cream cheese." I have to agree.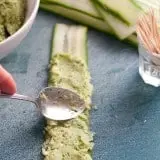 Because I have that "p" word in my header now and cream cheese isn't super good for you, I reworked them and substituted avocado for the cream cheese. I actually like them better this way!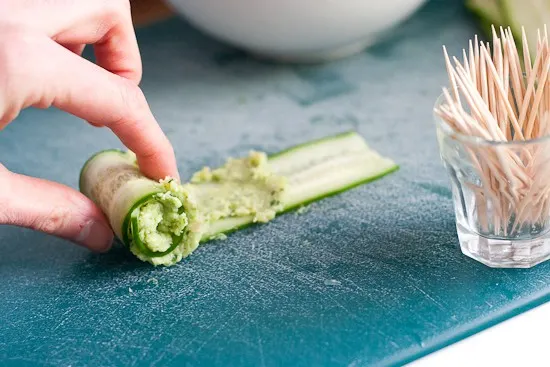 These come together quicker than you'd expect. It really, really helps to have a mandoline slicer, though. The cucumber slices would be really clunky to roll (and may even break) if they're too thick.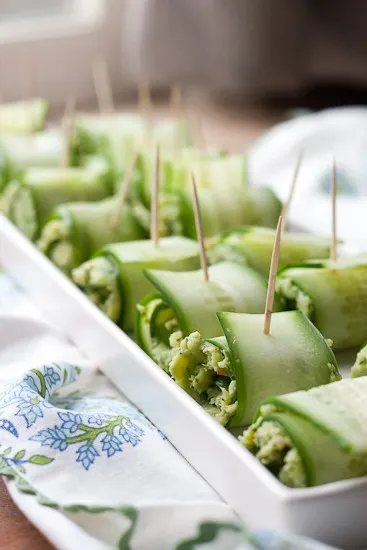 You know what? Take these to game day. I'm willing to be there's someone there who's just interested in the food.
Like, um, me.
Try these with either Dill Pesto or Cilantro Pesto to change things up!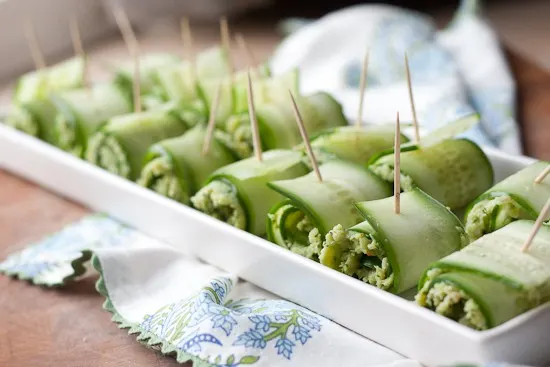 ---
If you make one of my recipes, be sure to post it on social media and tag me at @perrysplate or #perrysplate so I can send you some love!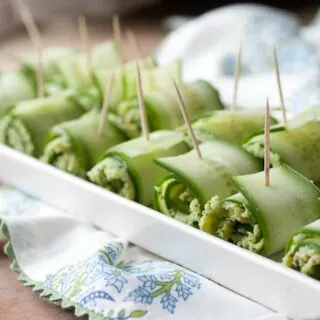 Paleo Pesto Shrimp Cucumber Rolls
Ingredients
8-10 ounces uncooked, thawed shrimp
sea salt
1 Tablespoon ghee or coconut oil
1 large garlic clove, peeled and minced
1/2 of an avocado, peeled and pitted
2 Tablespoons cheese-free basil pesto (see note)
1 Tablespoon freshly squeezed lemon juice
2 English cucumbers
Instructions
If your shrimp haven't been cleaned, pull the tails off and run the tip of your knife into the curve of the shrimp to pull out that weird dark stringy thing. That's the digestive tract. You don't want to eat that. Toss in a couple generous pinches of salt and mix them around.
Heat the butter/oil over medium heat in a medium skillet. Add garlic and cook for about 1 minute. Add shrimp to skillet and cook until shrimp has just barely turned pink all over. It only takes a few minutes. Remove from heat and let them cool for a few minutes.
Place the shrimp in the food processor with the avocado half, pesto, and lemon juice. Pulse until everything is chopped finely and combined thoroughly. Taste, and adjust salt as necessary. You may want this slightly salty to compensate for the cucumber coming later.
Cut the ends off the cucumber, then slice them as thin as you can with a mandoline slicer. Spread about 2 teaspoons of the shrimp filling onto 3/4 of each cucumber slice. Starting at the filling end, roll it up and secure with a toothpick. You should have 16-18 cucumber rolls.
Chill until ready to serve.
Notes
Nat's Notes:
Store-bought basil pesto contains cheese. You can make your own basil pesto and simply leave out the cheese if it bothers you. Just combine 2 cups of basil leaves, 1/3 cup pinenuts, 2 cloves garlic, 1-2 Tablespoons fresh lemon juice, and salt to taste in a food processor. Pulse to chop finely. While the machine is running, pour in 3/4 cup of extra-virgin olive oil. Process until smooth.
Don't make these more than 2-3 hours before you eat them. They'll start to get watery.
This post may contain affiliate links. Any purchases made by using these links won't cost you any extra and helps keep my content free. These links may be Amazon links as I am part of the Amazon Associate Program.