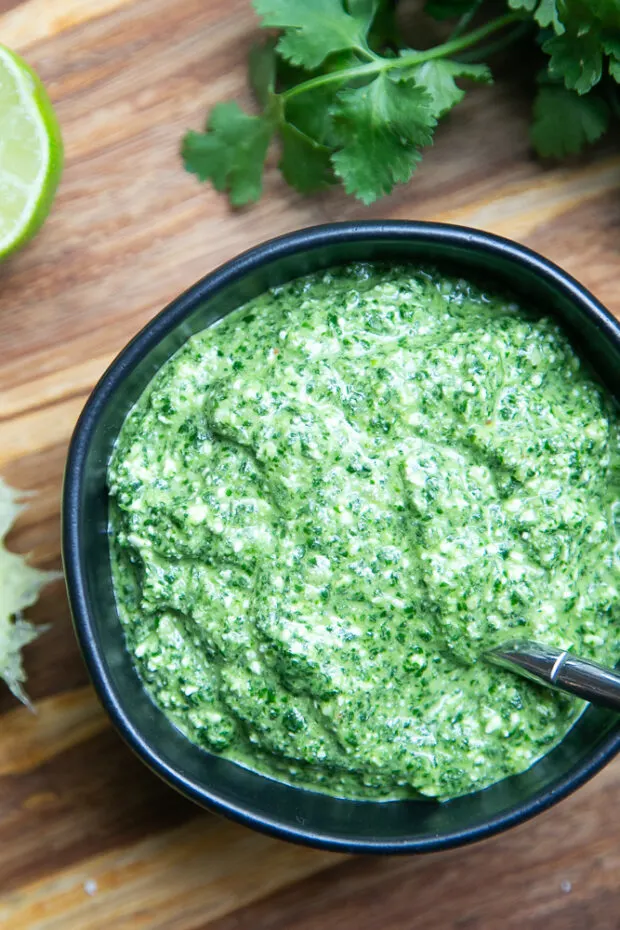 Have you ever had cilantro pesto? It's a cilantro-packed version of traditional basil pesto with a few twists.
Honestly, I like it better than basil pesto. It's tied with Dill Pesto for me — try that one out, too!
If you've ever had chimichurri, it's similar.
Chimichurri is traditionally made with parsley, but I like to use cilantro instead because parsley tastes like grass to me. (Sorry, but it's true. I feel like I can relate to "cilantro tastes like soap" people.) Chimichurri is thinner and doesn't have nuts/seeds or dairy like pesto.
Cilantro pesto easy to make with just a couple of bunches of cilantro a few other ingredients that are easy to find.
It's totally delicious and great on SO many things. I made a list for you below!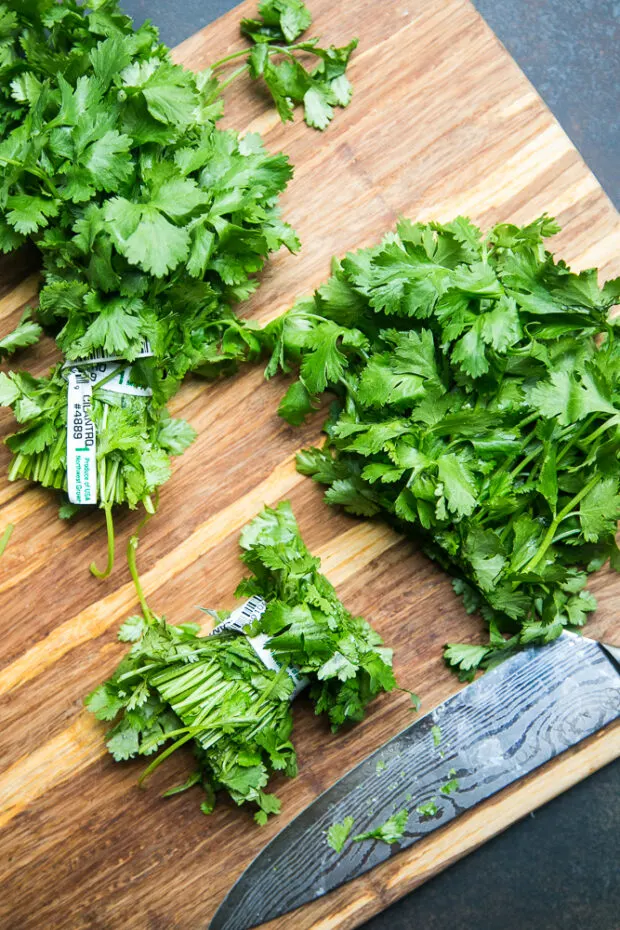 Can you eat cilantro stems?
Short answer: YES!
Long answer: I always assumed that everyone knew to hack off some cilantro and chop it up, stems and all.
Until I got a few messages from people asking if they could eat the stems… only to find out they had been PICKING ALL OF THE LEAVES OFF BY HAND.
Please, friends. Don't do that. It takes forever, and it's totally unnecessary.
There are a few herbs that have tender stems that are OK for eating. Like cilantro, dill, and parsley. Others have woody, tough stems that you don't eat — like rosemary, thyme, and basil.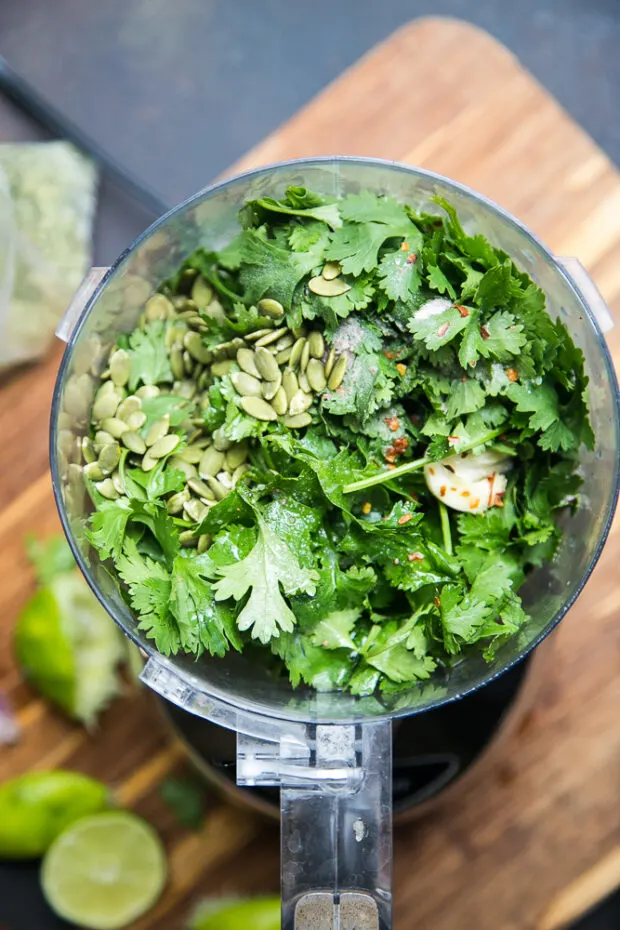 Do you need a food processor to make cilantro pesto?
Honestly, using a food processor is the quickest and easiest way to make pesto — and creates the smoothest texture.
But, if you absolutely don't have (or want to buy) a food processor, you can use a blender. You'll just have to scrape down the sides a lot and it might be harder to get everything chopped evenly.
You could try to mince the cilantro, garlic, and pepitas by hand, but that sounds like a royal pain.
I have a little Cuisinart 9-cup food processor I've had for years. They don't sell it anymore, but I found a similiar 8-cup food processor on Amazon.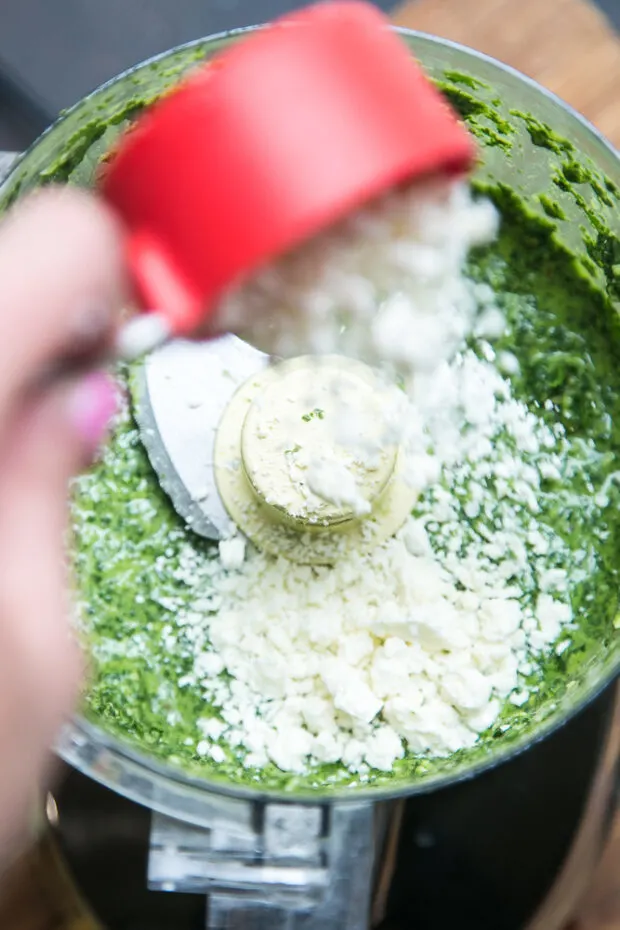 Can you make this pesto dairy-free?
Yes!
Cotija cheese is a Mexican cheese that's salty and similar to feta or Parmesan and easy to find in most grocery stores — especially in the west. You can leave it out if you need to make dairy-free pesto.
The cheese helps to thicken the pesto. So, it'll be a little runnier if you leave out the cheese. To add some "cheesy" flavor back into your pesto, try adding a tablespoon or two of nutritional yeast.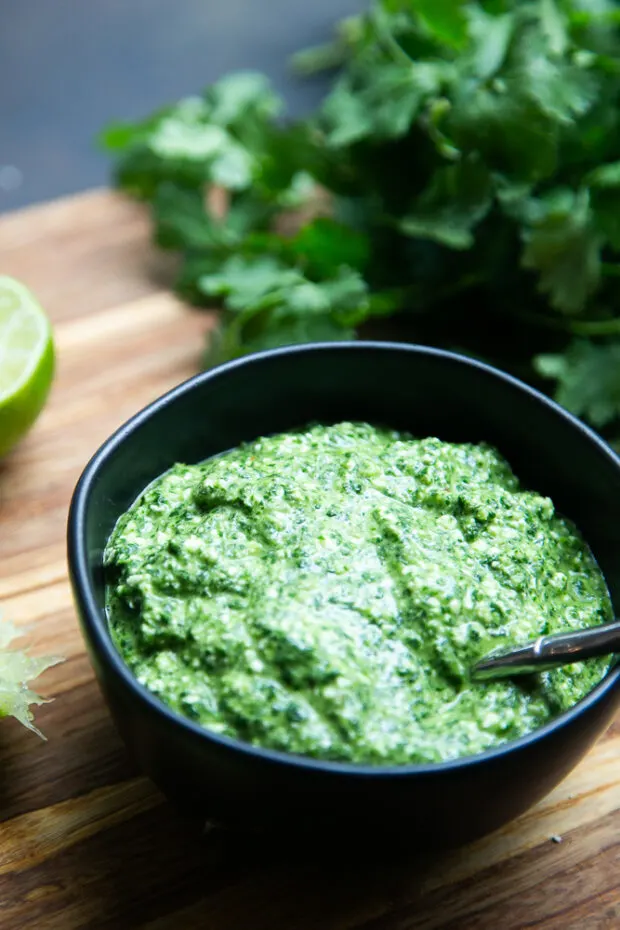 Recipes for dips and condiments seem fussy sometimes, but they're some of my favorite things to make.
When I'm throwing together breakfast or lunch for myself and spy some leftover pesto or dip in the fridge it makes my meal 837% better. And it's not something I had to prep right then, so that's a bonus.
Making a batch of cilantro pesto (or any pesto!) would be a great addition to a meal prep or ingredient prep session. If you're new to prep-ahead methods, read this post: Why Ingredient Prep Will Make Your Life Easier.
How do I use Cilantro Pesto?
What CAN'T you put this on should be the question, my friend.
Here are a few of my favorite ways to use pesto — especially cilantro pesto!
Drizzle it over grilled/roasted meats or vegetables.
Mix some into your ground meat when you make meatballs or burgers.
Spoon some over your fajitas, tacos, or taco salads.
Mix it with some paleo ranch to make CILANTRO ranch.
Whisk a little into your eggs when you make omelets.
Stir some into your potato salad.
Use it in place of pizza sauce. I did this the other day and added some chopped leftover Middle-Eastern chicken & veggie kebabs to my pizza. Wow. Seriously so good.
---
If you make one of my recipes, be sure to post it on social media and tag me at @perrysplate or #perrysplate so I can send you some love!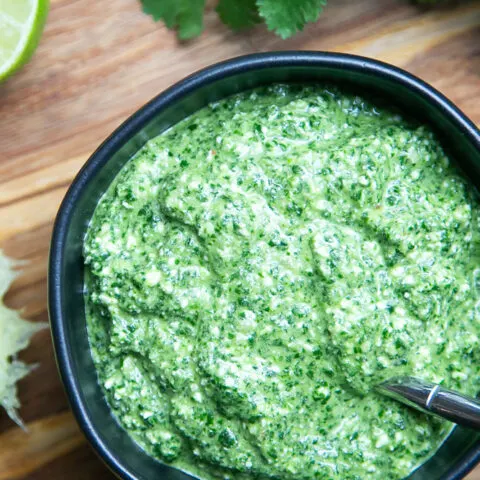 Cilantro Pesto
It goes without saying that you must love cilantro to love cilantro pesto. This alternative to basil pesto is FABULOUS over grilled meats or vegetables, as a drizzle over a taco salad, mixed with ranch dressing, smeared on a sandwich and so many other ways!
Ingredients
2 small bunches of cilantro
1 small garlic clove
2 Tablespoons pepitas (green pumpkin seeds)
2 limes
1/8 teaspoon sea salt
1 pinch crushed red pepper flakes
6 Tablespoons avocado oil or another neutral tasting oil
1/3-1/2 cup crumbled Cotija cheese (optional)
Instructions
To prep the cilantro, leave the twist ties in tact. Rinse the bunches well or soak them in a big bowl of cold water to get all the grit out of them. Shake them and wrap them in a kitchen towel for several minutes or spin them with a salad spinner to get as much water out as you can. This is super important so the pesto doesn't turn out watery.
Cut the bunch off right above the tie and put the leaves and upper stems in the work bowl of a food processor. Add the garlic, pepitas, juice from 1 lime, salt, and pepper flakes.
Blend the mixture up until everything is minced well. You may have to scrape down the bowl a couple of times.
While the processor is running, pour in the avocado oil and blend until smooth. Add the cotija cheese and pulse a few times to mix everything well.
Taste, and add more lime juice and salt to taste.
Transfer to a lidded container and store chilled for up to 2 weeks.
Notes
Nat's Notes:
You can substitute grated parmesan or Romano cheese for the cotjia if you have a hard time finding it. It's usually in the refrigerated Latin dairy section. If you'd like this to be completely dairy-free, omit the cheese completely. The texture won't be quite as thick, but it'll still be good.
Pesto freezes beautifully! You can store the whole container in the freezer or spoon the pesto into an ice cube tray, freeze, and transfer the cubes to a zip top bag for easier portioning.
If you dont have a food processor, get one. :) If that's not an option, you can try using your blender -- just put the oil in at the same time as the rest of the ingredients so it'll blend easier. You'll have to scrape the sides down a lot. Or use an immersion blender and a large mason jar. Or you can mince the cilantro bunches as small as you can and mix it together by hand for a chunkier pesto. Just call it "rustic".
Recommended Products
As an Amazon Associate and member of other affiliate programs, I earn from qualifying purchases.