If you're wondering if dill pesto is just basil pesto made with dill…. you're right.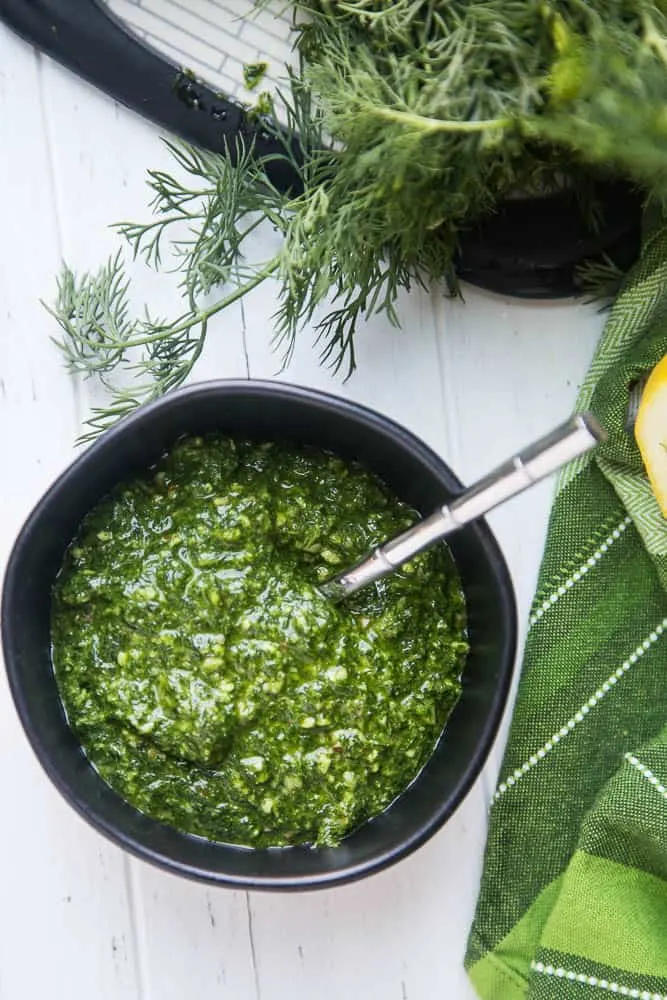 I made some one night to serve with a big plate of grilled vegetables and loved it SO MUCH.
I had planned on posting the whole thing as one recipe, but as I was using the leftover pesto in different ways I realized how versatile it was — just like basil pesto.
Psst… I've got a Cilantro Pesto recipe, too!
Dill pesto needs its own post for sure. I included a bunch of ideas to use it down at the bottom of the post!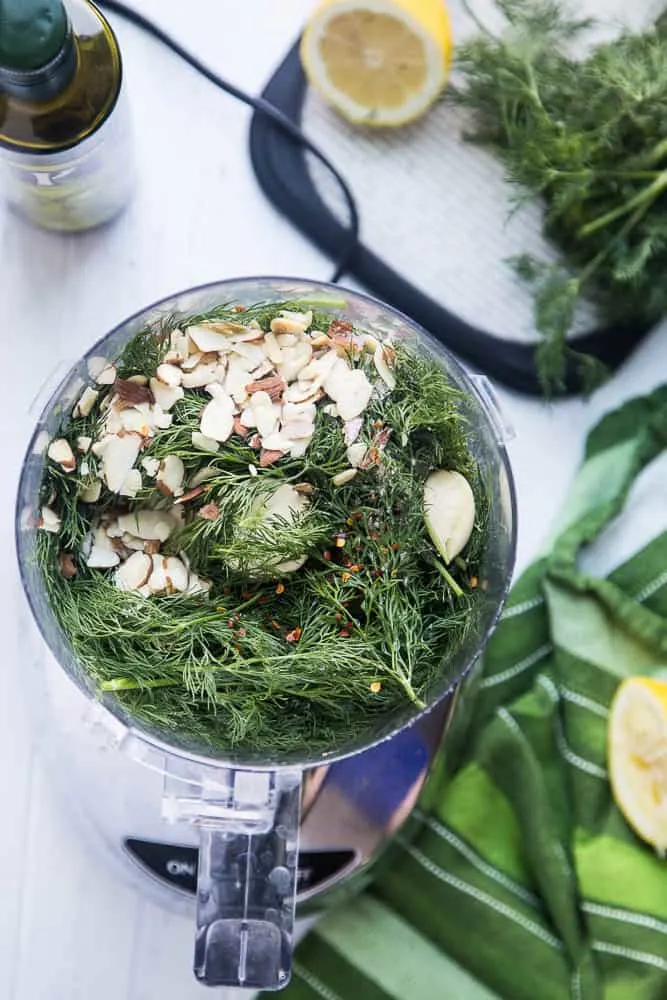 I feel like dill is a very under appreciated herb. Steve and I both love it — maybe because of all the dill-infused meals we ate when we lived in Russia? It's always been one of my favorites since then.
Where we live it's a little hard to find big bunches — mostly I see those little clear clamshells. I always grab a bunch if I happen to be in a store that sells them. Sprouts does. So does Whole Foods.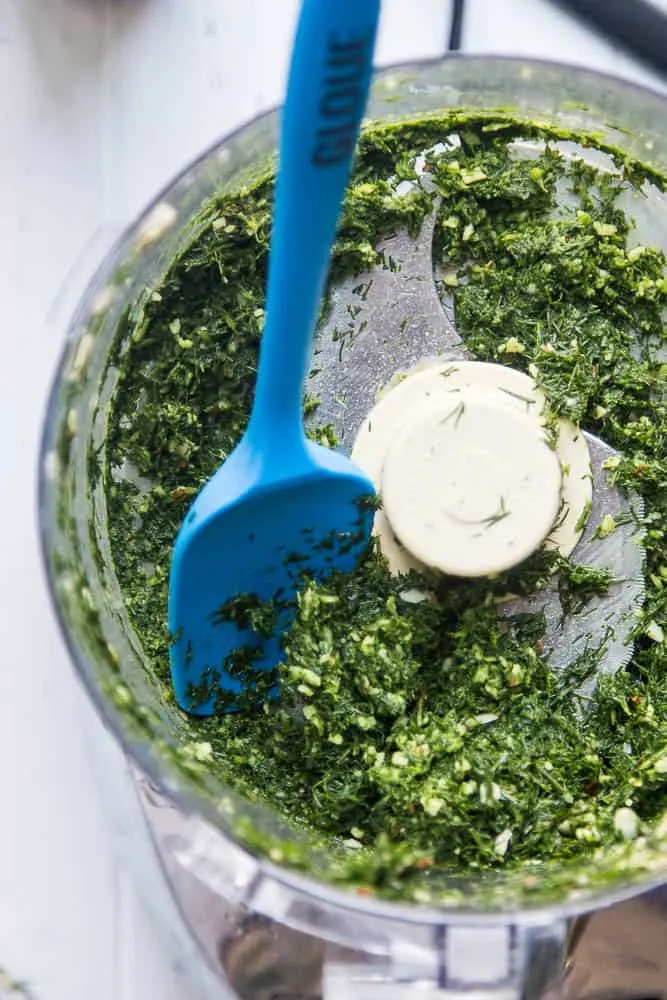 You can absolutely use pine nuts in this if you want. I use sliced almonds because one of my kids has a pine nut allergy and they're easier to grind up than bigger nuts.
I also like a pinch of pepper flakes to liven things up (it's not spicy) and a big ol' clove of garlic. A squeeze of lemon juice brightens the flavors. I started adding lemon juice to my basil pesto, too, and it keeps it from turning brown quickly.
Do you need a food processor to make pesto?
Well, not really. You can also use a blender. Or you can mince everything by hand. It won't be quite as smooth, but the flavors will be there.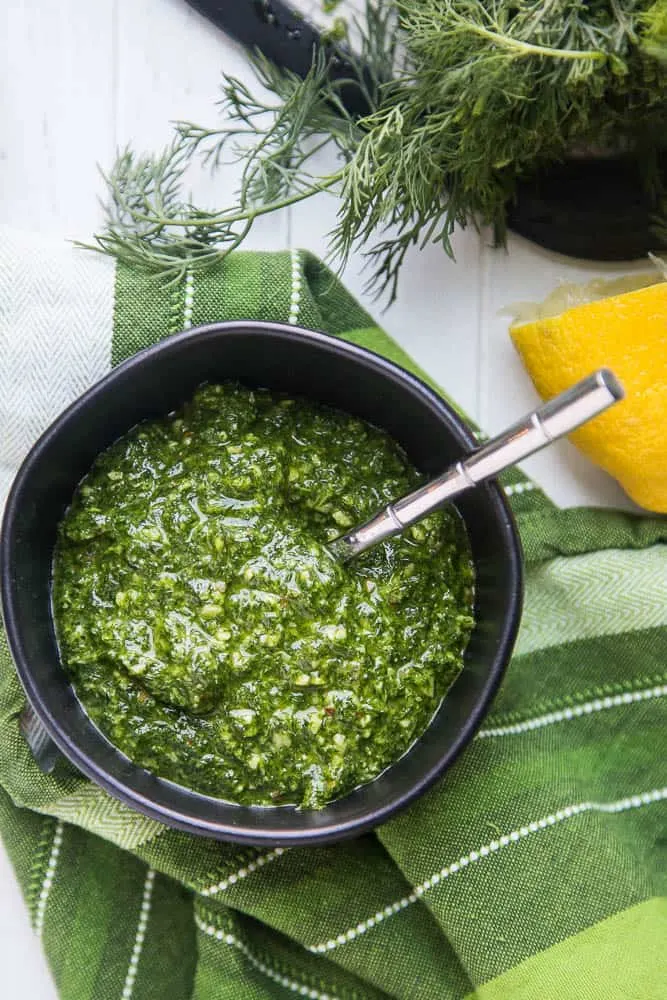 Gorgeous, right? If you're itching to stir in some grated Parmesan cheese, I would fully support you. It's delicious both ways though.
Can you freeze pesto?
Yes.
You can either freeze it in a block if you intend to use the whole thing at once. Or freeze it in an ice cube tray so you can take out a little at a time.
Did you know I also have a Homemade Sun-Dried Tomato Pesto, too? You could do a pesto bar party. Invite me, please.
Ways to Use Pesto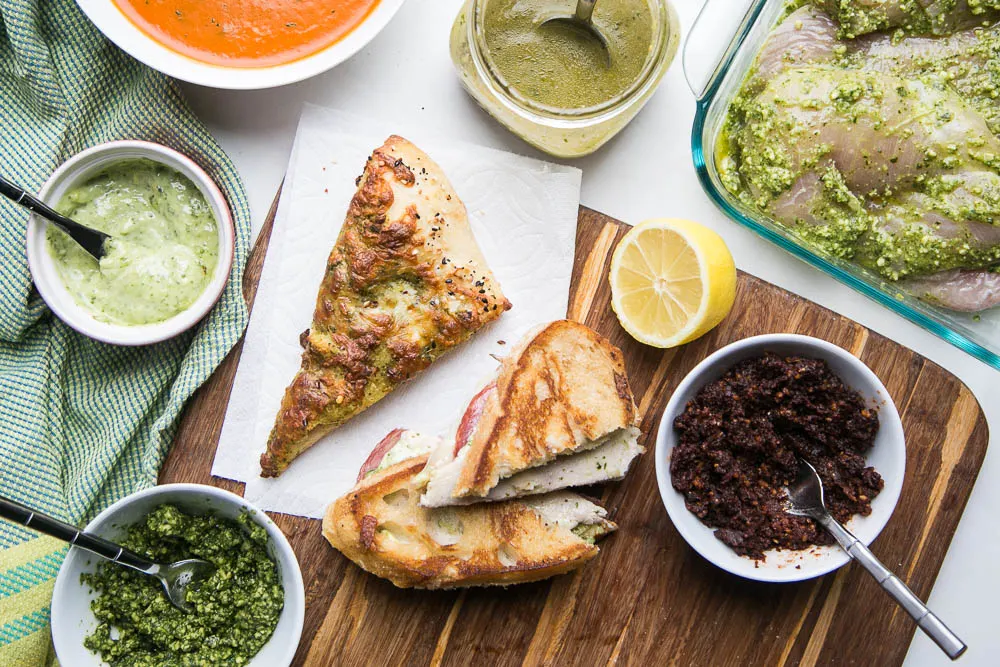 You can also stir dill pesto into potato salads, serve it with roasted or grilled vegetables, add a dollop to your Paleo Ranch to make DILLY RANCH.
One night I spread the dill pesto on some pizza dough, added the leftover grilled veg, sprinkled some mozzarella and Romano cheese over top and…. it was one of the best pizzas we've ever had. Truly. Any kind of pizza dough/crust would work, too.
If you're looking for more ideas, check out the post I did for The Pioneer Woman: 5 Creative Ways to Use Pesto.
Any of these ideas would work with this Dill Pesto. Mmm.
More Recipes on Perry's Plate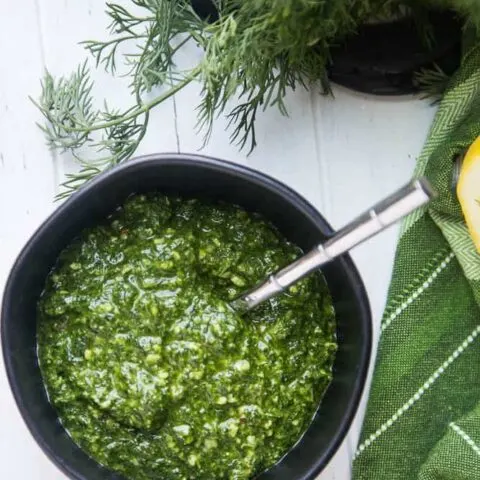 Dairy-Free Dill Pesto
Dairy-Free Dill Pesto is a fun twist on traditional basil pesto. It's perfect to spread over grilled summer vegetables, stir into potato salads, or into some ranch for a super dill-infused salad dressing!
Ingredients
1 large bunch of dill
1/4 cup sliced almonds or pine nuts
1 whole clove of garlic, peeled
1/4 teaspoon sea salt
Juice from 1/2 of a lemon
pinch of red pepper flakes
1/3 cup extra-virgin olive oil or avocado oil
Instructions
Remove about 2 1/2 - 3 cups (loosely packed) of leaves from the dill bunch. It's ok if you get some of the stems in there. Just whack the dill off about half way up the stalk and pick out some of the thicker stems. You don't need to pull all of them off all the stems.
Put the dill in the work bowl of a food process or or in a blender. Add the almonds/pine nuts, garlic, salt, juice from 1/2 a lemon and the pinch of pepper flakes.
Pulse until everything is minced well and scrape down the sides as needed. While the machine is running, drizzle in the oil and blend for a few seconds until smooth.
Transfer the pesto to a lidded container and chill until ready to use. It should last about a week in the fridge.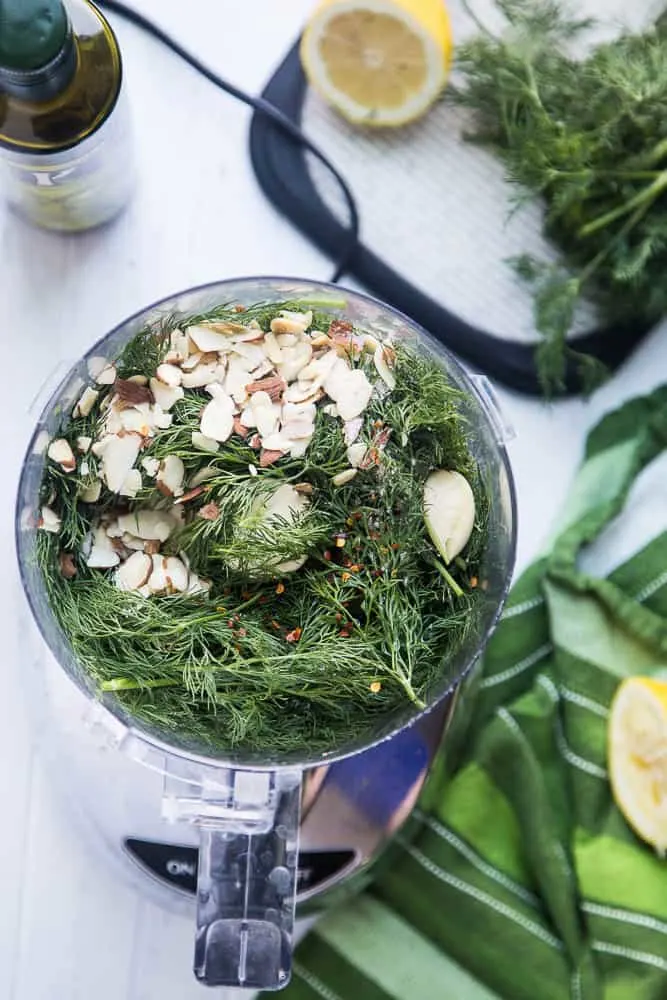 Disclosure: This post contains Amazon affiliate links. Purchases made by using these links doesn't cost you any extra and helps to keep my content free.