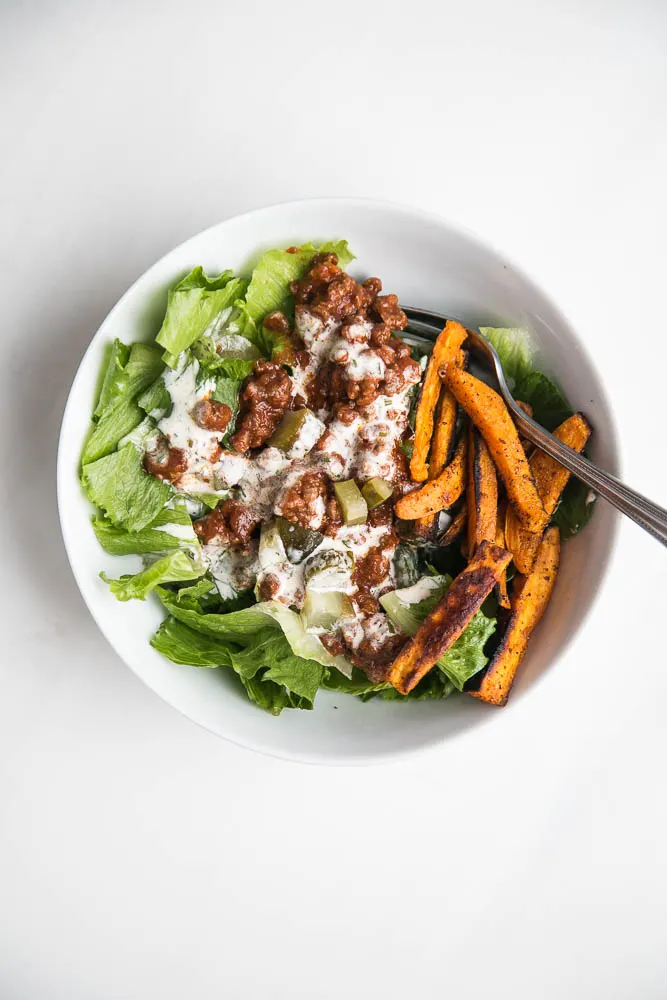 Earlier this year we were eating Sloppy Joe's at my parents house. I made my 2-year-old a plate and set it in front of her, but a few minutes later she started complaining.
"Want a Sloppy Joe!"
"You have a Sloppy Joe. See? It's right here."
"No! I want a Sloppy Joe!"
"Sweetie, this IS a Sloppy Joe."
"No! I don't want this," she said as she pulled off the top and bottom buns and handed them to me.
I realized, laughing, that we had been going so long without buns on our Sloppy Joe's that my youngest didn't remember life with buns. I wasn't sure whether to be a proud paleo mom or feel sorry for her. The older two, however, were in heaven with their spongy bread soaking up the Sloppy Joe sauce. Can you blame them?
Eating a Sloppy Joe with a lettuce cups became um… unnecessarily sloppy. Sometimes we put them on a bed of Sweet Potato Fries. (Hello, amazing.) And sometimes when I was craving something with more freshness I'd put it on a bed of lettuce, which later evolved into a full-blown salad topped with paleo Ranch and diced pickles.
And, if we're being honest here, shredded cheese.
My bestie's 4-year-old daughter calls them Salad Joe's. I really love that.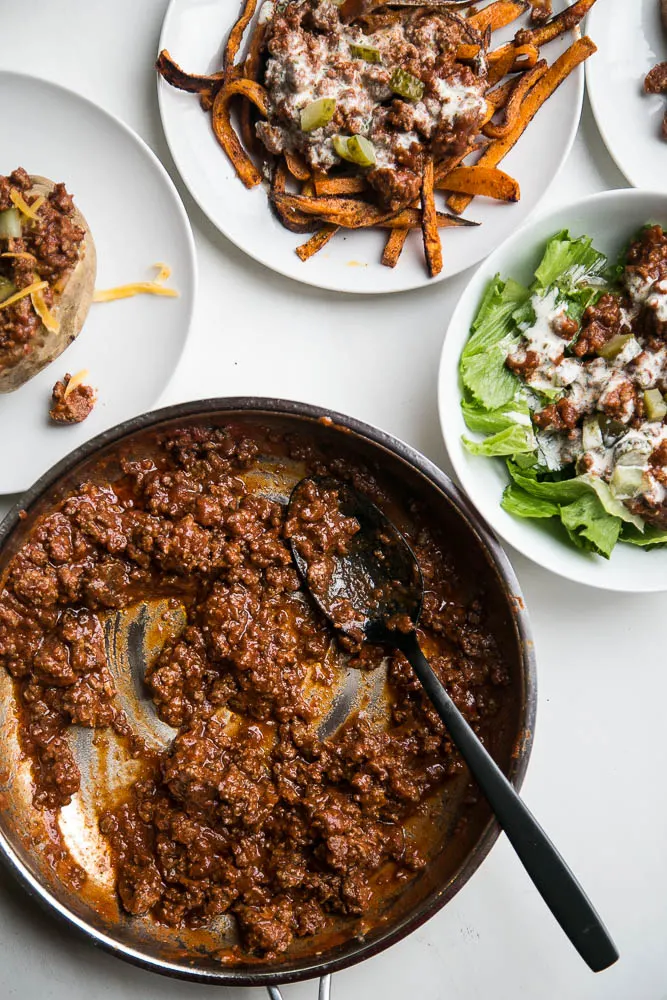 What's in a Sloppy Joe Salad?
I included a recipe down there, but a couple of the components are existing recipes on my blog, so I'll give you those first with some adaptations…
Best. Sloppy Joe's. Ever. Yes, the name is a bit presumptuous, but I stand by it. Also, there's no chopping involved — unless you really want some diced pickles on top. Worth it.
Dry Paleo Ranch Seasoning My favorite paleo ranch, ever. And I love that I can make a big jar of it and always have it on hand. I'm so over being at the mercy of fresh herbs when I want some ranch.
Homemade Mayonnaise This recipe uses extra-virgin-olive oil, but I've started using avocado oil instead for a more neutral flavor. If you're cool with dairy, you can also use Greek yogurt in the dressing.
SaveSave
---
If you make one of my recipes, be sure to post it on social media and tag me at @perrysplate or #perrysplate so I can send you some love!
Salad Joe's (Sloppy Joe Salads)
Additional Time:
30 minutes
Sloppy Joe's for the paleo, gluten-free, or grain-free eater. We actually prefer them this way!
Ingredients
2-3 heads of Romaine, chopped
diced pickles
Instructions
To assemble the salads, spoon some warm Sloppy Joe meat over a bed of Romaine lettuce and top with a drizzle of paleo ranch dressing and some diced pickles.
That's it. :)
This post may contain affiliate links. Any purchases made by using these links won't cost you any extra and helps keep my content free. These links may be Amazon links as I am part of the Amazon Associate Program.