Paleo Salted Caramel Sauce with Vanilla Bean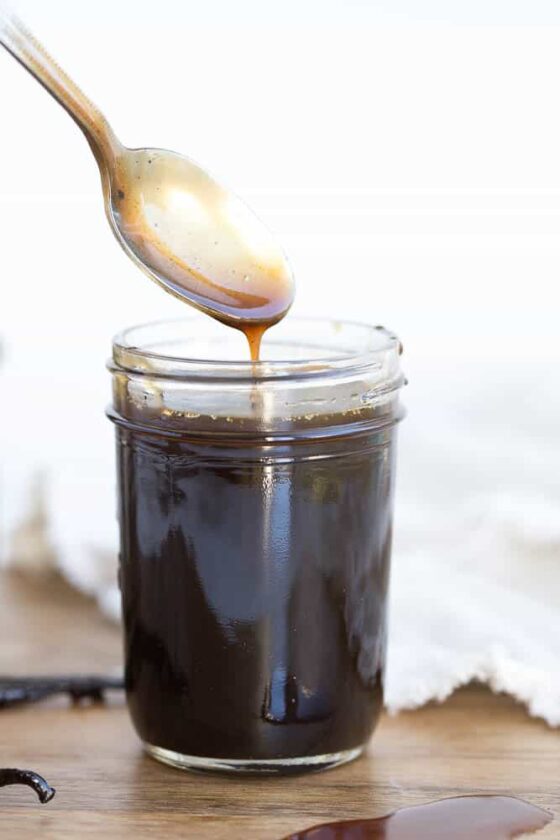 I love making homemade caramel sauce — especially with vanilla bean. This recipe can definitely stand alone, but it's actually the first of three recipes you'll need to make this AH-mazing grain-free, dairy-free, refined sugar-free Thanksgiving dessert I have planned for later this week.
I have mixed feelings about calling any dessert "paleo" because, theoretically, any food that has a high concentration of sugar (even natural sugars) wouldn't be found in large quantities in nature and probably shouldn't be labeled as "paleo".
BUT.
Using that term is a much simpler and more concise way of saying "grain-free, dairy-free, naturally-sweetened". So, it's more of an indicator of ingredients than one of philosophy. Annnnyway….
This year I wanted to post a fancy dessert for Thanksgiving because I don't think I've ever done that. Seriously, though… the holidays are a crazy time of year, and I'm in awe of bloggers who have their posts planned out for weeks with a parade of holiday-inspired recipes. How do you do it?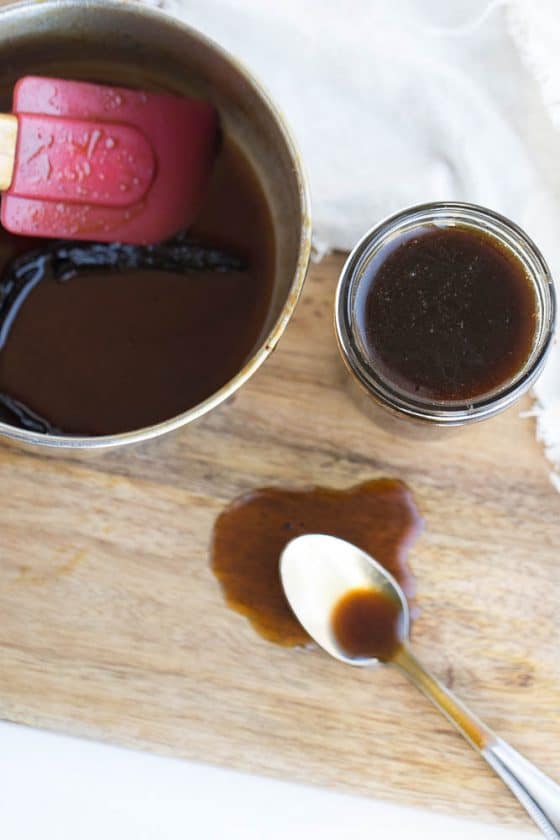 One of these years I'll have a whole Thanksgiving menu planned out and posted. Meanwhile, I'll tackle it in pieces. Starting with dessert.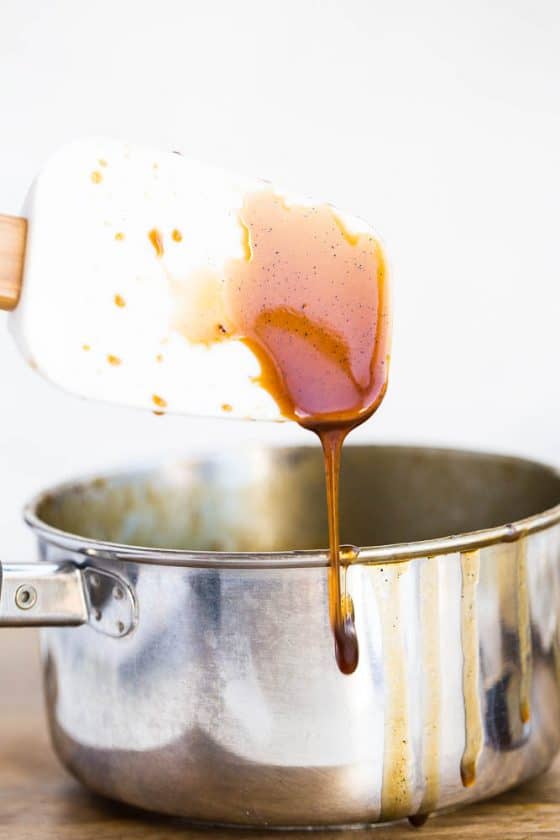 I think you'll love this caramel sauce. It's rich and dark tasting with a light saltiness and warmth from the vanilla bean. It's also made from three different forms of coconut (sugar, oil, and milk) so it has a coconutty flavor, too. You can use this however you like — as a drizzle over fruit, ice cream, or as a gift with a few Honeycrisp apples.
Or drizzled over some brownies and ice cream — like these Gluten Free Vegan Brownies from Beaming baker.
Or smeared over Thanksgiving morning waffles. If you aren't eating pie for breakfast. (Am I the only one who takes advantage of a free pass that day? *cough* Er, weekend?)
Another dessert staple made paleo is Paleo Lemon Curd from Sharon at What the Fork. How amazing would that be with some fresh berries and whipped coconut cream?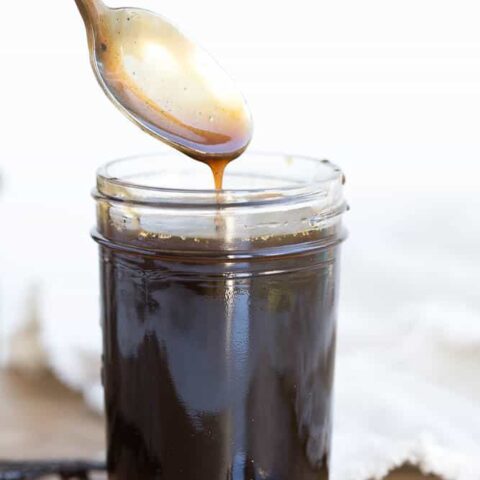 Paleo Salted Caramel Sauce with Vanilla Bean
Yield: About 1 cup
Additional Time: 15 minutes
Total Time: 15 minutes
This naturally-sweetened caramel sauce has a deep, rich caramel flavor, a hint of vanilla bean and sea salt.
Ingredients
1 cup coconut sugar
1/2 cup full-fat coconut milk
2 Tablespoons coconut oil
1 vanilla bean pod
1 teaspoon vanilla extract
1 teaspoon pink Himalayan sea salt (or 3/4 teaspoon regular fine sea salt)
Instructions
In a medium saucepan combine the coconut sugar, coconut milk, and coconut oil and bring to a low simmer over medium-low heat, stirring often, until the oil is dissolved and the sugar has melted. Bump the heat up to medium or medium-high heat and bring to a rolling boil for 2-3 minutes, stirring often so it doesn't burn.
Remove the pan from the heat.
Using a sharp knife, score the vanilla bean pod lengthwise. Pry it open and, using the backside of your knife, scrape out the black seeds. Put the seeds and the pod into the saucepan along with the vanilla extract and the salt. Stir well.
Let the mixture sit for 5-10 minutes to allow the vanilla to impart its flavor into the caramel.
Serve right away or let it cool to room temperature, then store it in an air-tight container. Put the vanilla bean pod into the container, too.
SaveSaveSaveSave