This dairy-free caramel sauce is not only the easiest caramel sauce you'll ever make, it's also naturally sweetened! Only THREE ingredients, too!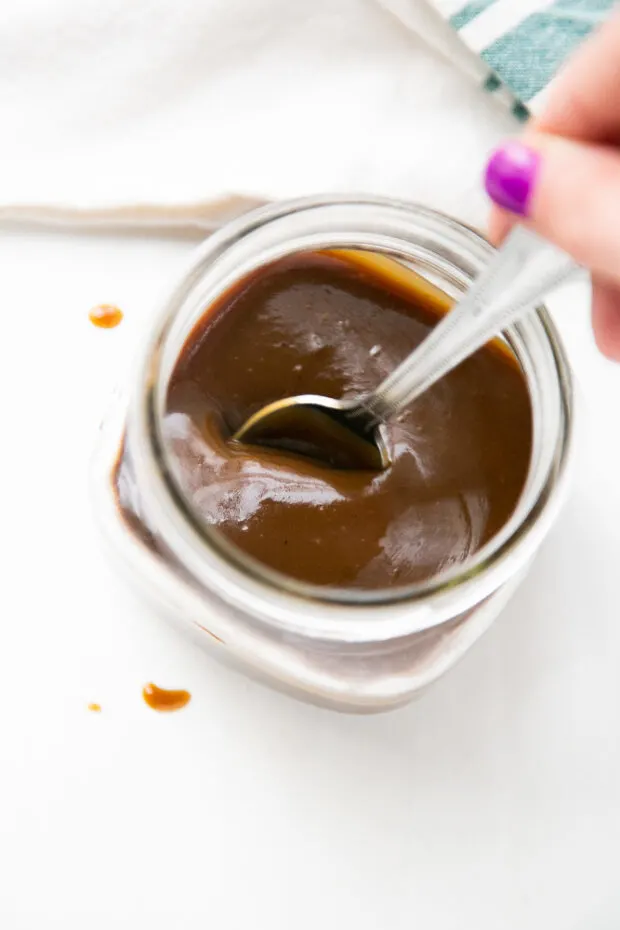 I love this dairy-free caramel sauce! It's the easiest recipe, too.
The vast majority of homemade caramel recipes online call for heavy cream and brown sugar. If you've wondered how to make caramel sauce without cream (or refined sugar!), then you're in the right place.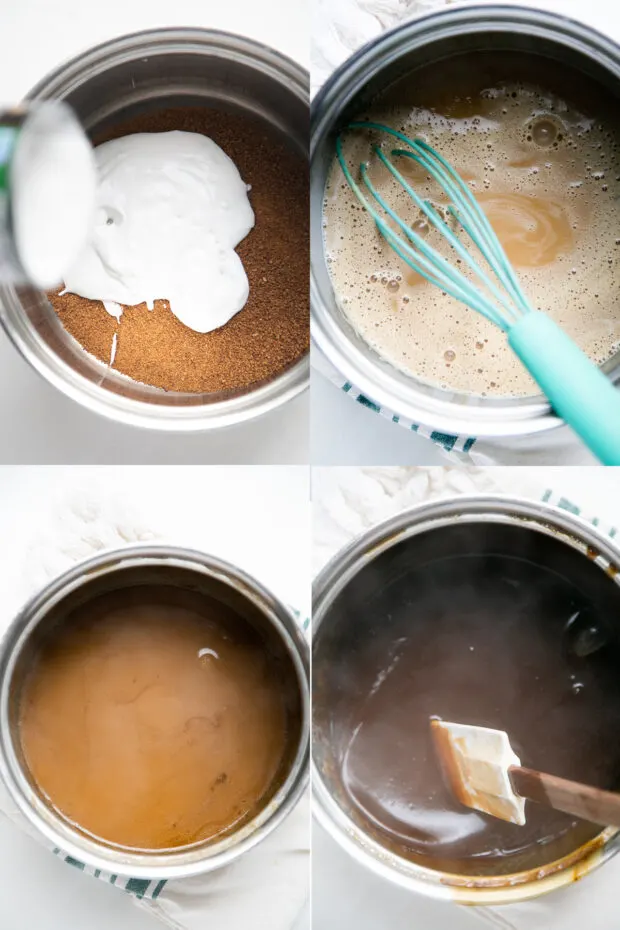 I added a little sea salt to mine because sea salt caramel is one of my most favorite things.
This version of salted caramel sauce is easy and only has THREE simple ingredients. It's still naturally sweetened and dairy-free, too.
How to make Dairy-Free Caramel Sauce
Caramel sauce tends to have a lot of sugar and cream, right?
Well, I used full-fat coconut milk mixed with coconut sugar and reduced it down to a thick, rich sauce. Let the sugar dissolve and everything get all bubbly and thick. See how it looks as it cooks?
This is such an easy recipe. Much easier and less finicky than the recipes that tell you to heat sugar in a sauce pan until the sugar melts.
Don't get me wrong — that method makes a super delicious caramel sauce. However, trying to keep the sugar from turning into a grainy caramel sauce or getting that perfect amount of darkness without scorching it is tricky.
You just cook it on the stove at medium heat for 15-20 minutes. Make sure to stir it occasionally and scrape down the sides of the pan. I like to use a wooden spoon so it doesn't overheat, but you can use whatever heat-proof utensil you prefer.
That's it, folks.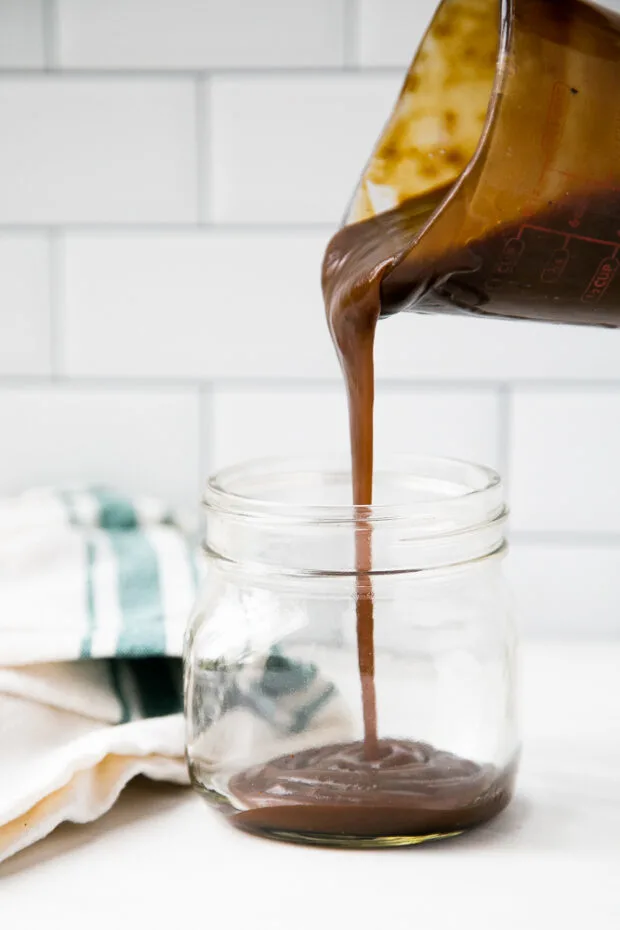 It doesn't need any thickeners or other ingredients to make it rich. You don't need a candy thermometer either!
If you like, you can add some vanilla extract at the end of cooking.
How long does caramel sauce last in the fridge?
Conservatively, I'd say two weeks in an airtight container chilled, but if you've got some in there for longer and it smells and tastes OK, then by all means, keep using it.
It's much easier to use at room temperature or warmed up. If you're pulling it from the fridge to use, pop in the microwave for 30 seconds or so to loosen it up.
I store my caramel sauce in a glass jar or a mason jar so it's easier to reheat. I don't like putting plastic containers in the microwave.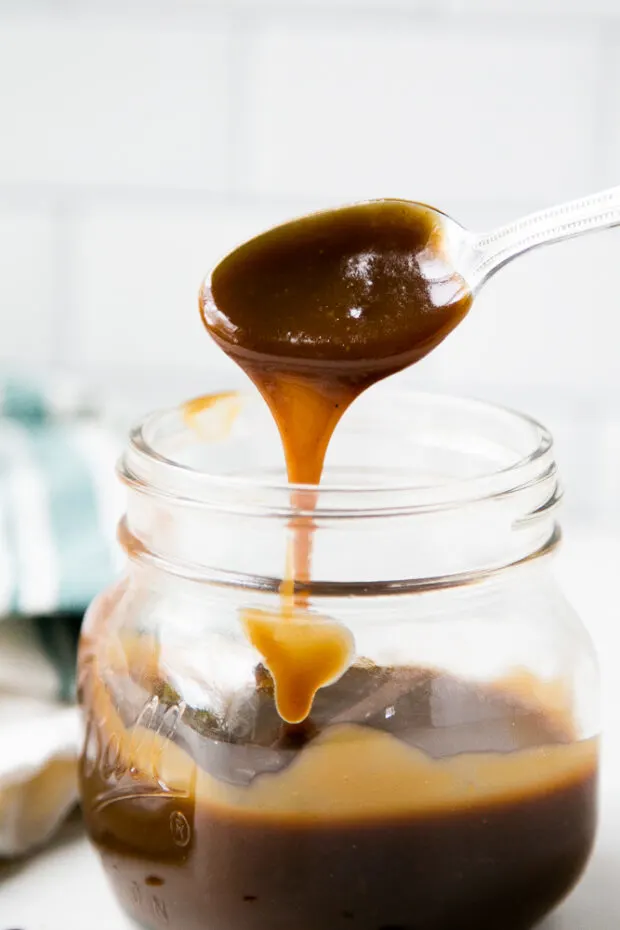 Ways to use this dairy-free homemade caramel sauce recipe
Here are my favorite ways to use some of this tasty, hot caramel sauce!
Dip stuff in it: apples, pears, cookies, marshmallows
Drizzle it on pancakes/waffles/crepes for a fancy breakfast. Or over vanilla ice cream.
Use it to make Paleo Samoa Cookie Bars— if you're going to a holiday dinner with guests who are eating dairy/gluten free, this would be a perfect little treat.
Use it in any recipe that calls for creamy caramel sauce. It would be pretty fabulous as part of an apple pie recipe.
I haven't used this caramel sauce for caramel apples, and I'm unsure if it would firm up enough to make a good coating for a caramel apple. But if you dip one, let me know how it turns out.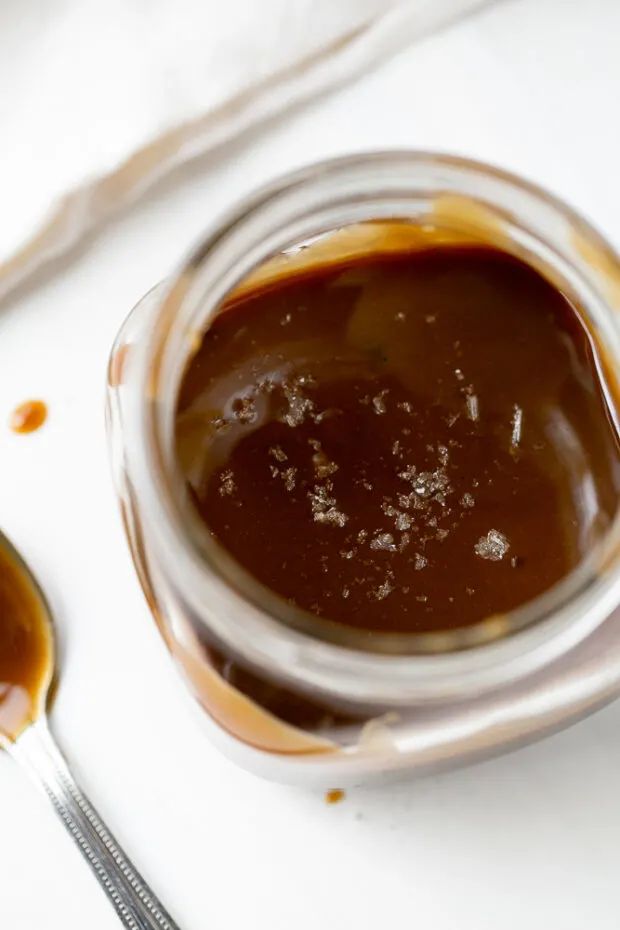 ---
If you make one of my recipes, be sure to post it on social media and tag me at @perrysplate or #perrysplate so I can send you some love!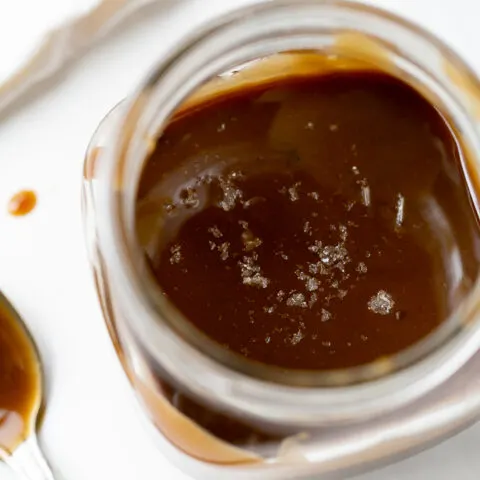 Paleo Salted Caramel Sauce
This naturally-sweetened paleo salted caramel sauce is thick and rich with only a few ingredients!
Ingredients
1 13-oz can of full-fat coconut milk
1/2 cup coconut sugar
1/2 teaspoon pink Himalayan sea salt (or 1/4 teaspoon regular fine sea salt)
Instructions
In a medium saucepan combine the coconut milk and coconut sugar. Bring to a boil, then reduce to medium and cook it on a low boil for 15-20 minutes or until the mixture has reduced to 1 cup. I usually pour it into a glass measuring cup to see if it has reduced enough.
Stir in the salt and transfer the caramel sauce to a lidded jar. Store refrigerated for a couple of weeks.
You can pop it in the microwave for 20-30 seconds to loosen it up before serving if it is chilled.
Notes
If you have some Maldon Sea Salt, I recommend using it here.
Adding a teaspoon of vanilla extract or vanilla bean paste is lovely, too. Add it to the caramel sauce at the very end.
Recommended Products
As an Amazon Associate and member of other affiliate programs, I earn from qualifying purchases.
This post may contain affiliate links. Any purchases made by using these links won't cost you any extra and helps keep my content free. These links may be Amazon links as I am part of the Amazon Associate Program.