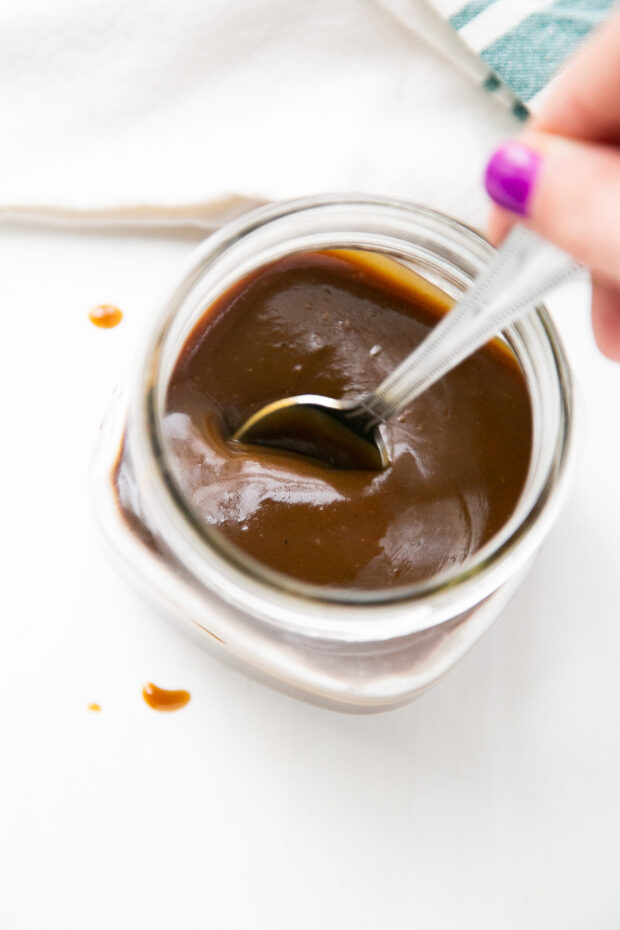 I decided to update this Paleo Salted Caramel Sauce recipe after I posted my Paleo Samoa Cookie Bars because the caramel sauce was SO much better than the original recipe on this post.
I hope you don't mind. You'll thank me.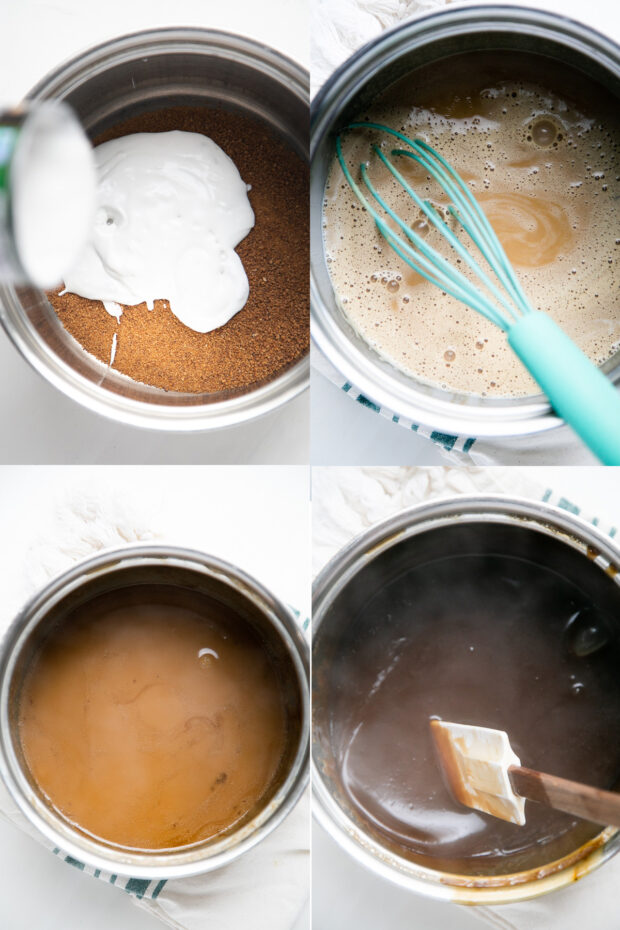 This version of salted caramel sauce is easier and only has THREE ingredients. It's still naturally sweetened and dairy-free, too.
How to make Dairy-Free Caramel Sauce
Caramel sauce tends to have a lot of sugar and cream, right?
Well, I used full-fat coconut milk mixed with coconut sugar and reduced it down to a thick, rich sauce. See how it looks as it cooks?
You just simmer it on the stove for 15-20 minutes.
That's it, folks.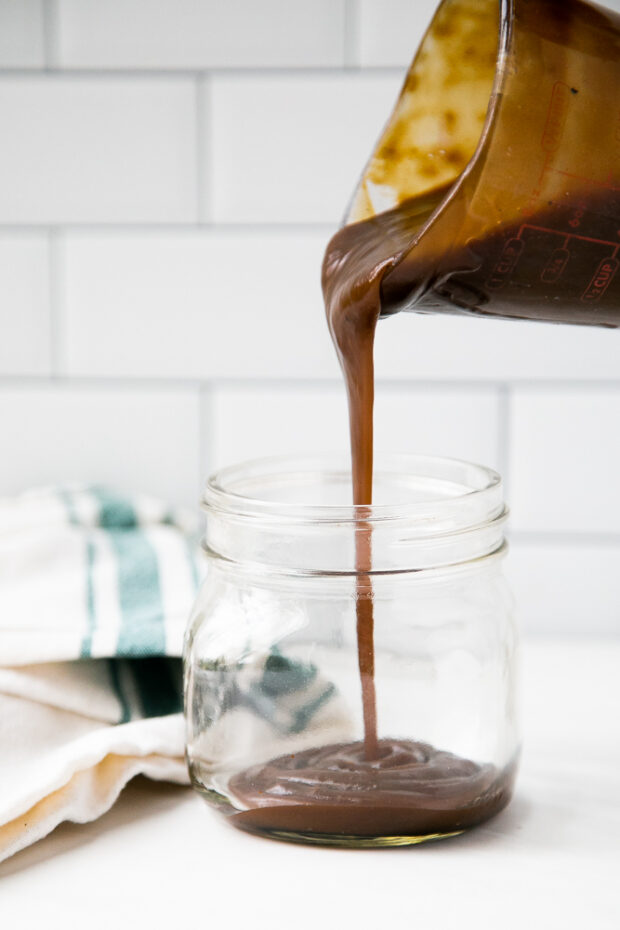 It doesn't need any thickeners or other ingredients to make it rich.
It just IS.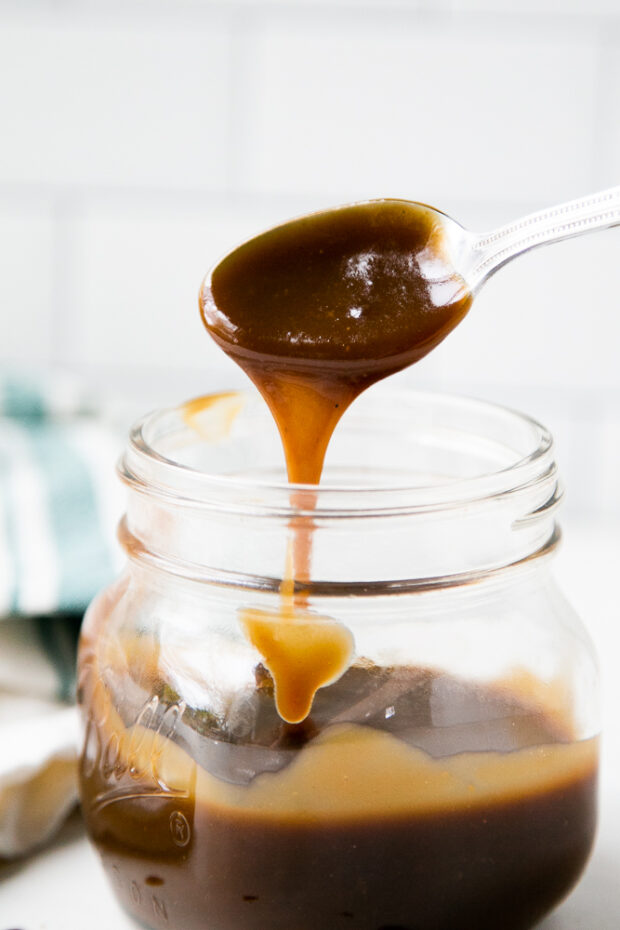 How long does caramel sauce last in the fridge?
Conservatively, I'd say two weeks, but if you've got some in there for longer and it smells and tastes OK, then by all means, keep using it.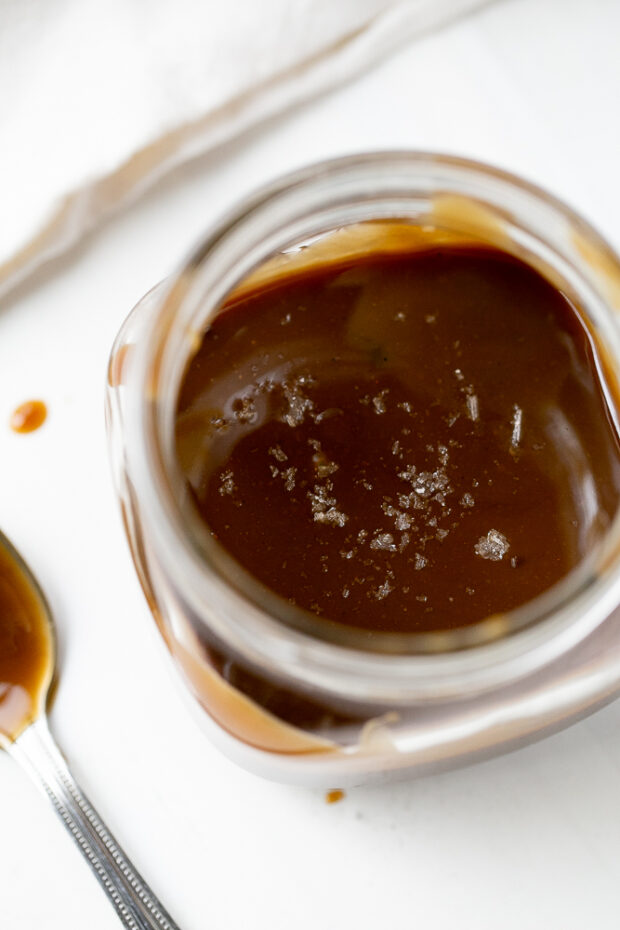 How to use Paleo Salted Caramel Sauce
Here are a few ideas to use this sauce!
---
If you make this recipe, be sure to post it to social media and tag me at @perrysplate or #perrysplate so I can send you some love!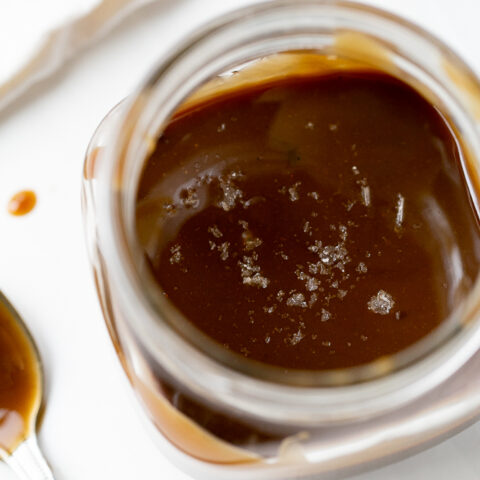 Paleo Salted Caramel Sauce
Additional Time:
15 minutes
This naturally-sweetened paleo salted caramel sauce is thick and rich with only a few ingredients!
Ingredients
1 13-oz can of full-fat coconut milk
1/2 cup coconut sugar
1/2 teaspoon pink Himalayan sea salt (or 1/4 teaspoon regular fine sea salt)
Instructions
In a medium saucepan combine the coconut milk and coconut sugar. Bring to a boil, then reduce to medium and cook it on a low boil for 15-20 minutes or until the mixture has reduced to 1 cup. I usually pour it into a glass measuring cup to see if it has reduced enough.
Stir in the salt and transfer the caramel sauce to a lidded jar. Store refrigerated for a couple of weeks.
You can pop it in the microwave for 20-30 seconds to loosen it up before serving if it is chilled.