This easy sugar scrub is made with REAL ingredients you probably have already! Brown sugar and coconut oil make a moisturizing, gentle sugar scrub that can be used anywhere on your body.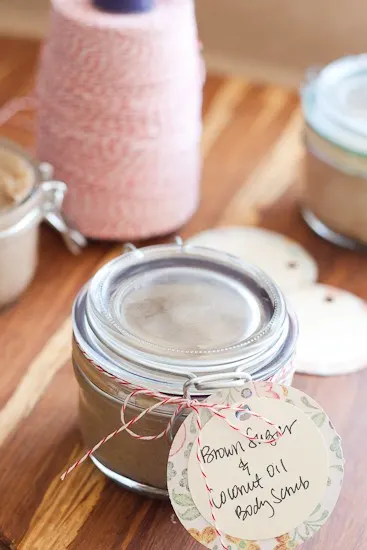 If you've ever wanted to know how to make sugar scrub, you're in for a treat. Literally. Homemade sugar scrub tastes a little like cookie dough, if you make it a certain way.
Ok, a lot like cookie dough. Every time I use this on my face I dip my finger in it and eat a glob. Needless to say there isn't a lot of exfoliating going on when I'm doing a round of Whole30. Too tempting. Or I'd forget and eat some anyway.
It's a terrible habit. However, I love that I can make DIY body scrub for a fraction of the price of store-bought and find everything I need at the grocery store.
Plus it tastes like cookie dough. Pfft. What brand can claim that?
Sugar Scrub Benefits
I've been using my DIY body scrub as a body exfoliator and face scrub for a few weeks, and I LOVE it.
Use this body scrub with sugar on your face, hands, feet, body — anywhere, really.
It totally exfoliates and moisturizes my dry skin and gets rid of all the dead skin cells. And it's silky smooth when I'm done. I feel like have a spa day when I scrub my whole body with that stuff.
I also use it on my face a couple times a week and since my skin has gotten dryer the older I get, it's really helpful for my skin. The scrub does a great job exfoliating and the oil leaves my skin feeling super-hydrated and soft.
Another huge benefit of making exfoliating sugar scrub at home is the cost! It's SO much less expensive than buying pricey scrubs at the store. And you can feel good about the ingredients when you make them yourself.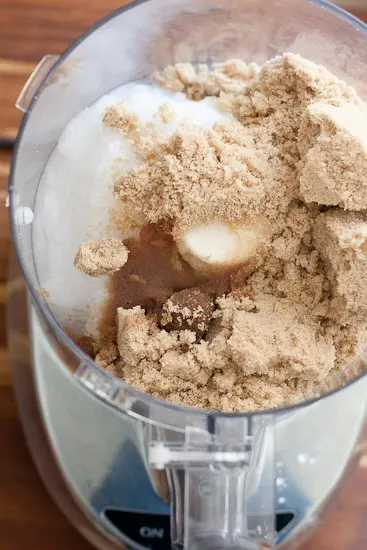 What kind of sugars can I use in sugar scrub?
As far as sugar, decide what texture you'd like and that will determine what kind of sugar you use.
Cane Sugar
Organic cane sugar will give you a more coarse scrub and fine sugar will give you fine scrub. If you want to use this on your body AND your face, I'd suggest fine or medium-coarse sugar.
I like to use organic sugar because it's a little more coarse than regular sugar, but it isn't super coarse like turbinado sugar.
Brown sugar
Brown sugar is also good. That's what I use most often, actually. It's softer and more gentle than coarse cane sugar.
Salt
AND you can use salt instead of sugar. This is especially helpful if you find that more of it is going in your body than on your body.
I recommend using fine sea salt or table salt. Coarse salt (like Kosher salt) would probably be too coarse for your skin — unless you just plat on using this for the bottom of your feet.
What Oils To use in Sugar Scrub?
My favorite oil to use in sugar scrub is coconut oil because it's solid at room temperature and makes the scrub creamier. And I love the way it smells.
Using a neutral (or pleasant) smelling oil is ideal. Avocado oil, jojoba oil, almond oil, and light olive oil are good options. I don't recommend extra virgin olive oil unless you don't mind it smelling like salad dressing.
How to Make Homemade Sugar Scrub
All you need are a few simple ingredients. And you probably already have them in your kitchen.
I use a food processor to blend my natural body scrub, but you don't need to.
(I'm always on a mission to convince everyone they need a food processor. It's such a workhorse in my kitchen, and I've gone through several over the past decade or so. So if you have it, use it!)
I use a food processor for this because it's WAY faster and easier — especially if your coconut oil is a little stiff. You get a much more blended scrub.
Making homemade sugar scrub by hand
You can definitely use a bowl and heavy spoon and call it your arm work out.
Just throw in the coconut oil, brown sugar, and other add-ins. (Like essential oils or… um… vanilla extract. Maybe I shouldn't make it so easy for me to eat.) It buzzes it up really quickly.
Here's a helpful video so you can see what I mean:
Then buzz it around for just a few seconds until it looks creamy. Like this…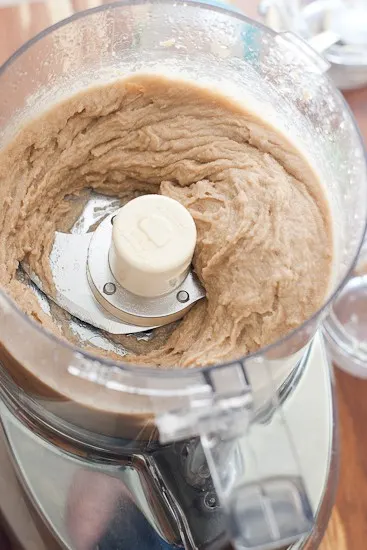 Again, you don't need a food processor for this. You can mix it up in a large bowl. Just make sure your brown sugar is fresh so you don't have to smooth out a bunch of dry sugar lumps. That's no fun.
TIP: If you let it go too long, the friction will warm the coconut oil which will cause the whole thing to separate.
What if my sugar scrub separates?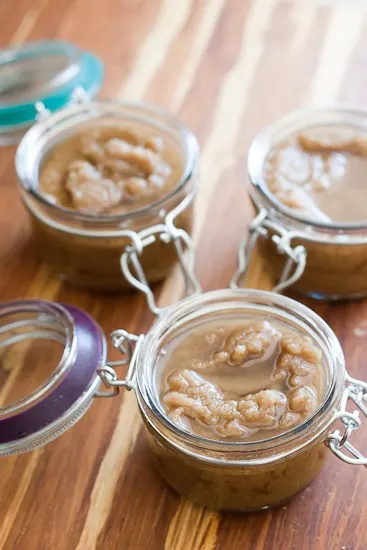 Don't panic, though. It's not a big deal.
A lot of commercial body scrubs are separated like this. This will also happen if you keep homemade body scrub in your shower all the time. It's still OK to use, though. Just mix it around with your finger before you use it.
And lick it off your finger.
Oh gosh. I should really start using olive oil instead. Or turn it into a salt scrub.Anyway. I like the creamy look better.
Can I use essential oils in sugar scrub?
Speaking of scents — Yes. You can definitely use essential oils in scrub.
I've used a few different brands of essential oils (including the big D) and I REALLY love Revive oils the best. They're high quality and more affordable than MLM-based brands. (And if you use my code you can get 10% off your order if you're a new customer! PERRYSPLATE10)
Just be aware of the potency of certain essential oils. In my Gingerbread Sugar Scrub I used ground spices instead of ginger, cinnamon, and clove oils because the cinnamon and clove oils can irritate the skin. (I made that mistake once. Heh.)
If you don't want to use essential oils, you can use citrus zest, extracts, herbs, or flavorings.
Much of what's in your pantry is fair game! I even used molasses in that gingerbread scrub.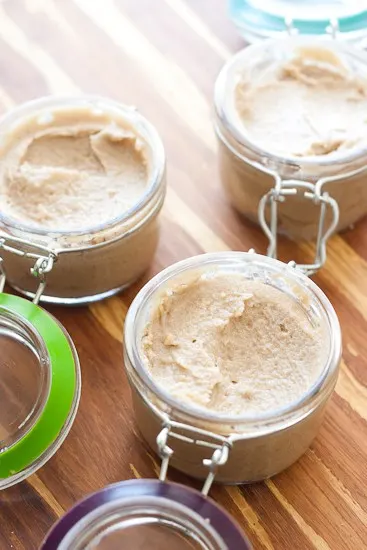 How do I store sugar scrub?
Short answer: Use any lidded container. And if you want to keep it from getting melted and separated, don't store it in the shower. Like I said, it's not necessarily a bad thing, though. It's easy to blend it up again with your finger.
Long answer: I like cute glass jars or mason jars because they're easy to clean and reuse. And I have a whole cupboard of them. I especially like the short squatty half-pint jars because it's easy to get all the scrub out when you're using it. Plus they're cute.
I just store mine in a mason jar, but you can get creative with your jars if you're giving them away as gifts.
I made this particular batch of sugar scrub to put in some gift baskets for my girls' teachers for an end of the year teacher gift. They LOVED it! I found the jars at Ross. They were $5 for a 3-pack. Super cute, right?
You could also tie a piece of cute ribbon around them. Or put a cute sticker on the top and write a message. So many options here.
Does sugar scrub need to be refrigerated?
Nope.
You can keep it in your bathroom cupboard or in the shower. But again, if you store it in the shower, the heat from the shower will melt the coconut oil and make your scrub separate.
Just use your finger to stir it back up. No biggie.
How long will sugar scrub last?
Months and months.
The high sugar content acts as a preservative (like when things are "candied") so it should be fine for a long time.
How to package homemade body scrub as a gift
I found these cute little canning jars at the store and filled them. They're about 4 ounces each.
Then I tied a simple tag on there with some string. I just used bakers twine and some round cut-outs I made from scrapbook paper. You don't need a Cricut or anything fancy for this. (Plus the tag usually gets tossed anyway. Eventually it'll get oily and wet from using the scrub.)
These are great little inexpensive gifts you can give to teachers, friends, new moms, or to use as stocking stuffers or simply thank you gifts!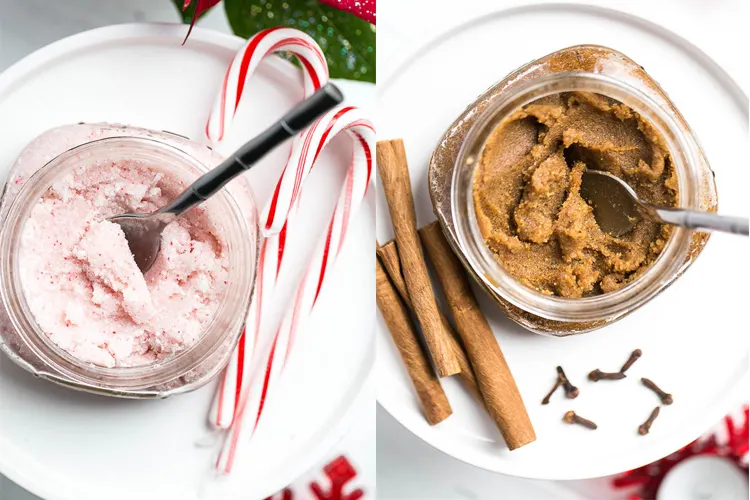 I also made some Homemade Holiday Sugar Scrub variations for Christmastime! Candy Cane and Gingerbread scrubs have become some of my favorite. (They're edible and delicious, too, in case you were wondering…)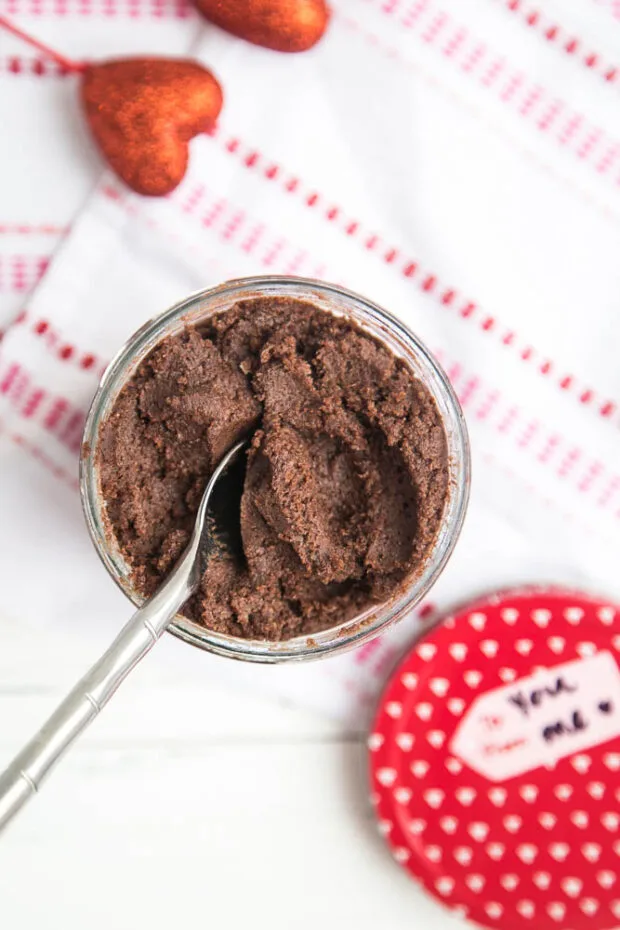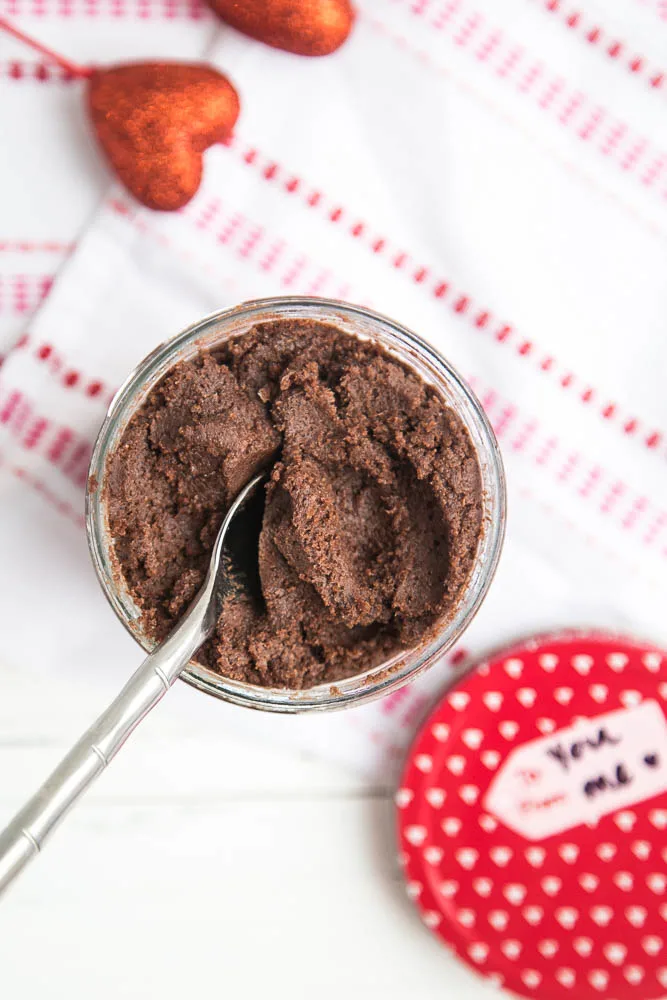 I have a Chocolate Sugar Scrub for Valentine's Day! (Also edible. *wink*) And a Grapefruit & Mint Sugar Scrub that's nice and springy.
Making DIY beauty products can be so much fun. And I feel better using things on my skin that you can easily find at the store (or that you already have in your pantry.)
Do you make your own bath and body products? Please share!
---
If you make one of my recipes, be sure to post it on social media and tag me at @perrysplate or #perrysplate so I can send you some love!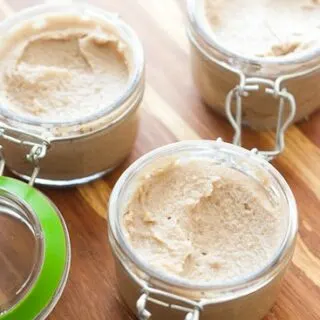 Homemade Sugar Scrub with Brown Sugar and Coconut Oil
Yield:
Makes about 1 1/2 cups
Make your own body scrub at home with things you already have in the pantry!
Ingredients
2 cups brown sugar
1 cup solid (but soft) coconut oil
Extra additions (vanilla extract, essential oils, etc.)
Instructions
Whip together the sugar, oil, and any extra additions until the mixture looks creamy and resembles loose cookie dough.
You may use a food processor, but don't let it process too long or the coconut oil will melt and the mixture will separate. If this happens, just put it in the freezer for a few minutes to solidify and mix again.
Store in an airtight container. Lasts for weeks. Maybe months. If it's stored in the shower, you may have the same problem with separation as the coconut oil warms. Just stir it around with your finger before using.
It's OK to lick your finger, too. :)
Recommended Products
As an Amazon Associate and member of other affiliate programs, I earn from qualifying purchases.
Disclosure: This post contains Revive and Amazon affiliate links. Purchases made by using these links doesn't cost you any extra and helps to keep my content free.
SaveSave