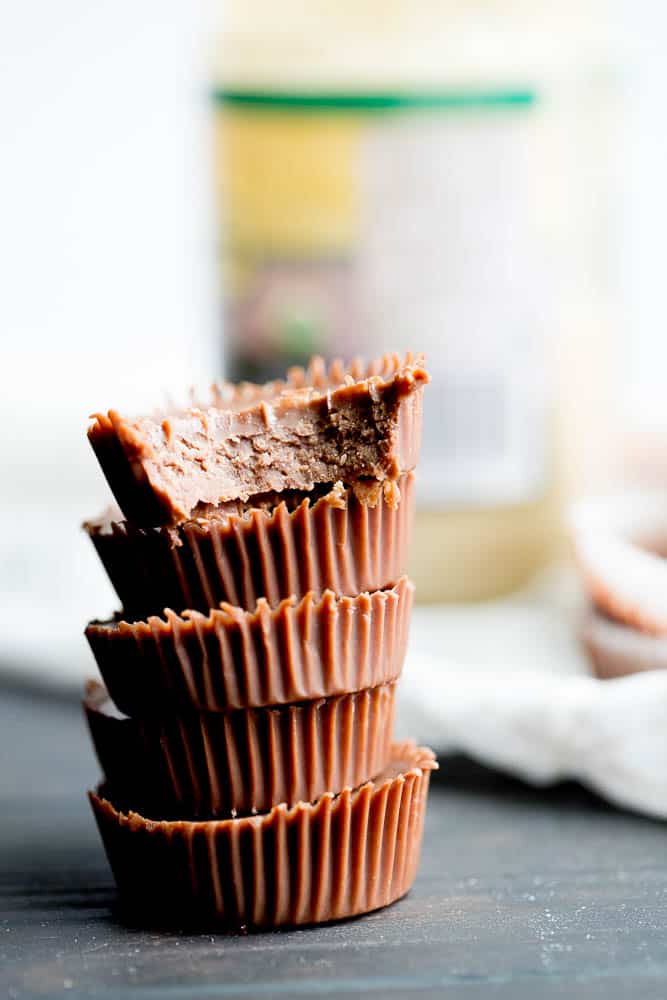 I've been on a quasi keto kick lately and dabbling in some low-carb dessert action. After such a great response for the White Chocolate Raspberry Fat Bombs I shared last year, I wanted to make another kind of fat bomb — a chocolate version.
Keto chocolate treats are super easy to make, too. You can have these ready to eat in under an hour!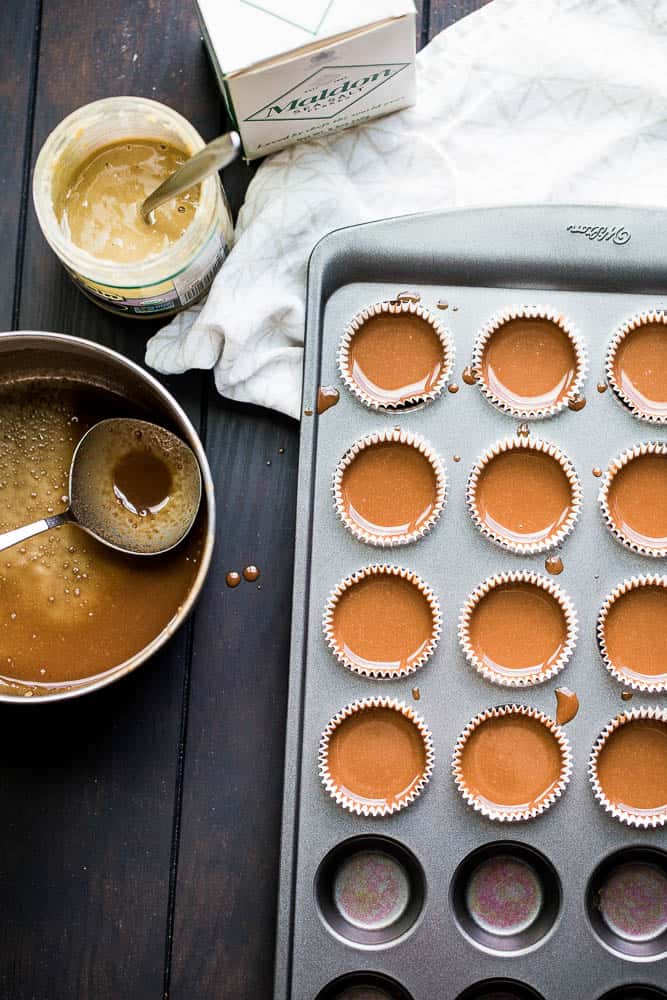 So, what's a fat bomb? A little low-carb treat that's FILLED with healthy fats — usually coconut oil, cacao butter, etc. They're a good way to enjoy a little something sweet while boosting your healthy fats.
Since I'm also on a chocolate-tahini kick lately I wanted to make a keto chocolate fat bomb that tasted kind of like a peanut butter cup — but without the peanuts. Tahini is great for this, and since it's nut-free, it's a great option for those who have peanut (or any nut) allergies. If you don't have a problem with nuts, you can use any kind of nut butter in these.
Store-bought chocolate is one of the things that is hardest to let go of if you're eating low-carb — even high quality chocolate, because 99% of it is sweetened with sugar. I love using high quality cacao powder, like Anthony's. (I learned recently that COCOA powder is roasted and CACAO powder is raw, keeping more of the nutrients in tact.)
Cacao butter is also easy to find online. And, like the other fat bombs I posted, I use the erythritol-based Swerve confectioner's sugar. (I order both from Amazon because the prices are better there.).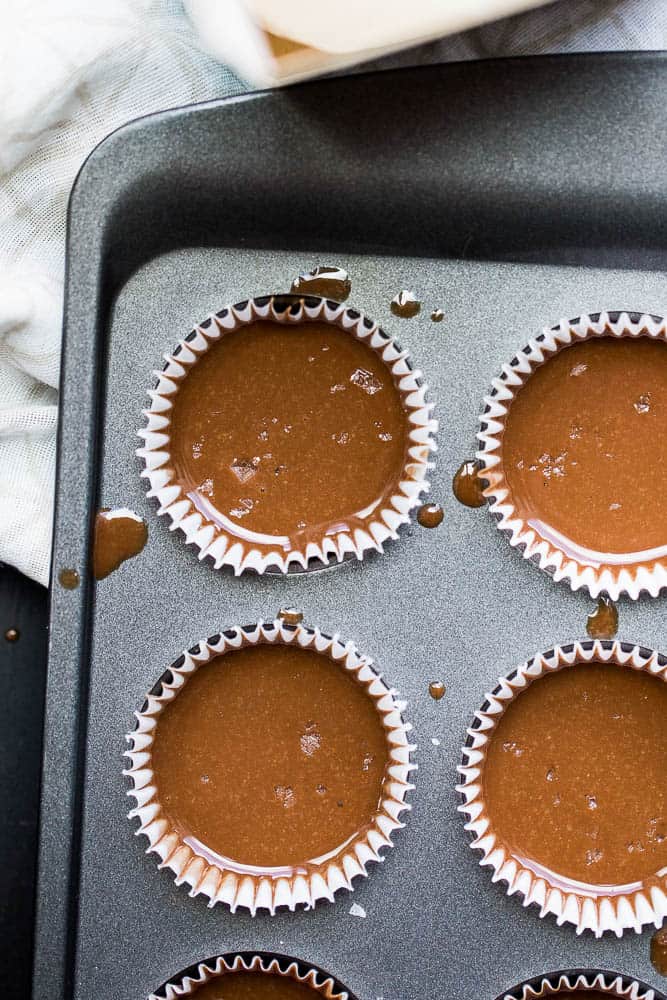 I also added some Maldon sea salt flakes to the top. So, so glad I did. My tahini is unsalted, so it gave it a little bit of extra dimension. If you have salted tahini you may want to omit the salt flakes.
Actually, get a box of Maldon sea salt flakes anyway because it's a FABULOUS finishing salt and you can make a whole bunch of Everything Bagel Seasoning. Mmm.
Also, I used a mini muffin tin for these, but you can use a full-size tin — just fill them 1/3 full so they're a manageable size. Or not. "Manageable size" is totally relative. (I hold my desserts pretty well.)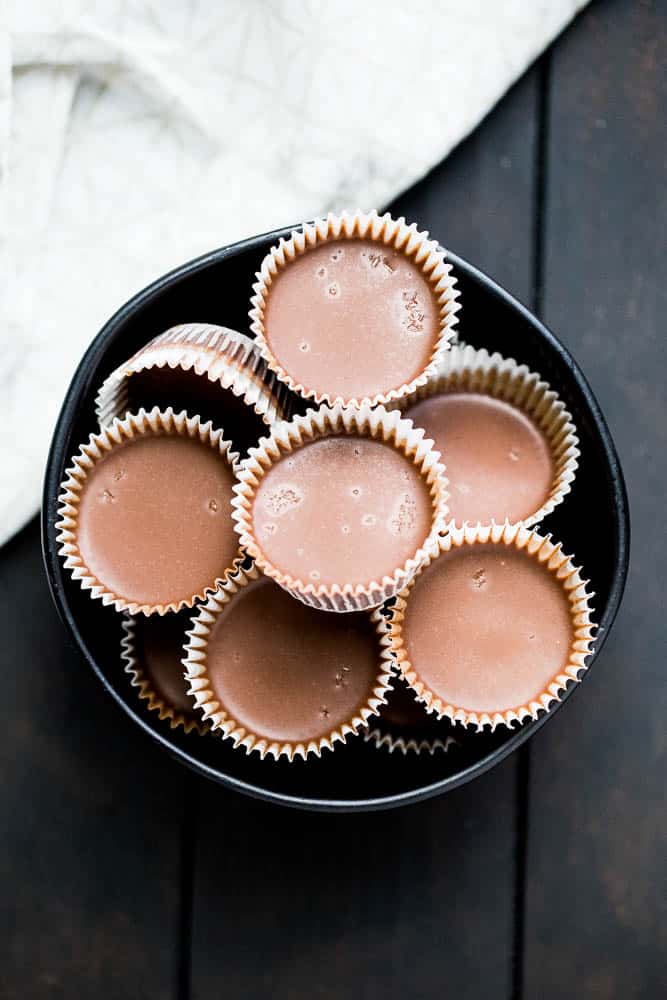 Look how cute these are! I was so happy with the way they turned out. I highly recommend storing them in the fridge since they soften quite a bit at room temperature.
I love taking these in an insulated container on road trips. And they're awesome to have around during candy-centric holidays. And I feel so much better if I happen I eat a few more than I planned — unlike actual peanut butter cups.
You can find the other fat bomb recipe here: White Chocolate Raspberry Fat Bombs.
Keto Chocolate Tahini Fat Bombs
These nut-free tahini fat bombs taste like peanut butter cups! If you're able and would rather use nut butter, you can substitute any kind here.
Ingredients
2 ounces cacao butter, broken into pieces
1 ounce 100% cacao baking chocolate, broken into pieces
1/4 cup coconut oil
1/2 cup tahini (sesame butter)
1/4 cup low-carb powdered sweetener, like Swerve confectioners sweetener
Flaky sea salt
Instructions
Melt the cacao butter, chocolate, and coconut oil together in a small saucepan over low heat. Stir often to avoid scorching.
When the chocolate mixture is completely melted and combined, whisk in the tahini and sweetener.
Line a mini muffin tin with liners. Divide the chocolate-tahini mixture among the cups.
Chill for at least 20-30 minutes or until firm.
Store chilled.
Notes
Nat's Notes:

1. You can use a granulated low-carb sweetener, but it doesn't dissolve well and the cups end up grainy. Tasty, but not the ideal texture.
2. Feel free to substitute any type of nut butter in these.
4. You can use additional coconut oil in place of the cacao butter, but it won't stay quite as solid if you are transporting them.

Nutrition Info (per cup):

125 calories | 12.4g fat | .7g carb | 1.7g protein

Disclosure: This post contains Amazon affiliate links. Purchases made by using these links don't cost you any extra and helps to keep my content free.
SaveSave
SaveSave
SaveSave