A handful of ingredients and five minutes will give you a blender full of paleo strawberry ice cream!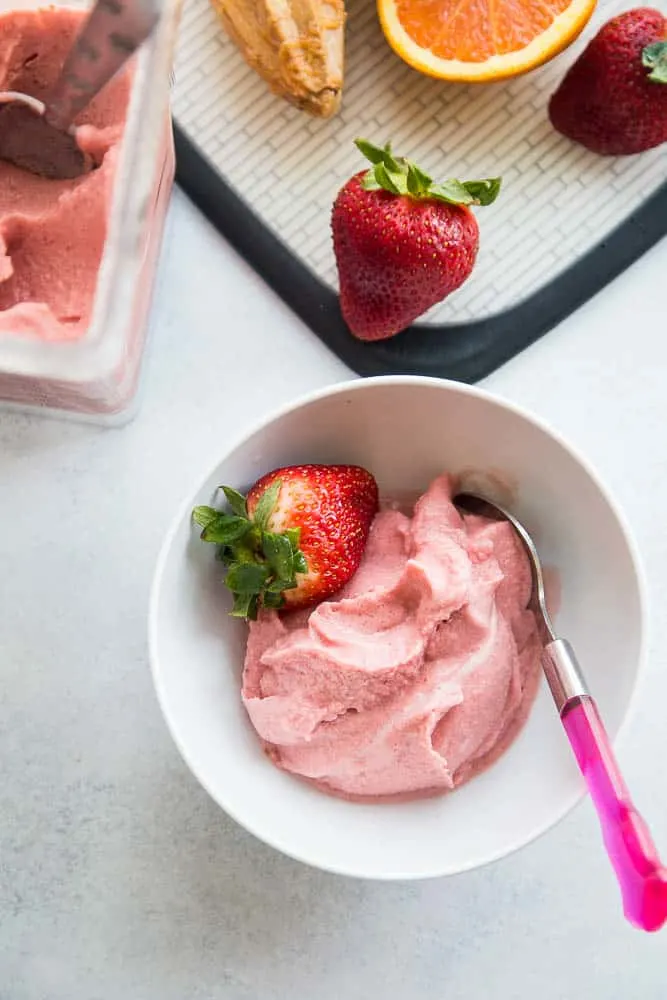 Are you ready for this? Creamy strawberry paleo ice cream — without an ice cream maker! All you need is a speedy, high-powered blender or a badass food processor.
Easy frozen blender desserts are a huge favorite around here — especially on weeknights! The very first thing I made in my Blendtec blender years ago was this Paleo Chocolate Ice Cream. Instant hit! I think we made it almost every day for a while.
You only need a few ingredients for this, too! (I'll show you below!) I can whip up a batch of this paleo strawberry ice cream before the kids clear the dinner dishes.
I could also eat the entire pitcher and watch an episode of Bones, too, because sometimes those after-dinner chores take, like, and hour to do. Kids, man.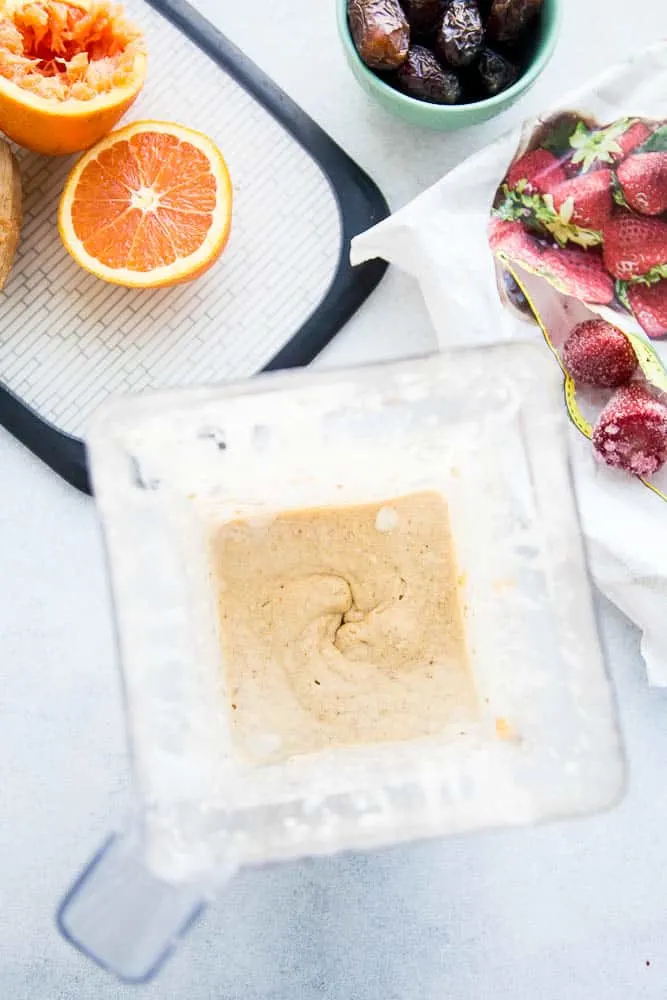 If you've made my Paleo Chocolate Blender Ice Cream, it starts out the same way with a creamy, pudding-like base. I used full fat coconut milk and coconut cream. You can use almond milk, too, but I prefer coconut milk ice cream because it's creamier and nut free — in case I've got someone who can't eat nuts around. (It's also gluten-free, too, while we're talking about allergies. And it's vegan. Paleo vegan ice cream!)
Some paleo ice cream recipes use egg yolks, but usually those recipes need an ice cream maker.
This one is also sweetened with dates and a little fresh orange juice. The orange juice makes the strawberry flavor brighter, too. I like using dates instead of honey or maple syrup in this because it doesn't overpower the strawberries. And dates help with that creamy texture, too.
Oh, and some vanilla extract is nice. I put vanilla in a lot of things. Even my chocolate ice cream. (It doesn't just have to go in vanilla ice cream!)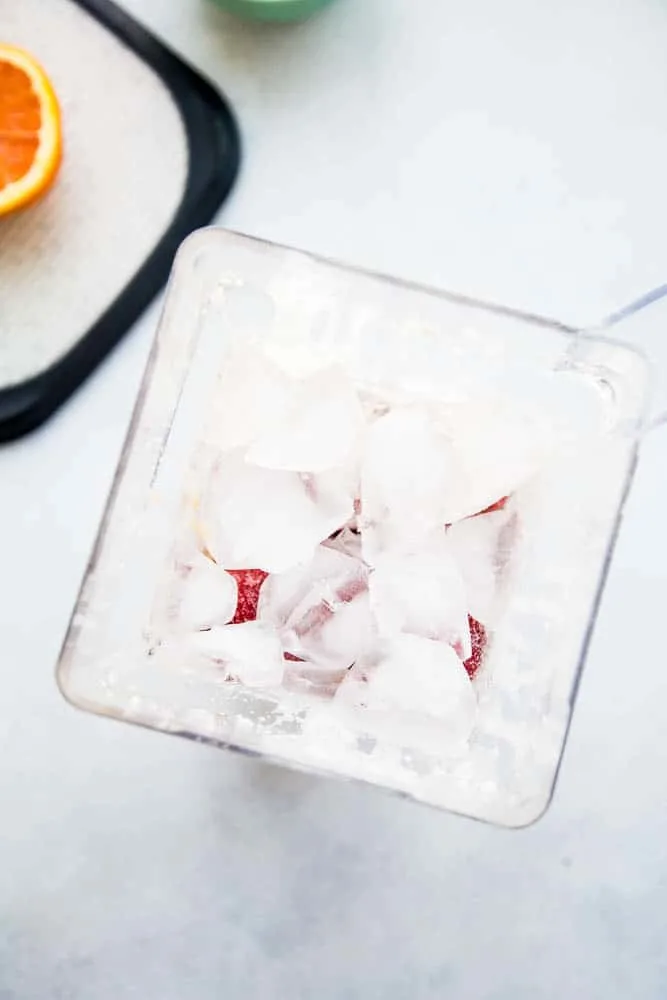 Once you have that pudding-like base, it's time to freeze this stuff. Add a bunch of frozen strawberries. (Yes, frozen. If you use fresh, then you'll just be making a smoothie.)
And some ice. I fill the pitcher to the 3-cup line with strawberries and the 4-cup line with ice.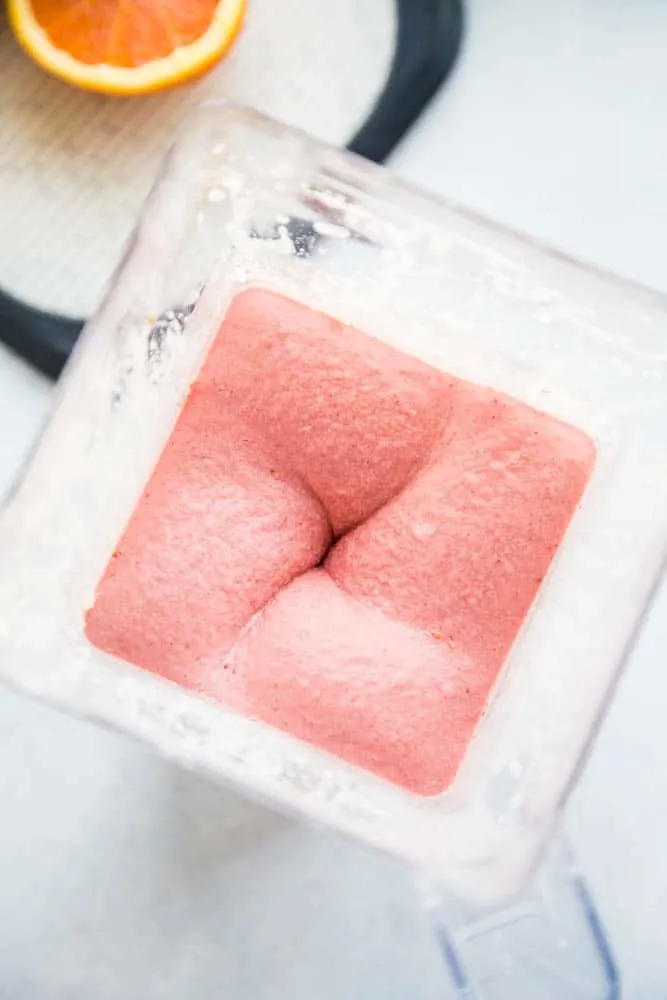 This recipe works best if you have a high-powered blender like a Blendtec or Vitamix. You'll need to add more milk to get it to blend if you have a regular blender and it won't be quite as thick and soft-serve-like, but it'll still be tasty.
I have a Blendtec, and I run the "Ice Cream" program two or three times to get this blended, usually scraping down the sides between every cycle. I don't have a Vitamix, so I'm not familiar with how to do this the best way. It does need a pretty high speed, though, to smooth out all of that ice.
Afterward you can even pop it in the freezer for an hour or so in a freezer safe container to thicken it up. But if you leave it in there for too long, it'll get rock hard. Then you'll have to let it sit out for a while before you can scoop it. (Just don't forget about it or it'll melt and get soupy, and it won't recover after that.
(Ah, the dance we do with food to get JUST the right temperature.)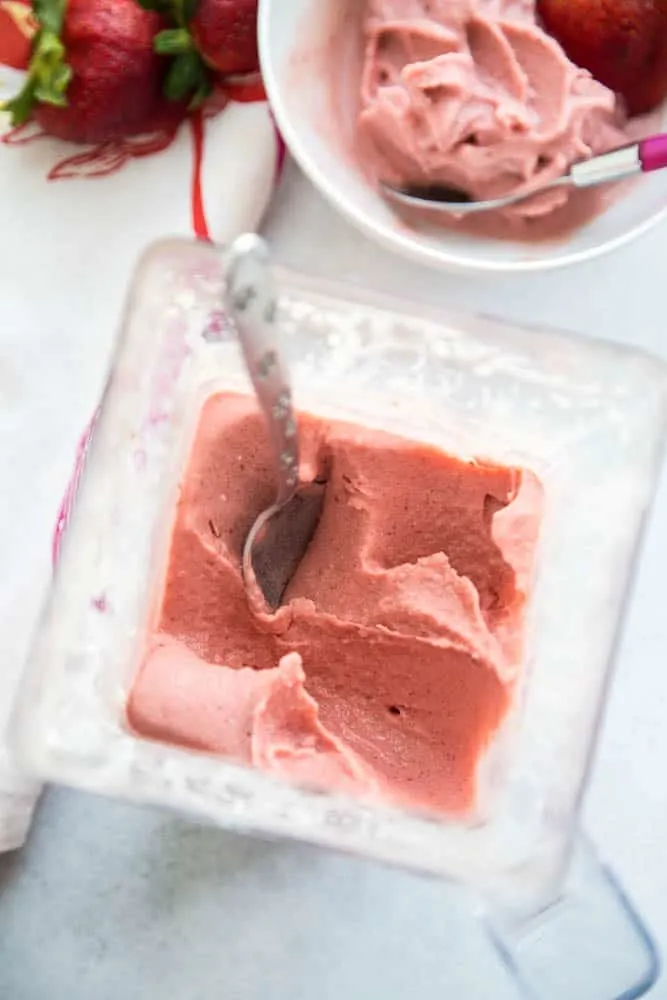 Amazing, right? The first time I made a dessert like this in my Blendtec, it totally made that bigger price tag worth it. It can blend such thick, frozen stuff without needing a lot of extra liquid. It's witchcraft.
(This isn't a sponsored post by the way. I just like professing my love for my blender.)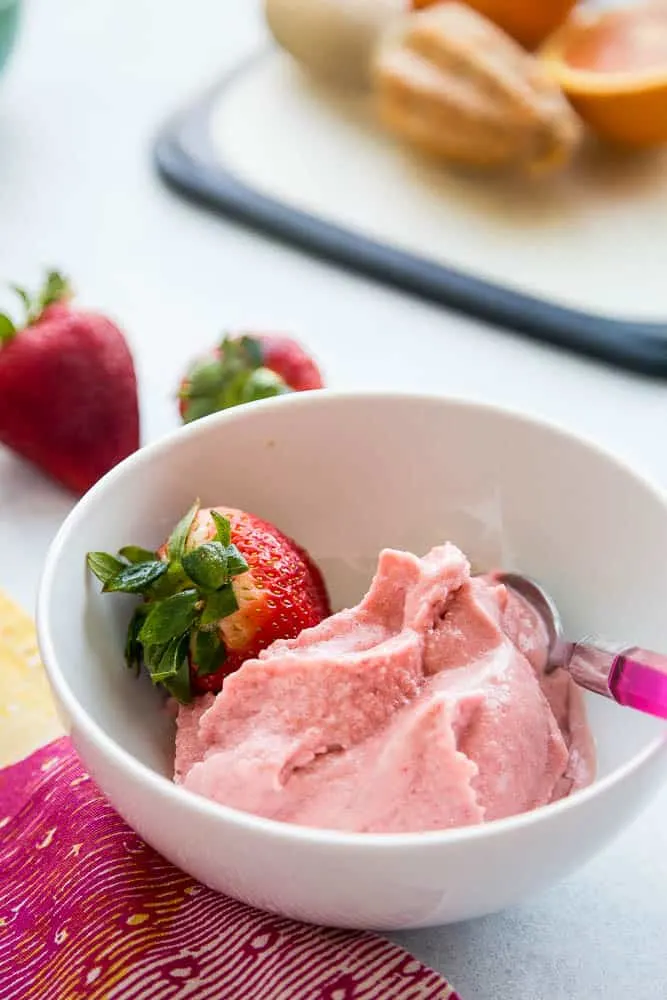 You could totally change up the fruit in this! Just make sure it's frozen so the consistency is the same. Mixed berries would be fabulous! Or even mangoes — a creamier version of my 5-Minute Mango Sorbet.
And if you have some ice cream mixture leftover, make some popsicles….
One more thing — I've got a bunch more paleo ice cream recipes and more frozen treats on my site! Grab a few of them and plan a frozen treat party with some friends!
Or a frozen treat date with your hubs after the kids go to bed. Because, if you're like me, you're usually to wiped to invite anyone over for a party. Haha. (Just run the blender on the back patio or in the garage so they don't hear you. ;)
More Paleo Ice Cream Recipes and Other Frozen Healthy Treats
Paleo Chocolate Ice Cream (in the blender) — The one I mentioned above — the first blender ice cream I ever made! And still one of our favorites. It totally reminds me of a Wendy's frosty.
Dairy-Free Pistachio Ice Cream — This unique ice cream uses pistachio milk — super easy to make and you can make it ahead of time to get this ice cream made even more quickly! (This one has a low-carb option, too!)
5-Minute Mango Sorbet (in the blender) — Just three ingredients and you've got a tasty tropical treat in your face.
Raspberry Blender Sorbet — Another fruity blender sorbet — this time with freeze-dried berries for maximum flavor and minimal sogginess.
Ginger and Roasted Strawberry Ice Cream — This one can be made primal (with dairy) or dairy-free. Strawberry and ginger is a stellar combo. And have you ever roasted strawberries? I die.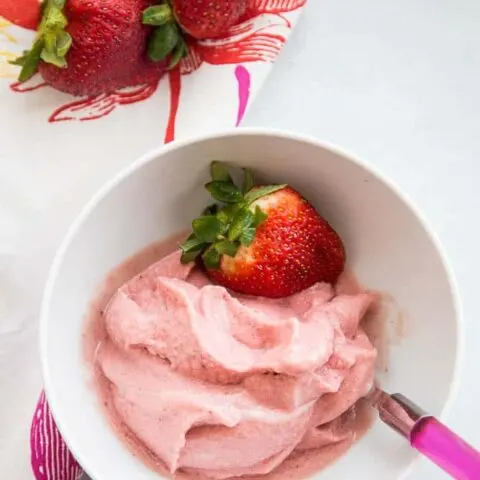 5-Minute Paleo Strawberry Ice Cream
A handful of ingredients and five minutes will give you a blender full of paleo strawberry ice cream!
Ingredients
1/2 cup coconut cream
1/2 cup coconut or almond milk
Juice from 1/2 of a large orange
3 medjool dates, pitted
1 Tablespoon vanilla extract
2 cups frozen strawberries
1 cup of ice cubes
Instructions
Put the coconut cream, milk, orange juice, dates, and vanilla in a high-powered blender and blend until smooth.
Add the strawberries and ice cubes. If your blender pitcher has measurements on the side, fill it with strawberries to the 3 cup mark and the ice to the 4 cup mark.
If your blender has presets, use the ice cream setting to blend everything together. You may have to run the preset more than once and push all of the frozen bits down to the bottom between blending. If your blender has a hard time getting everything smooth, add 1/4 cup more milk.
Serve.
Disclosure: This post contains Amazon affiliate links. Purchases made by using these links doesn't cost you any extra and helps to keep my content free.