Have you ever grilled melon? It intensifies and caramelizes the natural sugars and adds a little smokiness. It's divine.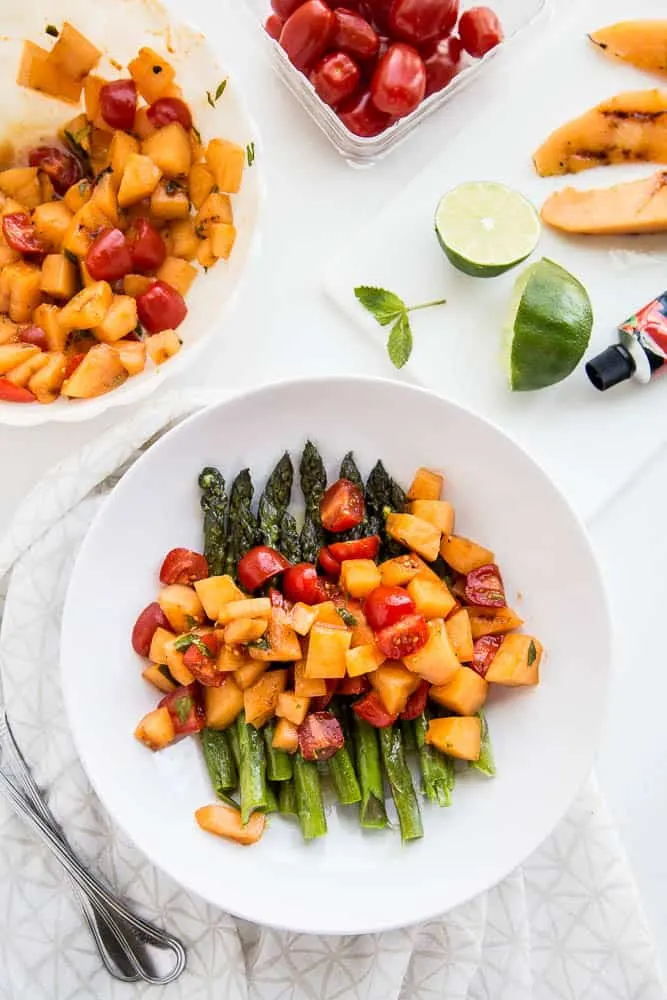 I've got such a fun recipe for you today! Butter-poached asparagus topped with grilled melon salad. Have you ever grilled melon?
Grilled pineapple is all kinds of good, so logically grilled melon should be good, too, right?
Along with this recipe I've got a review of Giada de Laurentiis's new book Giada's Italy!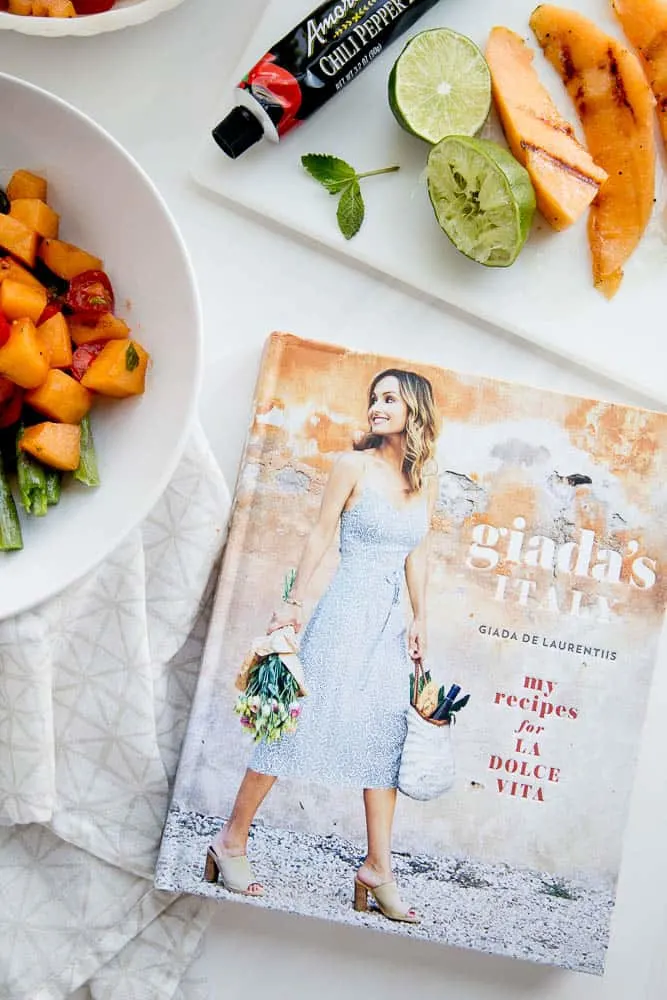 I just adore nice, thick, hardbound cookbooks with pretty photography. Giada's Italy is all of those things. Plus the text on the cover is embossed, which I thought was a nice touch considering the textured background.
Have I told you I have a girl crush on Giada? When I really started to get into cooking I would watch hours of Food Network and her show was one I always watched. This was before the kids came. And Steve was on an 18-month deployment to Afghanistan. I was finishing college, working part-time, and had a lot of time on my hands. Thus, lots of Food Network, HGTV, and alone time. (I think 2005 was the beginning of my hermit tendencies. And interestingly enough I started a personal blog on Xanga. Anyone remember Xanga??)
Anyways, I have always loved Giada's healthier, California twists on traditional Italian food. She inspired me to make BBQ sauce for the first time and her Balsamic BBQ Sauce is still my favorite. (I've since adapted it to be paleo friendly and you can find it here — Chicken with Balsamic BBQ Sauce.)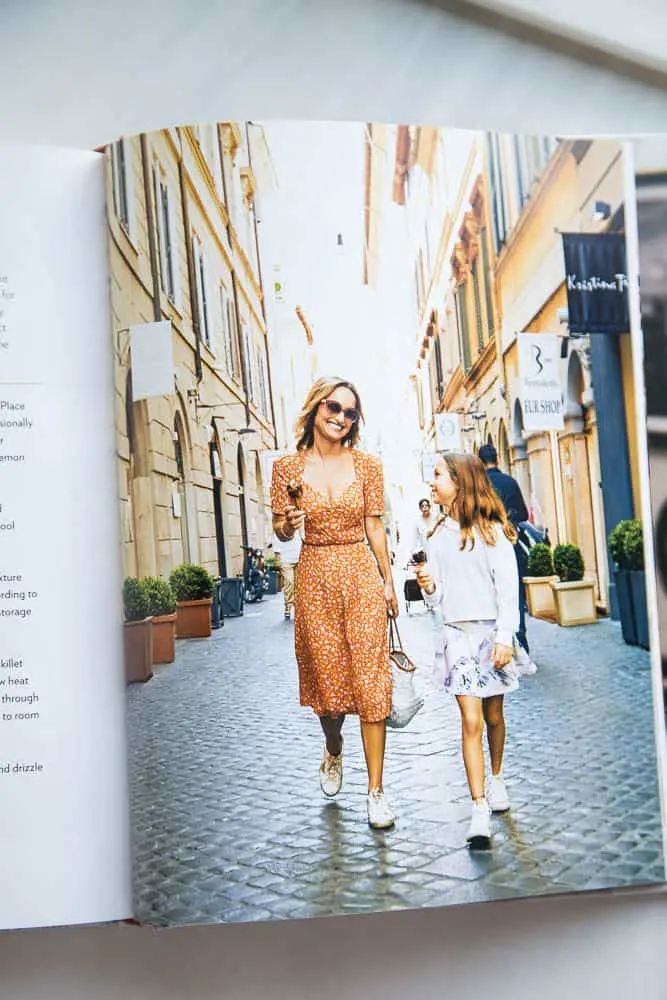 Scattered throughout the cookbook are photos from her birth city of Rome. I love the ones with Giada and her daughter, Jade.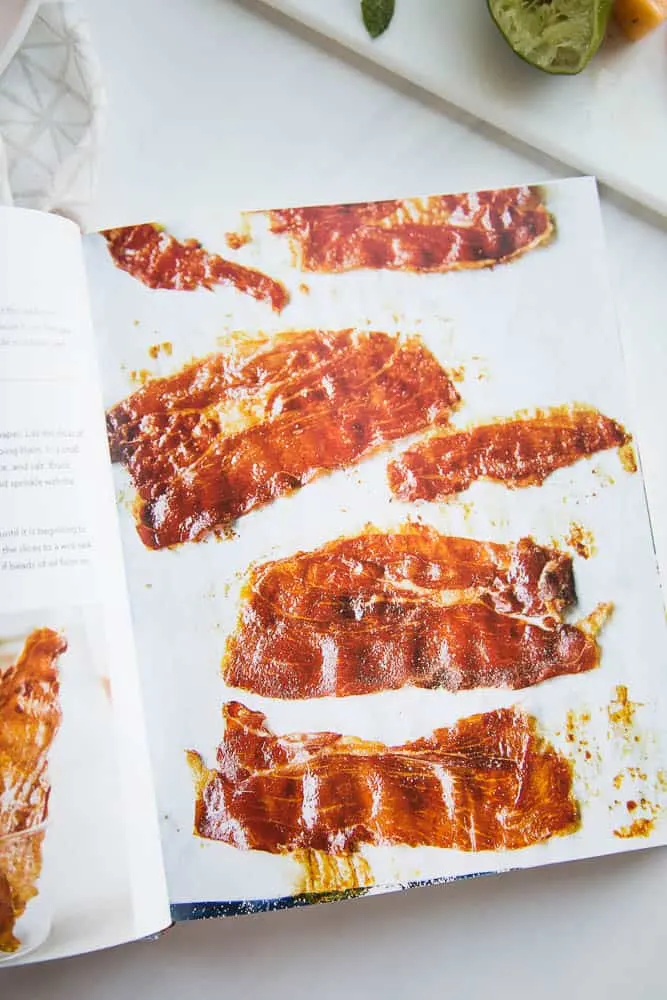 There are some fun recipes in here. Candied Prosciutto, anyone? I'm dying to make this.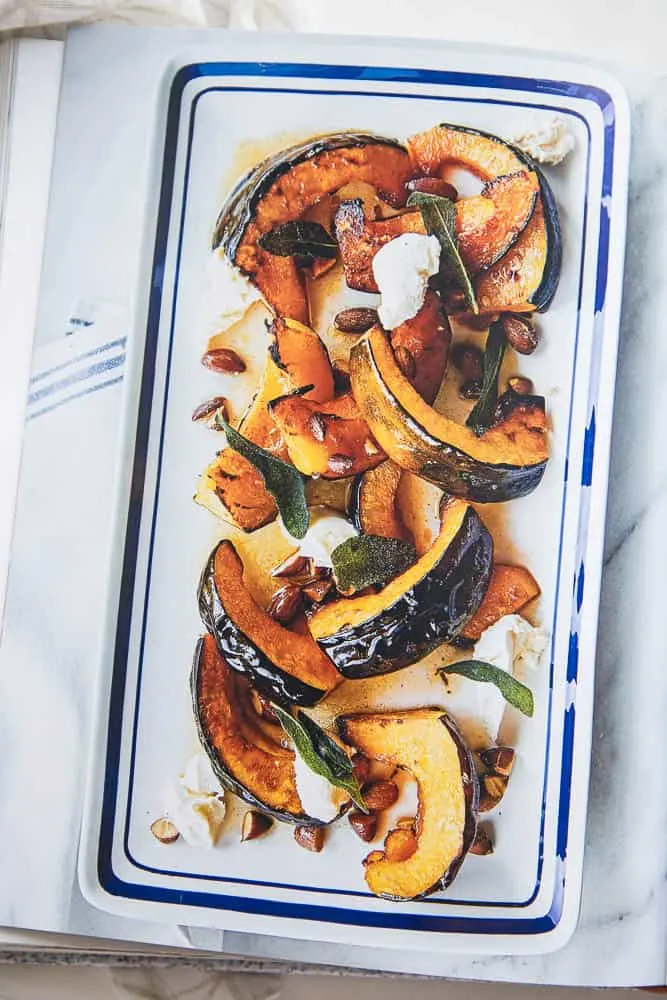 This roasted squash looks pretty incredible, too. Bookmarking that for squash season!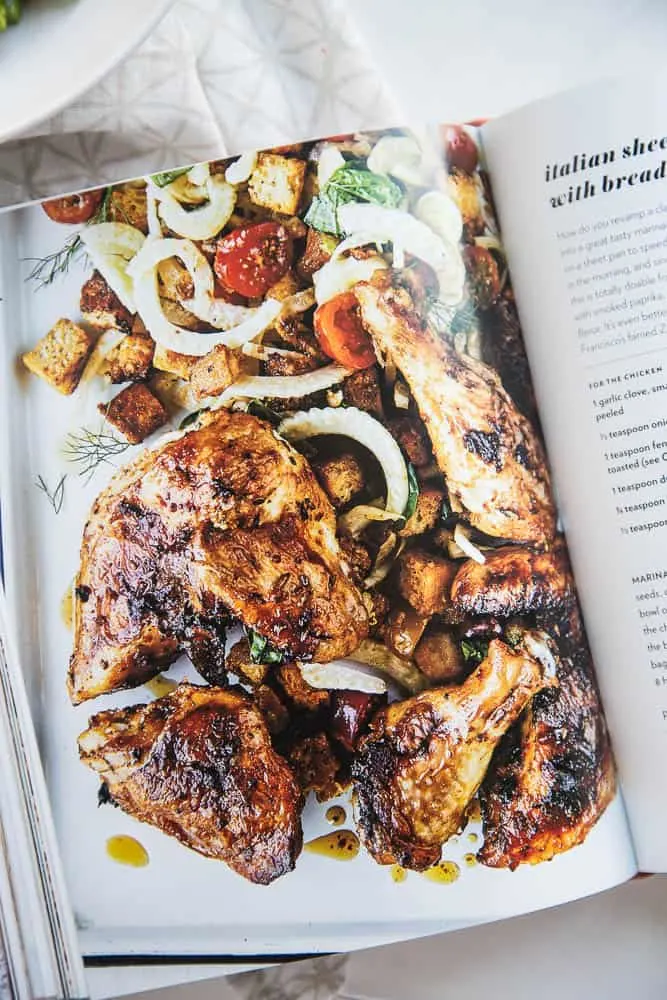 I love sheet pan meals and this Italian Sheet Pan Chicken is on my to-do list.
As you might suspect, there are a lot of pasta recipes in the book, but you can easily swap the out for gluten-free versions or use vegetable noodles.
I'm not really confined to paleo-only cookbooks these days. I love looking for new flavor combinations and making substitutions isn't too hard most of the time.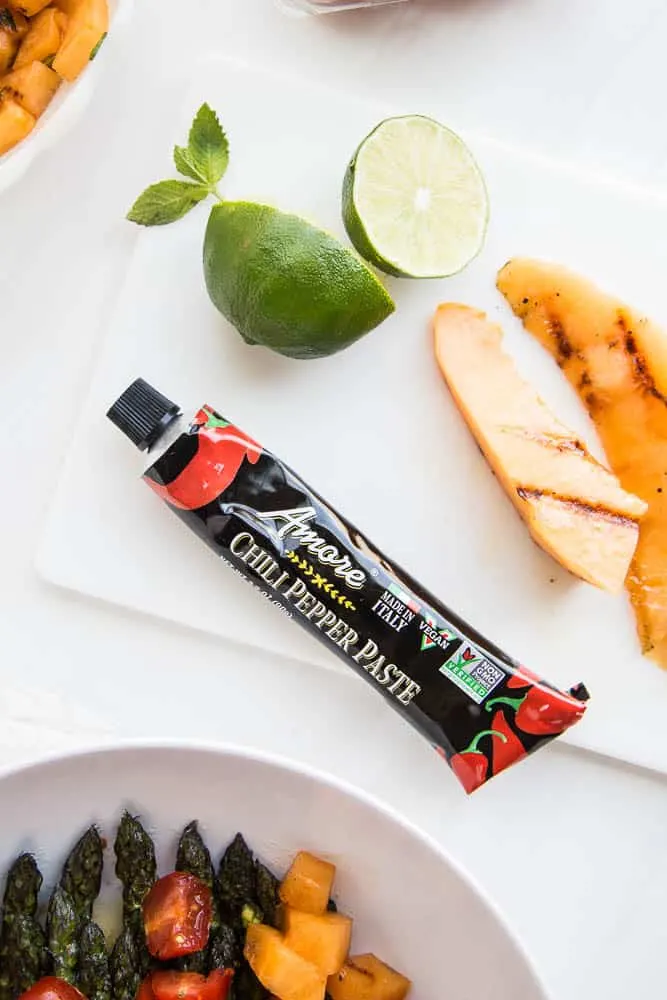 My favorite part of this book is that it introduced me to Calabrian chile paste! I'm a hot sauce junkie and was stoked to try a new version.
(I never thought I'd ever say that, by the way. Funny how pregnancy cravings turn into lifelong cravings. It's also the reason why I love La Croix.)
This stuff is like the Italian version of Asian chile paste (sambal oelek). I checked a few places around here, but bought some online because I was too impatient. Here's a link to Calabrian chile paste on Amazon — it's the same one I bought.
(I used some of this chile paste, along with anchovy paste when I made green beans the other night. Whoa. So. Good. And I don't even like green beans most of the time.)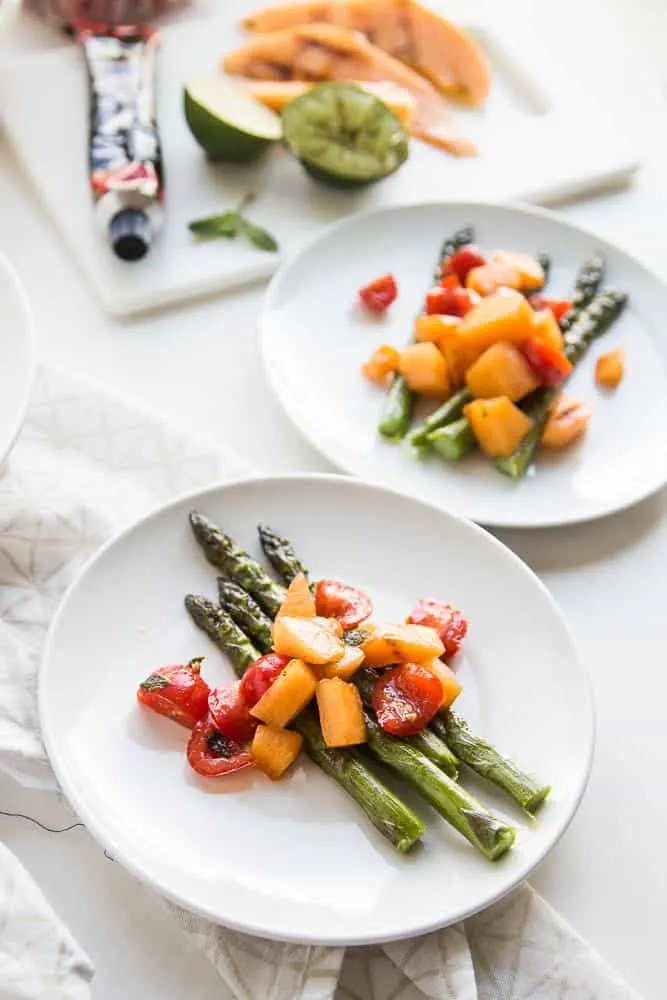 In this recipe, the asparagus is poached in butter (yes, for real), which is something I hadn't done before. It left the asparagus so tender and decadent and went beautifully with the spicy-sweet grilled melon salad. This would be such a great side dish alongside some grilled chicken!
Give this recipe a try and find a copy of Giada's Italy to flip through!
---
If you make one of my recipes, be sure to post it on social media and tag me at @perrysplate or #perrysplate so I can send you some love!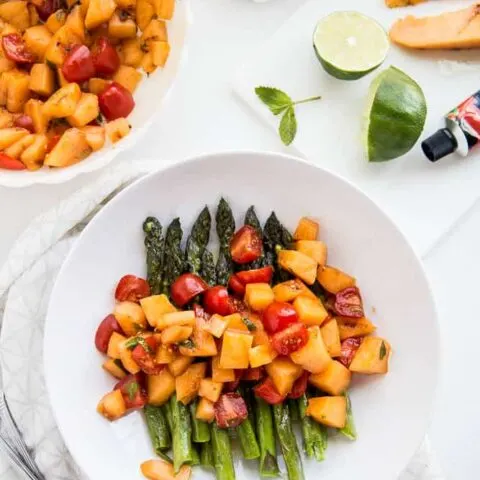 Asparagus and Grilled Melon Salad
Yield:
Serves 4 as a side
Have you ever grilled melon? It intensifies and caramelizes the natural sugars and adds a little smokiness. It's divine. I love it in this salad with a punch of heat from the chile paste
Ingredients
1/2 small cantaloupe, peeled, seeds removed, and cut in 1/2-inch slices
1 Tablespoon olive oil
1 cup cherry tomatoes, quartered
1 Tablespoon chopped fresh mint
3/4 teaspoon kosher salt
1 teaspoon Calabrian chile paste (see note)
2 teaspoons fresh lime juice
1/2 cup (1 stick) butter, chilled
2 fresh thyme sprigs (or 1/4 teaspoon dried)
1 pound medium-thick asparagus, trimmed
Ricotta salata cheese, shaved with a vegetable peeler (optional)
Instructions
Preheat a grill over medium-high heat.
Drizzle the cantaloupe with the olive oil and place the slices on the grill. Grill the slices, without moving them, for about 30 seconds, or until browned on the first side. Flip the melon slices and grill on the other side for an additional 30 seconds. Remove to a cutting board to cool slightly.
Cut the melon slices into 1/2-inch pieces and place them in a medium bowl. Add the tomatoes, mint, 1/4 teaspoon of the salt, chile paste, and lime juice. Mix well and set aside to let the flavors mingle.
Meanwhile, heat 5 tablespoons of water in a large skillet over medium heat. Cut the butter into 8 pieces. When bubbles just start rising to the water's surface, begin adding the butter to the pan, 1 piece at a time, whisking constantly to form an emulsion. When all the butter is incorporated, reduce the heat to medium-low to keep the temperature just below a simmer. Add the thyme and the remaining 1/2 teaspoon salt, and swirl the pan to combine. Add the asparagus to the pan and toss gently to coat it in the butter.
Cover the pan and cook for 5 minutes, or until the asparagus is tender all the way through when pierced with the tip of a sharp knife.
Remove the asparagus to a platter and spoon the melon salad on top. Scatter a few shavings of ricotta salata over the salad, if desired.
Notes
Nat's Notes:

1. Calabrian chile paste is like an Italian version of Asian chile paste (sambal oelek). I found my tube on Amazon.
2. I thought the amount of chile paste was good for Steve and me, but maybe a little spicy if you're not a heat-seeker. Maybe use half and taste it before you add the rest.
3. To make this Whole30 compliant, use ghee instead of butter or drizzle oil over the asparagus and grill it alongside the melon. And don't add the cheese.
This post may contain affiliate links. Any purchases made by using these links won't cost you any extra and helps keep my content free. These links may be Amazon links as I am part of the Amazon Associate Program.

SaveSave