Grilled BBQ Chicken is one of our family's favorite meals! An easy marinade makes the chicken even more flavorful with the homemade BBQ sauce.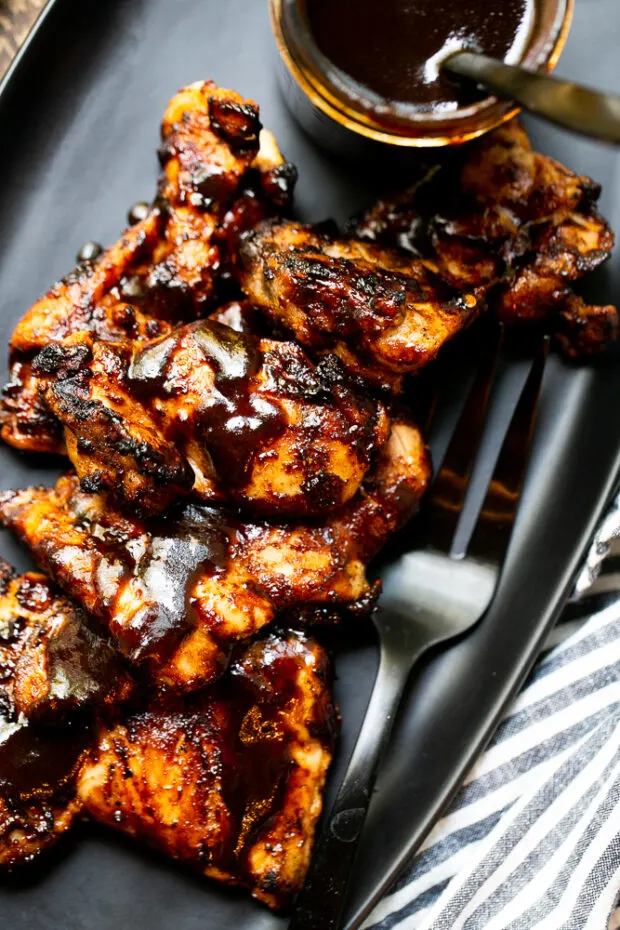 This Grilled BBQ Chicken is one of those recipes that has been tweaked and adjusted and I finally have it where I like it — flavorful, moist (sorry), chicken which is merely a vehicle for my favorite BBQ sauce.
BBQ Chicken pairs with so many things and the leftovers can be made into an amazeballs BBQ Chicken Salad.
I included a few links to my favorite homemade BBQ sauces at the end of this post if you're interested in making your own! They're all naturally sweetened and can be adapted to be Whole30 or lower carb.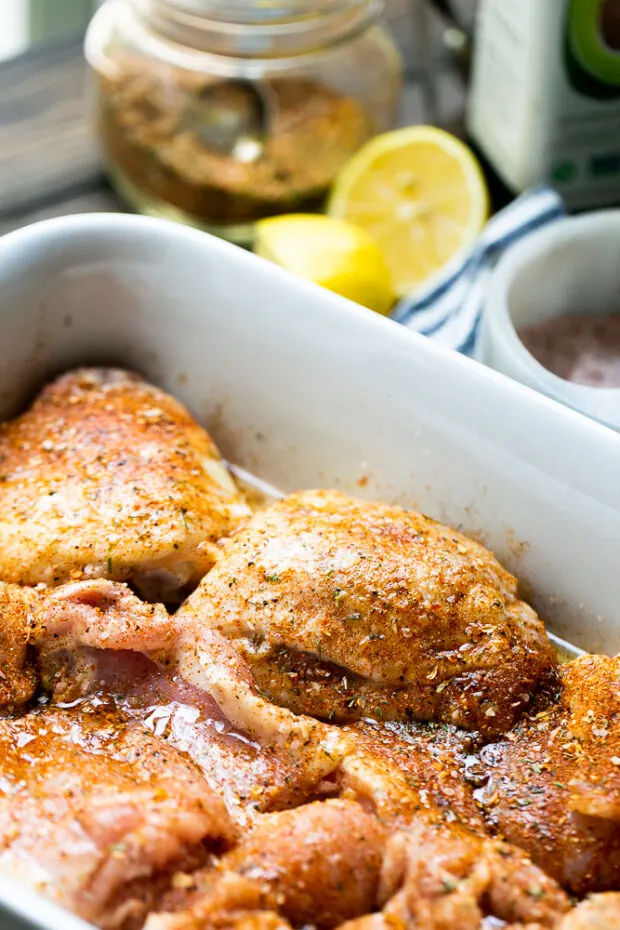 Do I have to marinate the chicken?
I recommend marinating the chicken for at least 2 hours. You can even prep it the day before!
If you don't have time or you forget to marinate it, at least let the chicken sit in those spices and juices for 20-30 minutes at room temperature. The lemon juice will help make your chicken more tender and flavorful!
Can I use something other than steak seasoning?
Sure! I like using my Homemade Steak Seasoning, but you can use any kind of grill seasoning or all-purpose seasoning you like. It's just there to enhance the flavor of your grilled chicken and not intended to be the main flavor.
(That's what the BBQ sauce is for. :))
I mean… c'mon.
Grilled BBQ Chicken is one of my favorite things. I love it so much.
TIPS:

Don't add the BBQ sauce to the chicken at the beginning or it'll burn. BBQ sauce has a lot of sugar which burns easily.

Don't brush BBQ sauce until after you've flipped the chicken and it's more than halfway cooked!

Set aside some BBQ sauce for brushing so you don't potentially contaminate all of your BBQ sauce with under-cooked meat juices.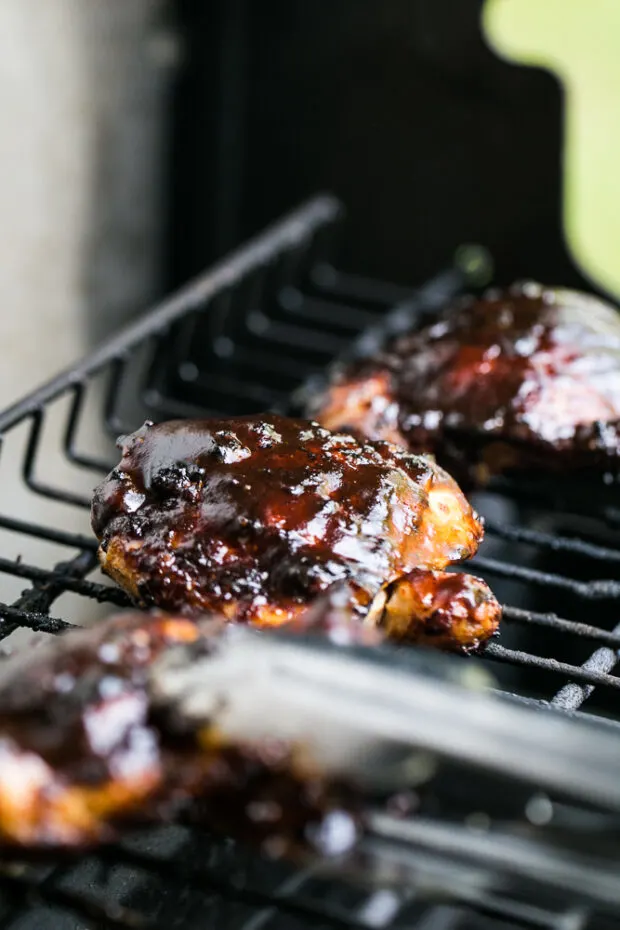 What is the best type of chicken to use for Grilled BBQ Chicken?
If you're particular about cuts of chicken, use whatever cuts you like!
Boneless skinless breasts are more prone to drying out, so don't overcook those.
Thighs, drumsticks and bone-in, skin-on breasts are more forgiving and end up juicer when you grill them! They also require more grilling time, depending on the thickness of the meat.
Also, remember the rule about when to brush the BBQ sauce — wait longer if you're using a cut of chicken that requires a longer cooking time. Burned BBQ sauce is sad.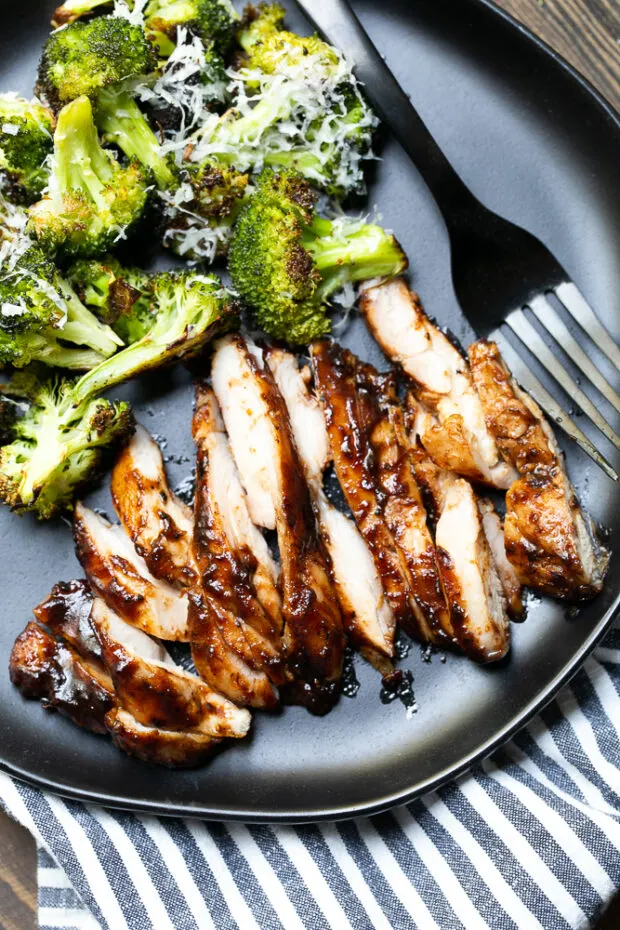 You don't have to make your own BBQ sauce, but sometimes it's nice to do so you can control the type and amount of sweetener. BBQ sauce usually has loads of sugar. Primal Kitchen makes a delicious, naturally-sweetened Hawaiian BBQ Sauce that I've seen at Costco recently!
There are a few homemade BBQ sauce recipes in both of my cookbooks, but I do have a few posted here as well. They're all naturally sweetened and can be adapted to be Whole30 or low-carb friendly.
Homemade BBQ Sauce recipes on Perry's Plate
Balsamic BBQ Sauce is probably my favorite — if I'm forced to choose a favorite. It's super tangy with a hint of sweet — just like I like my BBQ sauce.
This Honey Lime Ginger BBQ Sauce is a fun twist and results in a lighter BBQ sauce with a hint of ginger.
If you have some frozen raspberries on hand, try my Raspberry Chipotle BBQ Sauce! It's sweet and fruity with a chipotle kick. I really love this one for pulled meats as well as Grilled BBQ Chicken.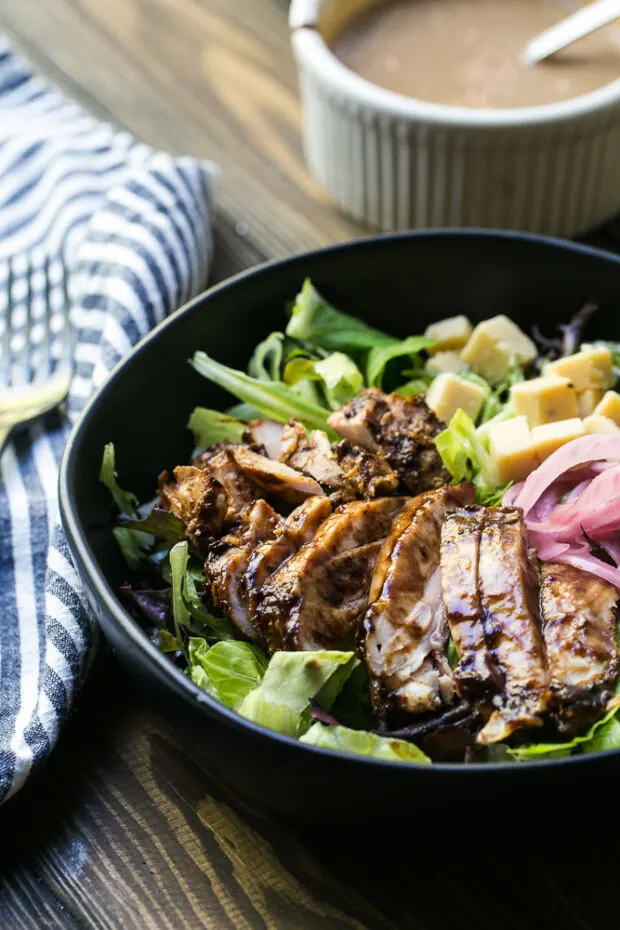 What to serve with Grilled BBQ Chicken?
I mean… what CAN'T you serve with this?? Here are a few of my favorite sides for BBQ Chicken. Choosing these was no easy feat.
Make a salad out of it! Mix some BBQ Sauce into your ranch dressing for some awesome BBQ ranch.
Roasted Broccoli is one of my go-to sides because it's fast and easy and everyone loves it! Throw in some Instant Pot Lemon Herb Rice for a FABULOUS trifecta.
Another quick veggie side is my Magical Sauteed Green Beans. These are uber flavorful and would compliment the sweetness from the BBQ sauce really well. So would some Roasted Crispy Shredded Brussels Sprouts.
If you want to go the classic route, Instant Pot Potato Salad is a good choice! My potato salad has lots of pickles and some ranch dressing for a boost of flavor.
Southwest Cabbage Slaw is another salad-type of side that pairs well with anything — including this Grilled BBQ chicken. (And you can make it ahead of time when you marinated the chicken!)
---
If you make one of my recipes, be sure to post it on social media and tag me at @perrysplate or #perrysplate so I can send you some love!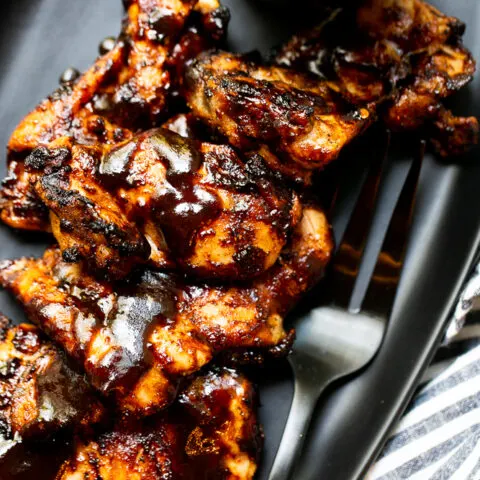 Easy Grilled BBQ Chicken
This is may all-time favorite BBQ sauce recipe! It comes together so quickly, too.
Ingredients
2-3 lbs chicken breasts, thighs, or drumsticks
1 teaspoon sea salt
Juice from half a lemon
3 Tablespoons avocado oil
1 cup your favorite BBQ sauce
Instructions
Place the chicken in a large, shallow container or baking dish. Sprinkle half of the steak seasoning and salt over the chicken. Turn the pieces over and sprinkle the rest of the steak seasoning and salt on the other side of the chicken.
Squirt the lemon juice and drizzle the avocado oil over the chicken and use a pair of tons to turn the chicken to everything is coated evenly. Cover the chicken and let it marinate, chilled, for at least 2 hours or up to 24 hours.
When you're ready to grill, preheat your grill to medium-high heat. Put a 1/2 cup of the BBQ sauce into a small bowl. Place the chicken pieces on the grill and cook, covered, for 3-4 minutes or until dark grill marks form.
Turn the chicken over and brush the meat with portioned BBQ sauce. Cover and let the chicken grill for another 3-4 minutes or until it's nearly cooked through. Flip the chicken over and brush the other sides with more BBQ sauce. Cook for another minute until the chicken is fully cooked.
Transfer the chicken to a serving dish and allow it to rest for at least 5 minutes before slicing. Serve immediately with remaining BBQ sauce.
Notes
If you don't have time to marinate the chicken, let it sit at room temperature for 20-30 min to allow the lemon juices and spices to soak in.
I like to butterfly my chicken breasts or slice them in half horizontally to create thinner pieces. It cooks faster this way and you have a higher BBQ sauce to meat ratio.
The type of chicken you use will affect the grilling times. Allow more time for chicken that is thicker than 1" or has skin/bones. If you're using chicken that cooks longer, don't brush the BBQ sauce on immediately after flipping the chicken or it may burn.
If you'd ilke to make your own BBQ sauce, check this recipe post for some of my homemade, naturally-sweetened BBQ sauce recipes!
This post may contain affiliate links. Any purchases made by using these links won't cost you any extra and helps keep my content free. These links may be Amazon links as I am part of the Amazon Associate Program.