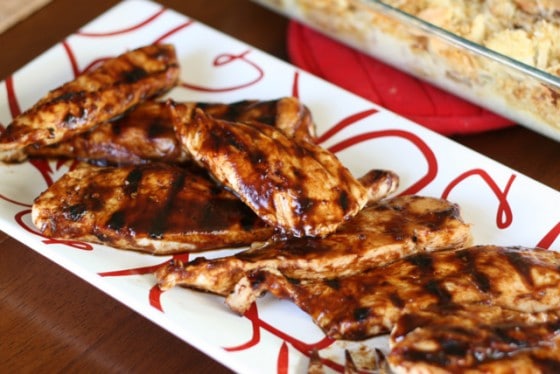 I never thought I would ever turn to Food Network's Italian beauty, Giada de Laurentiis for BBQ recipes, but she certainly surprised me with this one. I saw it in her book, Giada's Kitchen
, and I was drawn in by her balsamic BBQ sauce.
I tweaked her recipe a bit by reducing the sugar content (using tomato sauce instead of ketchup and using a natural sweetener), but feel free to add more if you like your BBQ sauce super sweet.
I loved this sauce. The balsamic vinegar gave this a tangy punch in the face. A good punch in the face, though. It's probably one of the best BBQ sauces I've ever had. My kids LOVED this chicken (and the sauce, which they ate mostly with their fingers), and I had a hard time to get them to eat anything else I made that night.
I always double the homemade BBQ sauce and then save the rest for another meal later on. Like the
Smoky BBQ Chili
that has a few glugs of BBQ sauce in it.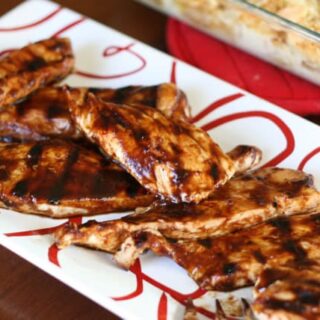 Chicken with Balsamic BBQ Sauce
This is may all-time favorite BBQ sauce recipe! It comes together so quickly, too.
Ingredients
1 whole chicken, cut into pieces or 4-6 boneless, skinless chicken breasts
salt and freshly ground black pepper
For the BBQ sauce:
1 cup balsamic vinegar
8 ounces can of tomato sauce
3 Tablespoons honey
1 garlic clove, minced
1 Tablespoon coconut aminos
1 Tablespoon Dijon mustard
1/2 teaspoon salt
1/2 teaspoon freshly ground pepper
Instructions
Combine all of the BBQ sauce ingredients into a small saucepan. Whisk until thoroughly combined, then simmer over medium heat until it's reduced by about a third. If it starts to stick to the bottom of the pan, reduce heat to medium-low. It'll take 15-25 minutes for the sauce to thicken up and coat the back of a spoon.
Meanwhile, preheat a stove-top grill pan or outdoor BBQ to medium heat. Season the chicken with salt and pepper. Transfer 1/2 cup of the finished BBQ sauce to a small bowl.
Place the chicken on the grill for about 10 minutes per side, brushing chicken with the 1/2 cup (or more) BBQ sauce for the last 2-3 minute of cooking.
Transfer chicken to a serving platter and serve with remaining BBQ sauce.
Notes
Nat's Notes:

1. I like to butterfly my chicken or slice it in half horizontally to create thinner pieces. It cooks faster this way and you have a higher BBQ sauce to meat ratio.
2. To make this Whole30 compliant, use 1/4 cup of Date Paste in place of the honey and regular yellow mustard in place of Dijon.

Disclosure: This post contains an Amazon affiliate link. Purchases made by using these links doesn't cost you any extra and helps to keep my content free.
SaveSave