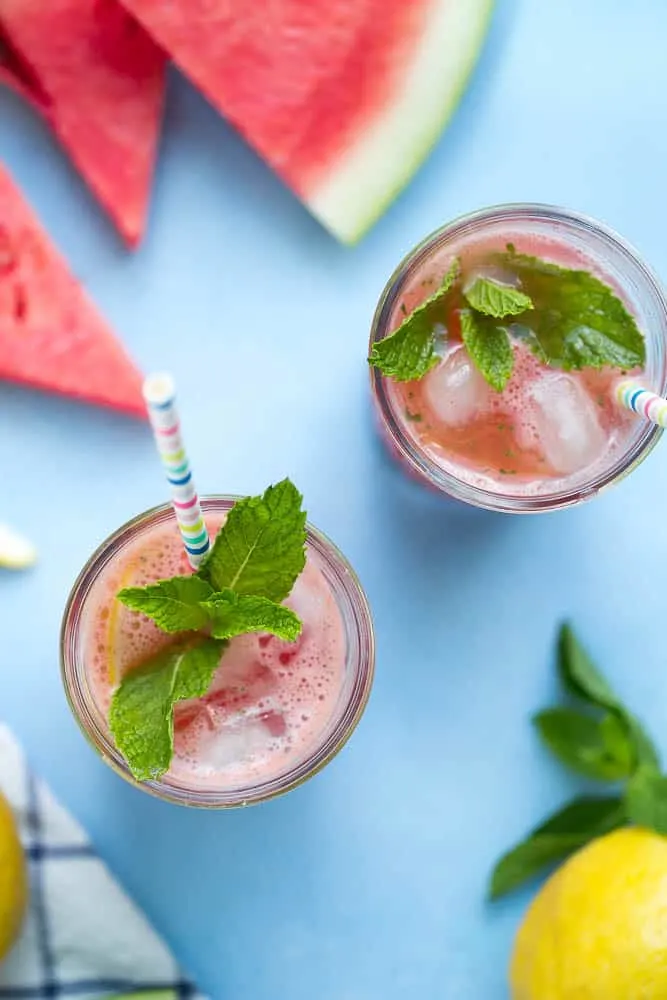 I've wanted to get on the watermelon lemonade bandwagon for a LONG time, but lemonade usually has a ton of sugar. (When I consume sugar I'd rather eat it than drink it.)
Since I started tinkering with low-carb sweeteners like erythritol and xylitol, I wanted to try out a variation of watermelon lemonade that wouldn't use up my "sugar points".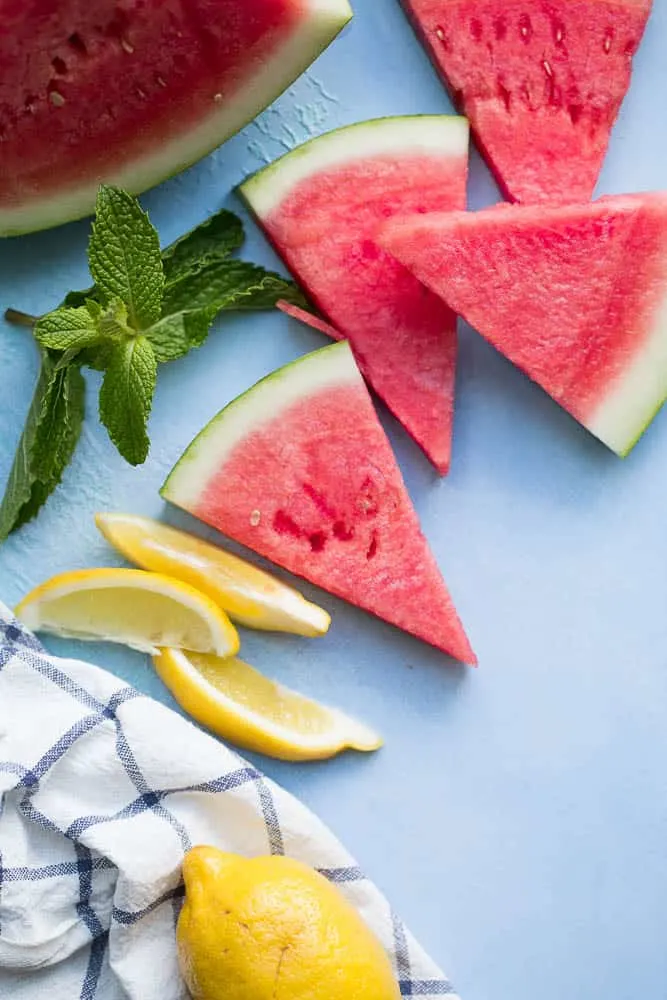 I'm super excited at how easy this recipe is, too. No need to make a simple syrup or wait to let it cool — you can have cold lemonade in about 5 minutes. (Maybe a little longer if your watermelon is extra cumbersome to cut.) You just need a blender (not even a high-powered one) and a fine-mesh strainer.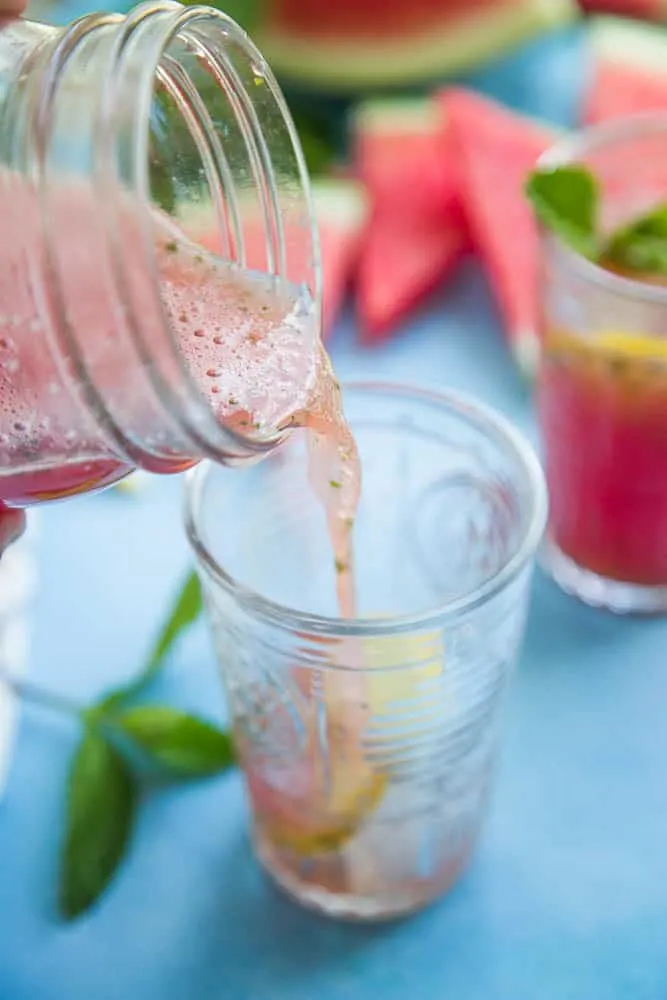 Actually, it would be more accurate to call it watermelonade, but it feels weird to say that. It's like I'm saying lemonade wrong — "melonade". It feels more correct to say waterlemonade, but that doesn't sound as appetizing. Whatever. I guess I could have called it watermelon lemonade agua fresca, too. Naming recipes stresses me out sometimes.
Just blend up some watermelon and lemon juice, then strain it to get some of the pulp out. Blend it again with water, sweetener, and fresh mint *swoon*, then BOOM — watermelon lemonade. You could definitely leave the mint out if it's not your thing. But maybe it is your thing and you just don't know it yet. Or if the floaty little green specks make you nervous, you can always blend up the mint with the watermelon and strain them out.
I kind of like them though. It makes the drink seem more fancy to me for some reason. (Says the girl who only drinks water and sparkling water.)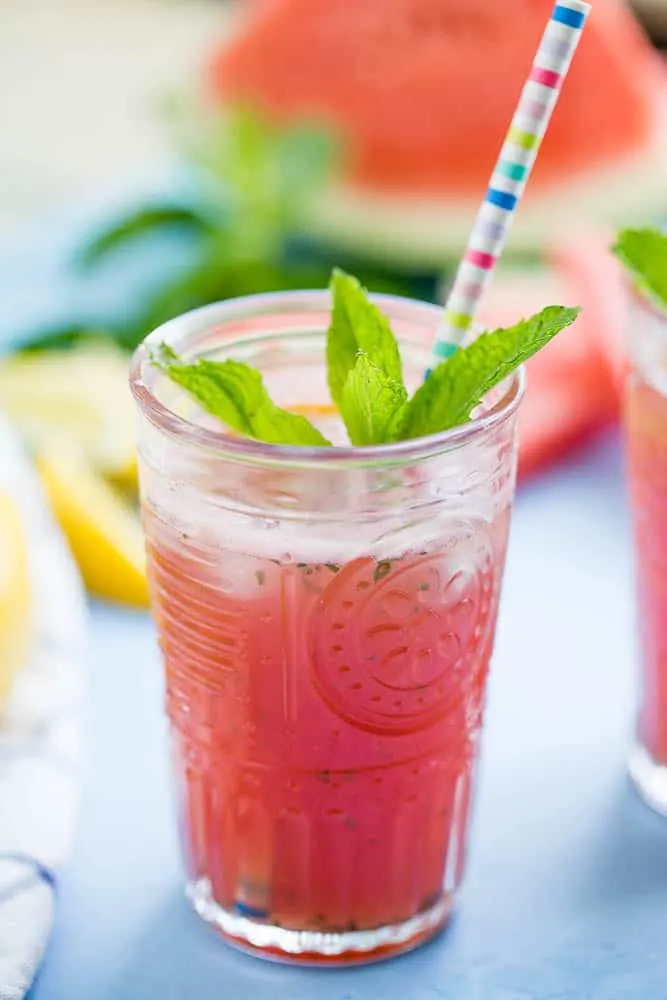 It would also be good to add a little fresh ginger to this! I'm kind of obsessed with melon and ginger together. Like my all-time favorite smoothie — Strawberry Watermelon Smoothie with Ginger and Lime and this fresh, yummy Melon Salad with Ginger-Mint Dressing. All of these would be such great poolside treats!
Now I'm wishing I would have thrown some ginger in there with the watermelon. Maybe it's time for a watermelon recipe without ginger, though — that would be a first for me.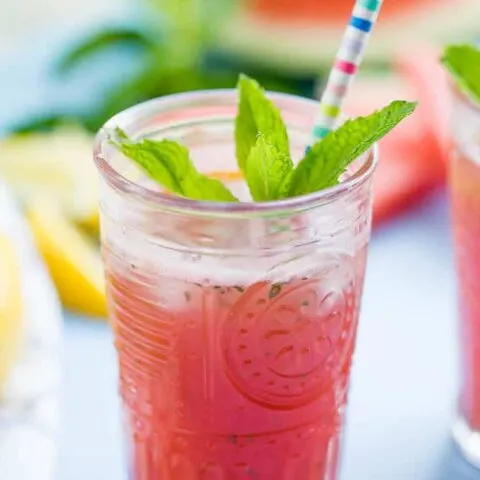 5-Minute Watermelon Lemonade with Mint
This lightning-fast watermelon lemonade is a perfect little summer drink that is easily adaptable to be Whole30, Low-Carb, or Paleo friendly.
Ingredients
4 cups cubed watermelon
1 lemon
2 sprigs of fresh mint
2-3 tablespoons raw honey or erythritol sweetener
Instructions
Put the watermelon, juice from the lemon, and 1/2 cup of filtered water in your blender. Blend well. Strain through a fine mesh strainer or nut milk bag. (Like Ellie's Best.) Straining is optional, if you don't mind the flecks of watermelon pulp floating around.
Put the blended liquid back into the blender with 2 cups of water, 5-6 mint leaves and either the honey or the erythritol. Blend well.
For best flavor, serve over ice.
Notes
Nat's Note: To make this Whole30 compliant, add a pitted date to the blender at the beginning with the watermelon, then omit the sweetener. If sweetened drinks like this are a trigger for you, you may not want to add any sweetener at all.

SaveSave
SaveSave
SaveSave
SaveSave