I always get excited when I can add another ethnic dish besides Mexican or Italian. This curry turned out amazing and looked and tasted like something you'd get at Bombay House, our favorite (and possibly the only) Indian restaurant in Provo. You should go if you live close.
The mango I used was perfectly sweet, but didn't make the whole dish sweet. It's hard to explain, but the flavors balance really well. I would hold back a little on the curry powder next time because it was a tad on the spicy side.
The only thing that would have made it better is some fresh, hot naan bread on the side. I haven't figured out exactly how to replicate Bombay House's naan yet, but I'll let you know if I do.
Did I mention Sophie liked this? I didn't? Well, she did. She never ceases to amaze me with what she'll eat and won't eat.
SaveSave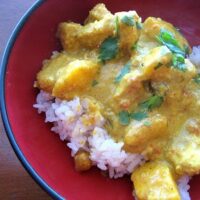 Mango Chicken Curry
This Mango Chicken Curry is an easy recipe! If you have someone who is new to Indian cuisine, this Indian-inspired recipe is a great one to start with. Feel free to use frozen mangoes, if you like.
Ingredients
3 Tablespoons (or more) of olive oil
1/2 cups chopped onion
1/2 red bell pepper, chopped
2 garlic cloves, minced
2 Tablespoons fresh minced ginger
1 1/2 Tablespoons yellow curry powder
1/2 teaspoon ground cumin
2 mangos, peeled and diced (about 1 1/2 c.)
2 Tablespoons cider vinegar or white vinegar
1 1/4 cups water
1 1/4 pounds skinless boneless chicken thighs or breasts, cut into 1-inch pieces
1/3 cup golden raisins
1/2 cup heavy cream or coconut milk
1 teaspoon salt
Black pepper
Chopped fresh cilantro for garnish
Instructions
Heat 2 T oil in a large sauté pan over medium heat. Add onions and cook, stirring occasionally, until soft, about 5 minutes. Add the red bell pepper and another tablespoon of oil, cook for a couple more minutes.
Add the curry powder, cumin, and salt; cook for a few more minutes. The spices will absorb some of the oil, so if anything begins to stick too much to the bottom of the pan, add a little more oil to the pan. Add the ginger and garlic, cook for one minute more.
Add the vinegar, water, and 1/2 of the chopped mango to the pan. Increase the heat and bring to a boil, then lower the heat to maintain a low simmer for about 15 minutes, stirring occasionally.
Remove pan from heat. Scoop the sauce into a blender. Purée the sauce, pulsing until smooth. Return the sauce to the pan.
Add chicken pieces and raisins to the pan. Return to a low simmer. Cover the pan and let cook for 8-10 minutes. Chicken should be just cooked through. Use a knife to cut open the largest piece to check.
Add remaining mango pieces to the pan. Stir in the cream. Let cook at a very low temperature for another minute or two, uncovered. Do not let it boil or the cream may curdle. Adjust seasonings. If a little too sweet, add a little more vinegar. If not sweet enough, you can add a dash of sugar. Add salt and pepper to taste.
Serve over rice. Garnish with cilantro.