This Mango Chicken Curry is an easy recipe! If you have someone who is new to Indian cuisine, this Indian-inspired recipe is a great one to start with. Feel free to use frozen mangoes, if you like.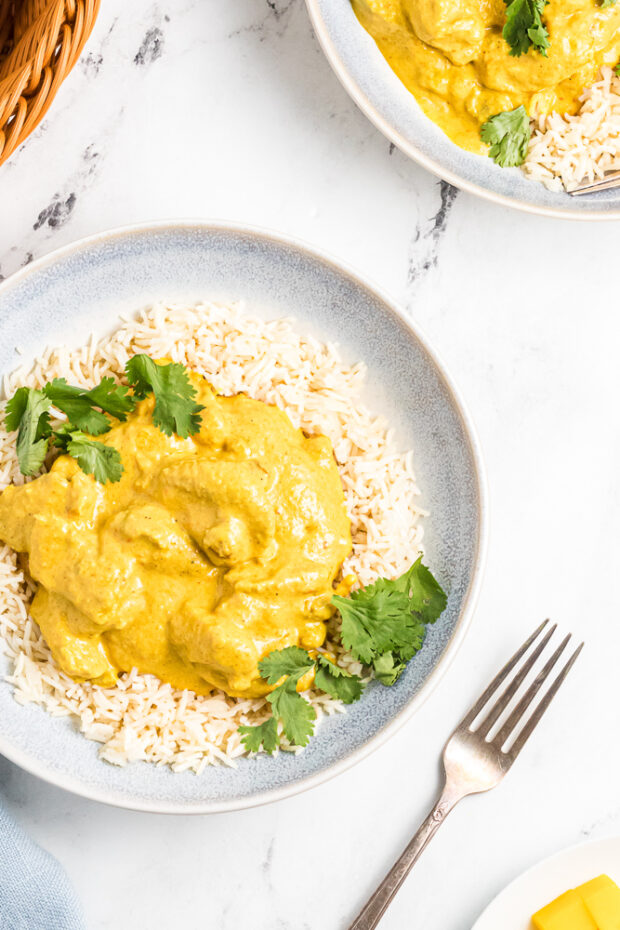 This Mango Chicken Curry is a family favorite and super easy to make!
Indian style curries are some of my favorite meals. Luckily my kids would agree or I'd have to find some new kids.
I'm joking. Mostly.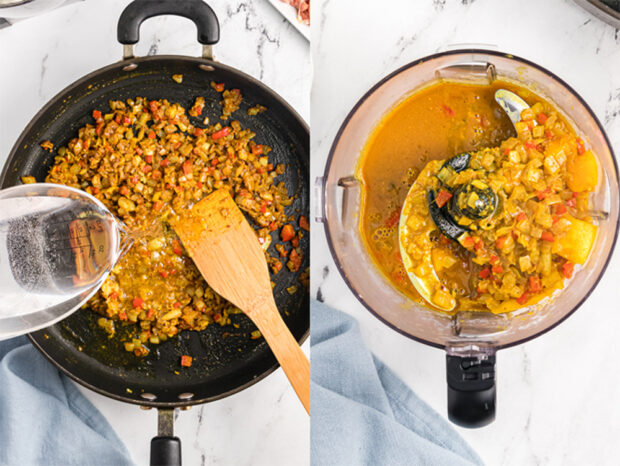 That creamy orange mango curry sauce starts off with some sautéed vegetables and spices. I use a food processor to blend them up, but you can use a blender if you like.
If you're new to Indian cooking, a tip I picked up from my favorite Indian chefs is to "fry" the spices. Let the spices saute along with the vegetables for a few minutes. This allows them to "bloom" — to deepen their flavors and cook off some of that raw spice flavor.
Trust me, it's worth an extra minute or two.
Speaking of spices, if you've never made your own Homemade Curry Powder, I highly recommend it.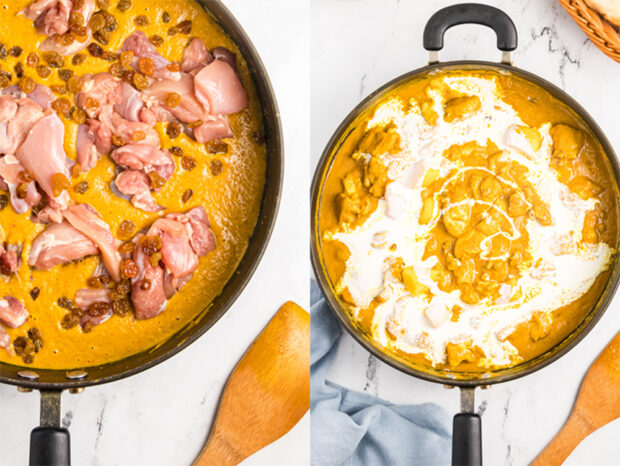 Then you add the sauce back to the skillet along with your chicken and golden raisins. And some coconut milk for creaminess.
Are the raisins necessary in Mango Chicken Curry?
Just a note… I HATE raisins in every baked good I've ever eaten.
BUT. They're super delicious in curries like this. Especially golden raisins. They get plump and juicy and go so well with the heavily spiced sauce and bring out the sweetness from the mangoes.
Just try them. And if they're not your thing, then leave them out next time.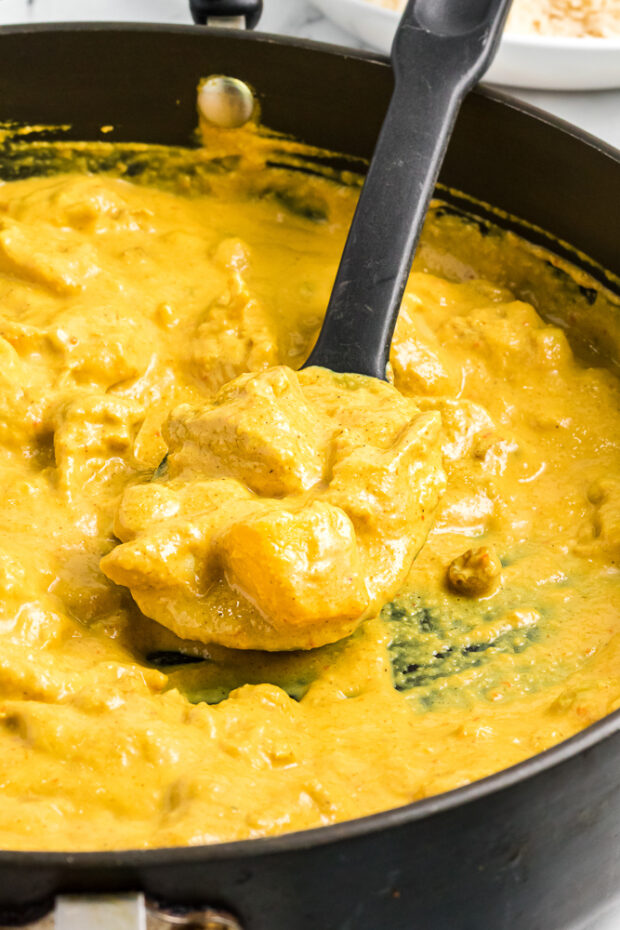 How amazing does this mango curry look?? It makes my mouth water just looking at the photos.
Can I make make curry ahead of time?
YES! For sure. Indian curry is similar to chili in that it tends to get better after a day or two.
This Mango Chicken Curry freezes well, too, so make a big batch and freeze half for a later meal.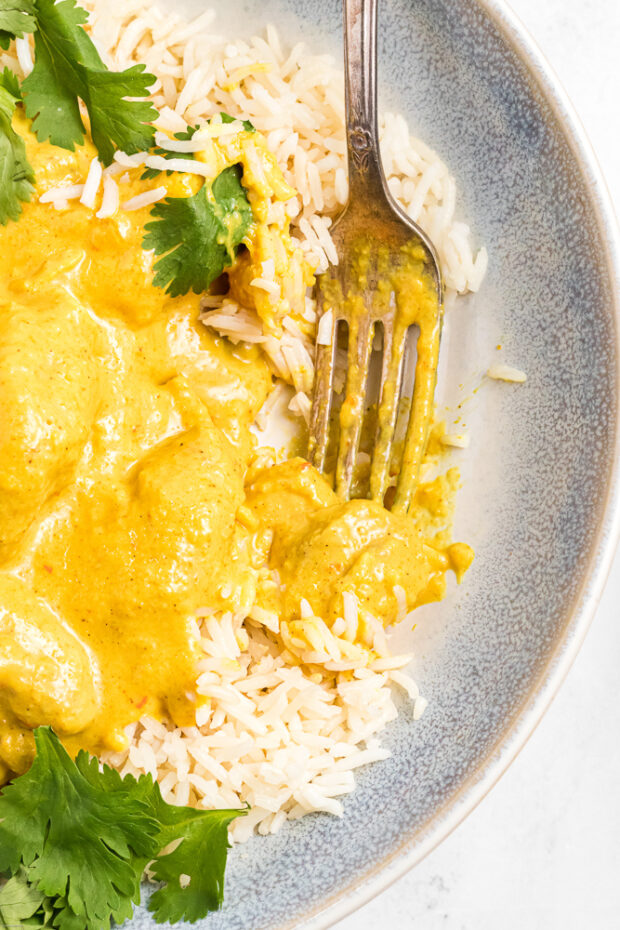 What do I serve with Mango Chicken Curry?
You can serve this curry with simple steamed rice, some naan bread if you aren't eating gluten-free, or (my favorite) Roasted Cauliflower Rice.
I've even made some Paleo Zucchini Flatbread to go with curry and it's delightful.
More Indian Style Curries on Perry's Plate
If you like this recipe you'll love these other Indian-inspired curry recipes!
If you've ever had Saag Paneer, the spinach and cheese based curry, I created a dairy free Chicken Saag using chicken!
My favorite curry to make for a crowd is this Instant Pot Indian Chicken Curry. It's DELICIOUS and tastes like you're in a fancy Indian restaurant!
My Slow Cooker Indian Beef is a fun take on a curry as well since beef isn't frequently used in Indian cuisine. Turns out heavily spiced curry is delicious with a beef roast as well!
If you're looking for something meatless, try Egg Curry!
---
If you make this recipe, be sure to post it to social media and tag me at @perrysplate or #perrysplate so I can send you some love!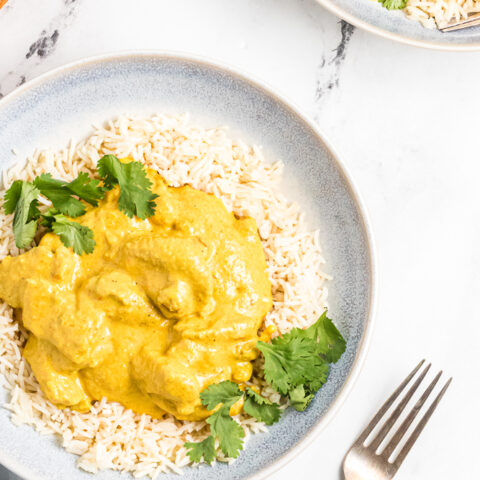 Mango Chicken Curry
This Mango Chicken Curry is an easy recipe! If you have someone who is new to Indian cuisine, this Indian-inspired recipe is a great one to start with. Feel free to use frozen mangoes, if you like.
Ingredients
3 Tablespoons coconut oil
1 1/2 cups chopped onion
1/2 red bell pepper, chopped
2 garlic cloves, minced
2 Tablespoons fresh minced ginger
1 1/2 Tablespoons yellow curry powder
1/2 teaspoon ground cumin
2 mangos, peeled and diced (about 1 1/2 c.)
2 Tablespoons cider vinegar or white vinegar
1 1/4 pounds skinless boneless chicken thighs or breasts, cut into 1-inch pieces
1/3 cup golden raisins
1/2 cup full-fat coconut milk
1 teaspoon salt
Black pepper
Chopped fresh cilantro for garnish
Instructions
Heat 2 T oil in a large sauté pan over medium heat. Add onions and cook, stirring occasionally, until soft, about 5 minutes. Add the red bell pepper and another tablespoon of oil, cook for a couple more minutes.
Add the curry powder, cumin, and salt. Cook for a few more minutes. If anything begins to stick, reduce the heat a little and add a tablespoon of oil to the pan. Add the ginger and garlic to the skillet and cook for another minute or so.
Add the vinegar, 1 cup water, and all of the chopped mango to the pan. Bring the mixture to a boil, then lower the heat and let it simmer for about 15 minutes.
Remove pan from heat. Scoop the sauce into a blender or food processor. Purée the sauce, pulsing until smooth, then return the sauce to the pan.
Add chicken and raisins to the sauce. Cover the pan and let it simmer for 8-10 minutes. Chicken should be just cooked through -- check one of the largest pieces for doneness.
Stir in the coconut milk. Cook uncovered on low for a few more minutes. Adjust seasonings to your liking -- adding more vinegar or a touch of salt and pepper to taste. If your mangoes aren't particularly sweet, a drizzle of honey will increase sweetness.
Serve over rice with a sprinkle of cilantro.
Notes
Nat's Note: I don't particularly like cooked mango chunks, so I blended them all. If you want you can reserve some of the mango chunks and add them to the skillet with the chicken.
Recommended Products
As an Amazon Associate and member of other affiliate programs, I earn from qualifying purchases.
This post may contain affiliate links. Any purchases made by using these links won't cost you any extra and helps keep my content free. These links may be Amazon links as I am part of the Amazon Associate Program.