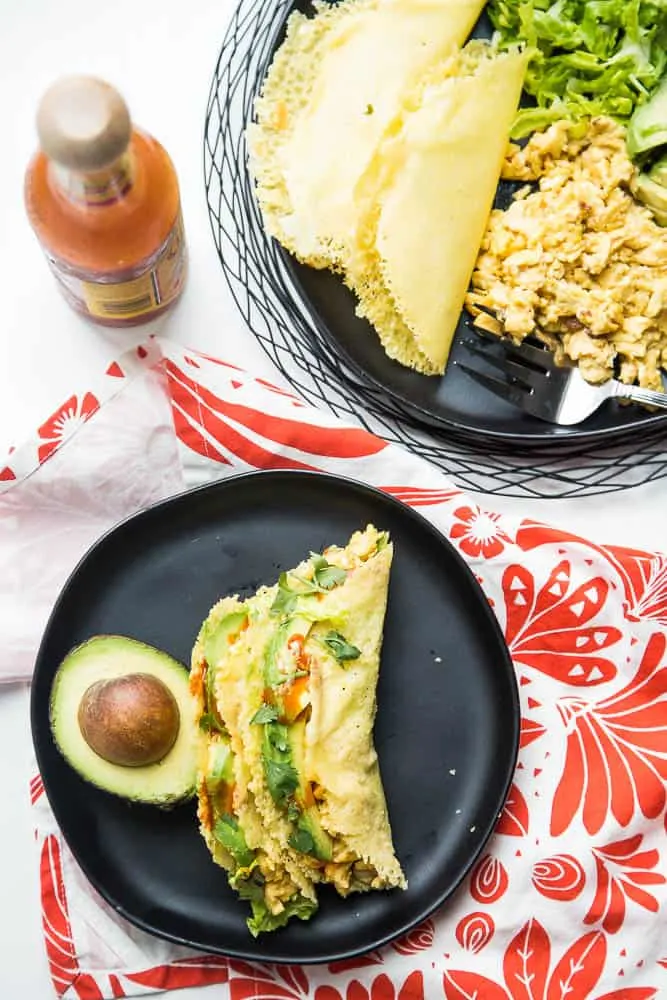 Remember the little cheese crisps I made to crumble over my Creamy Paleo Mushroom Soup with Bacon? Well, it turns out those little cheese crisps, made extra large, make REALLY good keto tortillas. Well, technically taco shells since they're crispy. Since breakfast tacos are kind of a thing lately, I couldn't resist trying these out with some easy chipotle scrambled eggs.
I tell you what, though. Once you try these 100% cheese keto tortillas you won't even miss the real thing.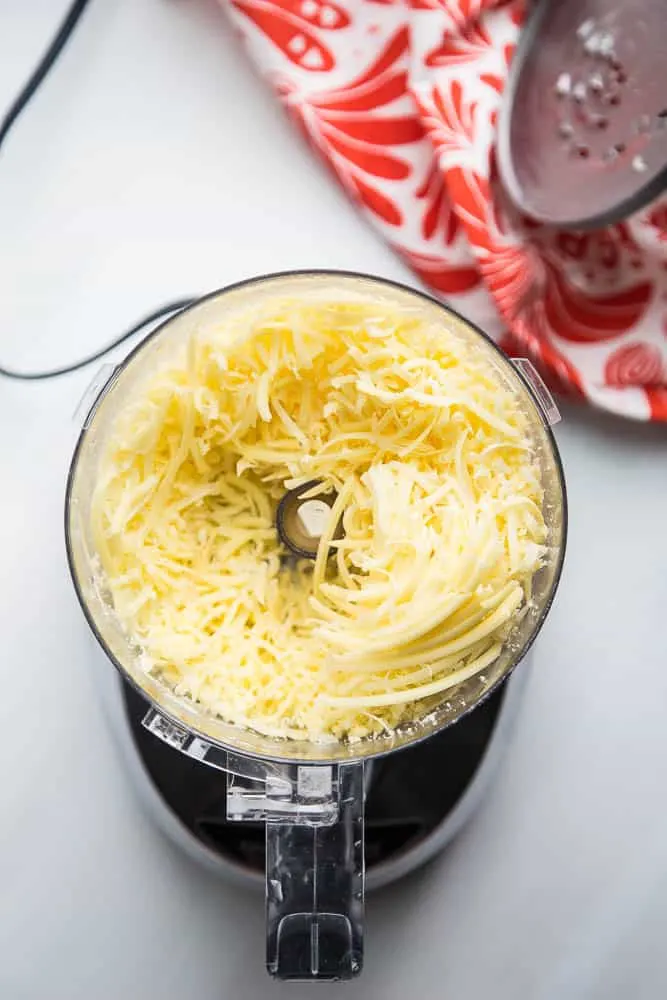 Yep, it's all cheese. Luckily I can get away with eating cheese without any adverse side effects. My favorite cheese to use is a high quality grass-fed cheddar or Kerrygold Dubliner. And If I haven't convinced you to get a food processor, this might do the trick.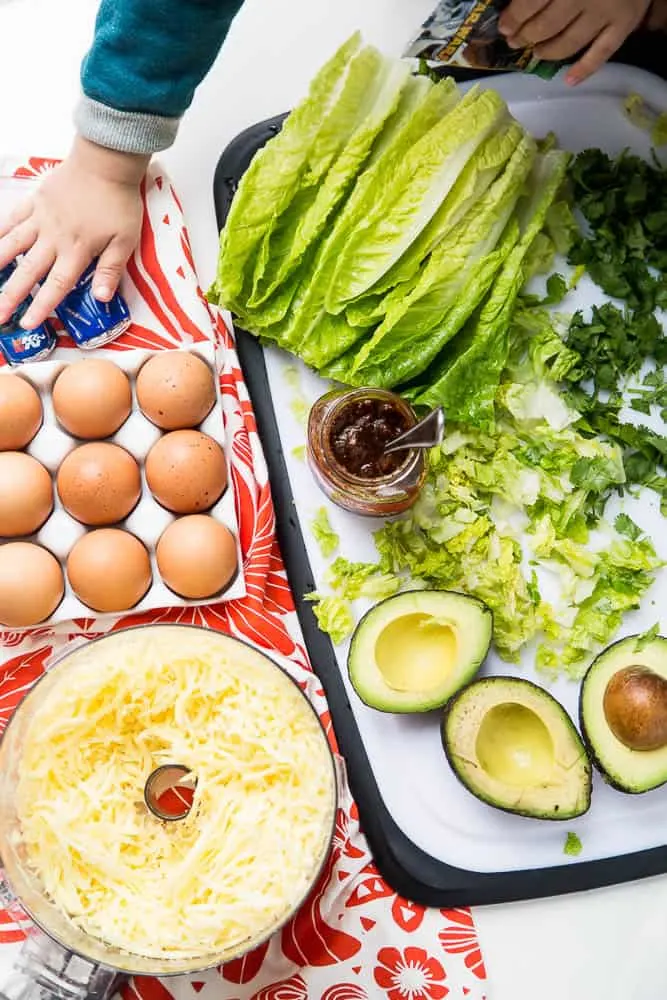 These aren't the kind of thing you'd make for a crowd, though. Each keto tortilla takes a few minutes to make, and while you can make them a day or two ahead, I'd serve these to just a few people. Or make a bunch for myself and use them for quick breakfasts.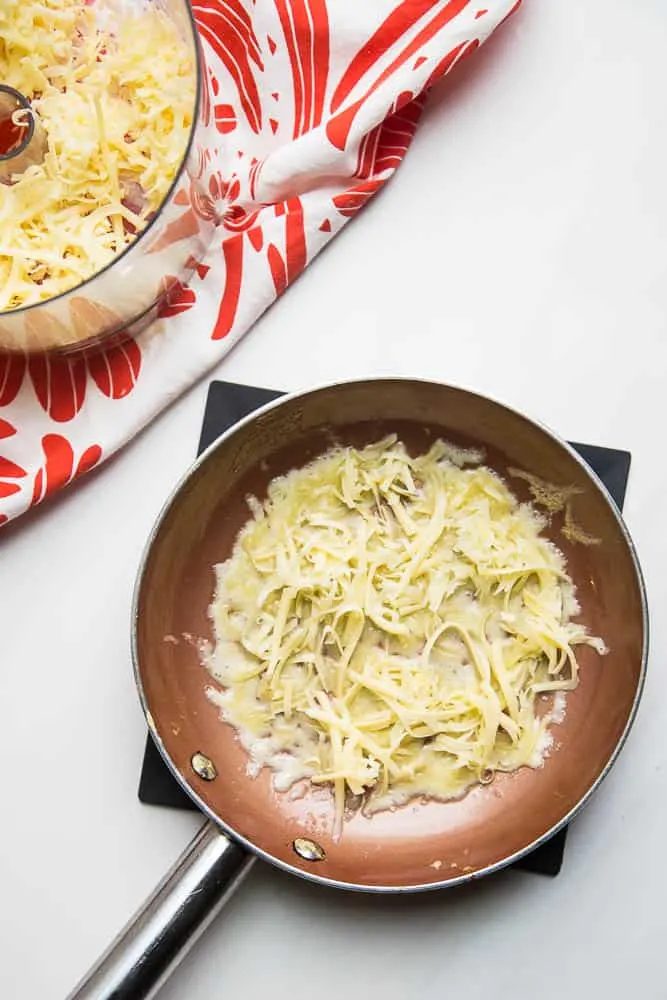 To make well-shaped tortillas, I'd recommend using an 8-inch frying pan. We have three because we use them ALL. THE. TIME. Since we don't have a microwave we use them to reheat food, to make a quick scrambled/fried egg, and they're my #1 pan for making crepes. Crepe pans aren't necessary — and a total unitasker tool. And larger pans are trickier for making crepes if you are still getting your feet wet.
Anyway, these pans are great. I like that 8-inch Copper Chef one up there, and I also have two 8-inch GreenPan frying pans.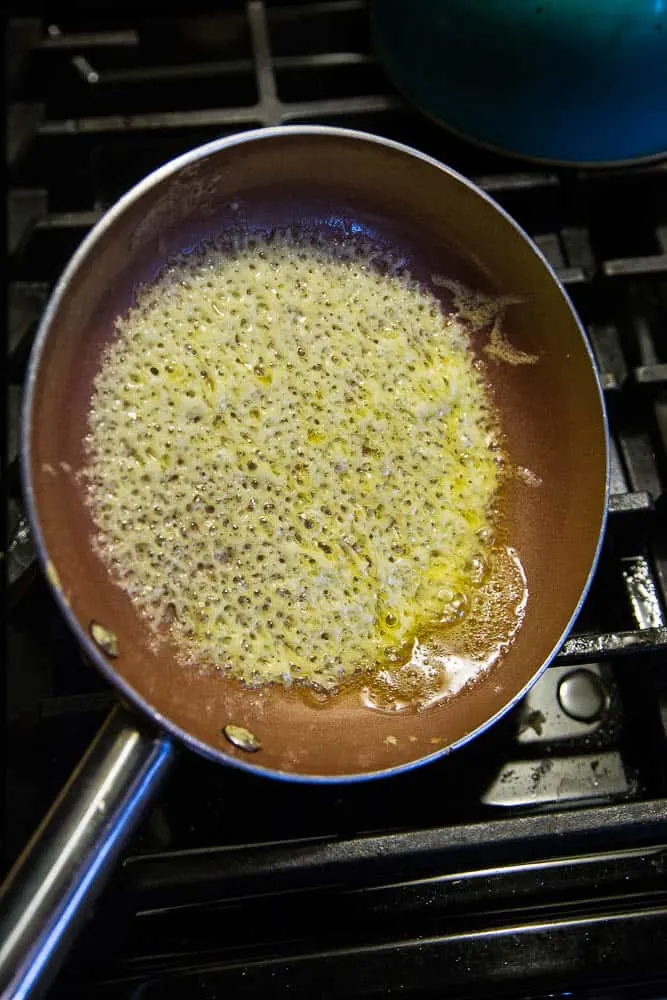 These are so easy, but they do take a few minutes to make one. (That's why multiple pans are nice.) You simply melt the cheese until it starts to ahere to the pan. When you tilt the pan to drain some of the oil off, the cheese should stay put, for the most part.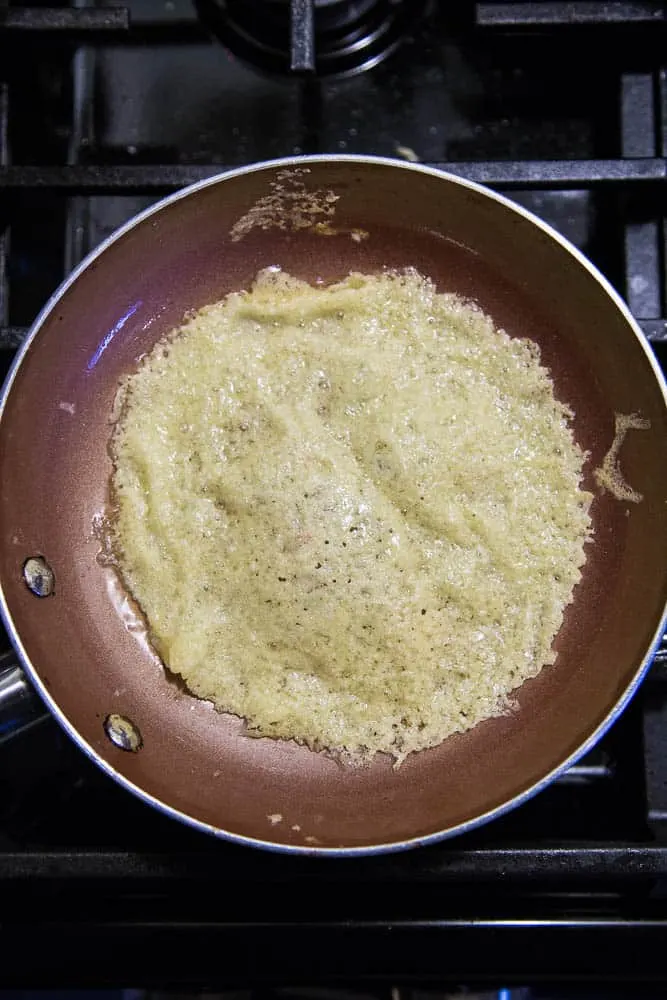 Once you can get a rubber spatula underneath it, flip it over for another few seconds. If you cook them too long until they get really golden brown, they kind of get bitter.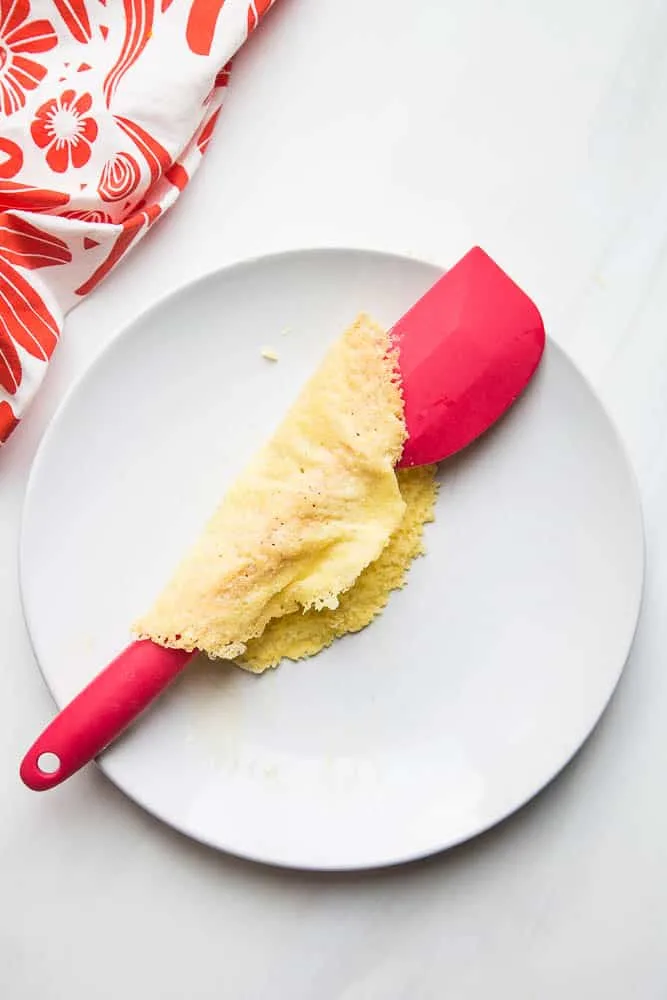 As soon as they come out, I wrap them around a spatula and put them on a plate like this — a plate that allows the spatula to lift above the plate — if that makes sense. Basically, you want the tortilla to be folded, but not completely closed as it cools. Once it cools, it's basically like a giant chip.
You could even leave them flat to cool and use them as a base for a keto tostada. Mmm.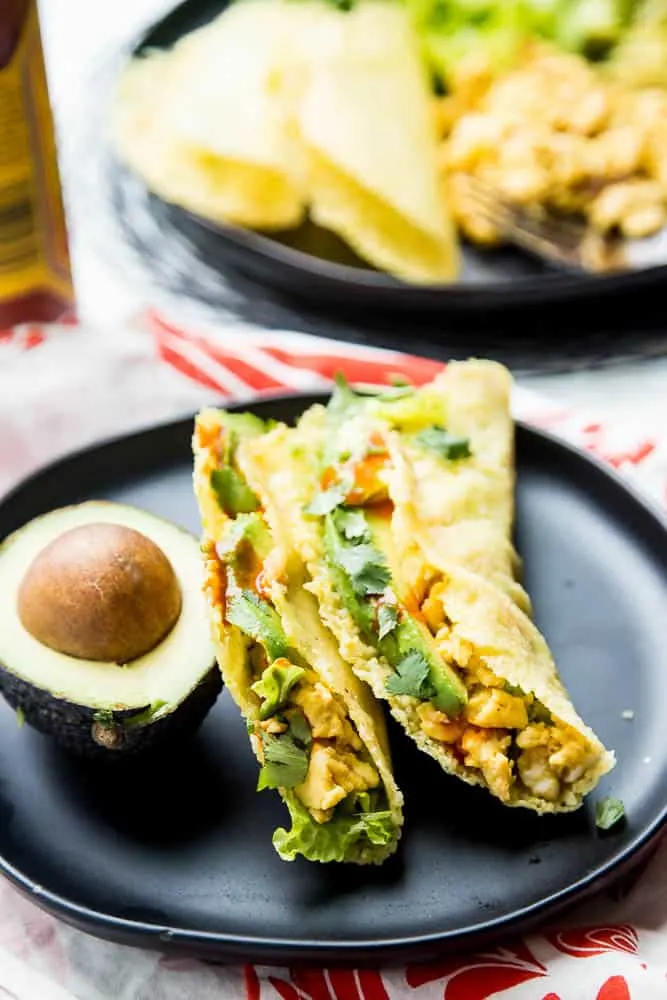 I really loved these simple chipotle scrambled egg breakfast tacos, but you can put whatever you want in them! And eat them at any time of the day.
I'd love to hear what you think about these and what breakfast tacos you come up with! Tag your social media pics with #perrysplate so I can see! :)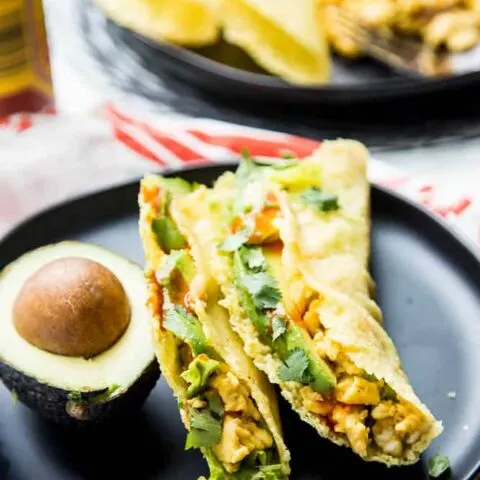 Keto Tortillas + Breakfast Tacos
With these keto tortillas made of cheese, you won't even miss the real thing. We loved using them in these easy breakfast tacos!
Ingredients
6 ounces shredded cheese
6 eggs
1 teaspoon minced chipotle pepper or 1/4 teaspoon chipotle powder
1 avocado, peeled, pitted, and sliced
2 cups thinly sliced lettuce
Hot sauce or salsa for serving
Instructions
Heat a small skillet (8-inch works well) over medium heat. Sprinkle about 1 ounce of shredded cheese evenly in the skillet and cook until completely melted and the oil from the cheese begins to separate. Tilt the pan -- if the cheese begins to slide downward, then cook it for another minute or two. You should be able to drain the oil off of the cheese (into a heat-safe bowl, not your drain!) while the cheese sticks to the pan. This whole step should take about 3-4 minutes.
After you've drained off the oil, cook it for another minute until you can get a spatula under the edges and flip it over. It should be solid and flexible, but not mushy. If the cheese just mushes together when you try to lift it up, it's not ready to flip.
Cook it on the other side for about 30 seconds and then transfer it to a plate and immediately fold the cheese crisp in half with a wooden spoon or a spatula inside to hold it open. It will harden within a minute or two and become crispy.
Repeat with remaining cheese, using two pans to quicken the process, if you can. You can also make these a few days ahead.
Scramble the eggs with the minced chipotle pepper and a few generous pinches of sea salt, to taste.
Assemble the tacos by carefully spooning scrambled eggs into each shell along with some avocado slices, sliced lettuce, and a dash or two (or three) of hot sauce.

Disclosure: This post contains Amazon affiliate links. Purchases made by using these links doesn't cost you any extra and helps to keep my content free.
SaveSave
SaveSave
SaveSave