These marinated lamb loin chops are perfect for a fancy meal for two that doesn't take much effort! Grill them or cook them in a skillet — they're tender & delicious either way!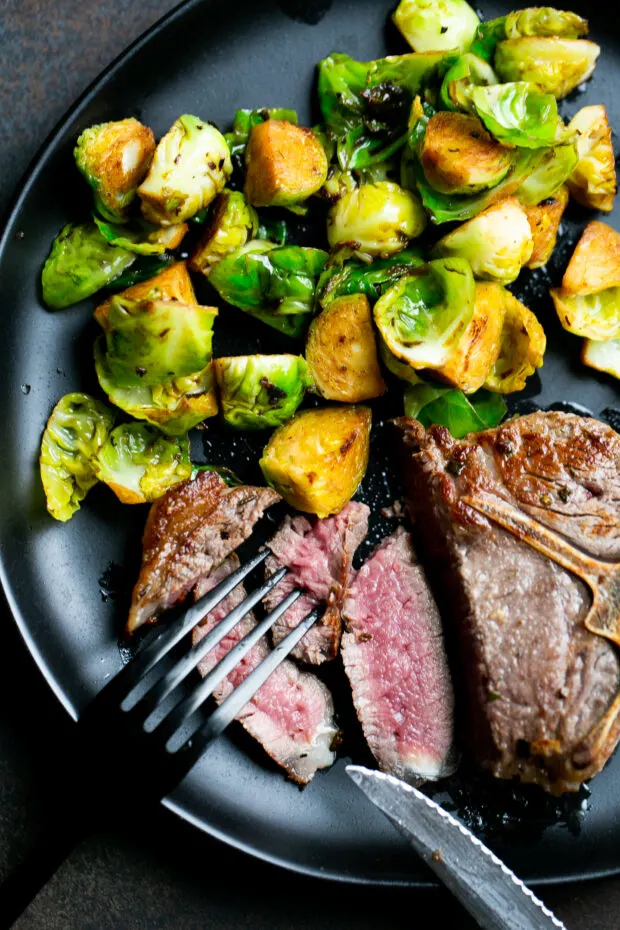 I'd be interested to know how many posts start off like, "I don't even like [insert food] but here's a great recipe for it!"
I'm realizing that some of my food preferences are due to the method of preparation and it's just a matter of finding the right method that I like!
Some things (like peaches) will never make my A-list. Ever.
So, let's talk about Perry's Plate's very first lamb chop recipe. Historically I've only liked lamb if it's covered in a heavily spiced Indian curry sauce to mask its "lamby" flavor and pretend it's beef.
Until now.
A friend of mine gifted us some lamb lollipops (she's my beef share lady — in case you think I have strange meat-gifting friends). They sat in the freezer for almost a year before I pulled them out because (see above) I don't like lamb.
Steve likes lamb, so I threw them in a simple marinade and tossed them on the grill for him.
He LOVED them. I curiously took a bite and *gasp* I loved them, too! When marinated and grilled they taste really similar to a beef tenderloin steak! Turns out lamb is a super versatile red meat, too.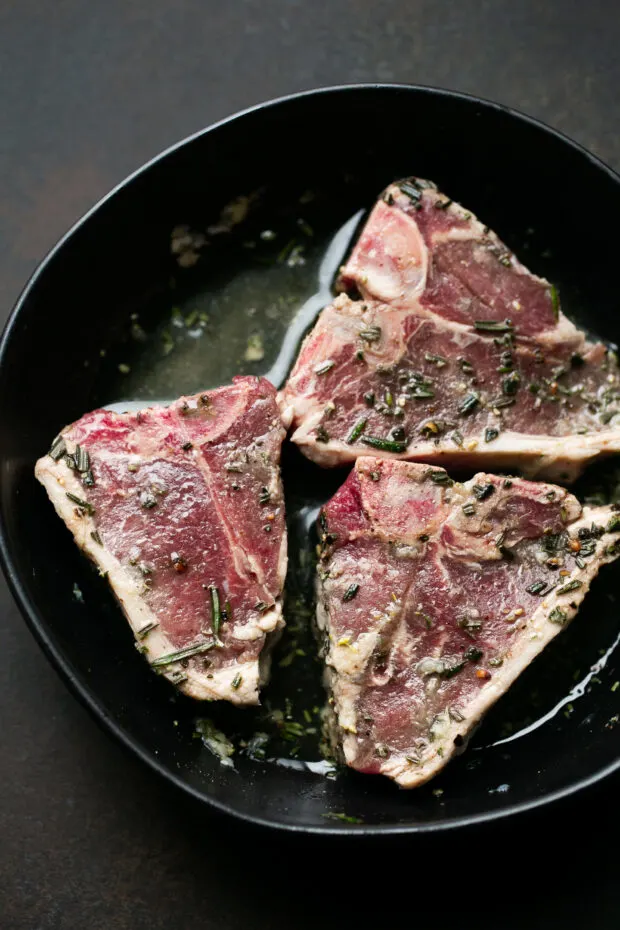 I found some lamb loin chops at the grocery store and while they're a little bit (a lot) pricey, I thought it would be a fun little dinner for two to share with you with Valentine's Day coming up. There are a lot of special occasions for which you could make this meal.
Lamb Chop Marinade
Let's start with the marinade! The best part about this marinade is that it's simple. I used lemon juice, rosemary, garlic, sea salt, and a few grinds of black pepper. Classic middle eastern flavors work well with lamb, so if you want to change up the marinade, go right ahead!
I HIGHLY recommend using all fresh versions of these ingredients. When you have just a handful of ingredients, using fresh can make a big difference. Fresh lemons, garlic cloves, and a rosemary sprig or two are easy to find.
If you love lemon, you could add some lemon zest to the marinade, too!
I didn't use olive oil in my marinade because it's not good for high-heat cooking, but you could certainly drizzle some extra-virgin over it when it's finished.
Can I use a different type of herb?
Sure! If rosemary isn't your thing, try using other fresh herbs like fresh mint, parsley, or dill.
How long should I marinate the lamb chops?
I recommend marinating them, chilled, for at least 6 and up to 24 hours. If you're short on time, you could marinate them for 2-3 hours at room temperature.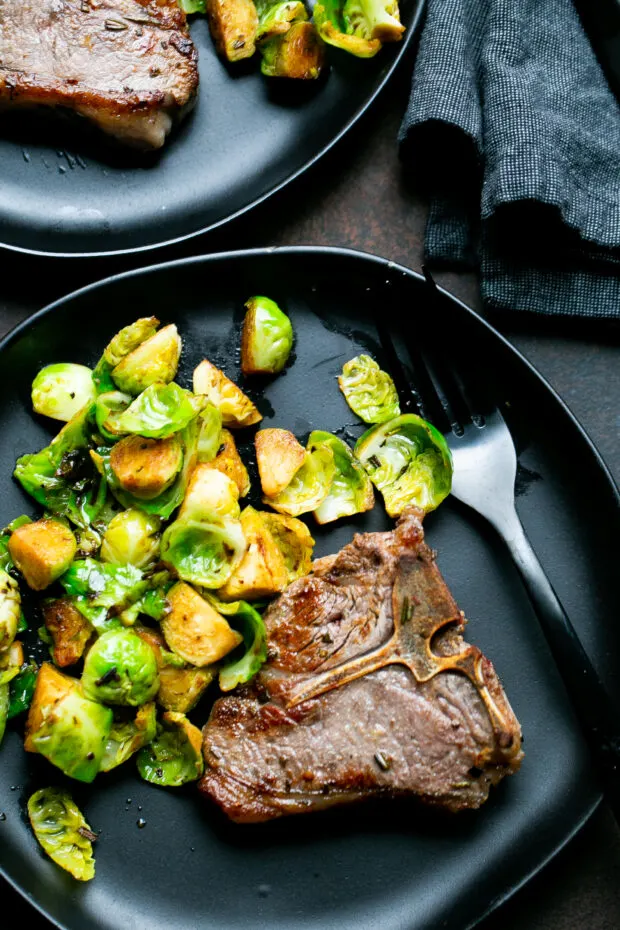 How long should I cook the lamb chops?
I would treat these the same way you would a filet steak. If you like your steaks cooked medium rare, then cook these medium rare as well.
I'm not going to give you a recommended internal temperature because it's totally up to your preferences.
In the recipe I gave you instructions for both grilling and searing on the stove. They both result in delicious chops.
I love how they look like little t-bone steaks! If you use a cast iron skillet, that's always a plus, but I don't (they're too much of a hassle for me). Just make sure you use a large skillet so the chops aren't crowded.
I like being able to pull those tender lamb chops out of the pan and toss in a quick-cooking veggie as a side to use more of the cooking juices.
Speaking of sides, here are some of my best side dishes to serve alongside those little lamb chops!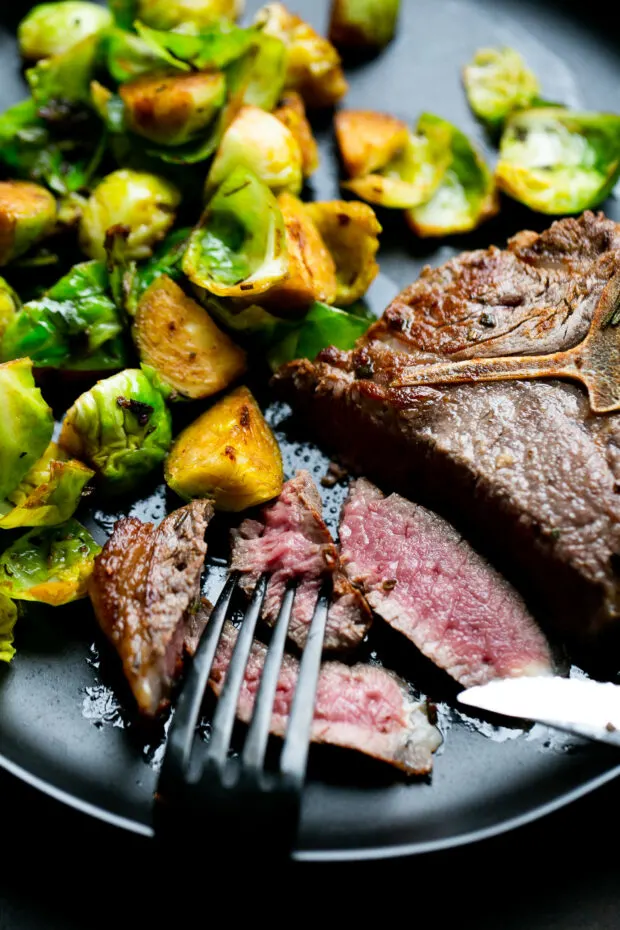 What to Serve with Lamb Chops
If you are cooking them on the stove, toss in a quick-cooking vegetable or some white beans after you pull out the meat. Here are my best sides ideas, including some spring vegetables:
Brussels Sprouts (halved or quartered)
Green Beans
Sugar Snap Peas
Broccolini or broccoli cut into small florets
Shredded Cabbage
Chopped summer squash
If you're making grilled lamb chops or want a starchy side dish, try one of my favorite side dishes for lamb as a main dish:
Instant Pot Lemon Herb Rice can be cooking away while you're working on your main course! Love Instant Pots for that.
Easy Instant Pot Mashed Potatoes are delicious too! You could even swap out the white potatoes for sweet potatoes. I also have a great Instant Pot Cauliflower Puree with Rosemary and Garlic that would compliment this really well. Any of these would be perfect sides.
Wild Rice Salad with Cucumber & Pesto would be good with this and you could make it several hours or even the day before.
Roasted Mushrooms with Garlic can be easily popped in the oven. You could prep these the same time as you prep the marinade since there are overlapping ingredients and they'll be ready to go in the oven when you cook your lamb loin chops.
Roasted Crispy Shredded Brussels Sprouts are always a good choice.
The Most Magical Sauteed Green Beans can be made in the skillet after the lamb chops finish or on their own!
---
If you make one of my recipes, be sure to post it on social media and tag me at @perrysplate or #perrysplate so I can send you some love!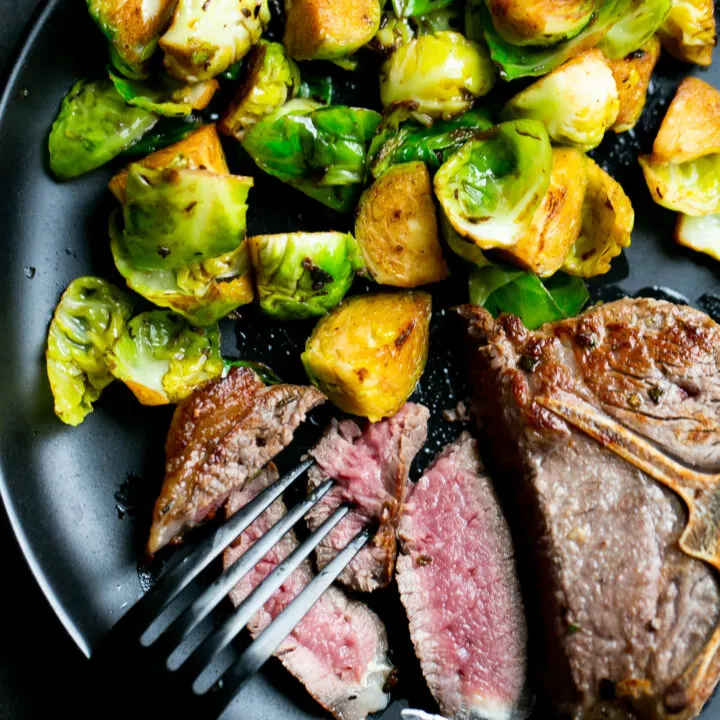 Lamb Loin Chops with Rosemary & Garlic
Total Time:
6 hours
20 minutes
These marinated lamb loin chops are perfect for a fancy meal for two that doesn't take much effort! Grill them or cook them in a skillet -- they're tender & delicious either way!
Ingredients
3-4 lamb loin chops
1/2 teaspoon sea salt
A few pinches of freshly ground black pepper
1 Tablespoon avocado oil
Juice from 1/2 a lemon
2 garlic cloves
2 teaspoons chopped fresh rosemary
Instructions
Sprinkle the salt and pepper on both sides of the lamb chops. Let it sit while you prep the rest of the marinade ingredients.
Sprinkle on the lemon juice, fresh rosemary, minced garlic, and avocado oil. Use your hands and rub it around on both sides of the chops.
Cover and chill for at least 6 hours, up to 24 hours. Or let it sit at room temperature for 1-2 hours.
When you're ready to cook the lamb chops, preheat your grill or skillet over high heat. Make sure the surface is HOT before you put the meat on.
Add the lamb chops and let it sit for at least 3-5 minutes untouched. Flip them -- there should be a golden brown crust on one side. If not, then put it back until there is.
Cook on the other side for another 5-8 minutes or until it reaches your preferred doneness.
Notes
If you're using a skillet, you can add some quick cooking vegetables tossed in salt, pepper, & heat-safe oil to the skillet and cook them on medium-high until they're toasty brown in spots.