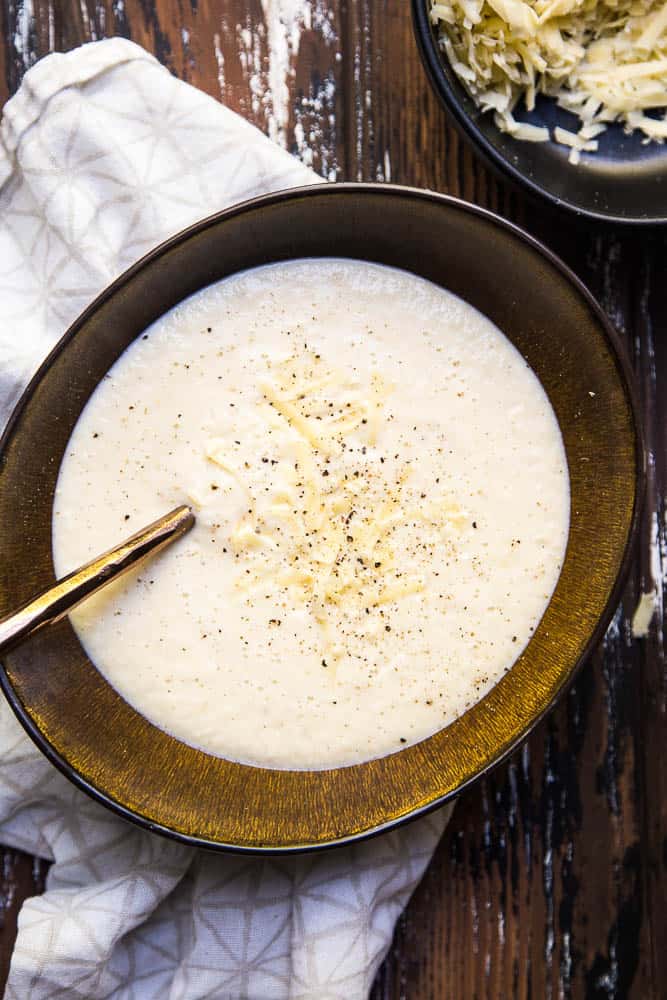 Super fantastic keto soup! OK, I'm not really "keto", but I lean rather low-carb. And I like to make low-carb desserts to reduce my sugar intake.
I know a lot of you are into low-carb or keto meals, and since they're similar to what I typically post, they blend in well on my site. We're not strictly paleo around here, so if it involves cheese, I can get on board. *grin*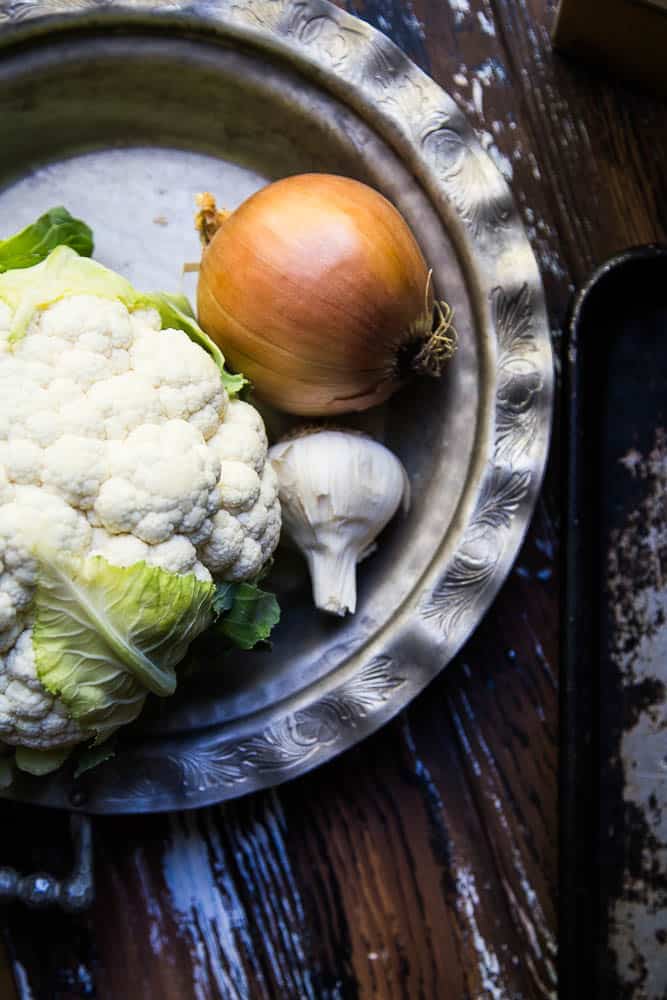 It's amazing to me how just a few ingredients, when prepped well, can make something completely delicious.
Roasting vegetables is, hands down, my favorite way to cook them. And turning roasted vegetables into a soup is super easy. Especially since you can find pre-cut cauliflower easily these days. And peeled garlic.
Some nicer grocery stores have a section in the produce area where they have ALL kinds of prepped vegetables — "fajita-ready" peppers and onions, zucchini and other vegetables noodles, and vegetables ready to throw on the grill.
What an age we live in, no? We really don't have an excuse why we can't throw together a healthy, quick meal. Besides lack of skills, but the Internet can fix that, right? You can learn just about anything on YouTube. (I learned to quilt watching videos!)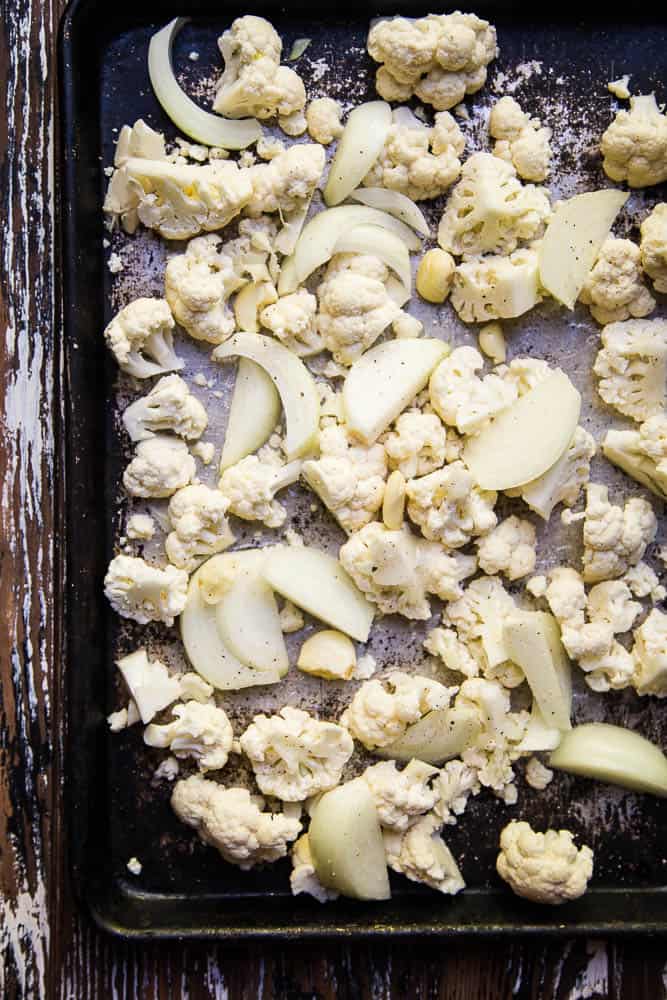 Want to know a secret?
This is basically the same recipe as my Simple Roasted Tomato Soup. I just swapped out the tomatoes for cauliflower. And you can even use butternut squash!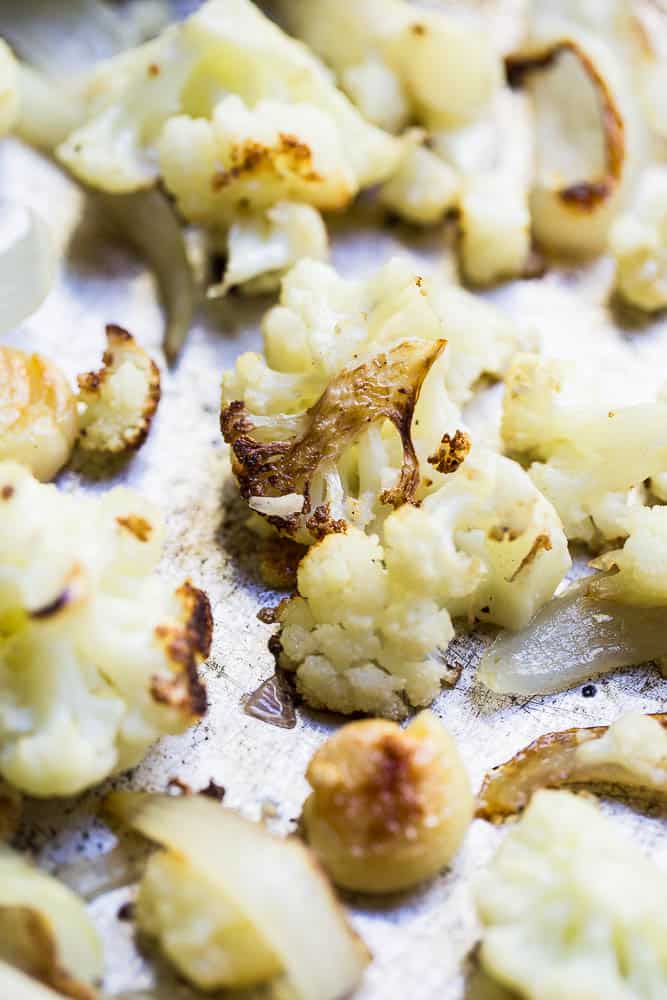 How to Roast Vegetables (the right way)
Roast them hot! Roast them between 425-450 degrees, depending on how long they take to cook. The faster they cook, the hotter the oven should be. You'll want some color on them before the insides turn to mush.
Don't crowd the pan! If you want your vegetables to get those roasty, caramelized spots, you can't put too much stuff on the pan. Otherwise they'll release too much liquid and end up steaming. Steaming is not a good substitute for roasting. If you need to, split them into two pans.
Roast them on a low oven rack. This is another way to ensure toasty edges on those veggies. If you need to use two pans, then rotate them halfway through cooking.
Don't be afraid of oil. You need oil to roast vegetables properly. Plan on using at least 3 tablespoons of oil for a full pan of vegetables. And use an oil that's heat-safe and won't go rancid quickly. I like avocado oil because it has a neutral flavor, but coconut oil is great as well.
Toss them around a few times during roasting. Like toasting a marshmallow, you'll want to make sure you've got caramelized goodness on as many sides of the vegetables as you can.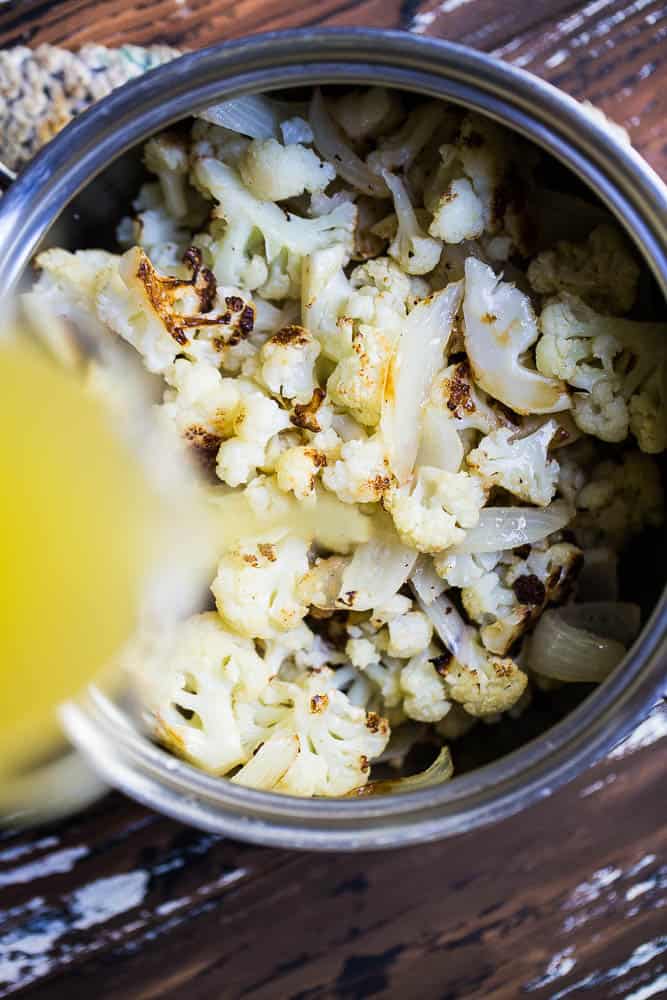 You can definitely use high quality, store-bought chicken broth for a simple soup like this. I do it all the time. Like in that photo up there. (I like the organic Kirkland brand at Costco)
I do try to make bone broth from leftover chicken bones when I roast a chicken and freeze it. Obviously, homemade chicken broth or stock will have a better flavor (and better ingredients!) than store-bought, but use what you have.
Have you ever made bone broth from scratch? I have a stove-top version here: Homemade Chicken Stock. And a slow cooker/Instant Pot versions in my cookbooks.
Since I don't salt the broth I make, I always have to add a little extra salt to whatever soup I'm making.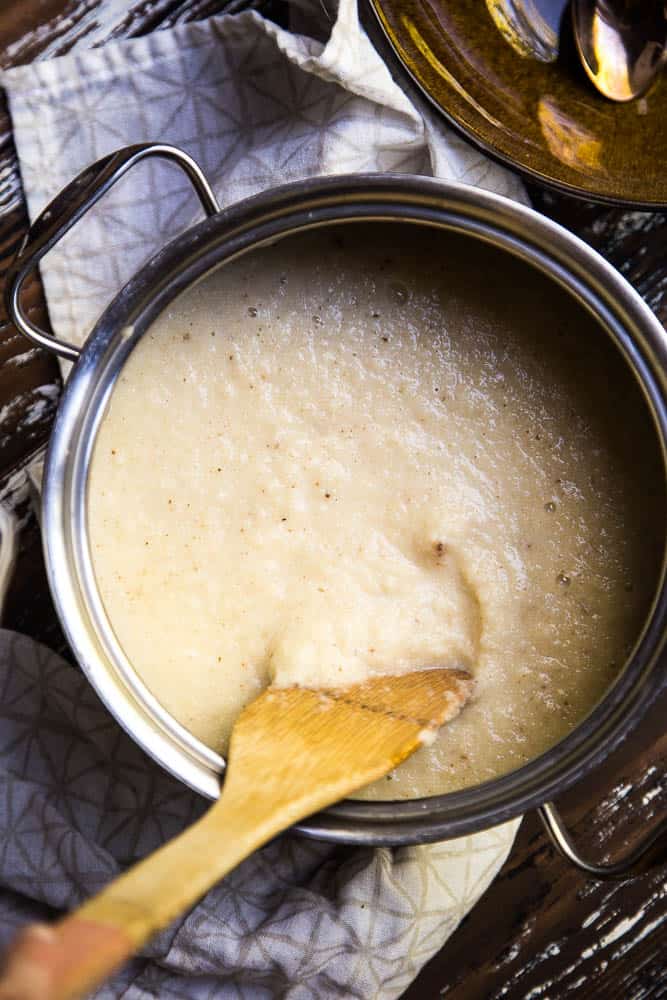 I think I put in a plug for buying an immersion blender in every blended soup recipe I post.
And here it is again — Buy an immersion blender. You won't regret it.
If you'd rather use your blender, that's fine, too. You must like washing extra dishes.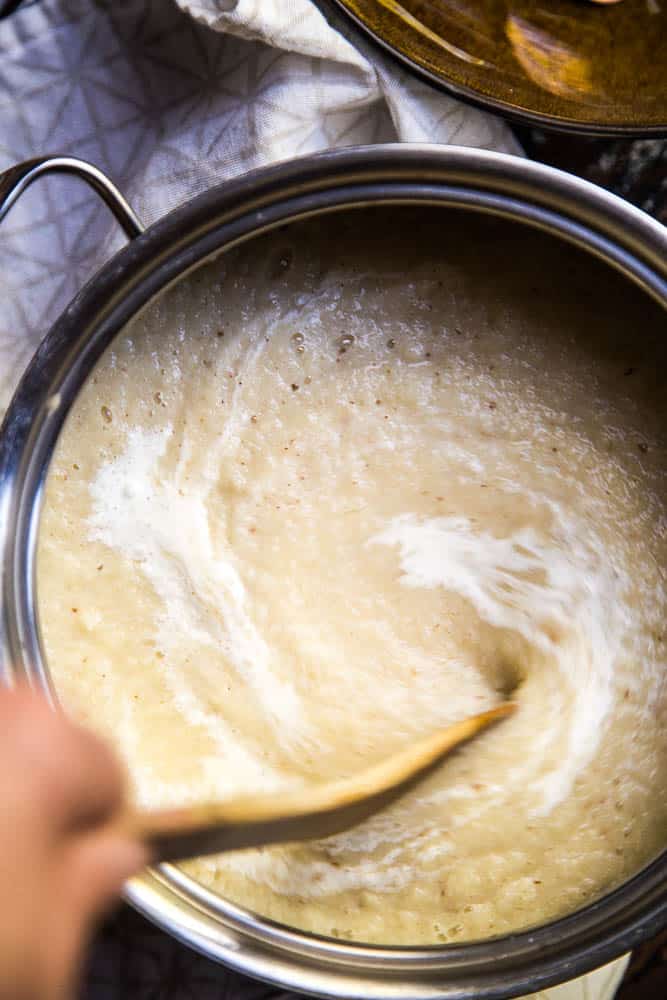 Up until this point, this soup is paleo-friendly, dairy-free, and Whole30 compliant. (Yay!)
You can stop here and eat it as is. Or add some coconut milk, fresh herbs or spice it up how you like it. It's a fabulous little soup.
BUT. If you're friends with dairy and/0r you're into boosting those good fats, add some cream.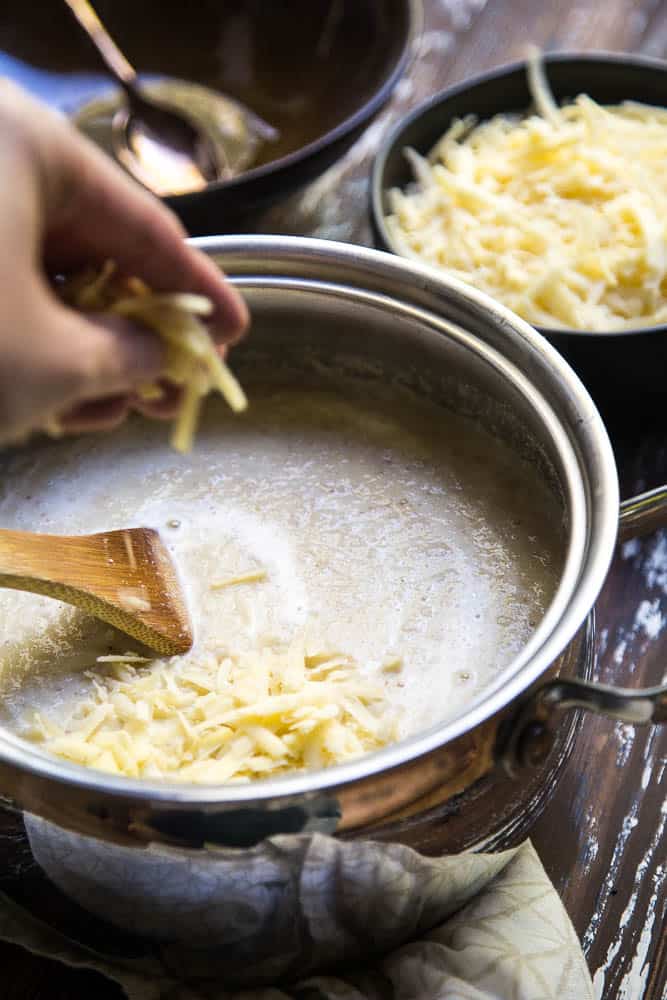 And maybe a little cheese.
And by "maybe" I mean definitely.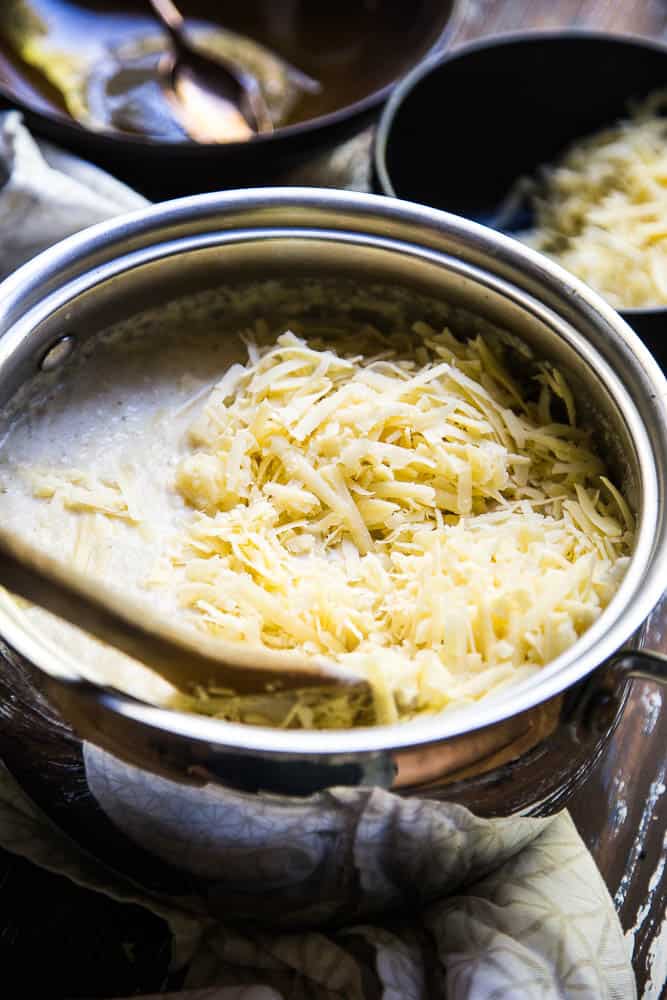 And by "little", I mean, "a lot".
I used Kerrygold Dubliner grass-fed cheese which was REALLY good with the cauliflower. Any sharp cheddar will do. You'll want a stronger tasting cheese — otherwise you won't be able to taste it and then, what's the point?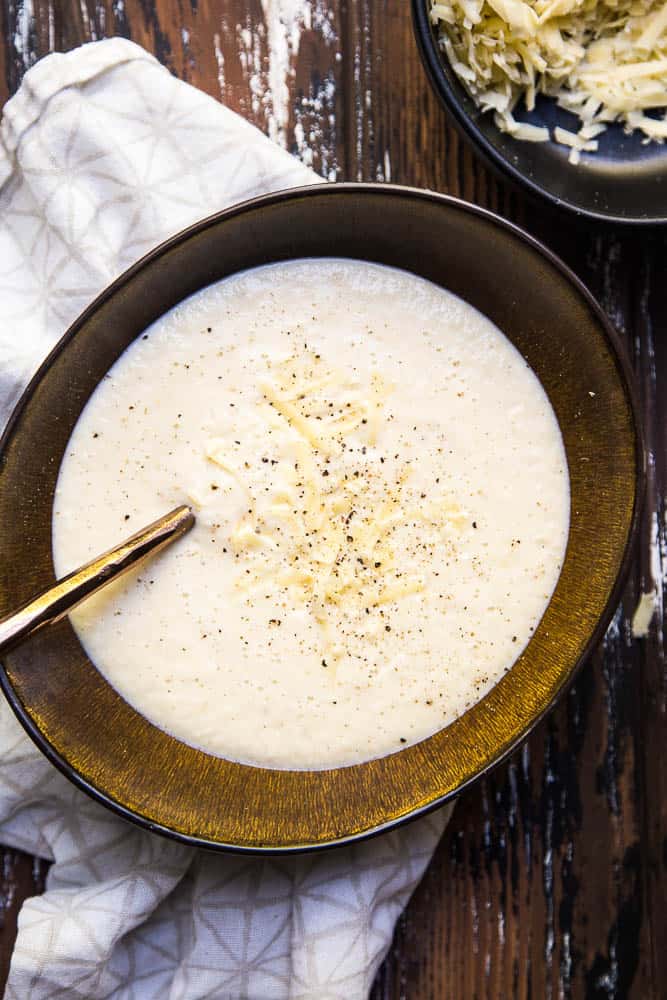 And that's it! I added a pinch of cheese on the top of my bowl and a few cranks of black pepper. This is such a cozy, but not overly heavy, soup that's good for any day of the week.
One time when I made this, I roasted some quartered Brussels sprouts on a separate pan and then tossed them in some Dill Pesto when they came out of the oven. (SO good.)
And then I put some of them in my soup. *gasp* Perhaps the best thing I threw together accidentally all week.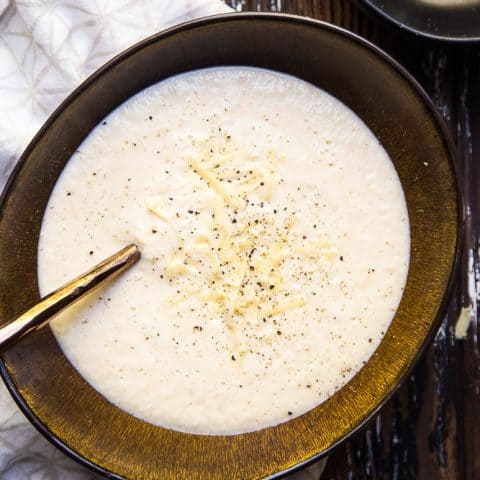 Cheesy Keto Roasted Cauliflower Soup
It's amazing to me how so few ingredients can come together in such a flavorful soup! The cheese and cream are optional, of course, and this soup is paleo and Whole30 compliant without them. (And still incredibly tasty!)
Ingredients
2 pounds cauliflower florets
1 medium onion, cut in half and cut into 8 wedges
4 whole garlic cloves, peeled
Sea salt
Freshly ground black pepper
2 Tablespoons avocado oil
3-4 cups chicken broth
1/2 cup heavy cream or coconut milk (optional)
6 ounces shredded sharp cheddar or another strong flavored cheese
Instructions
Preheat the oven to 425 degrees F.
Put the caulflower, onions, and garlic cloves on a large, rimmed baking sheet. Sprinkle with about 1/2 teaspoon sea salt and a few pinches of black pepper. Drizzle the 2 Tablespoons of oil over the vegetables, then use your hands to toss everything together to coat well.
Roast for 20-25 minutes on a lower oven rack until the vegetables have golden brown spots. Flip them around a couple times during cooking.
Transfer that roasted goodness to a medium or large soup pot. Add 3 cups of chicken broth to the pot and bring the soup to a simmer.
Blend with an immersion blender (or in batches using a countertop blender).
Stir in the cream and cheese. Taste, and add a little salt if you think it needs it.
Serve with a few cranks of black pepper on top. (And maybe some extra cheese, if you have it. :))
Notes
Nat's Note: If you leave out the cream and shredded cheese, this soup is paleo and Whole30 compliant!