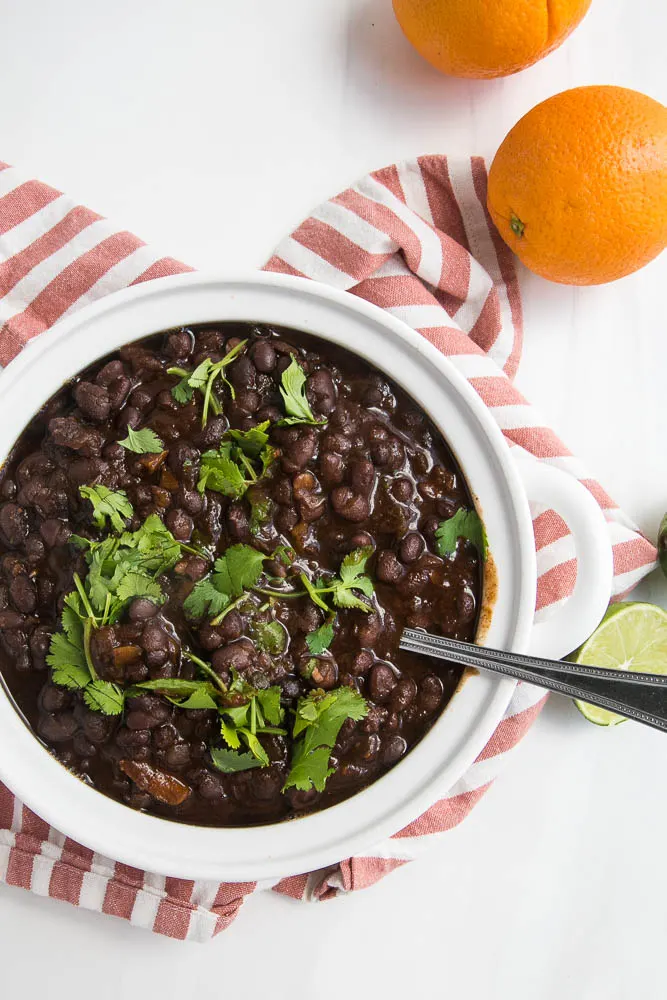 If you've been around here for a while you might be surprised to see a recipe for Instant Pot black beans.
I've been mulling over how I wanted to approach this topic, since my blog has had a somewhat firm "paleo" stance for the past several years.
Truth be told, I'm not a fan of labels. We try to combine intuitive eating with knowledge of human nutritional requirements and, for us, it looks sort of paleo.
And you know what? A whole-food diet might look different for every person. I liked to use the term "paleo-ish" because it succinctly described our eating style — more or less grain-free, very low dairy, and natural sweeteners.
Technically beans aren't paleo. They're legumes.
BUT.
After randomly acquiring 20+ pounds of pinto beans last year (long story), I began playing with them in my Instant Pot.
I found that when I soak them AND high pressure cook dry beans, they felt a lot better in my stomach. Good news! And honestly, beans have always been easier on my system than things like wheat, corn, and oats.
I'll leave it at that. Long story short — my site really isn't strictly paleo, nor are we as a family. Sometimes I'll use that label for recipe I post because it's easier than saying "grain-free, dairy-free, naturally-sweetened".
I think a good Instant Pot Mexican-Style Black Beans recipe should be a staple if they work for you, too! I think everyone needs at least one delicious beans recipe.
By the way, these are easily made vegan by using vegetable broth!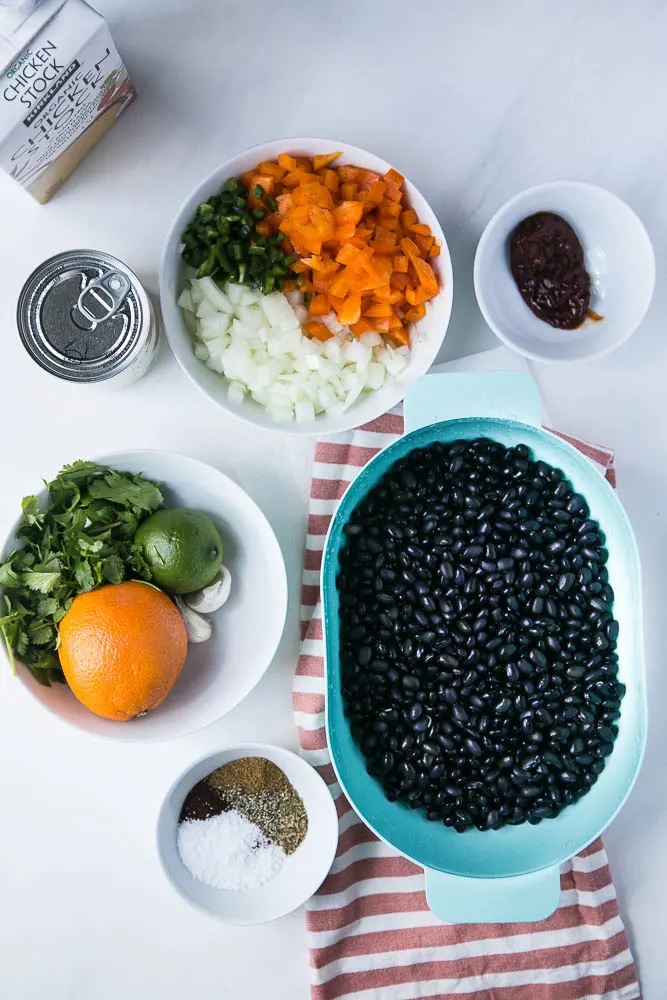 Do I need to soak dry black beans before cooking them in an Instant Pot or electric pressure cooker?
Technically, no. But, please do.
I see recipes all the time touting "NO SOAK" black beans.
Not having to soak black beans is convenient, agreed.
But I'd highly recommend soaking them. For your gut's sake.
If you want them to be more easily digestible, then soak them for at least 4-5 hours. Beans are high in lectin which can cause gut permeability (you don't want leaky gut, I promise), but soaking them reduces the lectin considerably.
Soaking isn't ideal if you're trying to make things last minute, though.
I just put some in the insert of my Instant Pot, cover them with cool water before I go to bed and let them soak until I cook them for dinner the next day. It's OK to soak them for a long time, too.
How many cups is 1 pound of black beans?
2 cups of beans is one pound.
In case you don't have a kitchen scale or buy them in a bulk bin without a labeled package.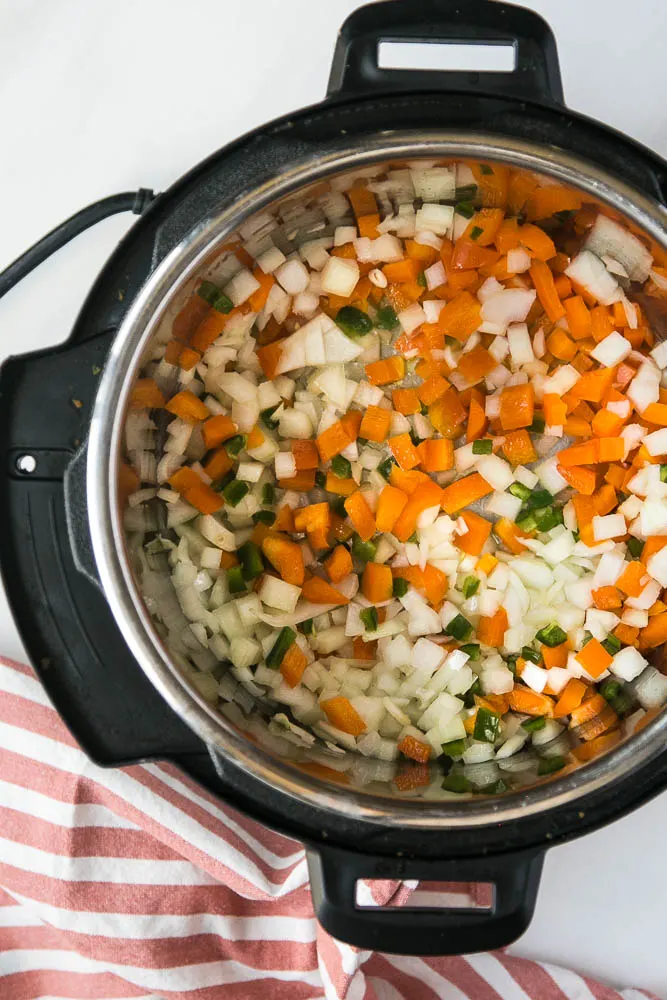 Do I have to put a jalapeno in there?
Well, no.
But every little bit of flavor helps the overall recipe taste great.
If you're worried about spiciness, just remove the seeds and most of the inner, white membranes. The chipotle pepper will add more spiciness than a seeded jalapeno, though.
I love this particular blend of spices — smoked paprika, chili powder, cumin, and oregano. Mmmm. All simple ingredients and all good things. You could add a couple of bay leaves, too, if you want.
The bell peppers and onions give these cooked beans a little more oomph, but the real star of this is the orange zest and chipotle pepper.
It's easy to throw these together, too! Watch and see!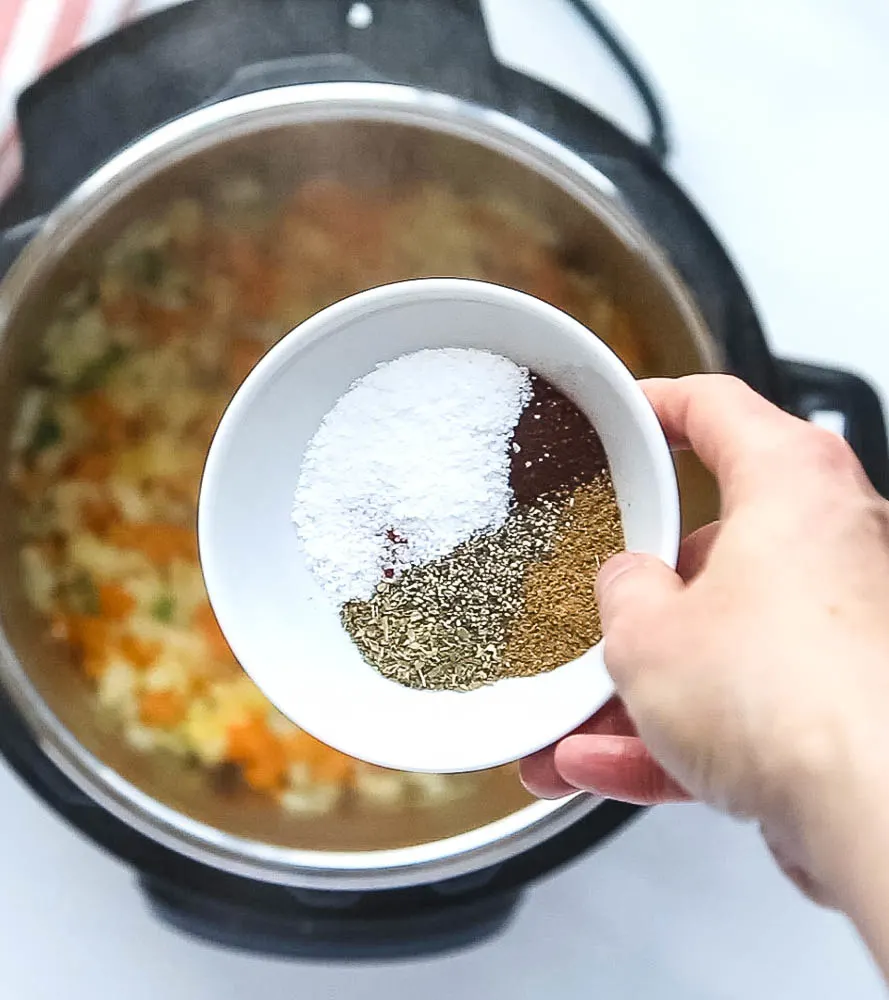 Is there a substitute for chipotle peppers in adobo sauce?
If you're worried about the heat level, the chipotle pepper IS spicy, but one pepper in a pot of beans won't make it intolerable. My kids still ate them.
You can use a teaspoon or two of the adobo sauce from the can if you want.
Or you can add 1/4-1/2 teaspoon dried chipotle powder.
If you don't want to use ANY chipotle whatsoever (WHHHYYY) then just add an extra teaspoon of smoked paprika for extra smokiness.
Can I use a different kind of bean?
Sure! I've used pinto beans in a similar recipe. You'll just need to increase the cooking time and liquid a little (see below).
How long do you cook black beans in an Instant Pot?
30 minutes was perfect for this recipe. I found that pinto beans need about 40 minutes, so if you swap out the beans, bump the time up and add another cup of broth.
You can use natural release to get rid of the steam slowly or wait 5-10 minutes and then release the pressure manually. I find that when I let the natural release do it's thing completely, the beans have a more silky smooth texture.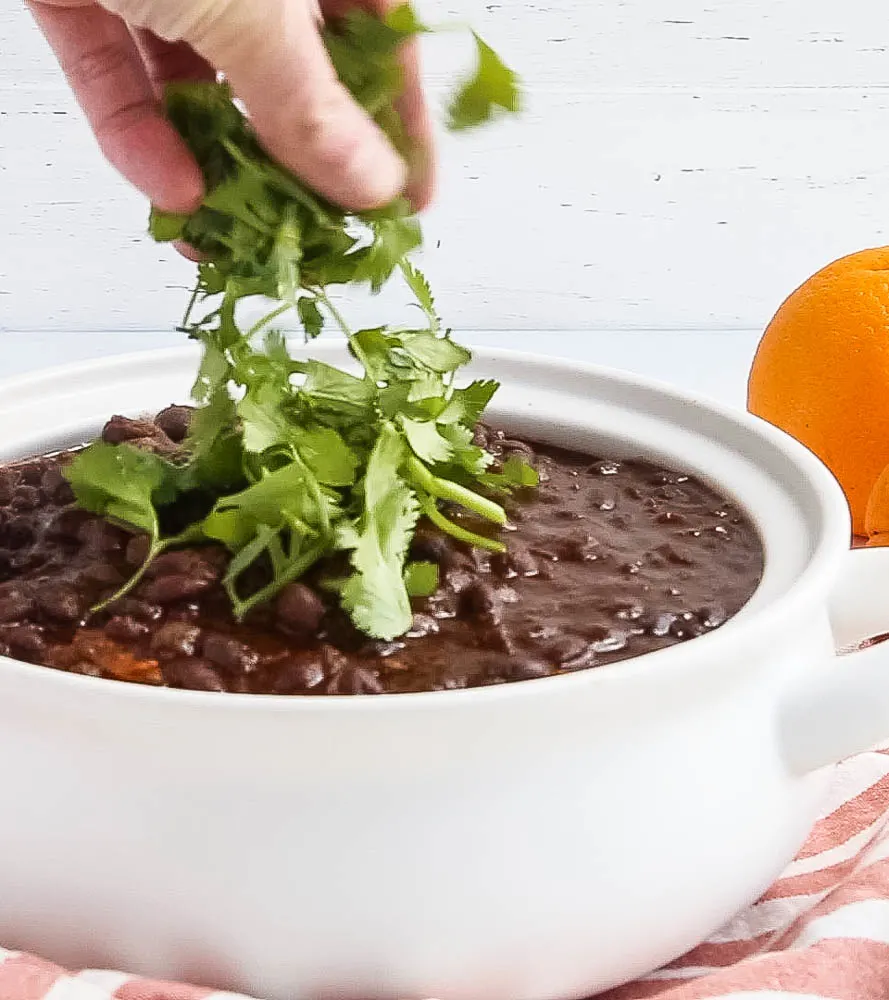 Can you double Instant Pot black beans?
Yes! I've doubled this recipe many times. It works beautifully and it'll feed a crowd easily.
Can you freeze black beans?
100% yes.
If you make a big batch, put the leftovers in a freezer-safe airtight container (I love these BPA-free Reditainer deli containers from Amazon).
If I double this recipe and we eat some for dinner I usually end up with 3 full quart containers to freeze. It's AMAZING being able to pull these out of the fridge on Mexican nights.
Can I use a different type of bean?
This recipe would also work well with dry pinto beans
Can I use a slow cooker instead?
Yes! Just add an extra 2 cups of water and cook it on high for 3-4 hours or low for 6-7 hours.
Can I make refried black beans out of these?
Sure! Just mash them with a potato masher when they're finished pressure cooking. If you want thicker textured refried beans, don't mash them completely. Stir them well and add a little more lime juice if you think it needs it.
You can take it step further and make black bean soup by pureeing the whole thing and adding a 1-2 cups water or more chicken broth to thin if out, if needed.
Adding a handful of fresh cilantro to these tender beans at the end gives it an extra boost of flavor, so don't forget!
What do you serve with Mexican-Style Instant Pot Black beans recipe?
These are totally delicious with my Shredded Chipotle Beef tacos and Instant Pot Cilantro-Lime Rice.
Also great with my Chile-Lime Fish Taco Bowls. All that citrus plays REALLY nicely together!
Sometimes I make these beans and some rice and roast some sweet potatoes with my Sweet Potato Fry Seasoning and let the kids make burrito bowls with toppings, sour cream, and a handful of tortilla chips. It's our favorite way to eat thee Mexican black beans.
Another Instant Pot would be handy, right? And a stash of these beans in the freezer?
Do you have any favorite black bean recipes? Leave me a comment, I'd love to hear!
---
If you make one of my recipes, be sure to post it on social media and tag me at @perrysplate or #perrysplate so I can send you some love!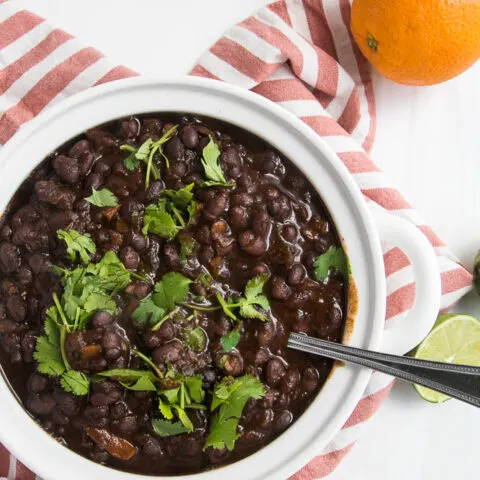 Mexican Style Instant Pot Black Beans
Chipotle and orange give these smoky black beans a unique flavor that pairs well with any Latin style dish!
Ingredients
1 pound dried black beans
2 Tablespoons coconut or avocado oil
1 large onion, diced small
1 bell pepper, diced
1 jalapeno pepper, seeded and diced
2 cloves garlic, minced or grated
8 ounces tomato sauce
2 cups chicken or vegetable broth
1 Tablespoon chili powder
2 teaspoons sea salt
1 teaspoon ground cumin
1 teaspoon dried oregano
1 teaspoon smoked paprika
1/2 teaspoon black pepper
Juice and zest from 1 navel orange
1 diced chipotle pepper, from a can of chipotles in adobo sauce
1/2 cup fresh chopped cilantro
Juice from 1 lime
Instructions
Put the black beans in a container and cover with a few inches of cool water. Let them soak for at least 4 hours, up to 18 hours. (I like to use the insert pot for my Instant Pot.)
When you're ready to make the beans, turn your Instant Pot on to the Saute setting. Add the coconut oil.
When the oil has heated, add the onions, bell pepper, and jalapeno. Cook for 3-4 minutes until the onion has softened. Add the garlic and cook for another minute or so.
Add the tomato sauce, broth, chili powder, salt, cumin, oregano, smoked paprika, black pepper, orange juice & zest, and chipotle pepper. Add the black beans and give it a good stir.
Put the lid on the cooker and move the steam valve to the "Sealing" position. Cook at high pressure for 30 minutes.
When the pressure cycle has ended, release the steam manually.
Stir in the cilantro and the lime juice. Taste, and add more salt if you think it needs it.
Serve alongside your favorite Mexican dishes or just ladle some into a bowl and go to town.
Recommended Products
As an Amazon Associate and member of other affiliate programs, I earn from qualifying purchases.
This post may contain affiliate links. Any purchases made by using these links won't cost you any extra and helps keep my content free. These links may be Amazon links as I am part of the Amazon Associate Program.