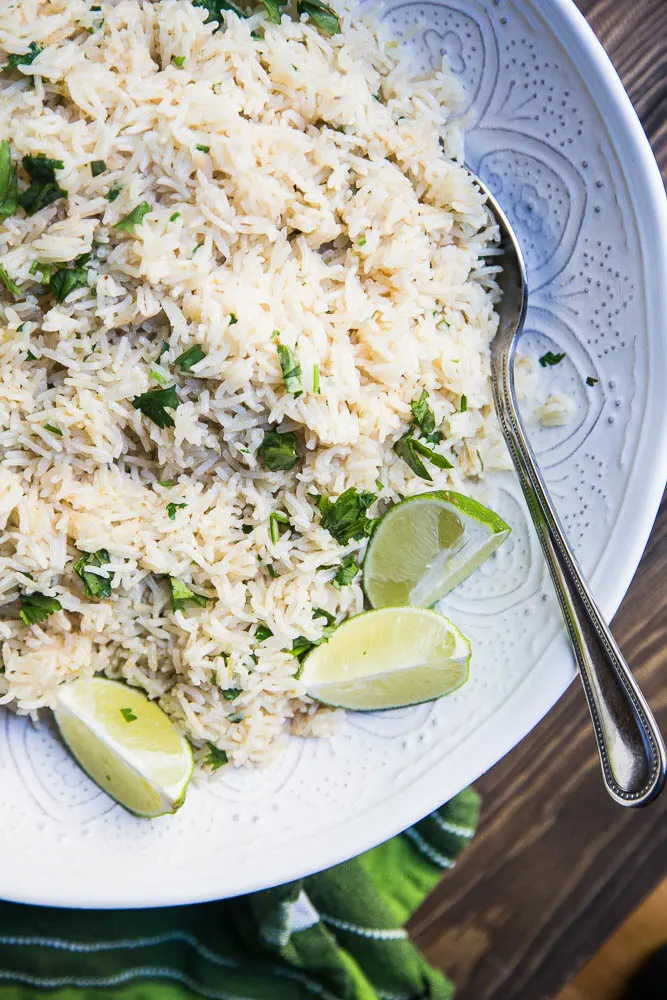 I never liked rice as a kid. Weird, right? Rice is a pretty non-threatening food. And it's not even green.
Then, I went to Russia when I was 20 and ate rice there and LOVED it. I was trying to figure out why I liked it there, but not at home growing up.
Then I realized my mom had only made instant rice or par-boiled. Even now, those kinds of rice aren't my favorite, but it's funny how we sometimes make solid assumptions without ever widening our view. I feel like there's a life lesson in there somewhere.
So, rice in the Instant Pot. Let's chat about that.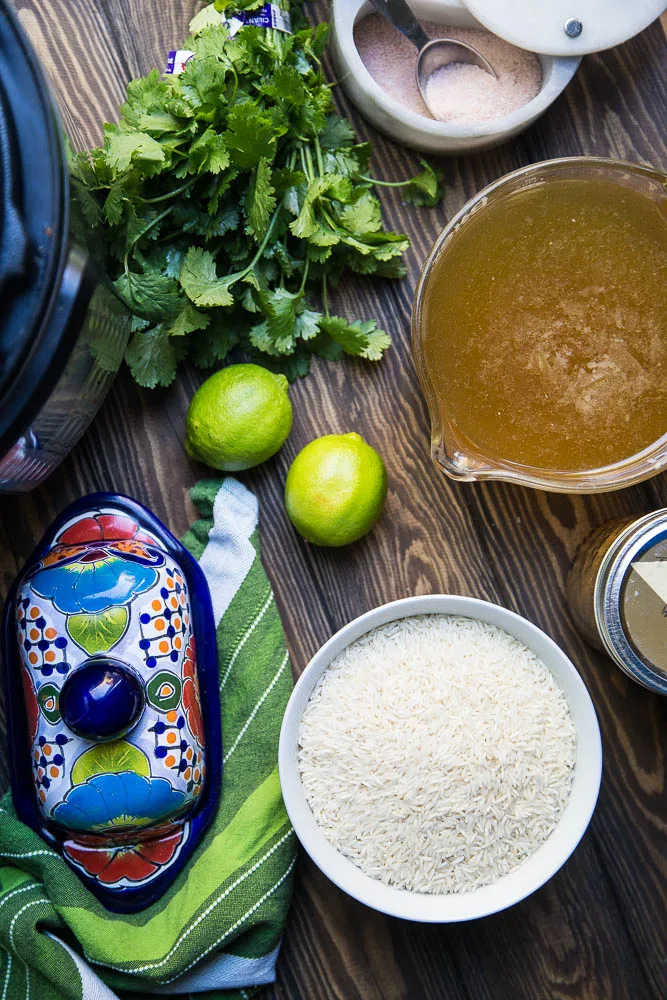 One of the reasons I considered an Instant Pot was because I wanted to replace our little 12-year-old wedding gift rice cooker with something bigger. Turns out kids eat a lot of food.
I had heard of the legends of tender, shredded beef in 2 hours, too, and thought I could take care of both of those with an Instant pot. Then, donate my little rice cooker.
Turns out you can do a WHOLE BUNCH of things with your Instant Pot. I have never, EVER regretted getting one. Or two. Even if I hadn't written an Instant Pot cookbook, I'd still want two of them.
Check out the Instant Pot/Slow Cooker section of my recipe index when you're done here!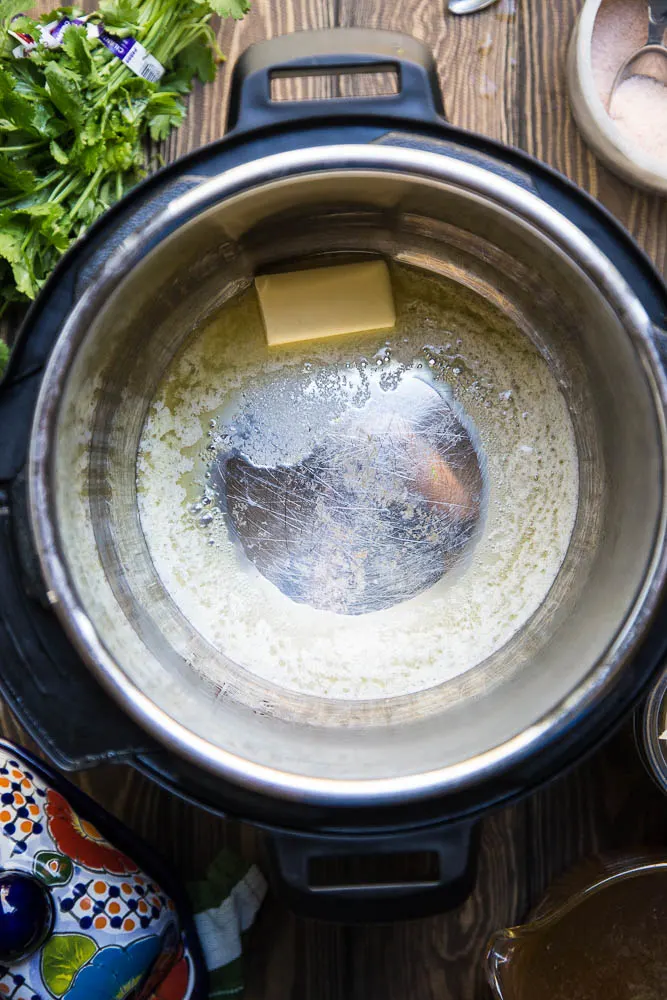 This rice is based on a recipe I got from a friend a long time ago when we lived in California (Hi Jessie!). It was a stovetop version, which, to me, was quite a bit fussier than using a rice cooker. I got spoiled — what can I say?
But the flavor of this rice is FANTASTIC. And it uses just a handful of simple ingredients. It reminds me of the rice you'd get at fresh mex places like Costa Vida or Cafe Rio.
(Side note: Can I just say how happy I am to live near a Cafe Rio again? It was a long 12 years without it.)
I took that stovetop recipe, doubled it, tweaked the measurements and adapted it to my Instant Pot. The fact that you can saute AND pressure cook in the same vessel is incredibly convenient. No dirtying extra pans, no babysitting stuff on the stove. It's so great.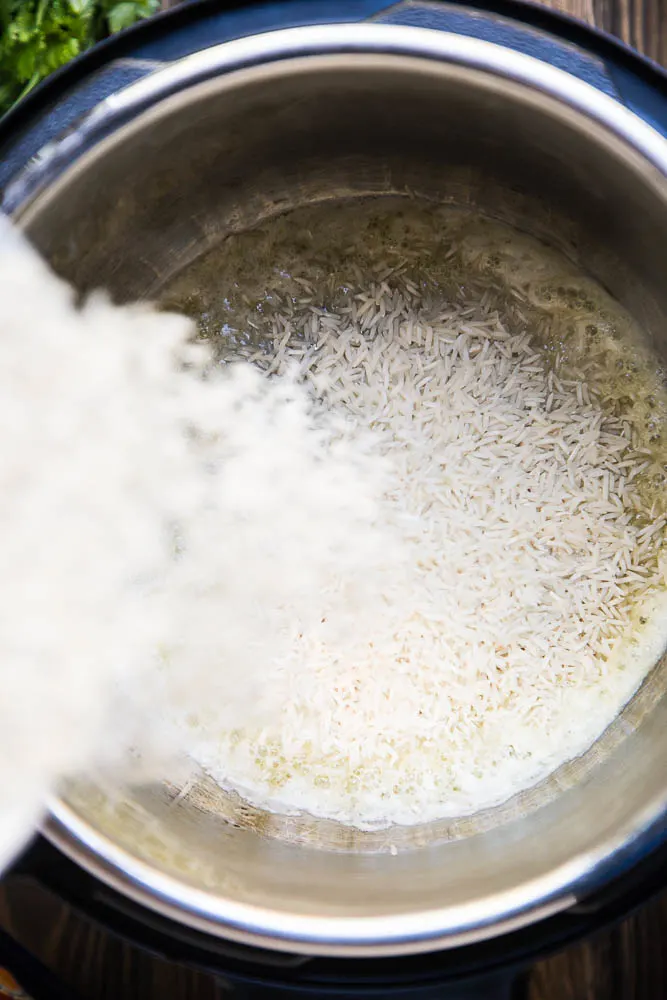 What kind of rice is good for cilantro rice?
We always use jasmine or basmati rice because I'm totally in love with the fragrant rices. I read something about basmati being the best, nutritionally-speaking, but I have nothing to back that up with, so… we just eat it because it's super tasty.
And rice seems to agree with me as long as I don't eat multiple bowls of it.
I'd recommend any long-grain white rice here. I made this a long time ago with brown rice, but the lime flavor didn't shine as much. If you use brown rice, then bump up the pressurizing time to 20 minutes.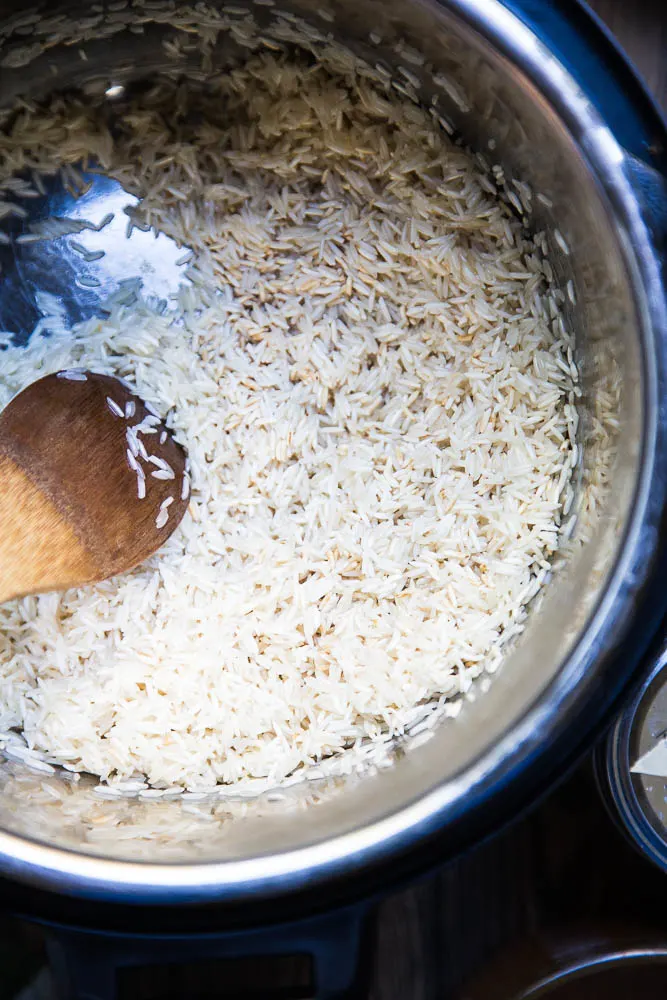 Getting some of this rice toasty brown adds a lot of flavor. Be careful, though, because once it starts to turn darker brown, you're about a minute away from scorching.
So, add the rest of the ingredients quickly and get the liquid in there.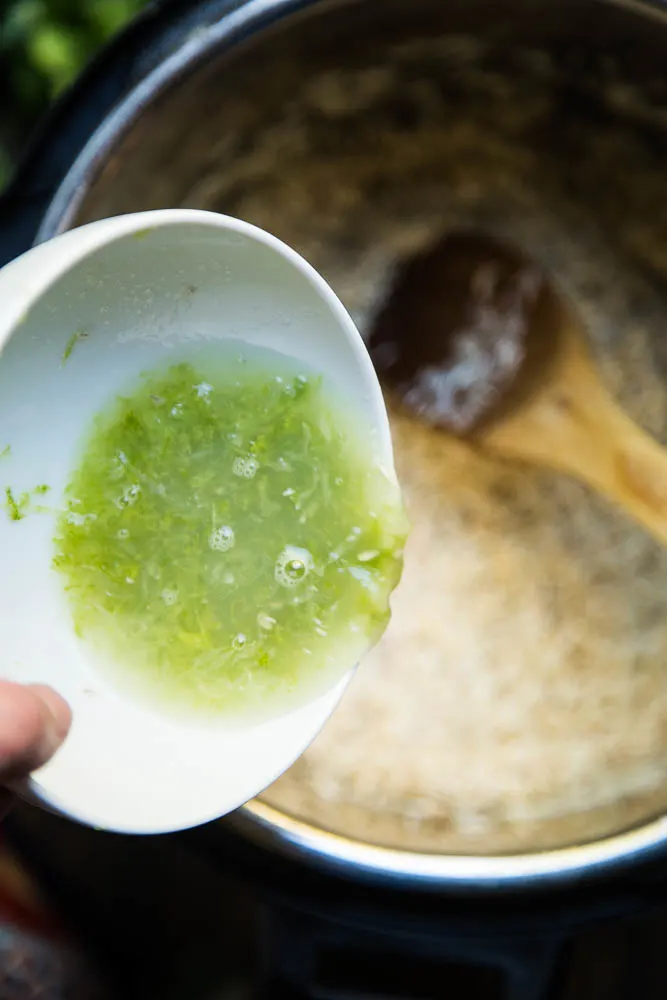 I think the juice and zest from 2 limes is enough to make the flavor shine, but if you want it to knock your socks off, add another lime.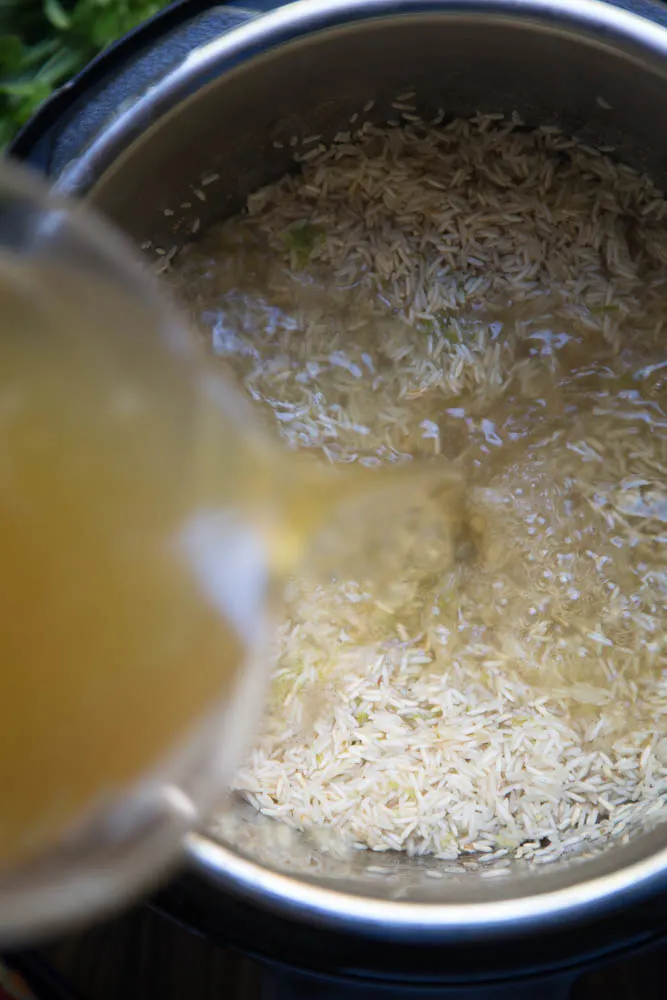 If you've ever made chicken broth from scratch, you know how great it is, but seriously — store-bought broth is just fine here.
It's easy to use your Instant Pot to make chicken broth. I have a recipe for it in my Instant Pot cookbook, too.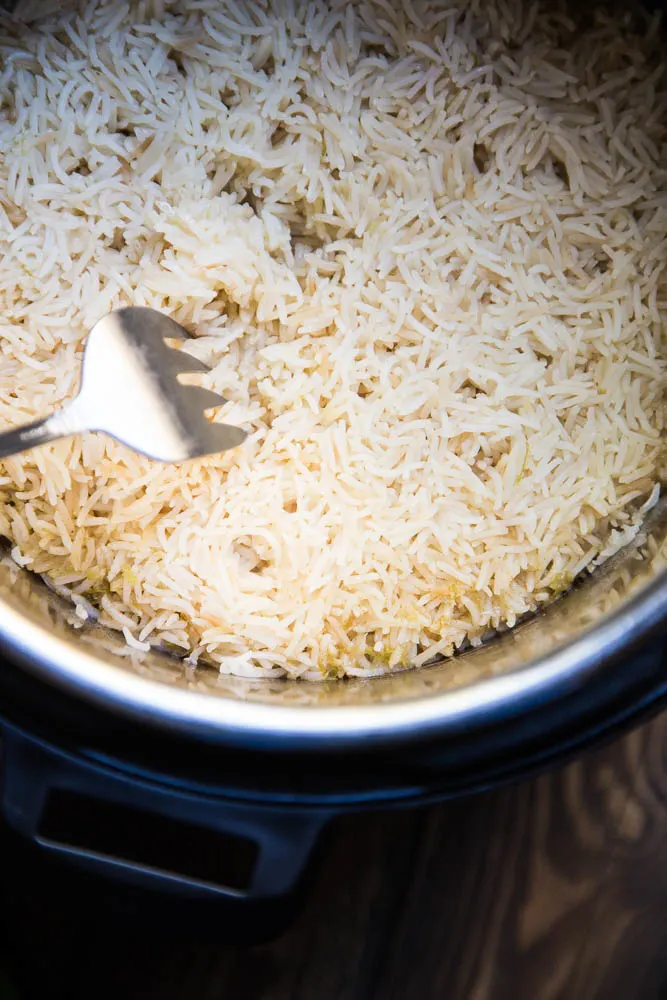 I like how the rice has these brownish bits around the edges from the chicken broth dregs. And you can see the lime zest accumulated there, too. It's funny how it does that.
And I like how the steam creates holes all over the top. I don't know why. I just do.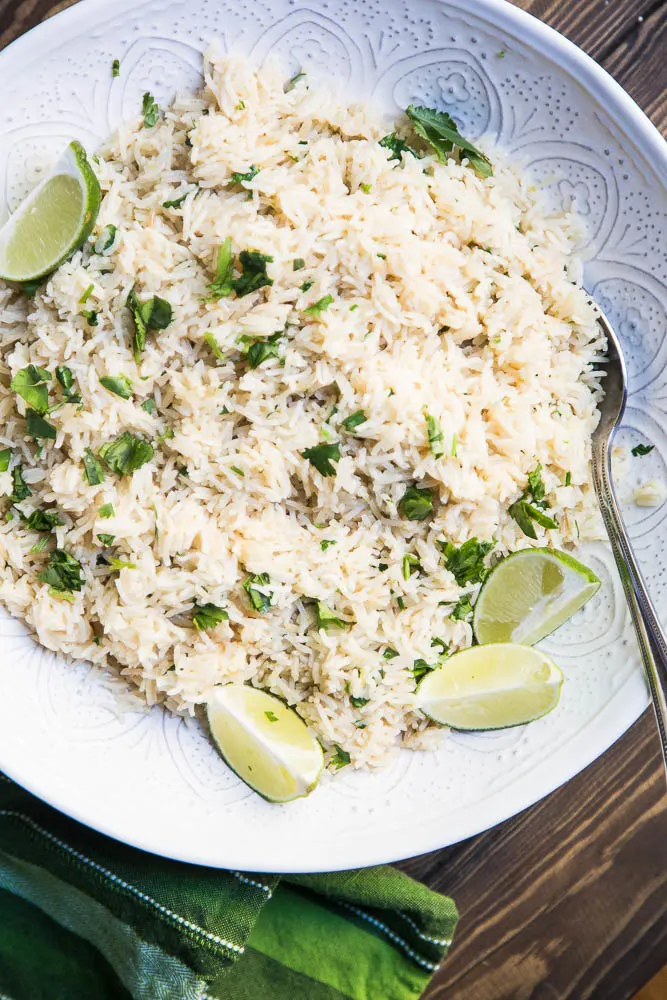 Stir some fresh cilantro into that rice and go nuts, guys.
This is the best rice for taco salads, rice bowls, and goes with so many drippy shredded meat.
We recently had it with my Shredded Green Chile Chicken, but it would be amazing with my Chipotle Shredded Beef, Instant Pot Shredded Chicken for Tacos, Green Chile Shredded Beef, and all of the tex-mex style shredded meat in my cookbooks.
If you're not eating rice, I also made a Cilantro Lime Cauliflower Rice recipe for The Pioneer Woman: Food & Friends a while back (along with a couple other cauli rice variations!).
If you like this recipe, check out my other Instant Pot rice recipes!
Instant Pot Coconut Rice is super tasty with any kind of curry or island-inspired meal!
Instant Pot Lemon-Herb Rice is a classically flavored rice that would pair well with just about any kind of grilled or roasted meat. Or a big pile of roasted veg.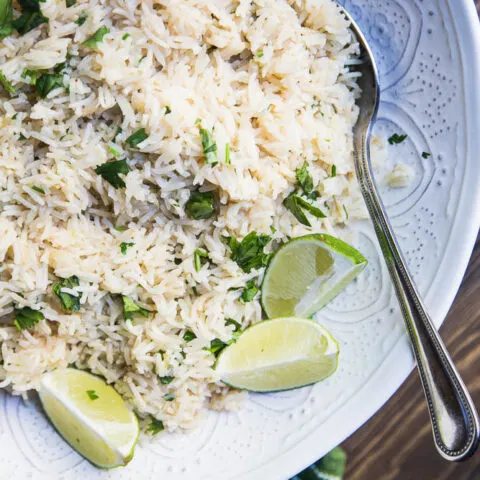 Instant Pot Cilantro Lime Rice
This is by far my favorite rice recipe. It's similar to what you'll find at Costa Vida or Cafe Rio, but made effortlessly in an Instant Pot! Don't have an Instant Pot? There are stovetop directions in the recipe notes, too. I got your back.
Ingredients
3 Tablespoons butter
2 3/4 cups long grain white rice
1/2 teaspoon ground cumin
2 teaspoons salt
2 limes, zested and juiced
1 quart chicken stock or broth
1 cup of chopped, fresh cilantro
Instructions
Turn your Instant Pot or multi-cooker to the "Saute" mode. Add the butter to the insert pot.
When the butter melts and starts to bubble and sizzle, add the rice. Cook the rice for about 5 minutes, stirring occasionally, until it gets toasty brown in spots.
Add the cumin, salt, and the zest and juice from both limes. Stir well, then add the chicken broth.
Hit the "Cancel" button on the Instant Pot, place the lid on tightly and move the steam valve to "Sealing". Push the "Rice" button and let it release steam naturally for 5-10 minutes before releasing the rest of the steam manually.
Remove the lid and use a fork to loosen the rice up a bit. Toss in the fresh cilantro and serve.
Notes
Stovetop instructions: Do the saute steps in a deep skillet or large pot over medium-high heat. Once you add the broth, bring the mixture to a boil, then reduce the heat to medium-low and cover. Cook for about 15 minutes, covered, until the rice is cooked through and there isn't any liquid in the bottom of the pan. Stir in the cilantro and serve.
Recommended Products
As an Amazon Associate and member of other affiliate programs, I earn from qualifying purchases.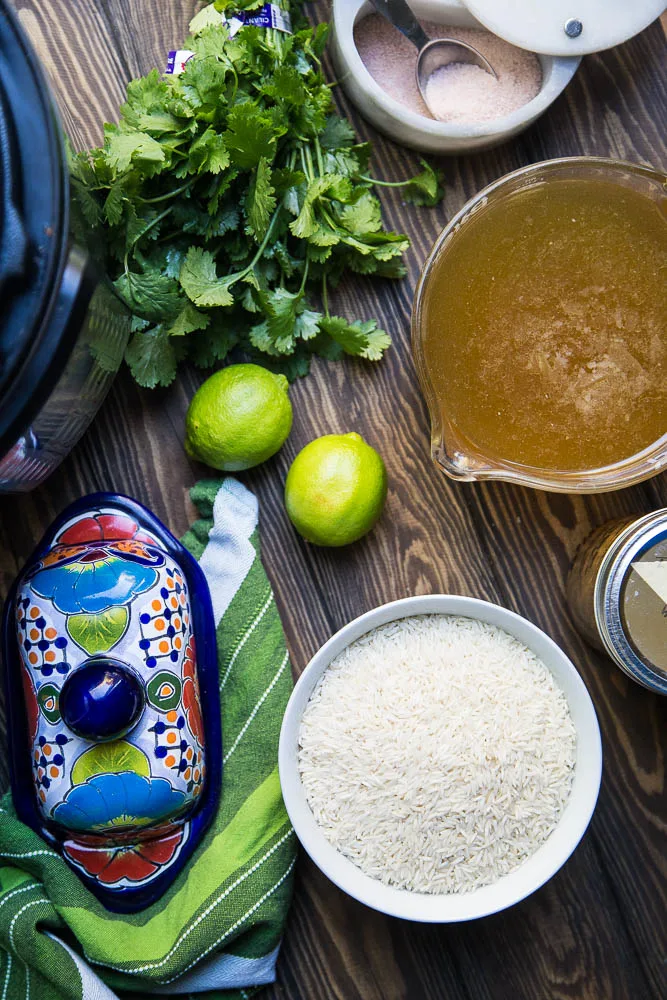 Disclosure: This post may contain Amazon affiliate links. Purchases made by using these links don't cost you any extra and helps to keep my content free.