Crispy Oven Sweet Potato Hash Browns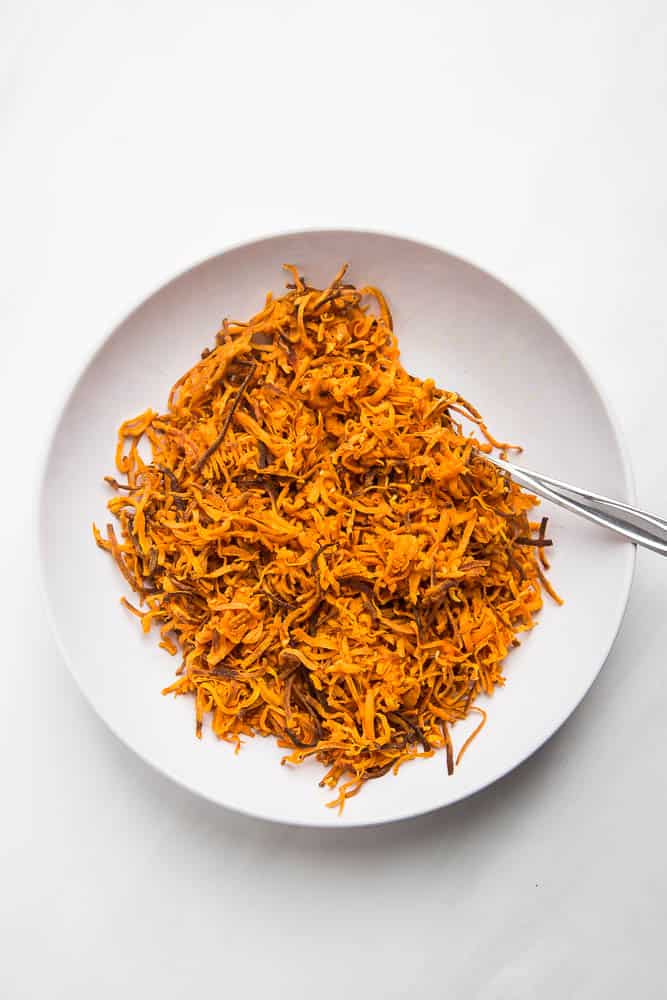 This by FAR my most favorite way to make large batches of sweet potato hash browns. There are loads of crispy browned bits throughout and they aren't soggy at all. Just make sure you have plenty of a special secret ingredient on hand. . .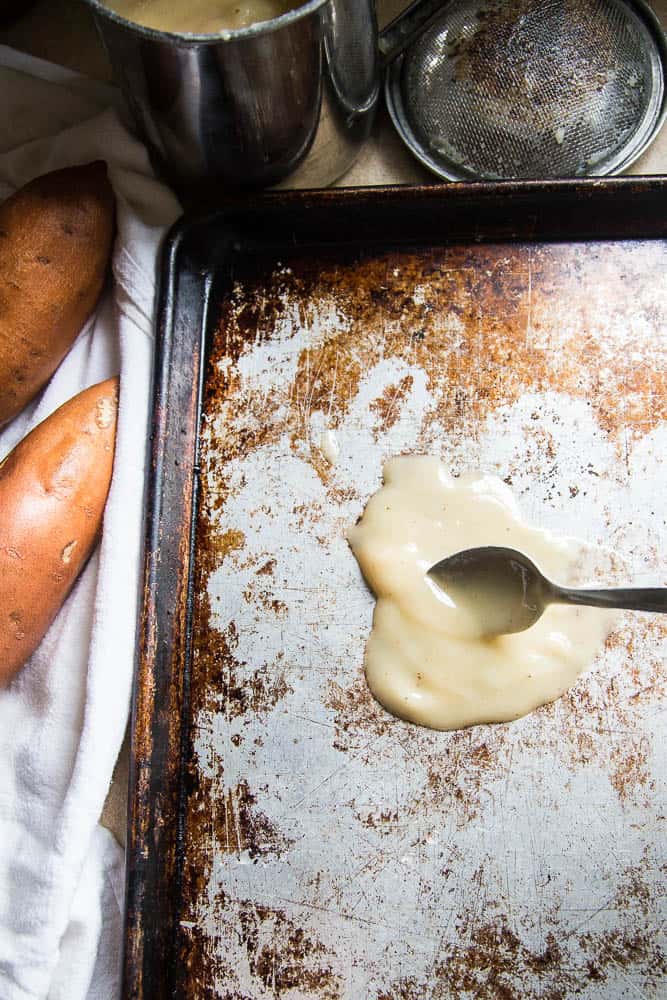 . . . bacon drippings. (Or ghee.)
Yes, you could use avocado oil or coconut oil, but the flavor you get from bacon drippings is hard to match. Ghee would give it a nice, buttery flavor and works really well, too. (Psst…. Ghee is really easy to make, too. Have you seen my post on How to Make Ghee?)
See that bacon grease catcher up there? My Southern grandma gave me that when we were first married, about 15 years ago. (Grandma Inez, if you happen to have made her Pineapple Pie) It was during my low-fat turkey bacon days (dark days, for sure) and I was like, "thanks?"
What was I going to do with it if my bacon rendered no fat? I held onto it because I hadn't had anything like it before (and it reminded me of my grandma since she always has one sitting next to her stove). Eventually I started cooking real bacon again, and I found it handy for draining bacon drippings. Then I started to cook my eggs and hashes with a dollop of it. And I haven't looked back.
Also, a little secret from my grandma — put a smear of bacon drippings on your biscuits before you bake them. You'll thank me later.
If you're looking for something like mine, this one is identical to the one I have: bacon grease catcher. My only complaint is that the handle broke off the lid, but otherwise it's been great.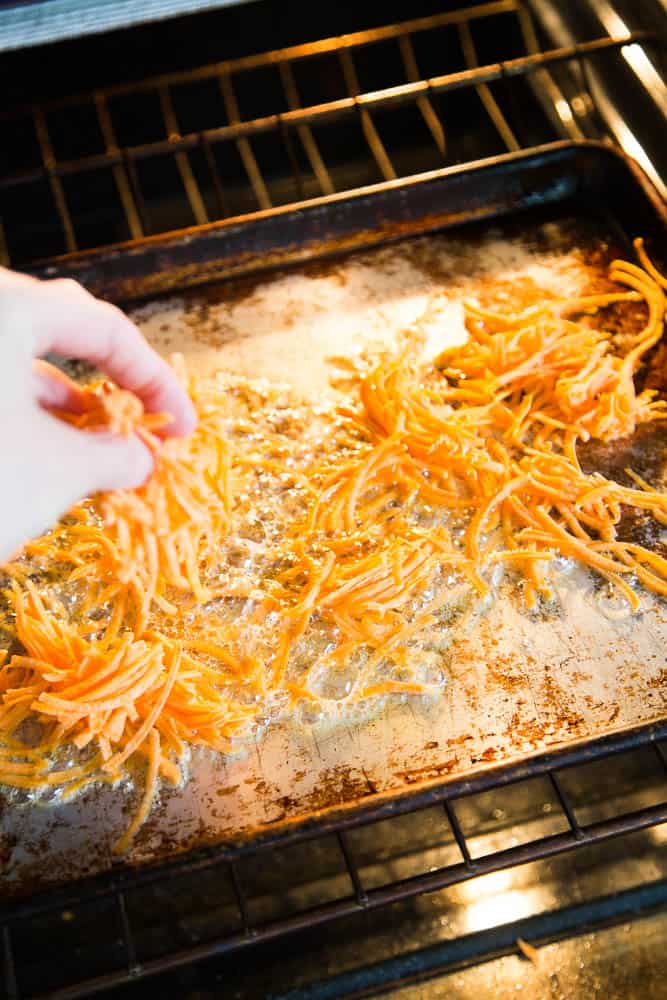 I think the key to these hash browns is the really hot pan and oil. You'll want to preheat the pan with the oil on it before you put the hash browns on, but make sure it doesn't smoke. Burned oil is no bueno.
Now would be an excellent opportunity to pitch a food processor — I use mine for grating just as much as I use it for blending stuff. It seems like the biggest chore in the world when I have to pull my box grater out.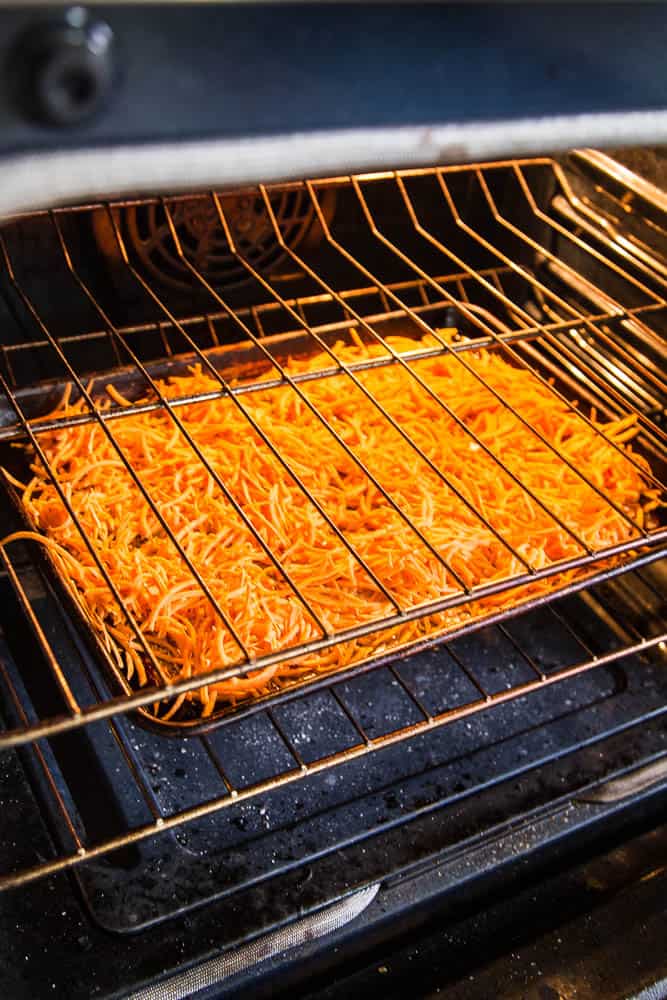 Anyways….
I like to roast these on a lower rack because you get color on the bottom faster.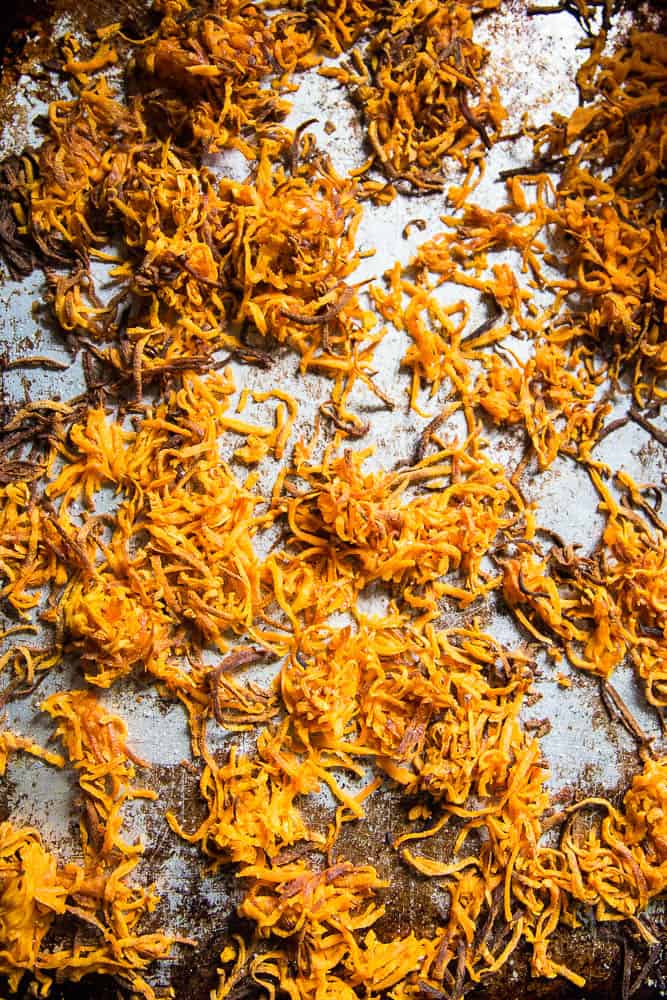 Flip them around a couple of times during roasting. They'll probably clump up a little, but it'll all work out fine in the end.
By the way, you can totally do this in a skillet, but it takes a while if you're feeding more than a couple of people. AND you can do this with grated white potatoes, too. Just roast those a little longer. Sweet potato hash browns tend to get color on them faster than white ones.
These sweet potato hash browns are REALLY good with fried eggs and leftover Chipotle Copycat Chorizo — one of my favorite breakfast bowls! Or in some savory Gluten-Free Crepes. They'd also be EXCELLENT with any of these breakfast recipes!
Paleo Huevos Rancheros Skillet
Prosciutto-Wrapped Pesto Frittata Muffins
15-Minute Sun-Dried Tomato Omelet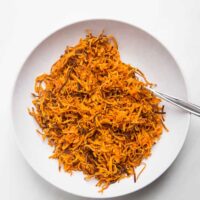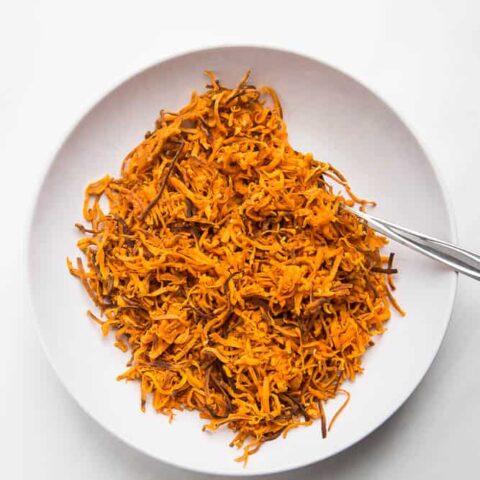 Crispy Oven Sweet Potato Hash Browns
Yield: Serves 6 as a side
Prep Time: 10 minutes
Cook Time: 20 minutes
Total Time: 30 minutes
The secret of making crispy sweet potato hash browns is roasting them on a hot pan with plenty of bacon drippings or ghee.  You can use avocado oil, too, if you'd like them to be vegan.
Ingredients
1/3 cup bacon drippings, ghee, avocado oil, or coconut oil
2 medium sweet potatoes, peeled (about 1 - 1 1/2 pound)
Sea salt
Instructions
Preheat your oven to 400 degrees F. Put your choice of oil/fat on a rimmed baking sheet and put it in the oven. As the oven heats, it will heat up the pan and the oil. The oil should get hot, but not smoke. If it smokes, take it out and discard the oil and start over. You don't want burned oil. Ew.
Shred or grate the sweet potatoes using a box grater or a grating disk on your food processor.
While the pan and the oil is very hot, sprinkle the grated sweet potatoes evenly on the pan. Put it back in the oven on a lower oven rack. Roast for about 10 minutes and then flip the hash browns around. If they're getting too dark too fast, put the pan on a higher rack. Roast for about 5-8 more minutes until there are a lot of dark golden brown pieces and the potatoes are cooked through.
Remove the pan from the oven and let them cool on the pan for about 10 minutes. (This will help them to crisp up a bit more than immediately piling them into a serving dish.) Sprinkle them with a few generous pinches of salt before transferring to a serving dish.

Disclosure: This post contains Amazon affiliate links. Purchases made by using these links doesn't cost you any extra and helps to keep my content free.
SaveSave
SaveSave
SaveSave