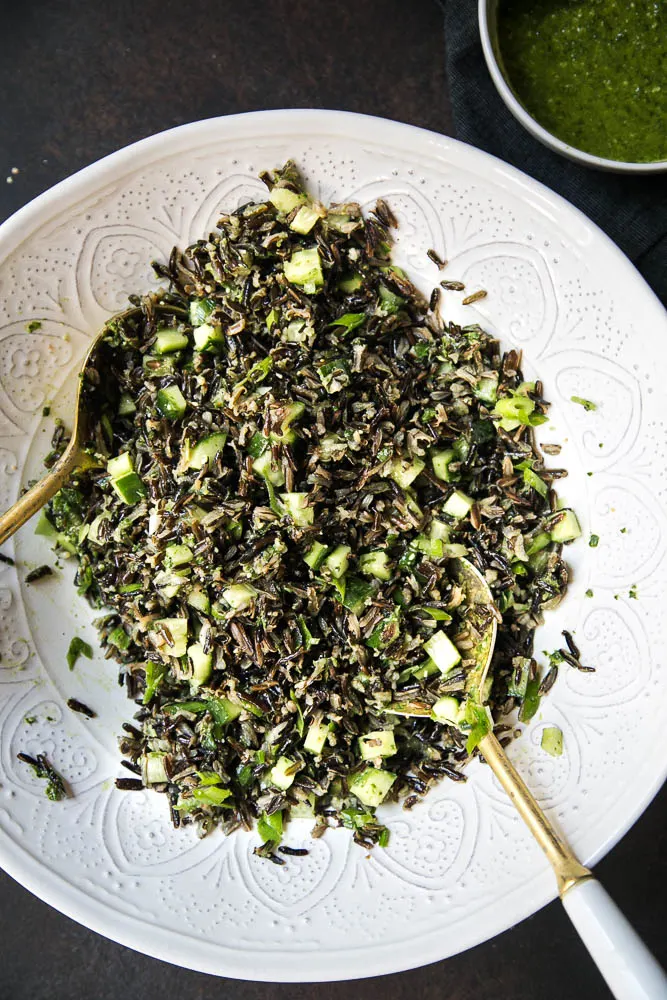 Friends, I had a hard time reigning in this wild rice salad recipe. This is literally a "choose your own adventure" situation, and I wanted to ADD ALL THE THINGS.
BUT.
I thought it would be better posted as a base. A jumping off point, if you will.
However you choose to make it, it's a super tasty meal prep salad, light dinner, or even a make-ahead Thanksgiving side!
During my gut protocol last summer wild rice was one of the only 4 grains I was eating for a few months. I love it's nutty, hearty texture!
How to cook wild rice
Just like brown rice, friends. Most places online will tell you 3 cups water for 1 cup of rice, but I end up straining it when it's done which bugs me and seems unnecessary if you just reduce the amount of water.
So I just use 2 cups of water for 1 cup of rice — like brown rice. It takes a while to cook, though (about 40-45 minutes on the stove top, also like brown rice).
How to cook wild rice in an Instant Pot
This is my preferred method, obv. Use the same ratio — 1 cup of rinsed rice plus 2 cups of water (along with a teaspoon of salt and a tablespoon of oil, if you like) and cook it on high pressure for 30 minutes. Let the cooker release the steam naturally and then fluff it with a fork.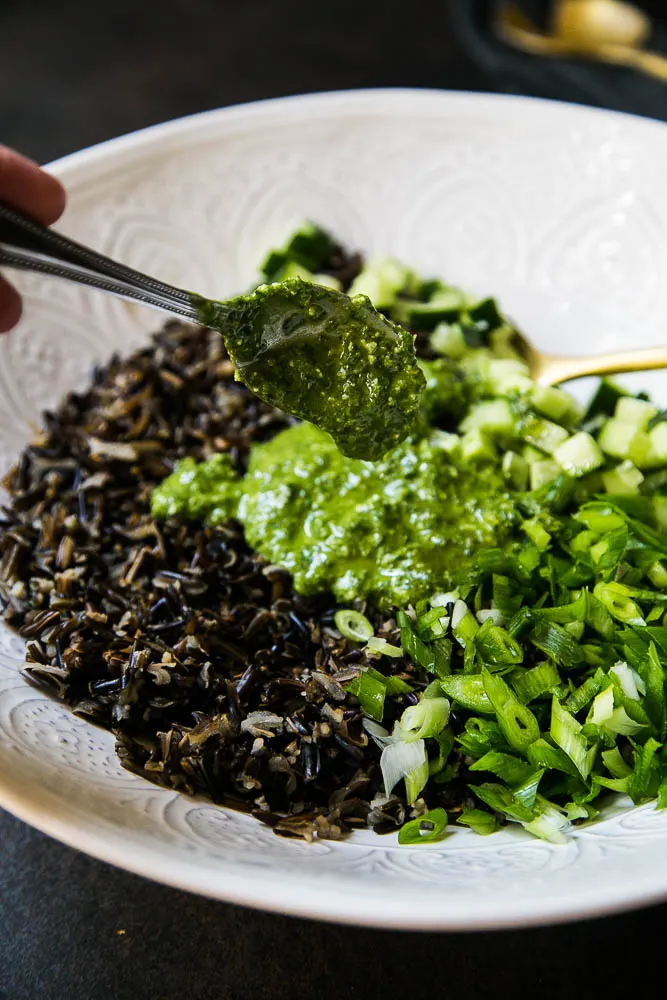 One day when I was doing some ingredient prepping (a practice I highly recommend) I tossed some cooled wild rice with basil pesto and added a chopped cucumber.
Guys, I nearly ate the whole thing in one sitting. It was SO GOOD.
This wild rice salad became a staple of mine for months, and it looked a little different every time I did it. I changed out the "dressing", the flavorings, the vegetables. I also added leftover cooked protein (tuna is especially good!)
It's also good at room temperature or chilled.
Want to make it ahead? It lasts for 2-3 days in the fridge!
It really is the perfect grain salad.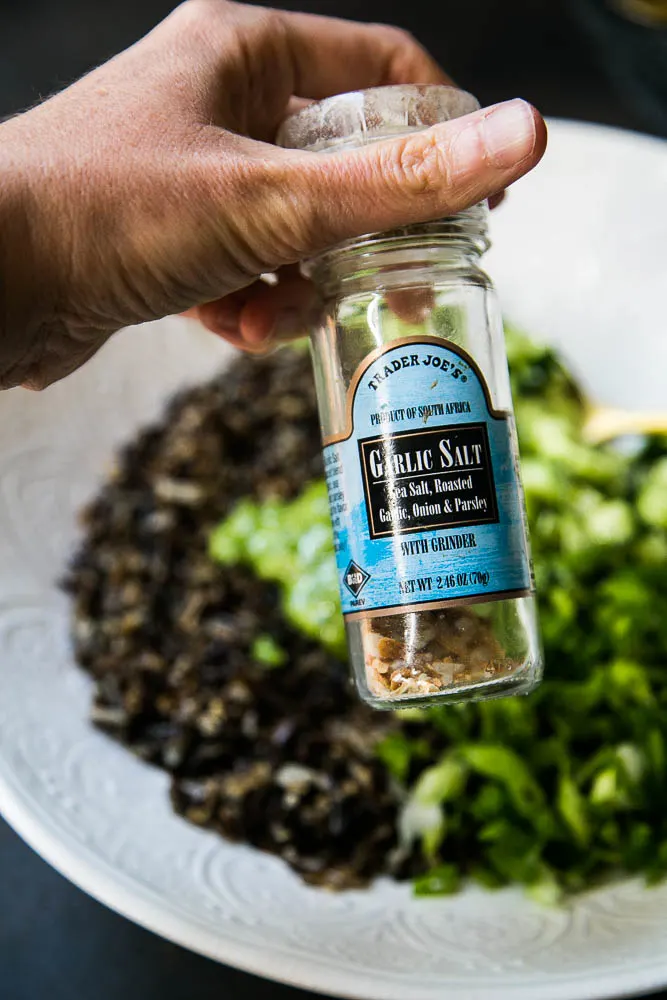 Because the basil pesto adds so much flavor to this salad, it doesn't need much as far as seasonings. I do love a few cranks of the garlic salt grinder from Trader Joe's. I'm obsessed with that stuff.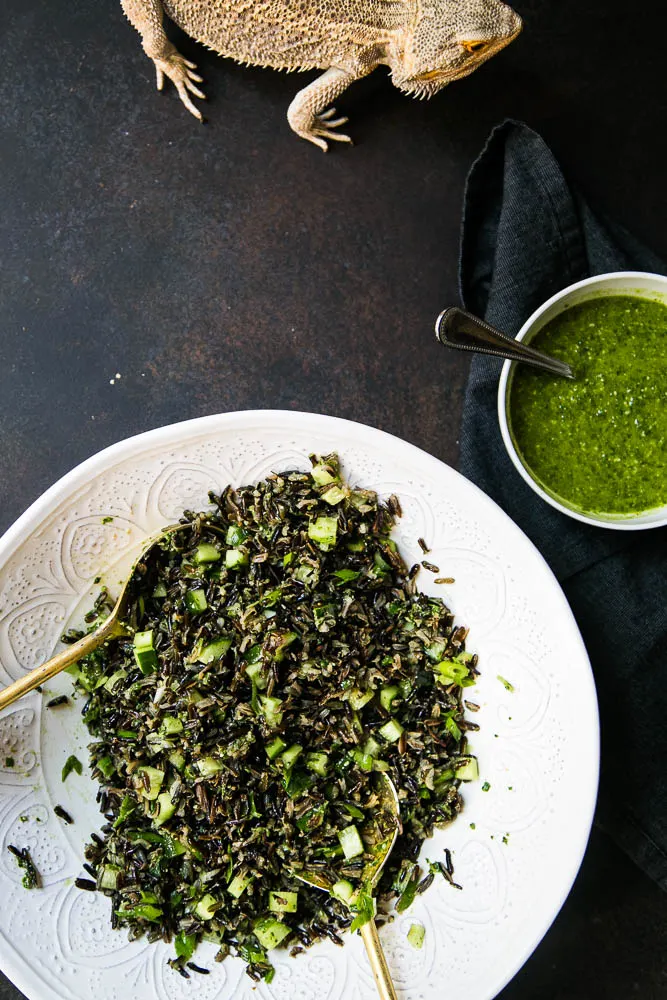 Oh, heeeeyyyy.
Remember back in the day when my kids were babies and photobombed my photos?
Well, now I've got a bearded dragon doing it. Guys, meet Mushu. He's 3 and the most popular member of our family.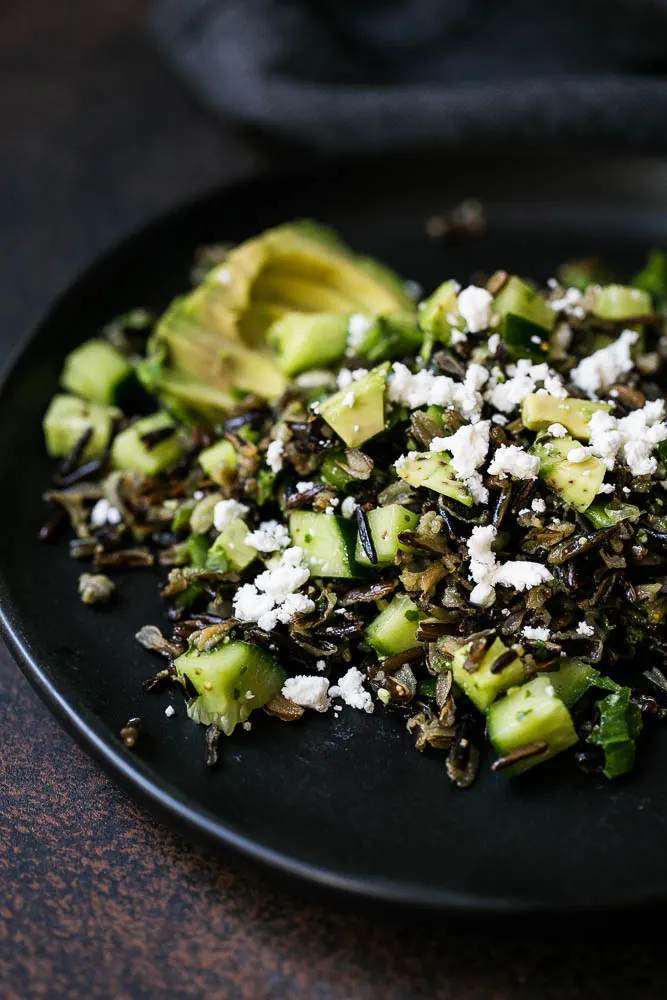 This wild rice salad is great on its own, but if you want some ideas on how to jazz it up, here are a few of my favorite add-ins.
Wild Rice Salad Add-ins
Leftover cooked protein (shredded chicken/beef/pork, tuna & other cooked fish, beans)
Other quick-prep vegetables (diced bell peppers, shredded carrots, diced avocado)
Leftover roasted vegetables (broccoli, sweet potatoes, cauliflower)
Cheeeeeese (goat cheese and feta are my fave for this)
Different kinds of pesto (like cilantro pesto or dill pesto) or herbs + infused olive oil & vinegar.
Misc quickies (nuts, sun-dried tomatoes, marinated artichoke hearts)
Give it a try and let me know what you think! I'd love to hear how you change it up.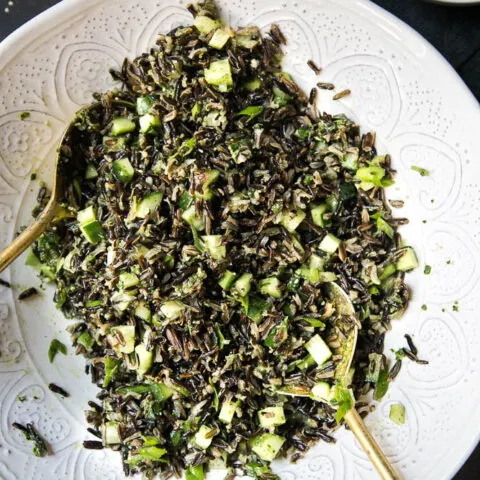 Wild Rice Salad with Cucumber and Pesto
Yield:
Serves 5-6 as a side
This salad only has FOUR ingredients. And it's a great jumping off point for throw-together lunches. Add some leftover shredded chicken, tuna, or beans to round it out as a complete meal!
Ingredients
3 cups cooked and cooled wild rice (from 1 cup uncooked)
1/2 English cucumber, diced
2 green onions, trimmed and sliced thinly
1/3-1/2 cup prepared basil pesto
Salt and pepper, to taste
Instructions
Toss all of the ingredients together in a large serving bowl. Taste, and add additional pesto or salt, if needed.
Serve immediately.
Optional add-ins: Leftover shredded meat, canned tuna or beans, flavorful crumbly cheese (feta, parmesan, goat cheese), other chopped vegetables. You may need to add more pesto when you add extras to this salad.
Notes
Nat's Note: You can easily make this recipe dairy-free by making your own pesto! Use the recipe below:
Homemade Dairy-Free Basil Pesto:
2 packed cups fresh basil leaves
1/3 cup pine nuts
Juice from half a large lemon (about 2 Tablespoons)
1/2 garlic clove, smashed
1/2 teaspoon salt
1/4 teaspoon black pepper
1/3 cup olive oil
Combine everything except the oil into the workbowl of a food processor. Pulse until everything is minced finely. With the machine running, drizzle in the oil and run for about 10 seconds to blend well. Use immediately or cover and chill for up to 2 weeks.