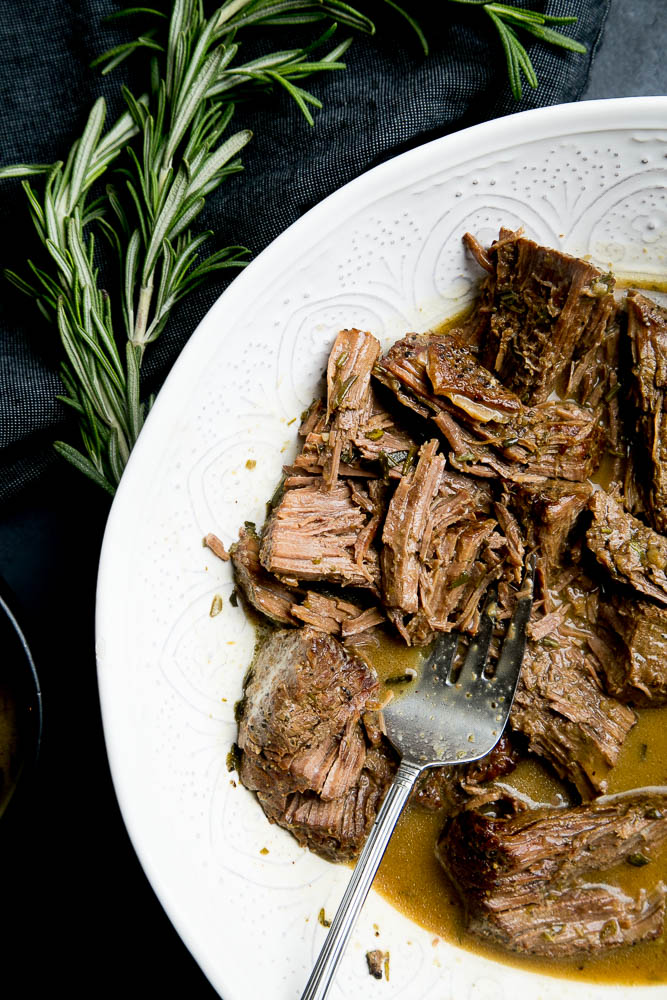 I wanted this Instant Pot pot roast to be easy enough to make on a weeknight, but special enough to make for company. (Those kinds of recipes are the best, amiright?) I also LOVE fresh rosemary and garlic — especially together. They make such a delicious pot roast and the gravy is just heaven.
If you own an Instant Pot, please tell me you've made an Instant Pot pot roast.
I'm assuming you have because part of the draw of an Instant Pot is to make things like this in just a couple of hours instead of waiting all day for your CrockPot finish. Both have their upsides, but that's a discussion for another day.
First I have a few tips on making roast in your Instant Pot.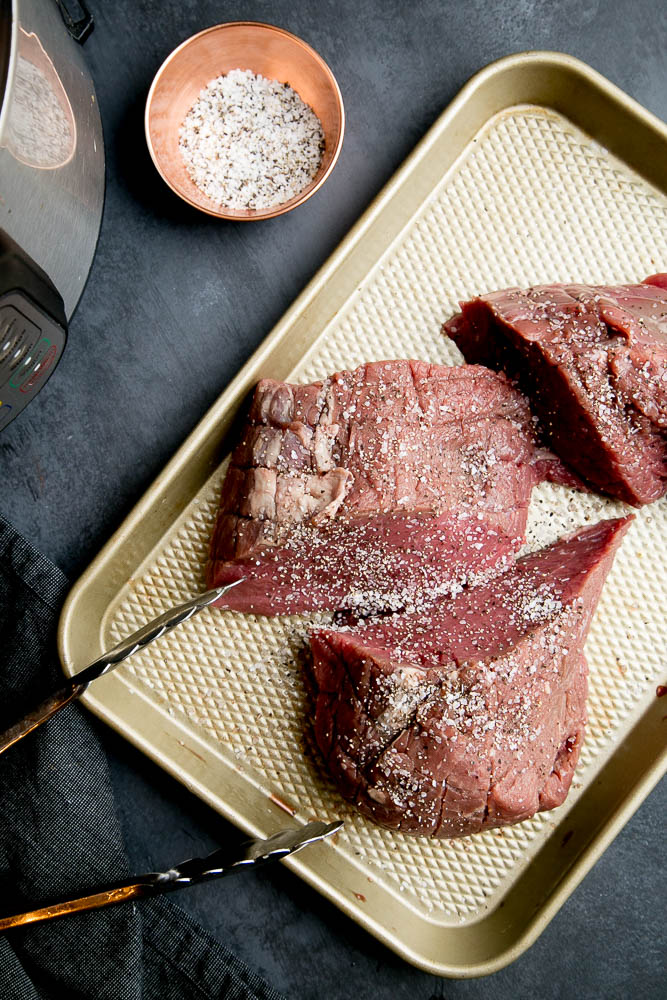 Tips for making a tender, flavorful Instant Pot Pot Roast
Cut the roast into roughly 1-pound chunks.
This does a couple of things. First it will help your roast cook even more quickly and evenly. Second, more surface area of the roast will be covered in seasoned cooking liquid resulting in more flavorful meat. The gravy also helps in that department, I suppose.
Sear the meat before cooking.
There's a debate about this and while I'm #teamsear, I will say that searing isn't always necessary. If you are cooking something in your Instant Pot that's heavily seasoned like Instant Pot Chicken Curry, searing probably won't make a noticeable difference.
If you're making something that's relying on the meat and juices to be the primary source of flavor (like a pot roast or Instant Pot Chicken Soup), searing will help make the juices/gravy more flavorful and create nice, seared edges on your meat. It's so easy using the Saute setting on your Instant Pot, too.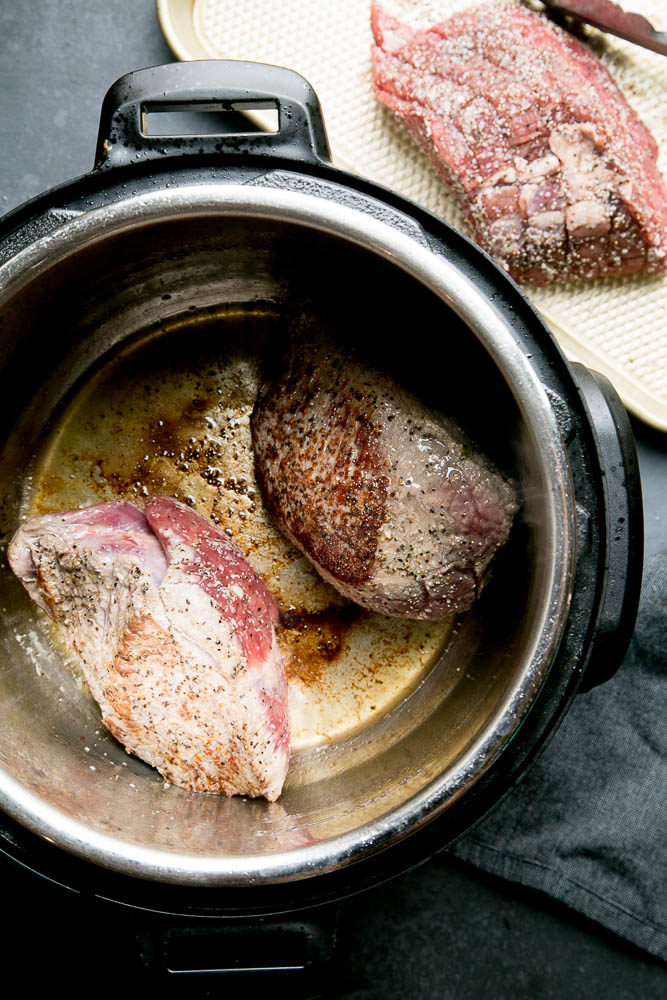 Don't be afraid to season it heavily
Large roasts can handle a lot of seasoning. Penetrating 3-4 inches of meat takes quite a bit of salt and spices/herbs, so don't be afraid to be heavy handed with them.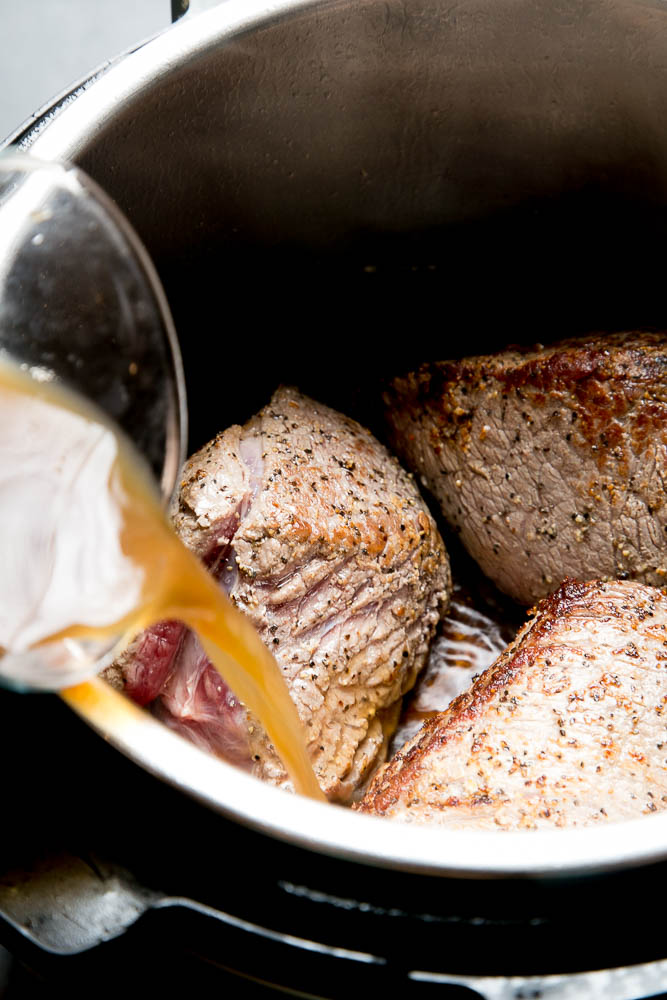 Let the Instant Pot release most of the steam naturally
When you hear that beep at the end of the pressurization cycle, it's tempting to flip the steam release valve and get the roast out as soon as you can, but trust me — let it come down naturally. Or at least for 15-20 minutes.
That extra time gives the roast time to relax, redistribute the juices, and it'll be more tender when you cut into it.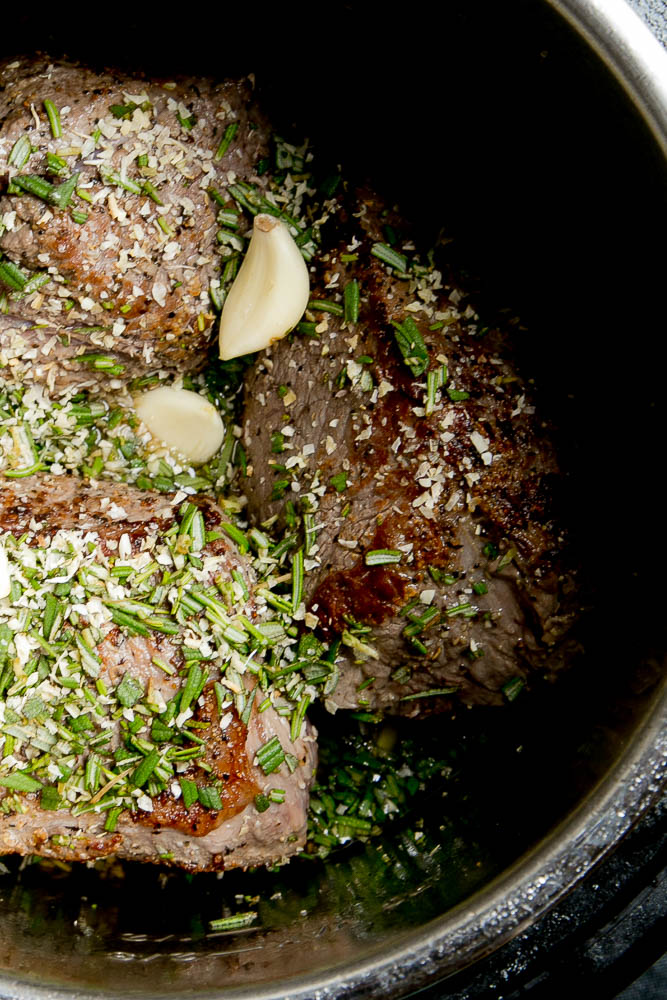 Always return the meat to the juices
When you pull a roast or another large cut of meat out of an Instant Pot, it may seem dry when you're shredding it up. If the meat is especially lean (like grass-fed beef or chicken breasts), it'll definitely be the case.
When you pull apart the meat, ALWAYS return it to the juices or gravy in the pot and let it hang out there for a few minutes to reabsorb some of that flavorful liquid. You'll be surprised how much of a difference it makes.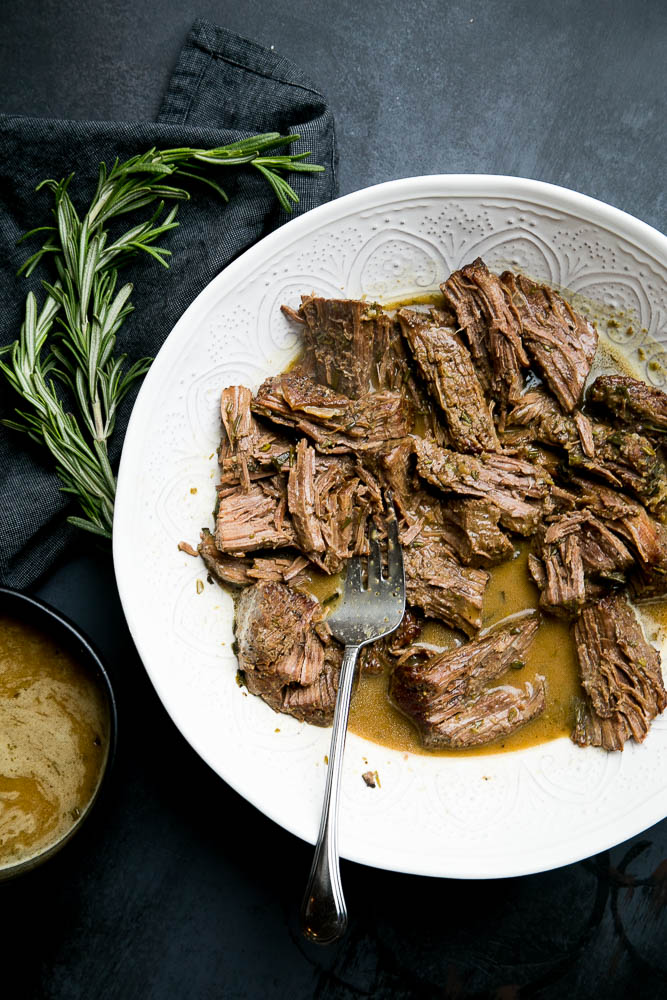 I hope that helps! This Instant Pot Pot Roast in particular was a fan favorite around here. Especially with some Instant Pot Garlic Mashed Potatoes. (A very good reason to have a second Instant Pot!)
Here are a few other sides that would go beautifully with this pot roast!
What to serve with pot roast
This Wild Rice Salad with Cucumber & Pesto would be a great make-ahead side dish! The pesto would pair really well with the roast and gravy.
If you're traditional and love a green bean side, my Most Magical Sauteed Green Beans have such an amazing flavor and are finished in just minutes.
Easy Balsamic Roasted Vegetables go with nearly everything! You can prep and roast them while you're waiting for the roast to finish.
Crispy Roasted Shredded Brussels or Dill Roasted Cabbage are a couple more of my favorite roasted veggie side dishes!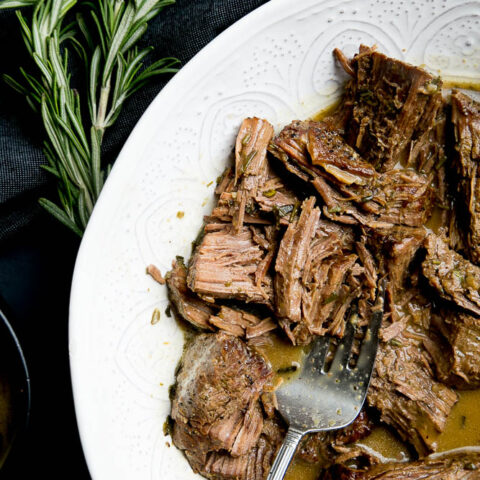 Easy Instant Pot Rosemary Pot Roast
Cook Time:
1 hour
30 minutes
Total Time:
1 hour
45 minutes
This pot roast may be simple in ingredients, but it packs a lot of flavor! It's quick to put together and great for both a weeknight dinner and entertaining.
Ingredients
1 beef roast (2 1/2-3 lbs)
1 tablespoon kosher salt
1 teaspoon coarse black pepper
2-4 tablespoons avocado or coconut oil
3 tablespoons minced fresh rosemary
1 tablespoon dried minced onion
pinch of crushed red pepper flakes
6 whole garlic cloves, peeled
1 cup beef broth or water
4 tablespoons coconut aminos (or 3 tablespoons worcestershire sauce)
2 tablespoons tapioca flour
Instructions
Cut the roast into 3 pieces. Sprinkle the salt and pepper over all of the pieces.
Turn the Instant Pot to the sautee setting and add 2 tablespoons of the oil. When the cooker is preheated, sear each piece of roast on a couple of sides. Only sear one or two pieces at a time to get a proper sear. Add additional oil when needed.
Place all of the pieces back into the pot and push the Cancel button on the Instant Pot. Sprinkle on the rosemary, dried minced onion, pepper flakes, and garlic. Pour the broth and the coconut aminos down the side of the pot.
Seal the lnstant Pot and move the steam valve to the "Sealing" position. Cook the roast on high pressure for 75 minutes and let the cooker release steam naturally for 15 minute before releasing the rest of the steam manually.
Transfer the roast pieces to a large plate or platter and break the roast into large chunks.
Transfer a cup of the pot liquid to a bowl or liquid measuring cup. Whisk in the tapioca starch until completely blended and then whisk it into the pot with the rest of the pot juices. Turn the cooker to the saute setting and simmer the pot juices for a minute or so until it thickens.
Pour some of the gravy over the pot roast and put the rest in a serving dish. Serve with mashed potatoes or your choice of side dish.
Recommended Products
As an Amazon Associate and member of other affiliate programs, I earn from qualifying purchases.