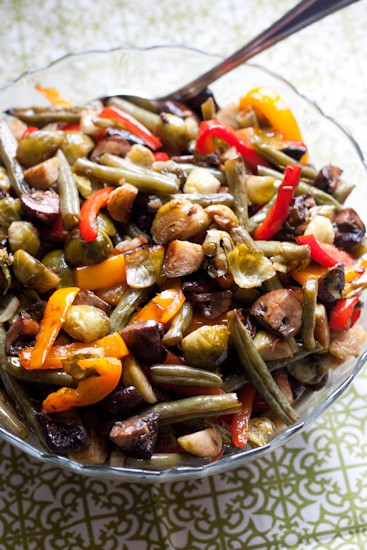 This recipe started out as a cop-out for my Thanksgiving assignment — the vegetables.
I totally don't mind making vegetable dishes. In fact, I really like it, but I was also determined to make a pie or two. (Or three) And that sounded much more exciting.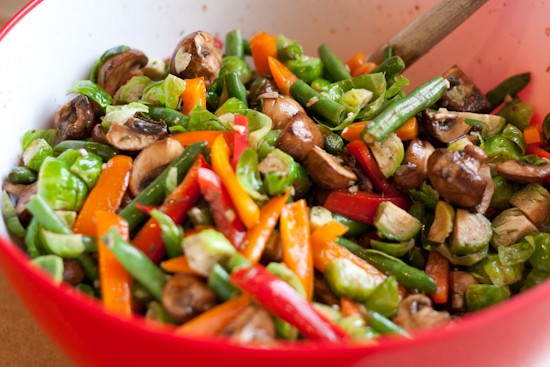 I despise green bean casserole, but wanted to incorporate green beans somehow. I also wanted to use Brussels sprouts. I didn't want to make 2-3 separate vegetable side dishes, so I threw them together with a couple other vegetables with similar cooking times. Like mushrooms. And bell peppers.
Although my sole reason for adding the peppers was to add color. Honest. Steve and the kids don't even like cooked bell peppers, but I figured they'd be too distracted by the mashed potatoes and gravy to care much.
After I posted pics of this on Instagram and on my Facebook page, I got a few requests for the recipe, so here it is!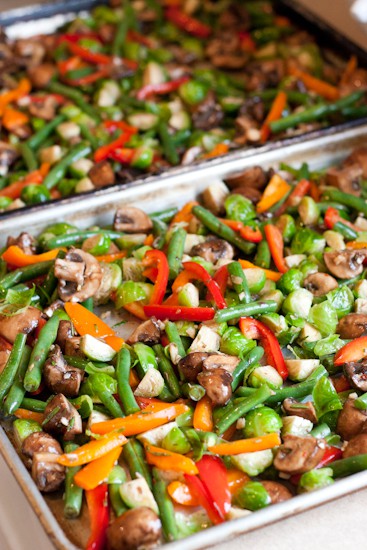 I threw together a garlic-herb balsamic vinaigrette, tossed the vegetables in it, and threw them in the oven. About a half hour later I had a fantastic side dish — enough for a small crowd. This would be a great side for any meal around the holidays! You can even prep the vegetables and toss it in the vinaigrette several hours ahead of time. Like I did.
It's paleo as is, but you could add some shredded Parmesan or some goat cheese crumbles after it comes out of the oven.
I would have, but I was distracted by the pie.
If you're a roasted Brussels fanatic you might like these Roasted Brussels Sprouts with Balsamic and Thyme from Healthy Seasonal Recipes.
For a collection of our family's favorite Brussels recipes, click here: Best Brussels Sprout Recipes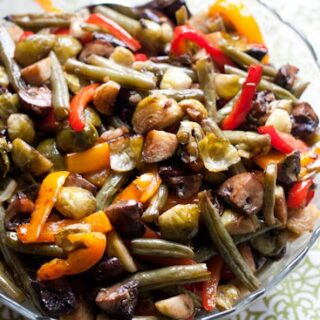 Easy Balsamic Roasted Vegetables
Yield:
Serves 8-10 as a side
Additional Time:
45 minutes
Roasted vegetables are one of my go-to side dishes for any dinner -- not just Thanksgiving! This version has a tangy twist of balsamic.
Ingredients
For the vegetables:
2 pounds mushrooms, any kind, quartered
1 pound green beans, trimmed and cut into 2-inch pieces
2 pounds Brussels sprouts, trimmed and halved
2 red bell peppers (red, orange, or yellow), tops and insides removed and sliced into 2-inch strips
For the vinaigrette:
1/2 cup avocado oil (or any other neutral, heat-safe oil)
1/4 cup balsamic vinegar
4 cloves garlic, peeled and chopped
1 1/2 Tablespoons chopped fresh rosemary
1/2 teaspoon dried thyme (or 1 teaspoon fresh)
1/2 teaspoon sea salt
1/2 teaspoon black pepper
1/4-1/2 teaspoon crushed red pepper flakes
Instructions
Preheat oven to 425 degrees F.
Combine the vegetables in a large bowl.
Whisk together the vinaigrette ingredients and pour over the vegetables. Toss to coat.
Spread vegetables out evenly on two large rimmed baking sheets. Roast together in the oven for 25-30 minutes, rotating pans half way through and stirring them around a couple of times.
Transfer to a serving bowl and keep warm until serving.
Notes
Nat's Notes:
You can swap out vegetables if you like, just make sure they have similar cooking times. Broccoli, cauliflower, asparagus, summer squash, onions, or sweet potatoes and fall squash (diced small) would be great alternatives.
You can prep the vegetables and vinaigrette ahead of time. Just toss them together, cover, and chill for up to 6 hours.
Adding freshly grated Parmesan or some goat cheese crumbles after roasting wouldn't be a bad thing.


SaveSave
SaveSave