These balsamic roasted vegetables are roasted in a tangy balsamic marinade and topped with more balsamic glaze and a sprinkling of salty feta. It's an easy, versatile recipe that's great for a Thanksgiving side dish, a holiday dinner party, or during the warmer months alongside some grilled meat.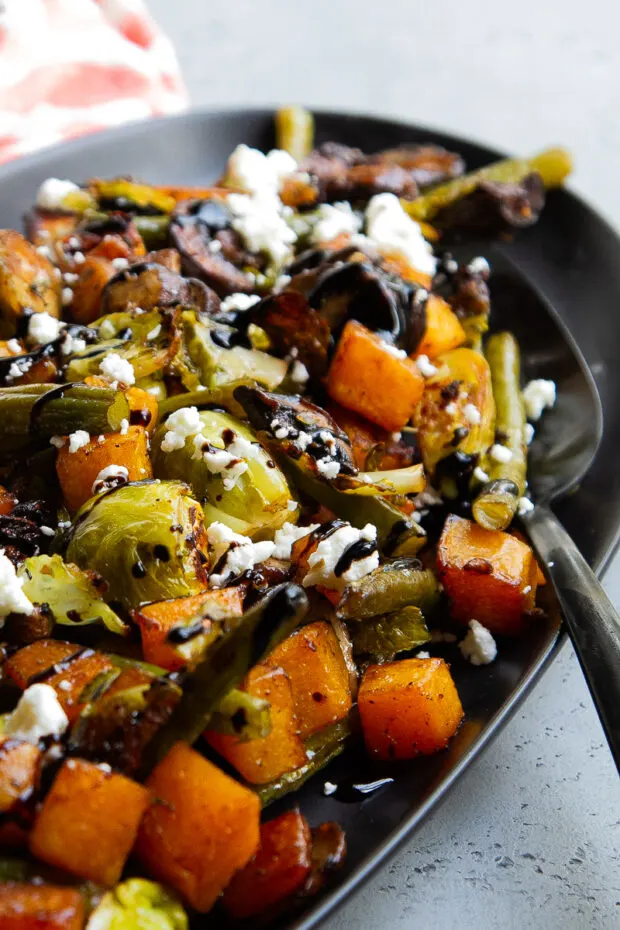 This recipe started out as a cop-out for my Thanksgiving assignment — the vegetables.
I totally don't mind making vegetable dishes. In fact, I really like it, but I was also determined to make a pie or two. (Or three) And that sounded much more exciting.
I despise green bean casserole, but wanted to incorporate green beans somehow. I also wanted to use Brussels sprouts. I didn't want to make 2-3 separate vegetable side dishes, so I threw them together with a couple other vegetables with similar cooking times. Like mushrooms. And bell peppers.
This recipe would work with winter vegetables or summer vegetables so, ideally it's a year-round roasted vegetable recipe you can pull out anytime!
Recommended vegetables for roasting
Whatever vegetables you choose, just be sure that they have similar cooking times. If you are mixing quick-cooking vegetables with longer-cooking vegetables, make sure that the vegetables that take longer to cook are cut into smaller pieces.
Here are a few of my favorite vegetables for roasting:
Soft vegetables: broccoli, mushrooms, asparagus, cauliflower, bell peppers, onions, zucchini, yellow squash.
Hard vegetables: sweet potatoes, carrots, potatoes, beets (cut these really small — they take forever!), butternut squash.
Balsamic Vinaigrette
I love balsamic vinegar. Like a lot. Especially with feta.
I created a vinaigrette to toss your vegetables in to give them maximum flavor — a mixture of balsamic vinegar, fresh rosemary, fresh thyme, garlic, and avocado oil. Also sea salt and ground black pepper and just a pinch of crushed red pepper flakes.
If you don't have fresh herbs, just use dried. See the recipe notes for the measurements.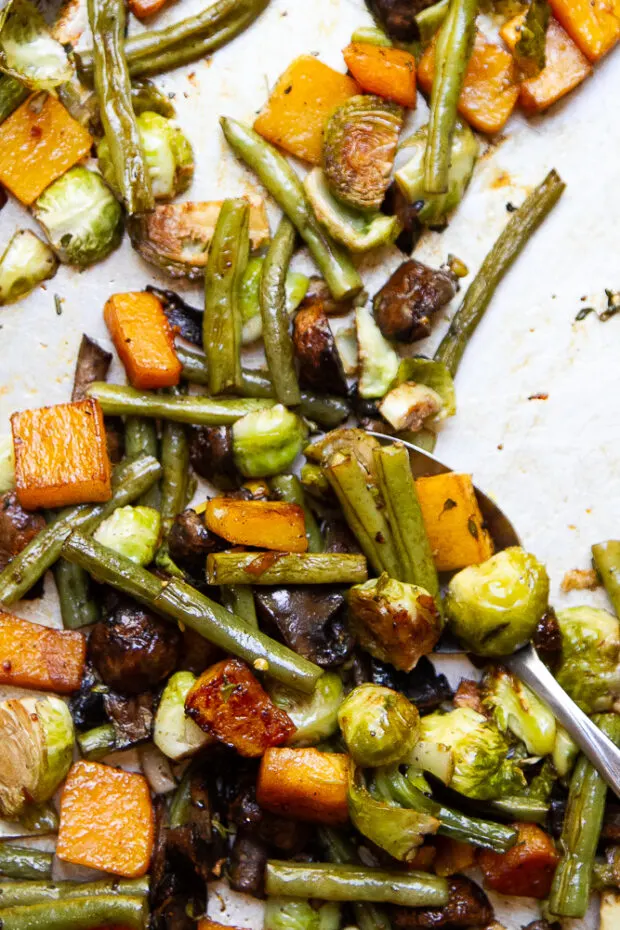 Tips for Roasting Vegetables
Like I said earlier, be sure to pair vegetables with similar cooking times. Or make sure your longer-cooking vegetables are cut smaller to speed up the roasting time.
Use a heat-safe oil, like coconut oil, avocado oil, or light olive oil that has a high smoke point. Ghee is great, too (and makes THE BEST roasted vegetables.) Extra virgin olive oil aren't intended to be heated to high temps and will oxidize or burn.
Don't crowd the pan. Use a large baking sheet, and don't fill it to the max. As the vegetables roast and caramelize, they release moisture. If there isn't a lot of room for that moisture to release, you'll end up steaming your vegetables instead. We don't want that.
Roast them hot. For the most part, I like to roast vegetables at 450 degrees F — especially the quicker cooking ones. This enables you to get a lot of caramelized edges before the vegetables turn to mush. I also use 425 if the vegetables need a longer roasting time. The natural sugar in the vegetables will create amazing flavor and texture if you do it right.
Let them cool for a few minutes before transferring them to a serving dish (if you're using a serving dish. We just scoop them right off the sheet pan.) Again, we want to avoid steaming them, so if you immediately transfer them to a bowl, you'll lose some of those crispy edges.
Add a little garnish afterward! These roasted vegetables with balsamic vinegar call for a sprinkle of feta cheese and a drizzle of balsamic glaze. If your vegetables aren't heavily seasoned, I'd recommend a squeeze of lemon or lime juice, some fresh herbs, or some other kind of cheese — goat cheese and Parmesan shavings work well, too.
Try grilling them! You can use this recipe to make balsamic grilled vegetables, too! Just cook them in a grill skillet on your grill at high heat.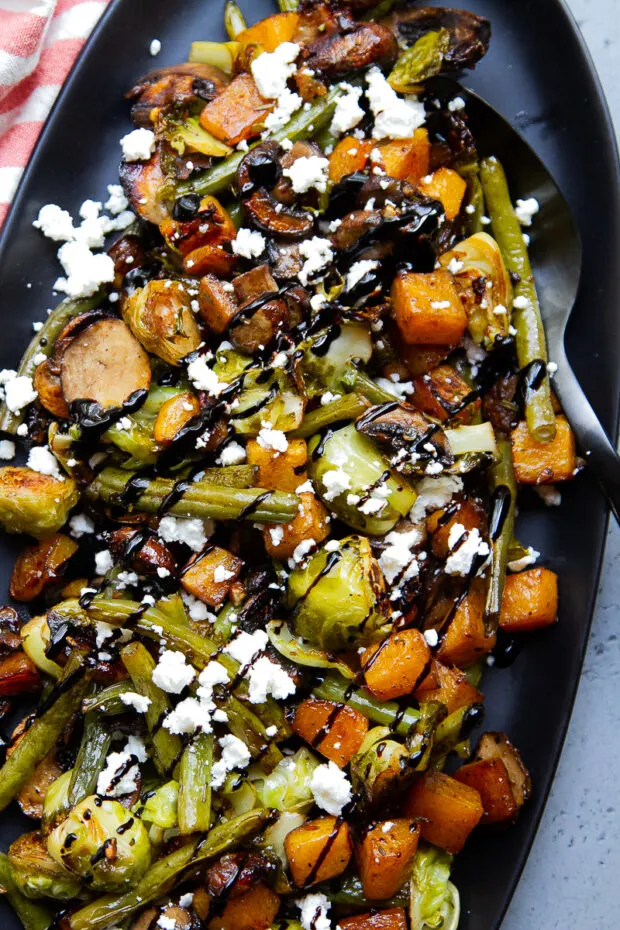 What to serve with balsamic roasted vegetables
Just about anything! Like I mentioned earlier, these balsamic roasted veggies make a fabulous Thanksgiving side dish. It's also naturally gluten free, so a great go-to dish if you're cooking for someone with allergies. (The feta is optional, obviously.)
Or you can serve it with any of these other recipes on my site:
Grilled Chicken with Balsamic BBQ Sauce
Grilled Lemon Chicken
Instant Pot Pot Roast with Rosemary Gravy
Mozzarella Studded Gluten Free Meatloaf
Simple Roast Chicken
More recipes for roasted vegetables:
Roasted Brussels and Butternut Squash with Bacon
Chai Roasted Butternut Squash with Maple
Crispy, Shredded Roasted Brussels Sprouts.
Italian Roasted Broccoli & Kale
Curry Roasted Cauliflower
---
If you make one of my recipes, be sure to post it on social media and tag me at @perrysplate or #perrysplate so I can send you some love!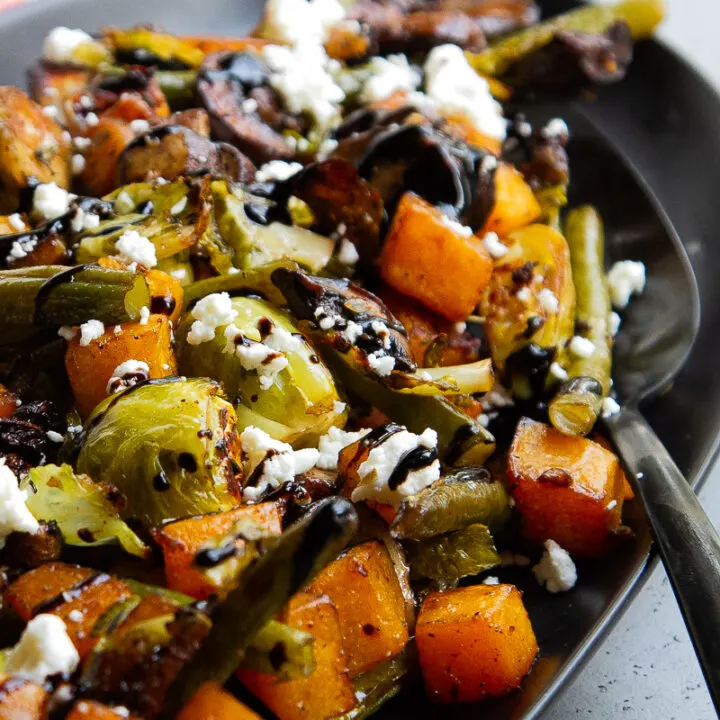 Easy Balsamic Roasted Vegetables
Yield:
Serves 6 as a side
Roasted vegetables are one of my go-to side dishes for any dinner -- not just Thanksgiving! This version has a tangy twist of balsamic.
Ingredients
4-6 ounces of each of these: green beans, sliced mushrooms, cubed butternut squash, Brussels sprouts -- or enough vegetables to mostly cover a large, rimmed baking sheet (see note)
For the vinaigrette:
3 Tablespoons avocado oil (or any other neutral, heat-safe oil)
3 Tablespoons balsamic vinegar
2 cloves garlic, peeled and chopped
2 teaspoons chopped fresh rosemary (or 1/2 teaspoon dried)
1 teaspoon fresh thyme leaves (or 1/2 teaspoon dried )
1/4 teaspoon sea salt
1/4 teaspoon black pepper
Large pinch of crushed red pepper flakes
For garnish:
1/3 cup feta cheese crumbles
Balsamic glaze
Instructions
Preheat oven to 425 degrees F.
Place the vegetables on a large, rimmed baking sheet.
Whisk together the vinaigrette ingredients and pour over the vegetables. Toss to coat.
Spread vegetables out evenly. Roast for 25-30 minutes, stirring them around a couple of times.
Let them cool for 5-10 minutes before transferring to a serving bowl. Sprinkle with feta and drizzle with balsamic glaze before serving.
Notes
Nat's Notes:
You can swap out vegetables if you like, just make sure they have similar cooking times. Broccoli, cauliflower, asparagus, summer squash, onions, or sweet potatoes and fall squash (diced small) would be great alternatives.
You can prep the vegetables and vinaigrette ahead of time. Just toss them together, cover, and chill for up to 6 hours.
Nutrition Information
Yield

6
Serving Size

1
Amount Per Serving
Calories

172
Total Fat

9g
Saturated Fat

2g
Trans Fat

0g
Unsaturated Fat

6g
Cholesterol

7mg
Sodium

181mg
Carbohydrates

20g
Fiber

6g
Sugar

9g
Protein

5g
The information shown is an estimate provided by an online nutrition calculator. It should not be considered a substitute for a professional nutritionist's advice.