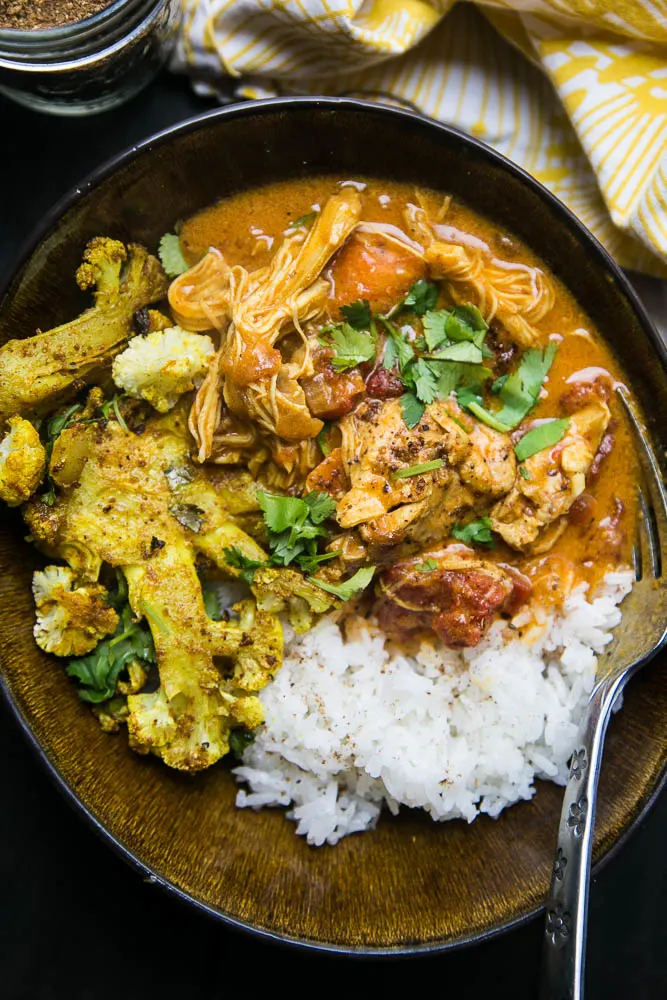 Indian has always been a huge favorite of mine. And Steve's. Since the early college days of our marriage when we'd splurge $35 for our anniversary at Bombay House in Provo, UT.
We LOVED the rich, flavorful curries and the warm, chewy naan bread. *swoon*
Steve started dropping hints about cooking Indian food at home — like giving me a couple of Indian cookbooks for Christmas.
One of them was Easy Indian Cooking by Suneeta Vaswani.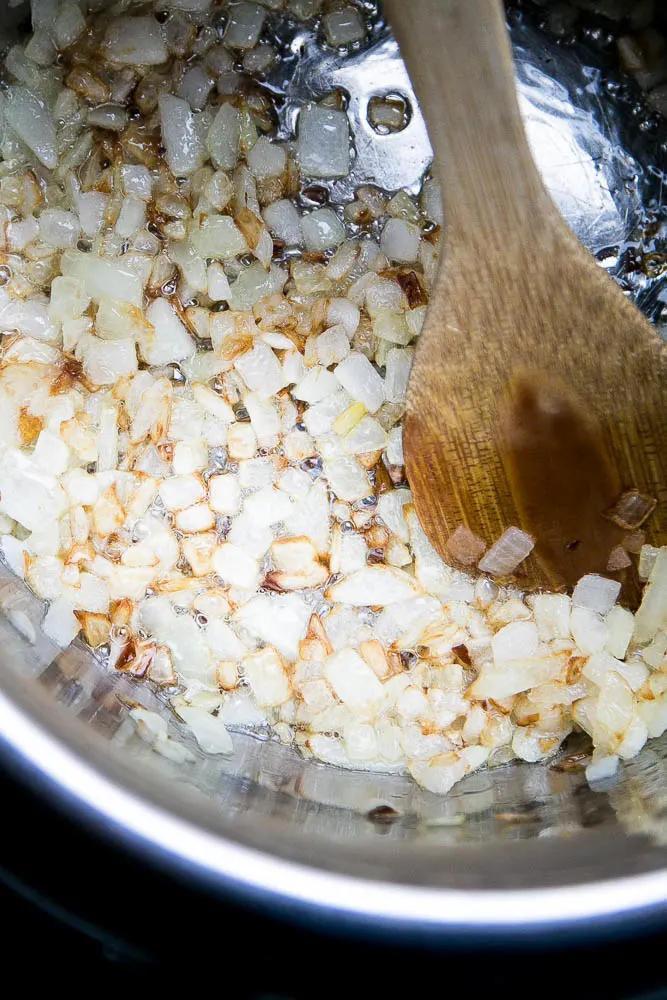 This recipe is based on her "Sindhi Chicken Curry" I tried in 2006 (I know because I used to stick dated post-its in my cookbooks when I'd try things and what I thought about them. #nerd)
I've made this curry three times in the last few weeks. It's that good.
And the kids ALL agreed to add it to our family's Favorite Dinner List. It's an exclusive list of our favorites and all of the meals have to be unanimously voted in.
It's a classic style Indian curry with a creamy tomato-based sauce and fall-apart chicken thighs. (More about that in a minute.)
I made a few tweaks, adapting the recipe for Instant Pot, and here we are.
Is Instant Pot good for Indian cooking?
Yes. Yes. Yes.
Indian cooking is usually a one-pot situation, but the added bonus of pressure cooking gives you that long-simmered flavor and fall-apart meat in a fraction of the time.
Is it a traditional way of making Indian food? Nope. Unless Instant Pots have taken off in India.
I'm not really concerned if a technique or a recipe is completely authentic if it results in amazing food.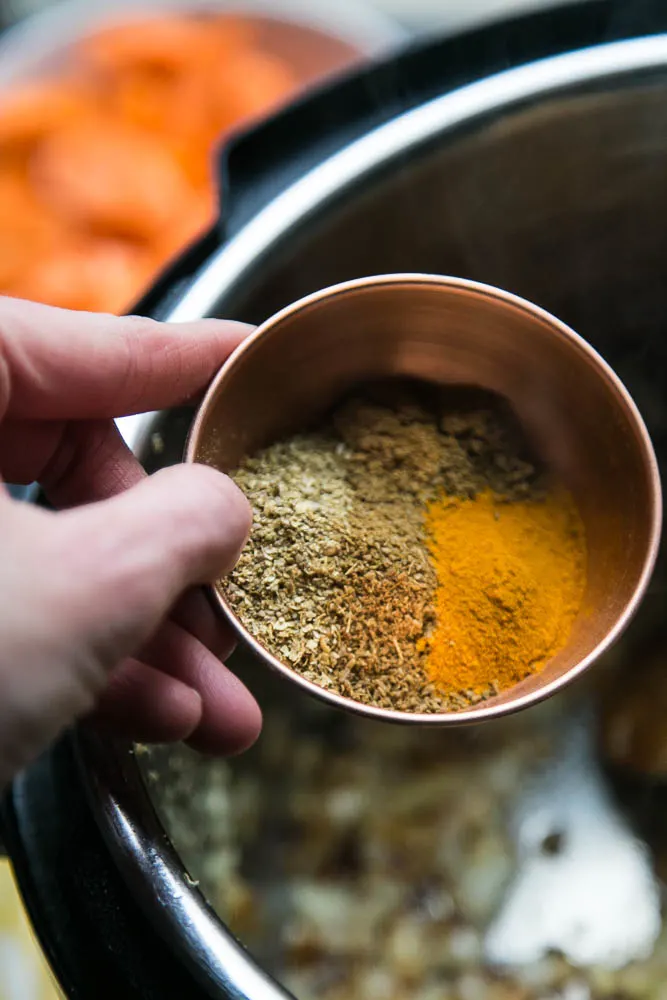 What Spices are in Indian Curry?
What I like about this recipe is that all of the ingredients are easy to find.
If you have cumin, coriander, turmeric, and cayenne handy, then you're good to go. There's also garam masala, but you probably already have the ingredients on hand to whip up a batch! More on that later.
Fun Fact: I started buying whole spices at an Indian spice market — cumin, coriander, cardamom & chilies — because it was less expensive that way in order to grind my own curry powder. The flavor in whole spices lasts a LOT longer than ground spices. I use home-ground cumin and coriander all the time and the flavor is SO much better. It's worth it to me. I just use a cheap coffee grinder.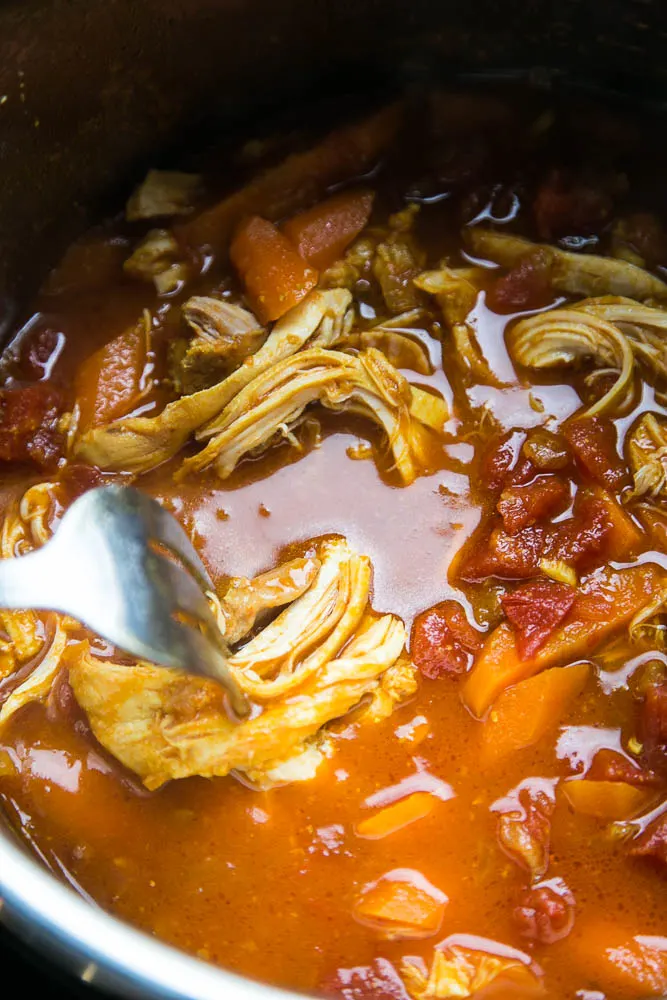 Do I have to use chicken thighs in Indian curry?
Well, no. You're a person with free will. You can use whatever cut of chicken you like.
But.
If you want the chicken to fall apart and be juicy, then use thighs. Sometimes breast meat can turn out pretty fantastic, but I feel like it's a gamble sometimes. Recently I'm #teamthigh.
Just look at that chicken falling apart after just an 18 minute cycle in the Instant Pot!
Can I make dairy free Indian curry?
Yep.
I used plain yogurt which is more traditional. (Plus, I love the flavor it adds to the curry!) You could also use heavy cream.
If you want it to be dairy-free, use full-fat coconut milk so it adds extra creaminess.
What's garam masala?
Garam masala is a common Indian spice blend. A decade ago it was rather hard to find, but lately I've seen it stocked in grocery stores alongside the other spices.
Traditionally it's added at the END of cooking for maximum potency. I love it.
If you can't find any in the store, try making some! Since I grind my own stuff, here's my Homemade Garam Masala recipe! There are directions in the recipe for using both whole AND ground spices in case you don't want to grind your own.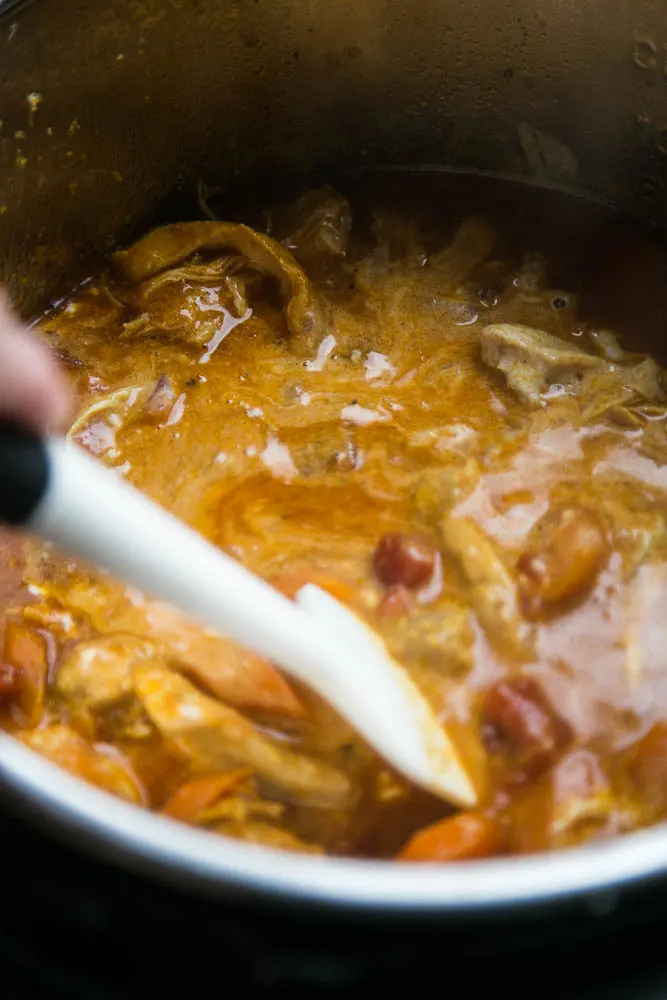 How do you thicken curry in an Instant Pot?
To get the sauce a little thicker, I mix some tapioca (or arrowroot) into the yogurt and stir it into the curry after the pressurized cycle is over. Turning the cooker to the Saute setting heats it up to bubbling and helps it to thicken even further.
Adding a thickener at the beginning isn't always a good idea because starchy foam can build up inside the Instant Pot causing the valves to clog or stuff to spray out of the steam release valve.
Also, if you're using tapioca or arrowroot instead of cornstarch, know that the longer it simmers, the less thickening power it'll have. So bring it to bubbly and then turn the cooker off.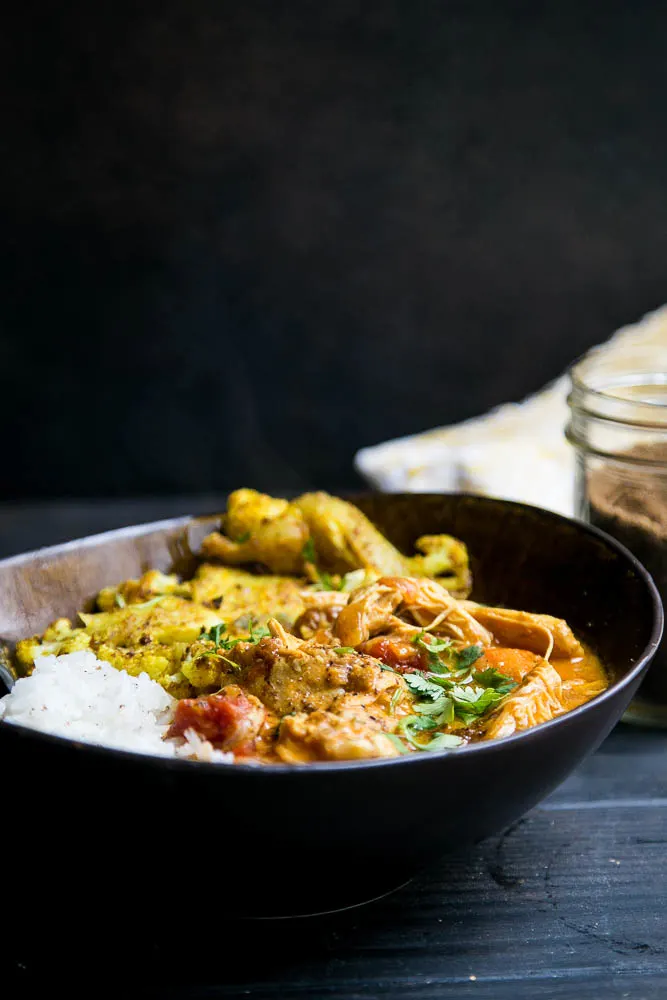 What do you serve with Indian Chicken Curry?
Well, rice is always nice. (Also another reason why having two Instant Pots is a fabulous idea!) And my Instant Pot Coconut Rice would be HEAVENLY with this curry.
If you're looking for something grain-free, my Roasted Cauliflower Rice is AWESOME with curry.
Or try some roasted vegetables! Up in that photo I added some Curry Roasted Cauliflower which was super delicious. I'll have that recipe for you shortly.
Naan bread is a favorite when we go out for Indian, but again, if you're looking for something gluten or grain-free, you could try my Paleo Zucchini Flatbread. I've eaten it with curry and it's tasty! Although not super absorbant. :)
Other Healthy Indian-inspired Recipes
If you love Indian-inspired flavors, try some of these other recipes on my site!
I love this Slow Cooker Indian Beef — tender shredded beef in an Indian-spiced sauce! It'll make your kitchen smell like an Indian restaurant. (Which is good if you're hungry.)
Want some cozy soup? Try my Mulligatawny or Paleo Indian-Style Butternut Squash Soup!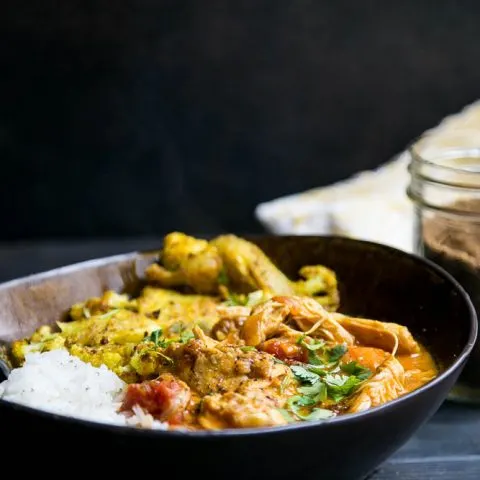 Instant Pot Indian Chicken Curry
This is a classic style Indian curry with a rich, tomato-based gravy. The chicken turns out tender and juicy every time! You can make this dairy-free by replacing the yogurt with coconut milk!
Ingredients
2 Tablespoons coconut oil
1 large onion, diced small
1-inch knob of fresh ginger, finely grated
1 Tablespoon minced or grated garlic
1 small jalapeno or serrano pepper, seeded and diced
1 1/2 - 2 pounds chicken thighs
1 Tablespoon ground coriander
1 1/2 teaspoon ground cumin
3/4 teaspoon ground turmeric
1/2 teaspoon ground cayenne
1 28-ounce can diced tomatoes, undrained
2 1/2 -3 cups sliced carrots, about 1/2 inch thick
1/2 cup chicken or vegetable broth
2 teaspoons salt
1 Tablespoon tapioca or arrowroot starch
1 cup plain, full-fat yogurt
1 1/2 teaspoon garam masala
1/3 cup fresh chopped cilantro
Juice from half a lime
Steamed rice or cauliflower rice, for serving
Instructions
Turn on the Instant Pot to the Saute setting. When it's hot, add the coconut oil.
Add the onions to the pot and cook, stirring often, for about 15-20 minutes until the onions are golden brown. (You can use the time to prep the rest of the ingredients. I always do.)
Stir in the ginger, garlic, and diced pepper. Cook for another minute, then add the spices -- coriander, cumin, turmeric, and cayenne.
Push the mixture to the sides and add the chicken to the pan. Leave them untouched for 4-5 minutes until browned. Flip them over.
Add the diced tomatoes with their juices, carrots, broth, and salt. Use a big wooden spoon or something to stir everything around a bit.
Close the lid and push the steam valve to "sealing". Cook at high pressure for 18 minutes. When the cycle is over, release the pressure manually.
Stir the tapioca starch into the yogurt. Add the yogurt and the garam masala to the curry. Turn the Instant Pot back to the Saute setting and heat the curry until it's bubbling and begins to thicken further, about 2-3 minutes.
Turn the cooker off and stir in the cilantro and add the lime juice.
Ladle the curry over steamed rice and add a pinch of cilantro, if desired.
Notes
Nat's Notes:
1. You can make this dairy-free by replacing the yogurt with full-fat coconut milk.
2. My Curry Roasted Cauliflower is a perfect grain-free replacement for rice! (Recipe coming soon!)
Recipe adapted from Easy Indian Cooking by Suneeta Vaswani
Recommended Products
As an Amazon Associate and member of other affiliate programs, I earn from qualifying purchases.
Disclosure: This post may contain Amazon affiliate links. Purchases made by using these links don't cost you any extra and helps to keep my content free.