These paleo meal plans are for six dinner recipes and a dessert thrown in for fun! All of these recipes are paleo friendly, seasonal, and most can be easily adapted to be Whole30 or Keto/Low-Carb.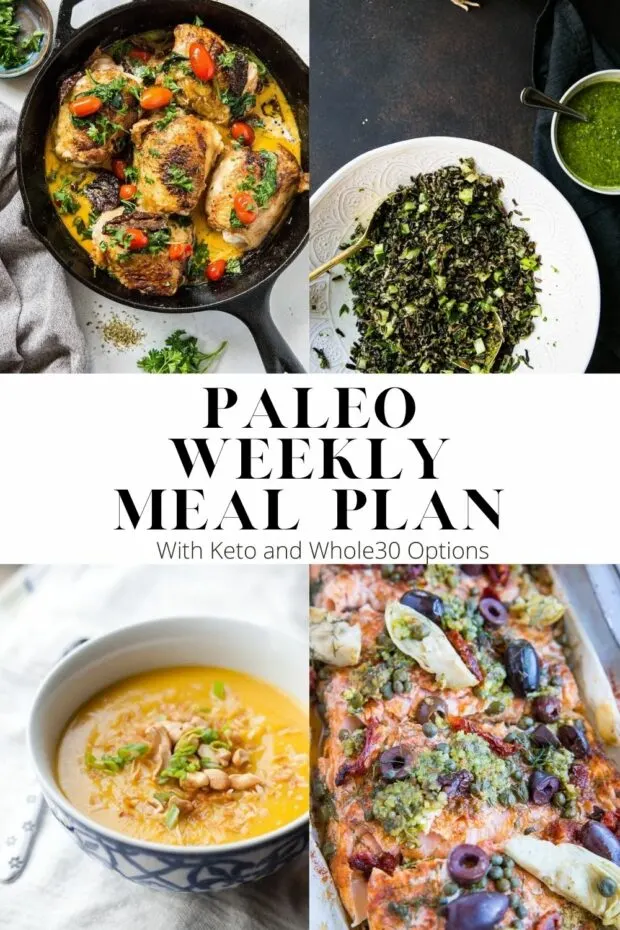 Oh, friends. This week is so delicious. Whether you make one or two or all of these recipes next week you'll be in for some delicious eats.
One of my favorite things about planning meals is carrying over similar ingredients to more than one recipe. It saves time (and money if that particular thing happens to be on sale!) and reduces waste!
We've done that this week using pesto a couple of times. If you're making your own pesto this will be super helpful for you.
Also, I'm dying over Julia's 7-Layer Magic Bars. I think I'll be making those this weekend. YUM.
Enjoy!
Sunday
IMMUNITY-BOOSTING TURMERIC CHICKEN SOUP — This soup is a powerhouse meal loaded with nourishing veg & immune boosting ingredients like turmeric and bone broth!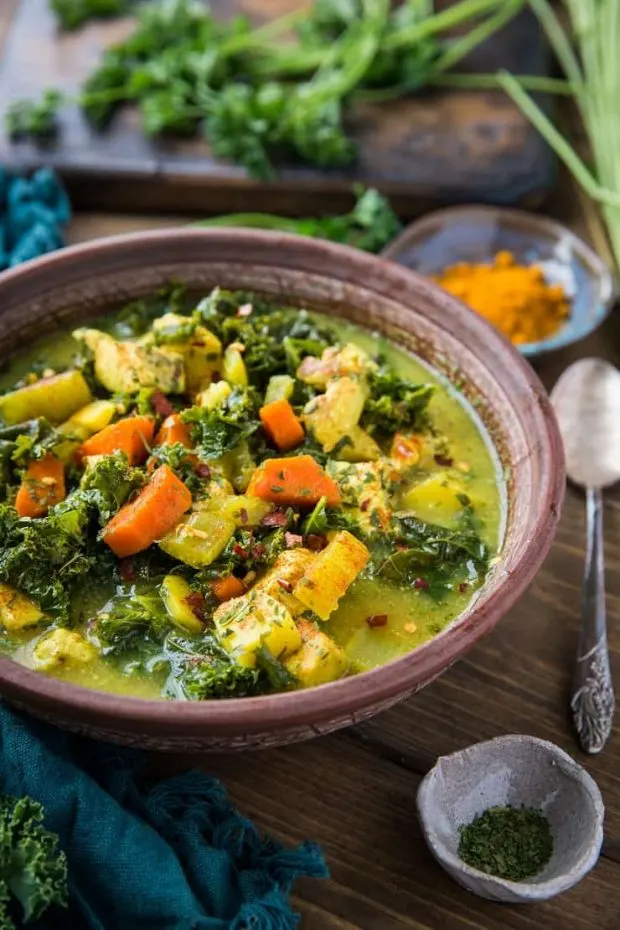 Special Diet Note: Recipe is whole30, paleo, and low-carb. You can make this soup Low-FODMAP by omitting the onion, garlic, and celery and adding 1 tablespoon of cider vinegar or lime juice (for flavor)
Prep Ahead: The soup comes together quickly, so no advance prep is needed
Substitutions: Use ground turkey or beef instead of chicken. Incorporate your favorite vegetables, such as cauliflower or broccoli
Monday
MUSTARD-HERB PORK LOIN WITH MAPLE BUTTERNUT MASH – I love the sweet maple-spiked butternut mash against the tangy, herby, perfectly seasoned, moist (is that too many adjectives?) pork.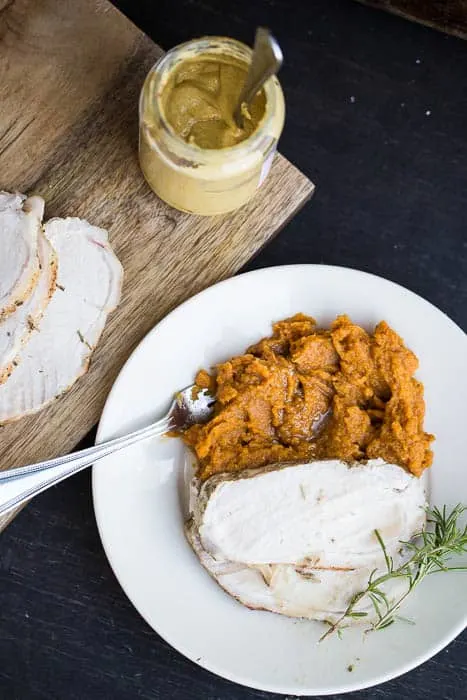 Special Diet Note: This recipe is paleo on its own, but if you'd like to reduce the sugar content, you can reduce the maple syrup by half.
Prep Ahead: You can prep the pork roast up to 12 hours ahead of time.
Substitutions: You can also use sweet potatoes in place of the butternut squash.
Tuesday
MEDITERRANEAN SALMON IN PARCHMENT – Mediterranean-inspired salmon in parchment paper with sun-dried tomatoes, dill, capers, artichoke hearts, kalamata olives, and pesto sauce is a mouth-watering experience for a lovely evening in.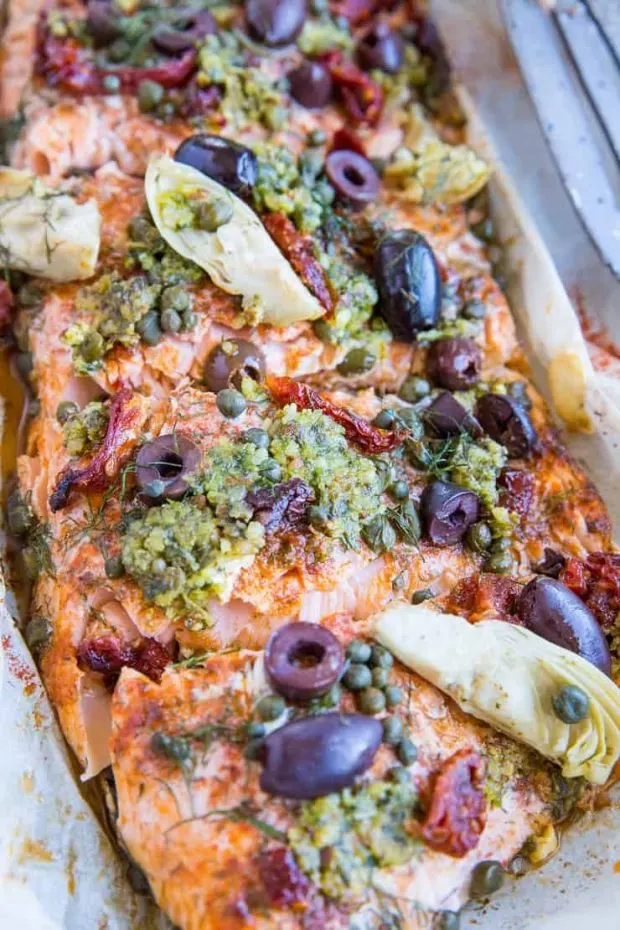 Special Diet Note: Recipe is paleo, whole30, and keto. Be sure to use homemade dairy-free pesto sauce to keep the recipe whole30 and paleo-compliant. The pesto sauce can also be omitted, as the salmon still has loads of flavor without it!
Prep Ahead: Recipe comes together very quickly! You can make extra homemade pesto sauce up to 5 days in advance and use it for Friday's recipe, too!
Wednesday
INDIAN-INSPIRED BUTTERNUT SQUASH SOUP — This quick little soup has a hint of Indian spices, but what really makes this soup shine are the garnishes on top — sliced green onions, toasted coconut, and roasted cashews are a must!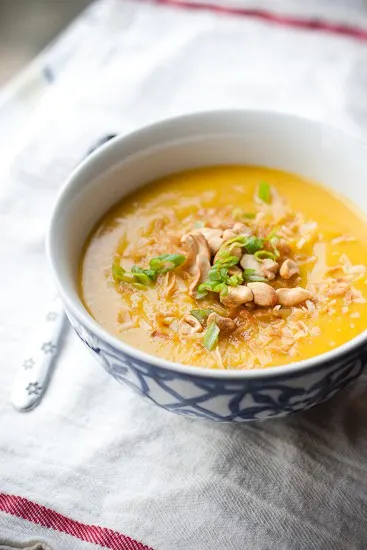 Special Diet Note: Recipe is paleo & Whole30 friendly
Prep Ahead: Prep the butternut squash ahead of time or buy a 2 lb package of pre-cut cubes to save time. You can also roast the vegetables 2-3 days in advance.
Substitutions: To make it extra creamy, try adding a half of a can of coconut milk at the end!
Thursday
ONE-POT CREAMY TUSCAN CHICKEN — Tuscan Chicken with spinach and sun-dried tomatoes in coconut milk sauce made in just one skillet!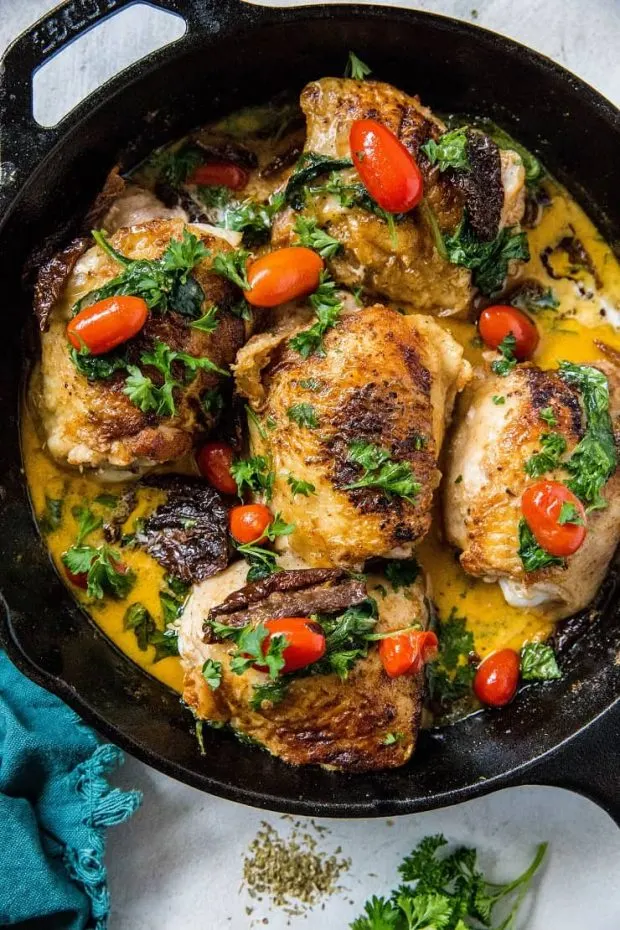 Special Diet Note: Recipe is paleo, whole30, and keto. Make it Low-FODMAP by omitting the cherry tomatoes.
Prep Ahead: No advance prep is necessary!
Substitutions: Add 1/2 yellow onion and/or 3 to 4 cloves of garlic if you love onions and garlic!
Friday
WILD RICE SALAD WITH CUCUMBER AND PESTO — Still have pesto from earlier in the week? Use it to make this salad come together even more quickly. It's a a great stand-alone recipe for a light dinner or a jumping point for a more robust salad. Feel free to add any leftover protein from earlier meals!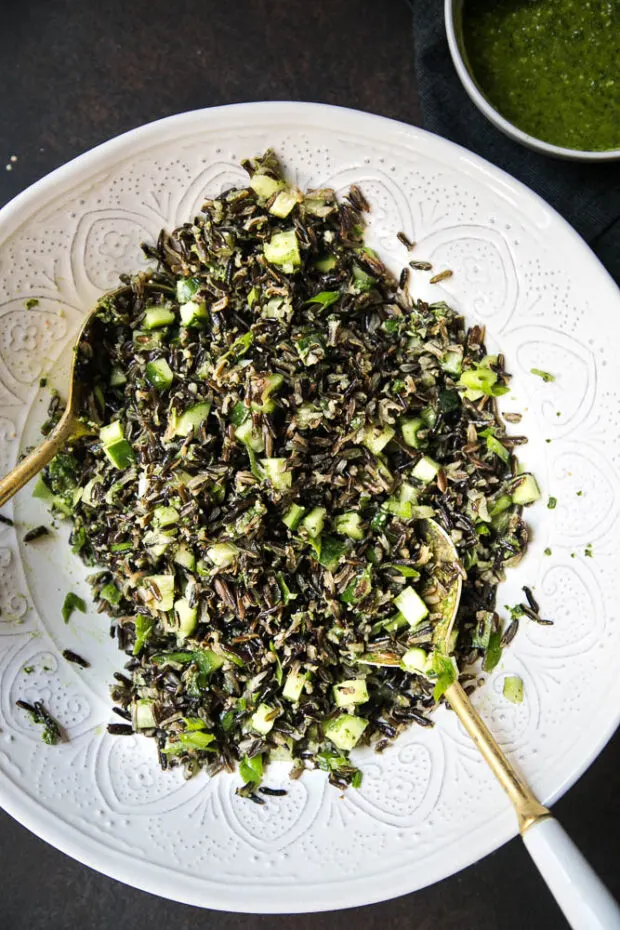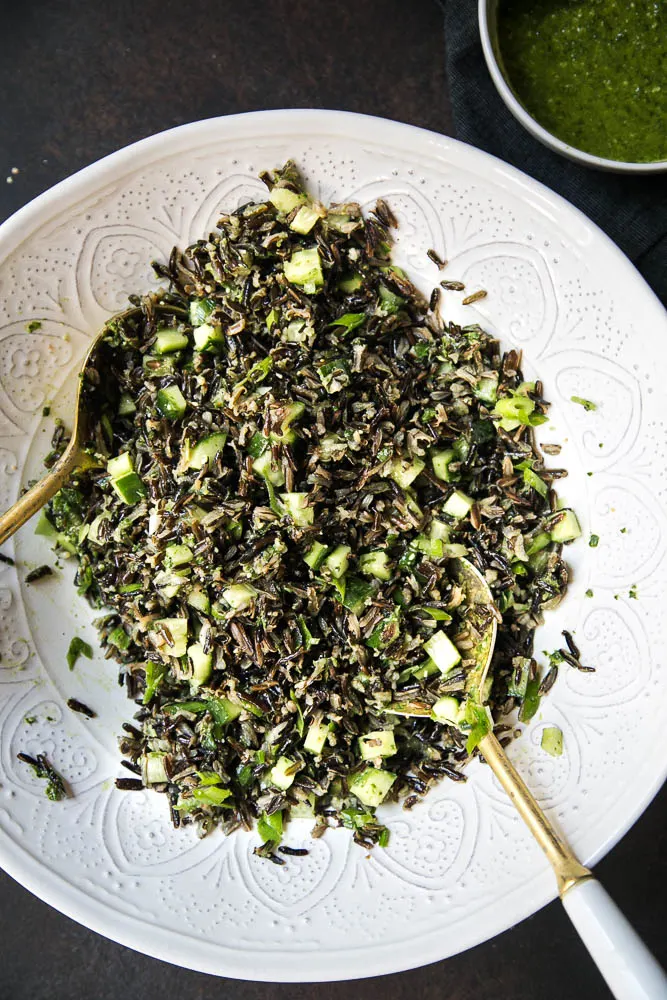 Special Diet Note: If you don't eat rice or want this to be Whole30/Keto friendly, use cooked cauliflower rice.
Prep Ahead: You can use leftover pesto from the salmon earlier in the week and the rice and pesto can be made 2-3 days ahead of time. Don't mix the cucumbers in until you're ready to eat, though.
Substitutions: This salad is so versatile! You can add toasted nuts & seeds, grass-fed cheese crumbles, any leftover vegetable or protein to make it even more delcious. Use cauliflower rice if you want it to be completely grain-free.
Dessert
7-LAYER PALEO MAGIC BARS — A grain-free vegan version of classic magic bars, these easy to assemble bars are great for entertaining guests any time of year, and are magnificent for holiday cookie exchanges.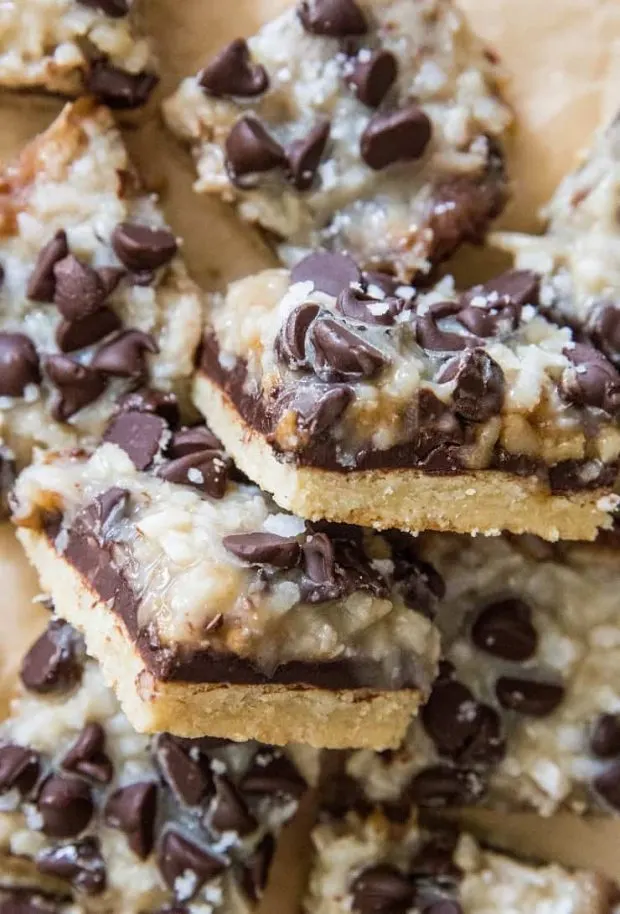 Special Diet Note: Recipe is paleo and vegan.
Prep Ahead: You can make the crust and caramel ahead of time – up to 3 days recommended
Substitutions: use hazelnut flour instead of almond flour, coconut oil instead of ghee, and/or 2 paleo chocolate bars instead of chocolate chips
Grocery List
Click HERE to download a handy printable grocery list!