This delicious tamale pie with tender shredded chicken and green chile sauce is made with millet flour and is gluten-free and corn-free!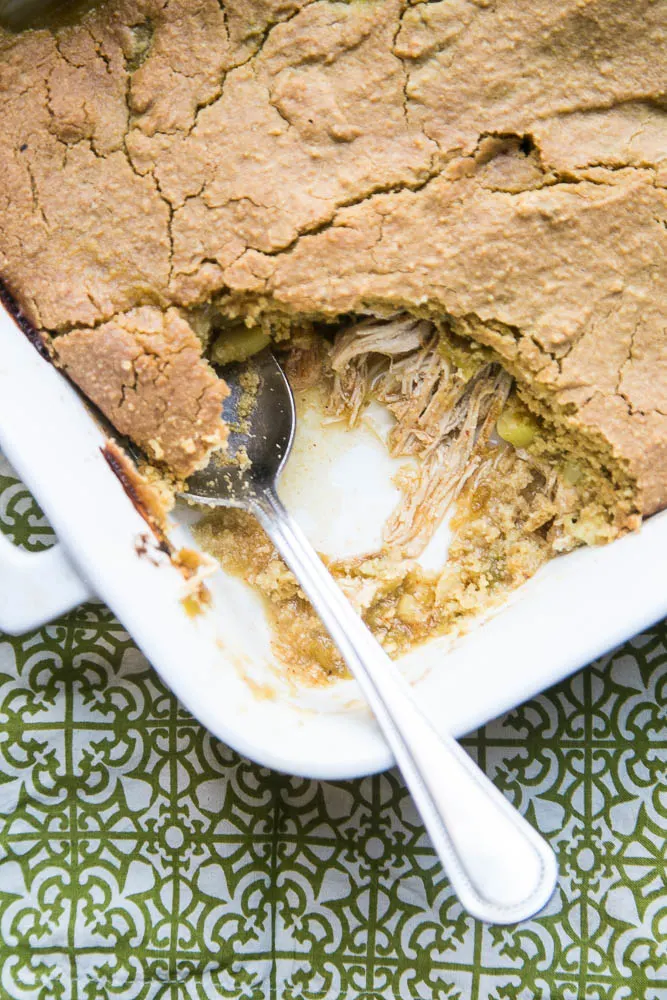 What's a tamale pie?
Tamale pies are a tex-mex shortcut to get the flavors you love from tamales without all of the labor-intensive prep. The filling is usually meat or vegetables in a spiced sauce and it's topped with a cornbread-like crust. All baked in one pan. Easy, right?
---
(Disclaimer: Because I'm anticipating someone leaving a comment about how these are nothing like tamales and that their Mexican grandmother would be furious, I will say this: These aren't intended to be just like tamales. Just tamale-inspired. I do not claim to be an expert in Mexican cuisine nor do I wish to infuriate grandmothers.)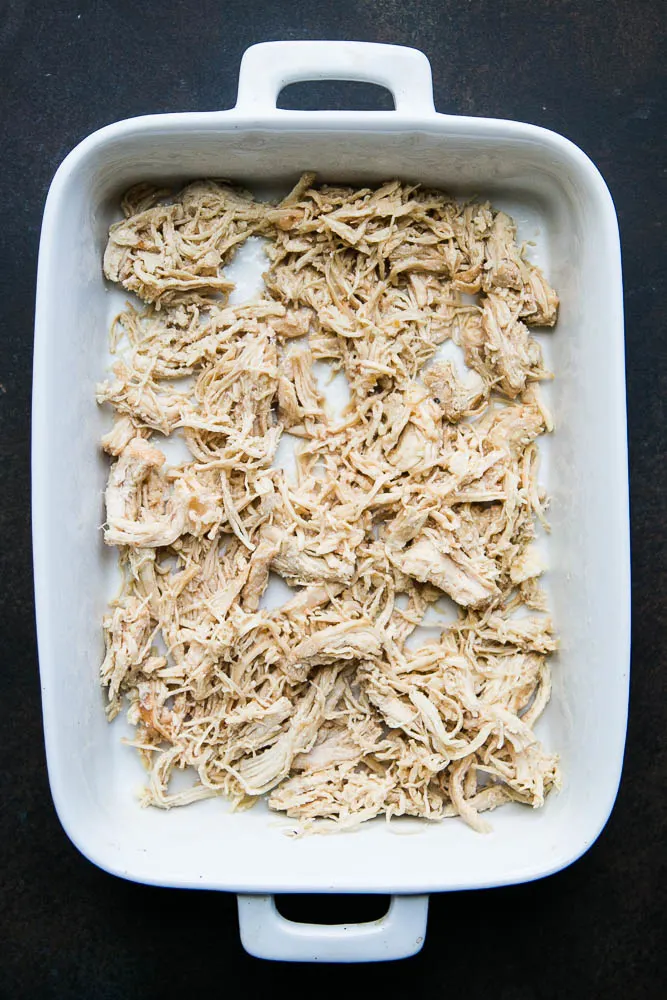 This tamale bake is an excellent home for rotisserie chicken or meal-prepped shredded chicken you popped in the freezer a few weeks ago because YOU ARE SO ON THE BALL.
No?
Well, you can make some shredded chicken in your Instant Pot in no time. Or go get a rotisserie chicken!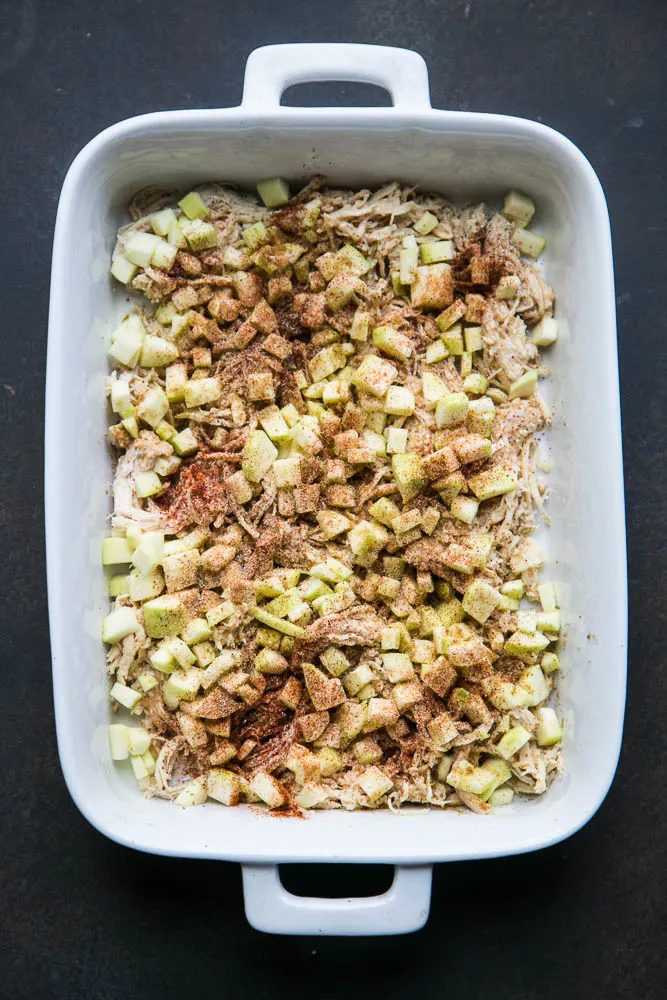 Do I have to put vegetables in tamale pie?
Well, no. It's a free country, yo.
There are three reasons why I put zucchini in this:
I've made it a habit to put vegetables in (or with) everything we eat.
I had zucchini in my fridge that I needed to use.
My kids probably wouldn't pick it out because it's cut small. And if I peel zucchini it's FAR less detectable than unpeeled.
Don't like zucchini? Swap it out for something you like! Or just leave it out entirely.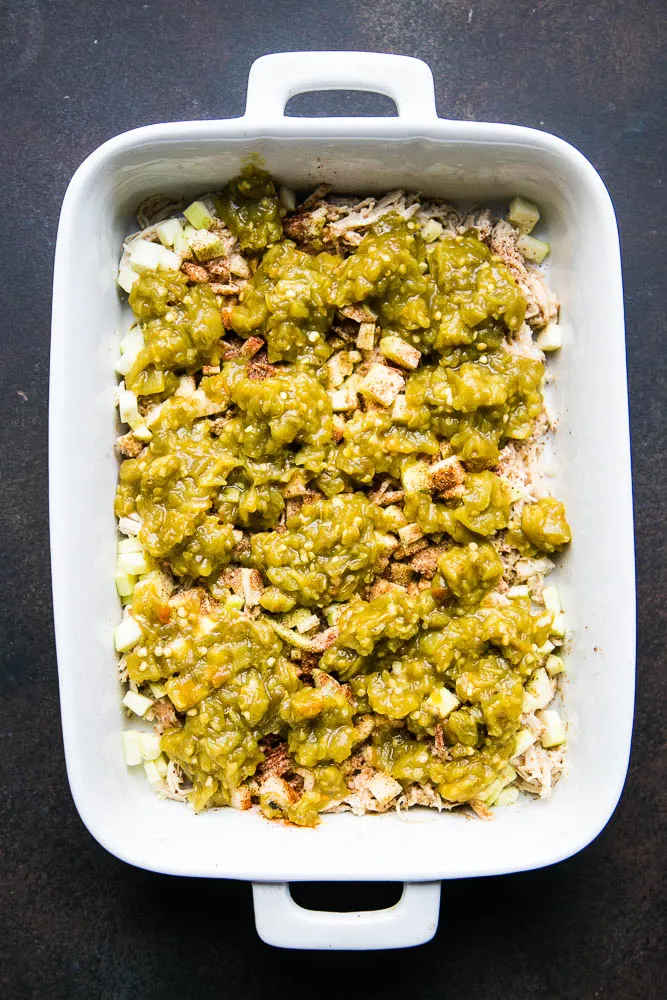 Now, THIS is a gorgeous sight.
What kind of green chiles should I use?
I've been getting big jars of Hatch Valley 505 green chiles at Costco, and I've put them in everything!
They have a little kick to them, though, so if you don't want that kick, use mild fire-roasted diced green chiles.
You can find canned diced green chiles in any grocery store.
What is the topping on a tamale pie?
Admittedly the best part of a tamale bake is the tamale-like topping, which is basically glorified cornbread batter.
BUT.
This version has NO CORN. Yes, it's gluten-free. No, I didn't use almond flour. I used millet flour.
Why millet flour?
The vast majority of corn products are GMO and corn is very inflammatory and can be problematic for a lot of people.
I'm one of those people. After a gut restoration program I did last summer I realized that corn wasn't doing me any favors so I'm trying to avoid it as much as I can.
Also during that restoration I was introduced to millet, which I hadn't eaten before. Millet does well in my body and reminded me of polenta because of it's corn-like flavor.
I posted Gluten-Free "Corn" Bread Muffins recently using millet flour in place of cornmeal and so many of you loved having a corn-free option that was also nut-free!
Seriously, try it! You can find millet flour at specialty stores or on Amazon or buy some whole millet and buzz it up in your blender.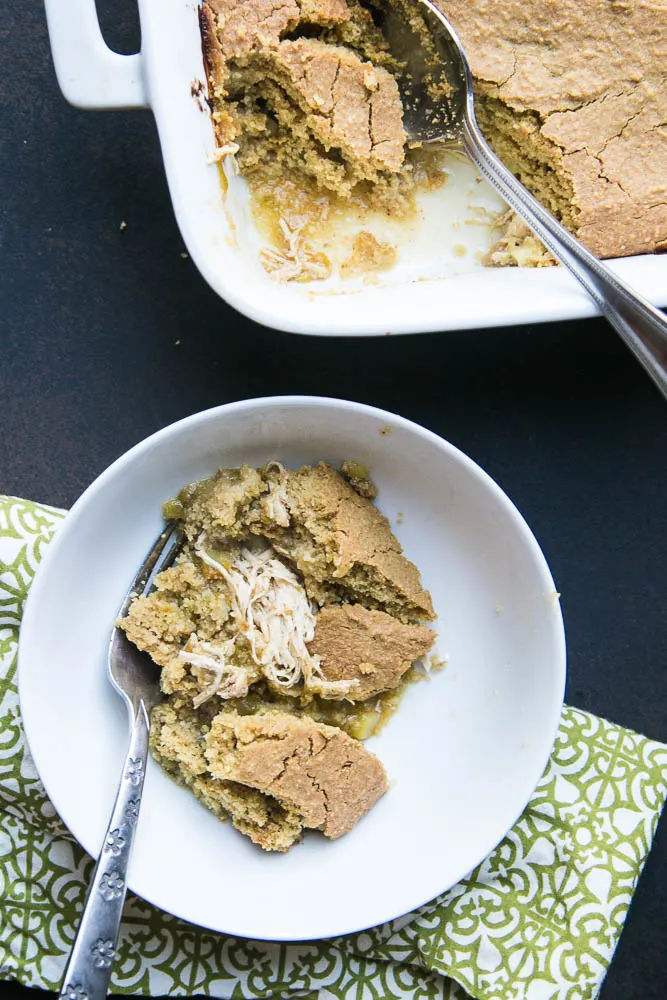 The topping also has some nutritional yeast to give it a deeper flavor. You can leave it out if you like, but it's super tasty. Trust me.
More recipes with green chiles!
I love all things green chile! Here are a few more recipes using green chiles on my site:
This Green Chile Chicken Spaghetti Squash Bake is another favorite of mine! It's also gluten-free, dairy-free, and paleo/keto friendly.
My kids loved these Green Chile Turkey Burgers with Guac-Ranch!
If you're wanting some stellar shredded chicken for tacos, try my Slow Cooker Green Chile Chicken! (Also works beautifully in an Instant Pot!)
This is an oldie, but a favorite vegetarian soup of ours — Quick Black Bean & Green Chile Soup comes together so quickly using pantry ingredients!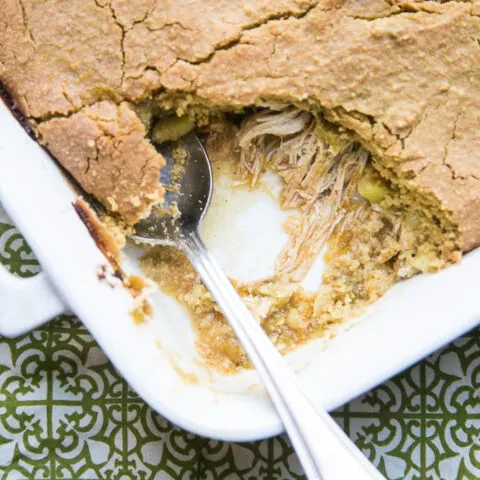 Green Chile Chicken Tamale Pie with Millet (Corn-Free)
Flavorful shredded chicken covered in green chile sauce topped with a thick, crumbly cornbread-like crust -- a corn-free version of tamale pie!
Ingredients
For the filling:
3 cups cooked chicken, diced or shredded
1 medium zucchini, diced (about 2 cups)
1/2 teaspoon chili powder
1/2 teaspoon garlic powder
1/2 teaspoon ground cumin
2 cups diced green chiles (about 16 ounces)
Juice from 1 lime
For the topping:
1 1/2 cup millet flour
1/4 cup cassava flour (or an all-purpose GF flour blend)
1/4 cup coconut sugar or other granulated sweetener
1 teaspoon baking soda
3/4 teaspoon sea salt
1 cup milk (any kind)
1/2 cup melted butter or coconut oil
2 eggs
1/4 cup nutritional yeast (optional)
Instructions
Preheat oven to 400 degrees F. Prepare a 9x13 baking dish with nonstick spray.
Spread the chicken and diced zucchini evenly in the pan. Sprinkle the seasonings evenly over the top. Add the green chiles and the juice from the lime.
In a large mixing bowl, whisk together the millet flour, cassava flour, sweetener, baking soda, and salt.
Add the milk, butter, eggs, and nutritional yeast to the flour mixture. Whisk until smooth. Pour the mixture over the chicken.
Bake for 35-40 minutes or until the crust is baked through and the filling bubbles around the edges. A toothpick inserted into the topping should come out clean.
Let the tamale pie rest for 10 minutes before serving.
Recommended Products
As an Amazon Associate and member of other affiliate programs, I earn from qualifying purchases.