This Green Chile Chicken & Spaghetti Squash bake is PERFECT for meal preppers or those who like to prep components of a meal ahead of time. I love the addition of green salsa and a splash of paleo ranch to give it some creaminess. Avocados on top are a must.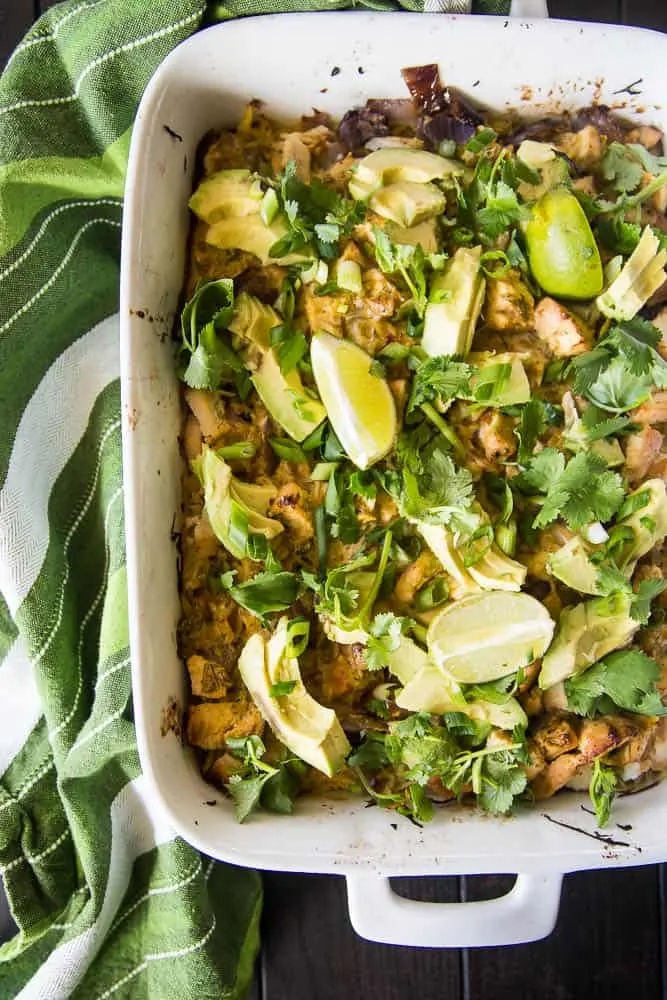 Yep. Another spaghetti squash bake. I'm kind of in love with these, much to my kids' dismay. Mine are still warming up to spaghetti squash. Do your kids like it?
Mostly I make them for me and Steve to eat for lunch during the week. We're still working on getting his chiro office set up, so he's home most of the time.
Anyway, I think you'll love this spaghetti squash bake, too. I used salsa verde (my favorite store-bought salsa) and some Paleo Ranch. Are you surprised? I'm basically a 6-year-old and put ranch on everything. More than my actual 6-year-old does.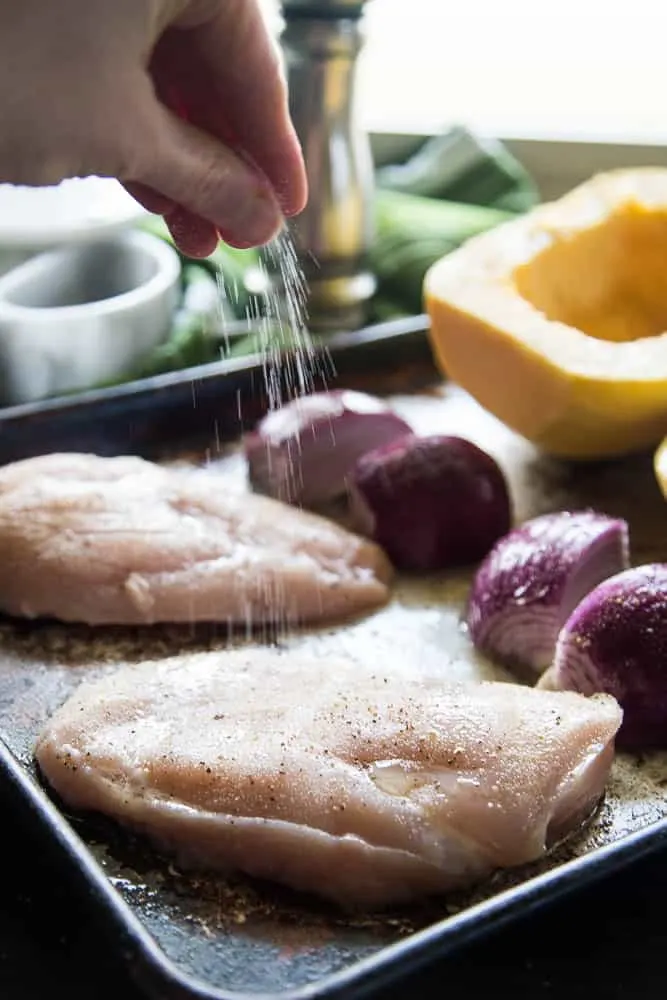 The nice part about this spaghetti squash bake (and the others I have on my site — I linked to them below!) is that you can roast everything on the same pan for the same amount of time. I really love Nordic Ware half sheet pans. They're sturdy and durable, and I've had mine for about 15 years.
This time I added a quartered red onion. Roasted and caramelized onions are SO SO good, and I loved the bits of flavor they added to this bake.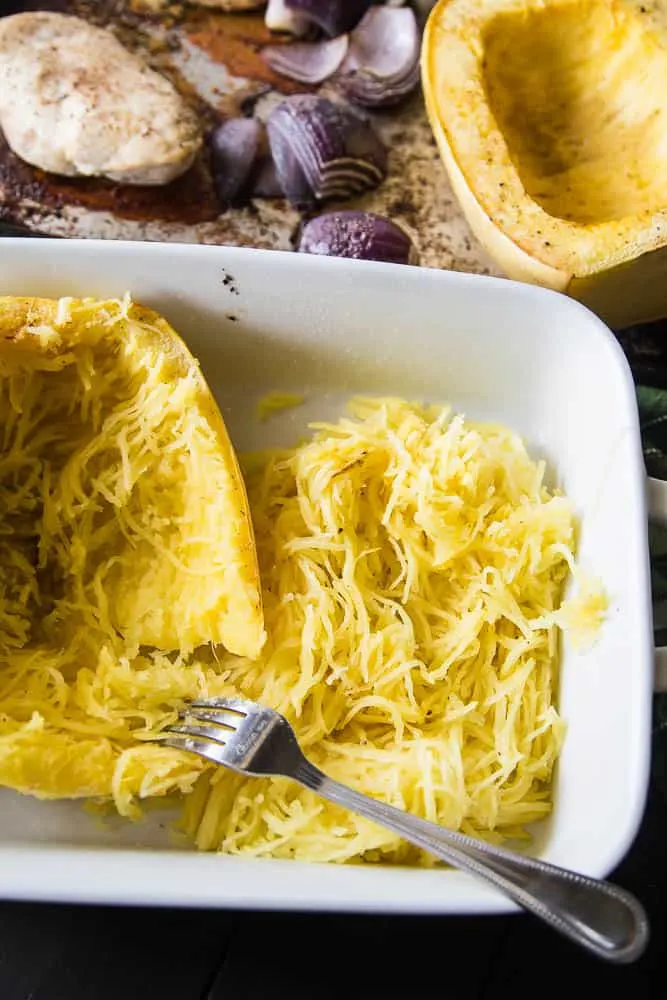 Pulling spaghetti squash threads out with a fork never gets old. I remember the first time I cooked one — I swear I giggled when the squash fell apart in these weird noodle things. It really is weird when you think about it.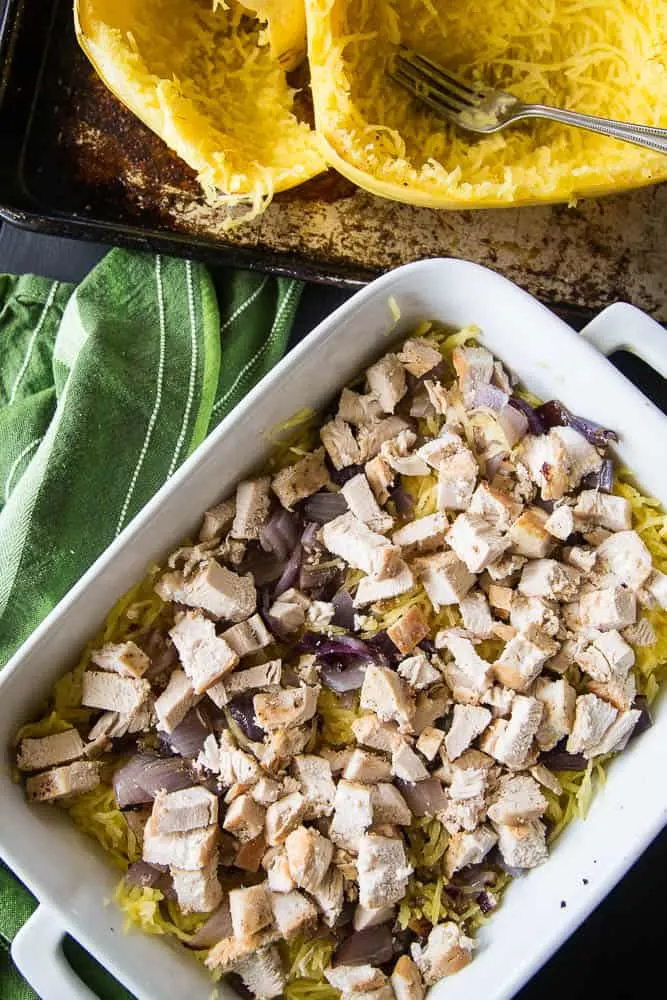 Then you just chop the chicken and onion and throw them on top.
The chicken doesn't have to be COMPLETELY cooked at this point since it's going back into the oven. Just as long as the squash is cooked long enough to pull out of its shell…. thing. Peel? Helmet? I dunno.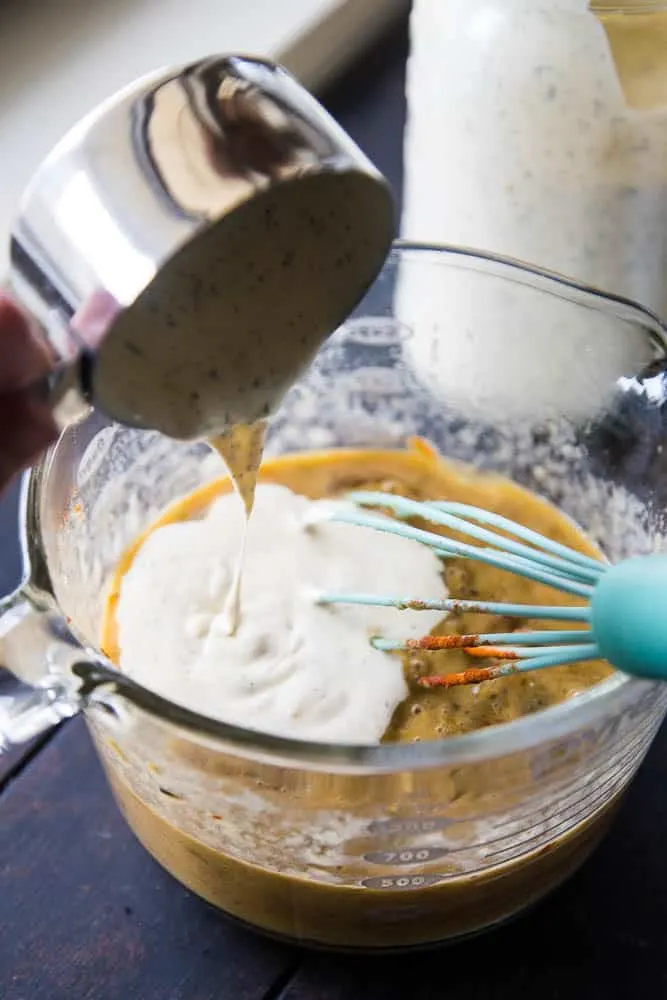 Then whisk together the sauce ingredients. I love Herdez brand salsa verde because it doesn't have any sugar or other "stuff" in it. You also don't HAVE to use ranch here. You could just add more salsa, but I love the creaminess and flavor it adds.
I usually have a mason jar full of Paleo Ranch in my fridge at any given time. So adding it to recipes is pretty convenient for me.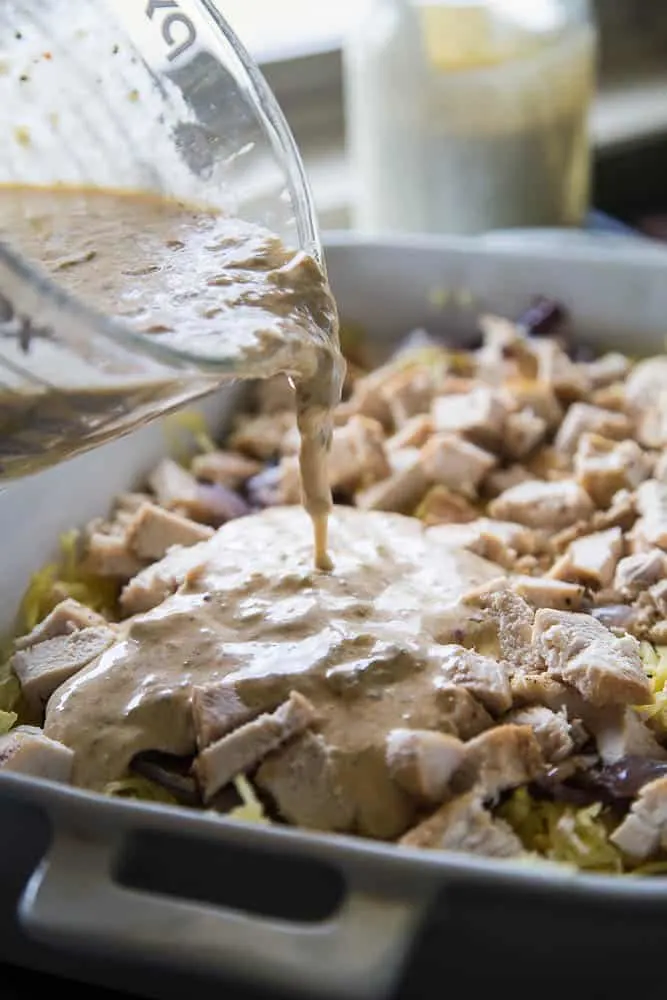 After I poured the sauce over the spaghetti squash mixture, I nudged everything around with a fork to help the sauce spread itself. You don't really need to stir it.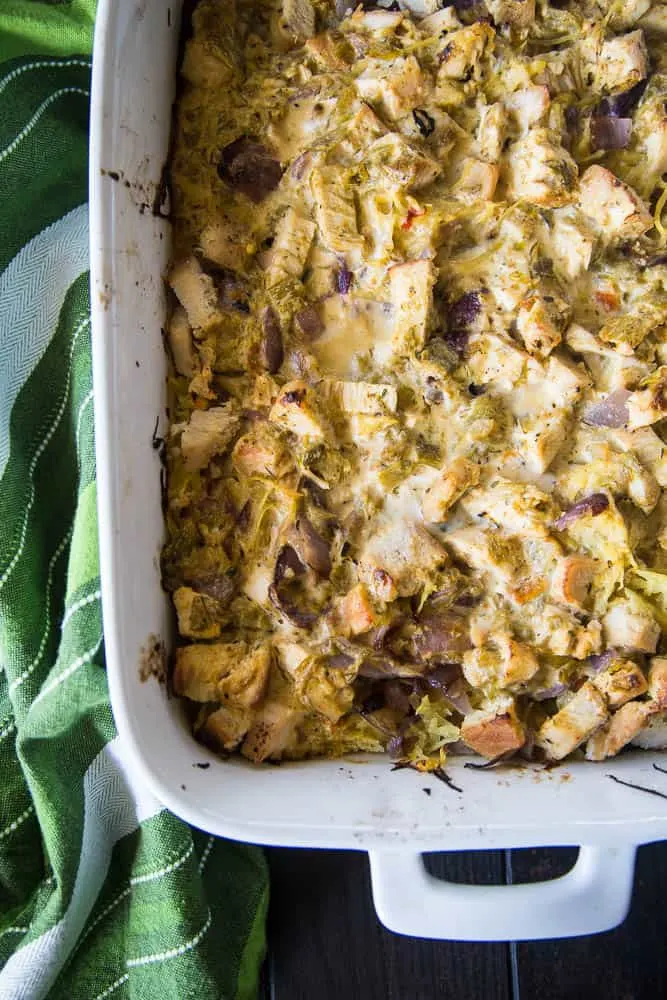 When it's done it'll be bubbly on the sides and the center should be hot and steamy.
(If you're cool with cheese, I'd suggest throwing some pepper jack on there and sticking it under the broiler.)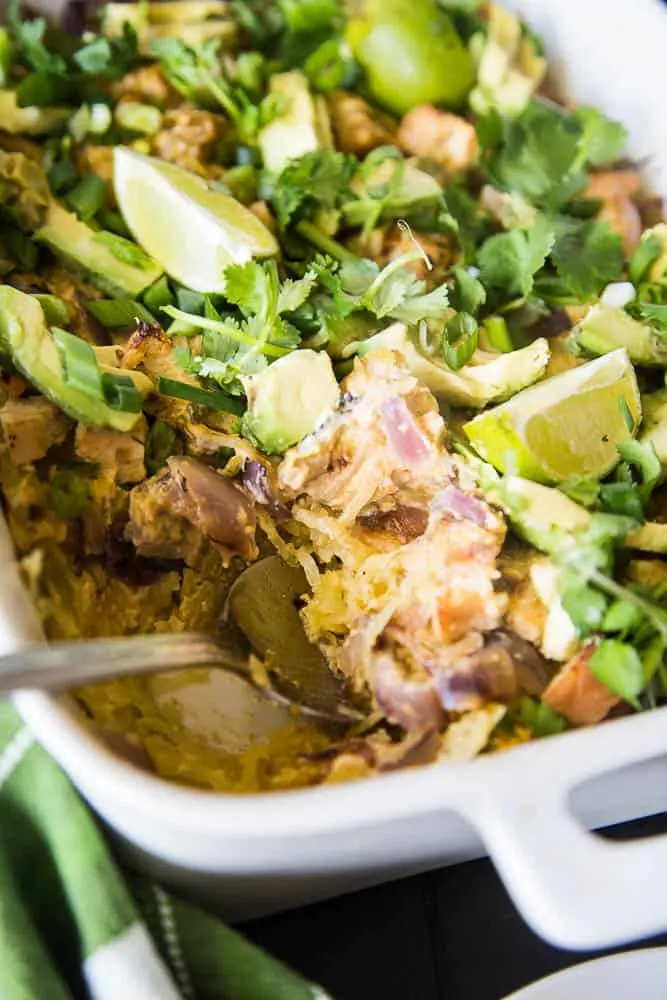 And, serve! Like the other spaghetti bake recipes I've got on my site, this one can be prepped ahead of time. You can just roast the chicken, onion, and squash and store it or you can assemble the whole thing with the sauce and put it in the fridge for a day or so until you're ready to bake. I added some directions in the recipe notes for this.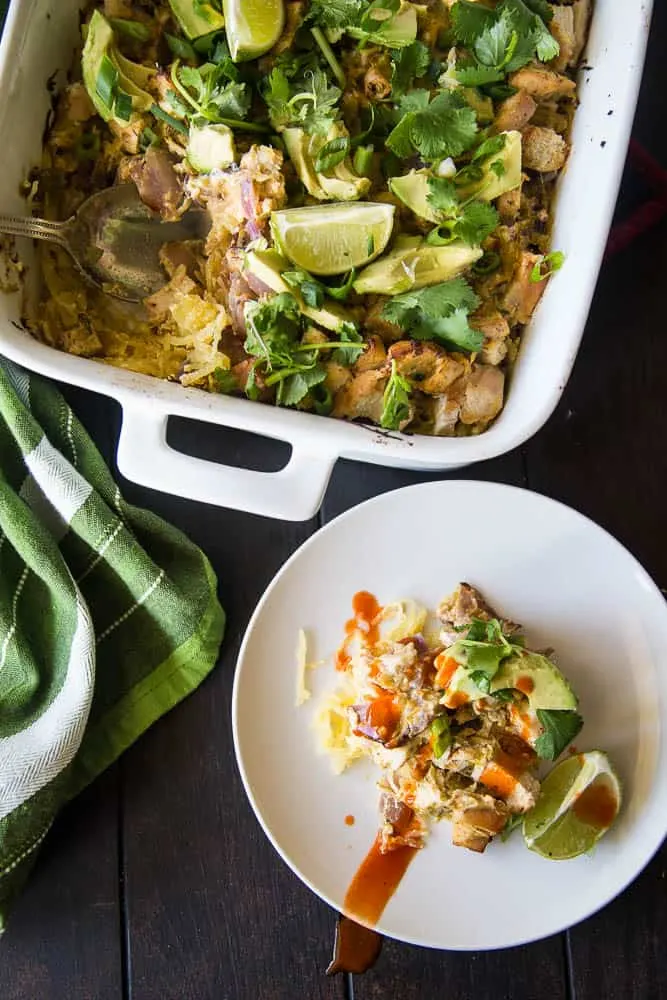 I'm a total garnish girl. I wholeheartedly believe that those extra sprinkles of herbs or citrus or whatever it is you're sprinkling can make a good dish into something AWESOMAZING. (My 6-year-old made that up. I love it.)
To this one I added chopped fresh cilantro, green onions, and diced avocado. And some lime wedges. Are we allowed to eat cilantro and avocado without lime? I'm pretty sure there's some legislation saying no.
I also got a little excited with the Chalula.
This recipe is Whole30 and low-carb/keto friendly, too! (Just check the label on your salsa and hot sauce.)
By the way, if you'd rather use your Instant Pot to cook the spaghetti squash, see my post on How to Cook Squash in an Instant Pot! (If it's small enough you don't even have to cut the squash in half.)
More Spaghetti Squash Bakes
Have you tried the other spaghetti squash recipes on my site?
Buffalo Ranch Chicken & Spaghetti Squash Bake
Chicken Enchilada & Spaghetti Squash Bake
Spaghetti Squash with Roasted Mushroom & Garlic Sauce
Green Chile Chicken and Spaghetti Squash Bake
This keto/Whole30 friendly spaghetti squash bake is PERFECT for meal preppers or those who like to prep components of a meal ahead of time. I love the addition of green salsa and a splash of paleo ranch to give it some creaminess. Avocados on top are a must!
Ingredients
1 medium or large spaghetti squash (between 3-4 pounds)
1 1/2 pounds boneless, skinless chicken breasts or thighs
1 medium onion, peeled and quartered
1 teaspoon salt, divided
Pinch of black pepper
2 tablespoons avocado oil
2 eggs
1 cup salsa verde or other runny salsa (not pico de gallo)
1/2 cup prepared Paleo ranch
1 teaspoon smoked paprika
1 tablespoon hot sauce (optional), plus more for serving
Chopped cilantro, green onions, avocado, and lime wedges, for serving
Instructions
Preheat the oven to 425 degrees F.
Cut the ends off of the spaghetti squash, then cut the whole thing in half. Scoop out the seeds and membranes, then put the squash halves cut-side up on a large rimmed baking sheet.
Add the onion quarters and chicken to the same pan. Sprinkle everything with 1/2 teaspoon of salt, black pepper, and the avocado oil. Turn the chicken over a couple of times with a pair of tongs to coat both sides with the oil.
Roast for 20 minutes or until the chicken is mostly cooked through and you can pull the squash apart with a fork.
Prepare a 9x13 baking dish with nonstick spray.
Use a fork to scrape all of the spaghetti squash strings out and put them in the baking dish. Chop the chicken and onion and sprinkle them evenly over the squash.
Whisk together the eggs, salsa, ranch, smoked paprika, hot sauce, and the remaining 1/2 teaspoon salt. Pour it over the spaghetti squash mixture. Use a fork to nudge the mixture around so the sauce gets into most of the squash.
Bake for 20-25 minutes until the sides are bubbly and the center is hot and steamy.
Sprinkle the garnishes on top of the pan or add them to individual servings. Serve with additional hot sauce.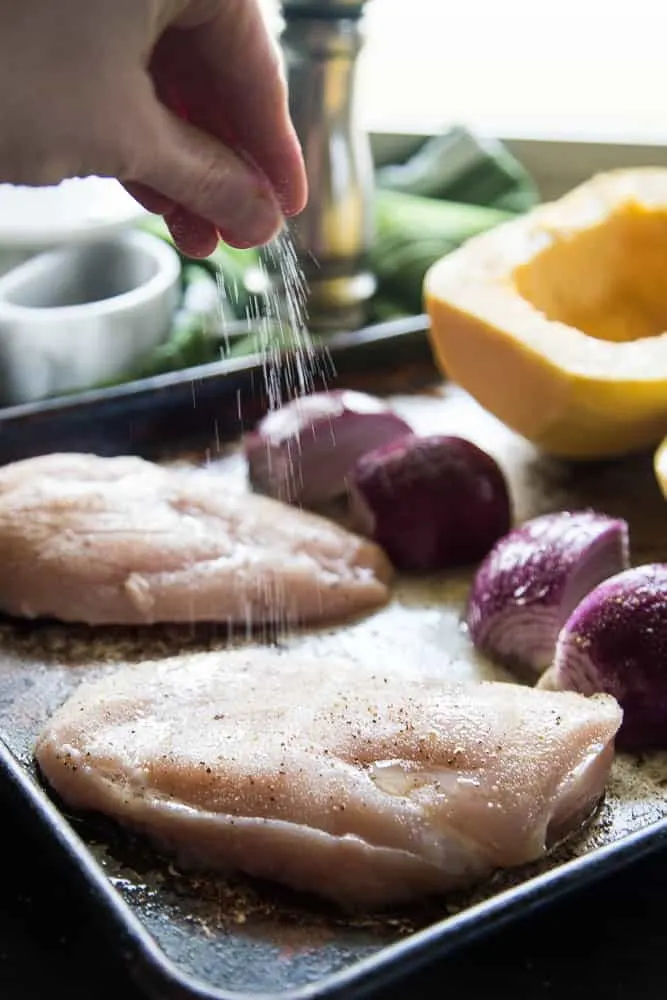 Disclosure: This post contains Amazon affiliate links. Purchases made by using these links don't cost you any extra and helps to keep my content free.