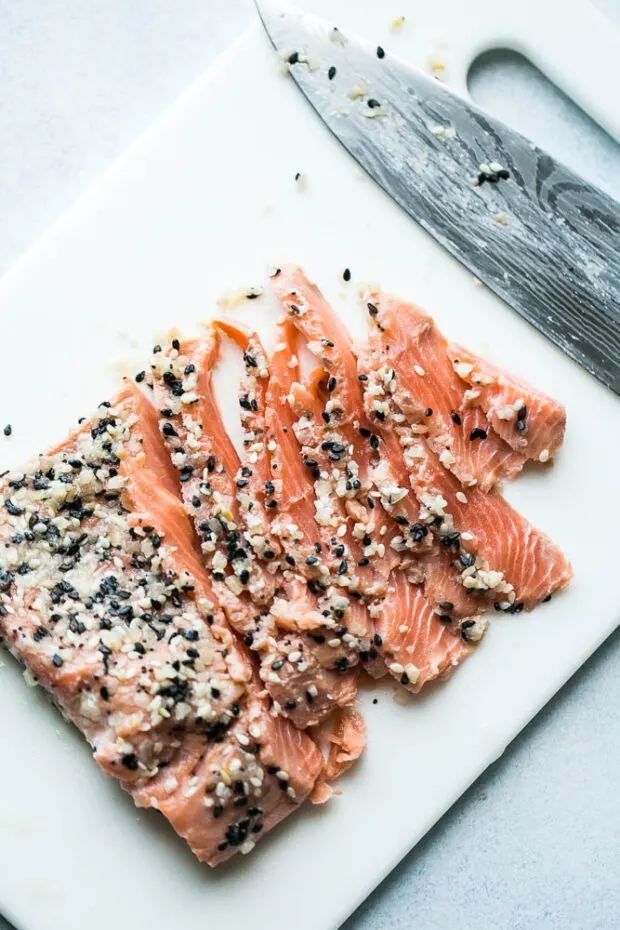 Now that Everything Bagel Seasoning is a household staple, how have you been using it? Are you sprinkling it on everything?
I love all of the Everything Bagel-ized products at Trader Joe's — including their Everything Bagel Gravlax.
Are you a gravlax fan? Gravlax (or cured salmon) is surprisingly easy to make and MUCH more economical. There are a lot of uses for it, too. I included some ideas below.
You don't need any weird ingredients, either. Just salmon and a handful of ingredients you probably already have.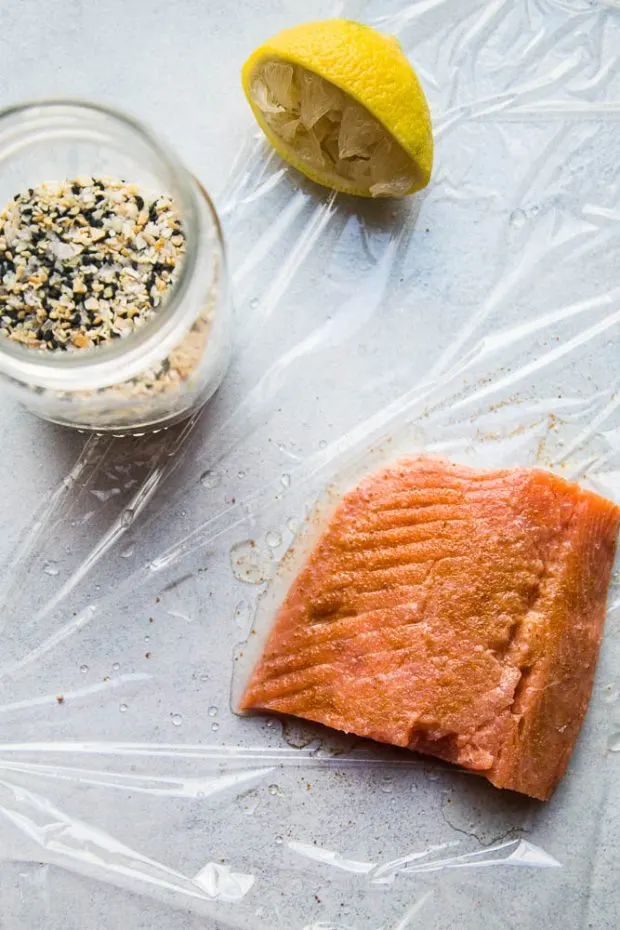 What is gravlax?
Gravlax is a Scandinavian dish made with salmon that is traditionally cured with salt, sugar, and dill. And sometimes lemon & alcohol.
This version is a knock off of the Trader Joe's Everything Bagel gravlax.
How to Make Gravlax
You just need a few things:
Salt
Sugar
Lemon
Everything Bagel Seasoning
Salmon
(PIC OF SALMON)
Is Cured Salmon Safe to Eat?
Curing doesn't actually cook the salmon, but it's a way to prepare the salmon so cooking isn't necessary.
Because you'll be eating "uncooked" salmon, it's important to buy high quality salmon to make gravlax.
Wild-caught salmon is healthier and more environmentally friendly than farmed salmon.
I love using Sitka Salmon — it's the freshest salmon I've ever purchased frozen.
Sitka Salmon offers Community Supported Fishery boxes (similar to a CSA for veggies) that are shipped to your house! The fish is provided by family-owned fisheries in Alaska.
If you want to give it a try, use the code PERRYSPLATE and get $25 off your first order! Click over to the Sitka Salmon Shares website and check out all the options they have.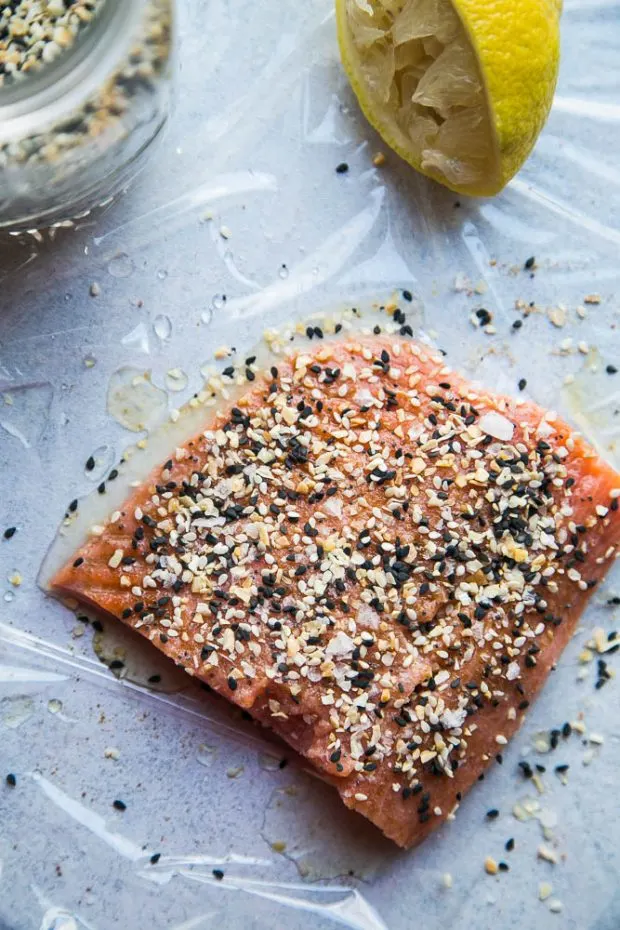 Yes, it's as easy as it looks. I almost don't need to write anything.
Lay a piece of plastic wrap on the counter, sprinkle with salt, sugar, and Everything Bagel Seasoning. Squeeze a bunch of lemon juice on top.
Then wrap it up.
That took about… 5 minutes, tops?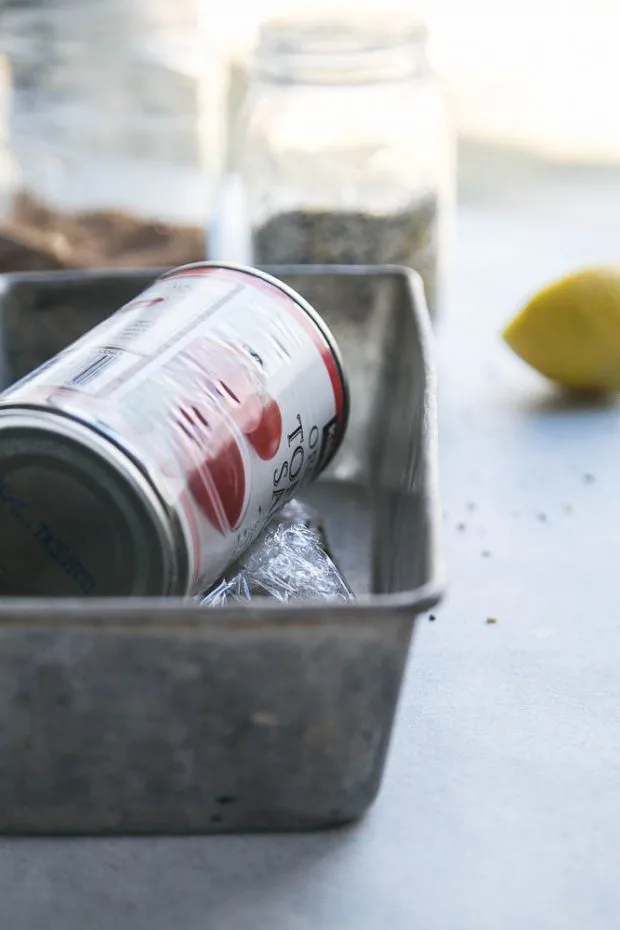 This next part takes longer, but there's zero effort on your part.
Put the wrapped salmon in a small dish or baking pan. I use a bread pan because it's small and fits into the fridge easily.
Put something on top to weigh it down. A can of food will do.
Now wait for 4-5 days.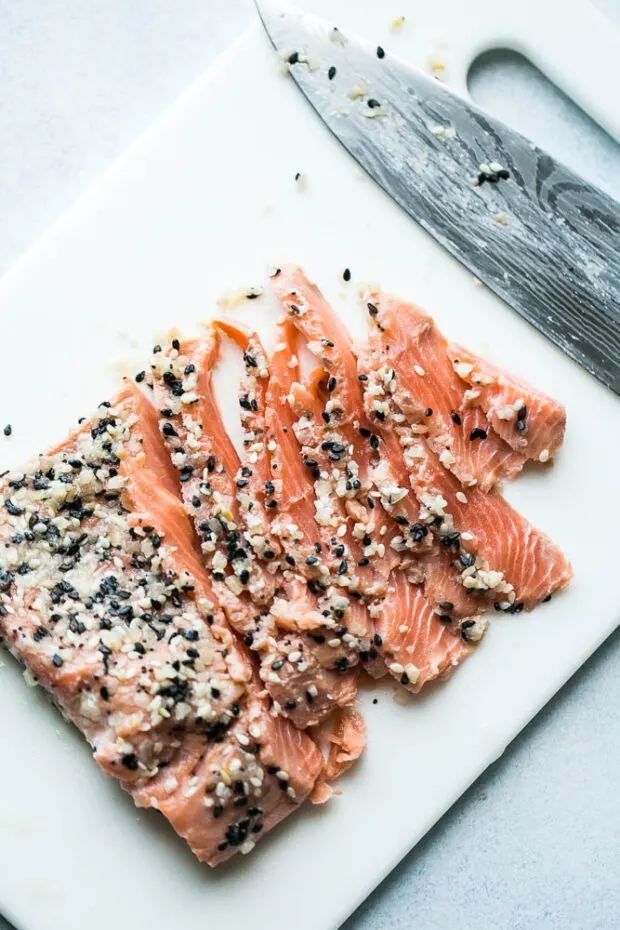 When you pull it out, the salmon will have soaked in all of that seasoning and become "cured".
Slice it really thinly (this is important!) and pop a piece in your mouth. It's goooooood, huh?
Ways to Use Gravlax
Gravlax has more uses than a bagel topping! Here are a few ideas: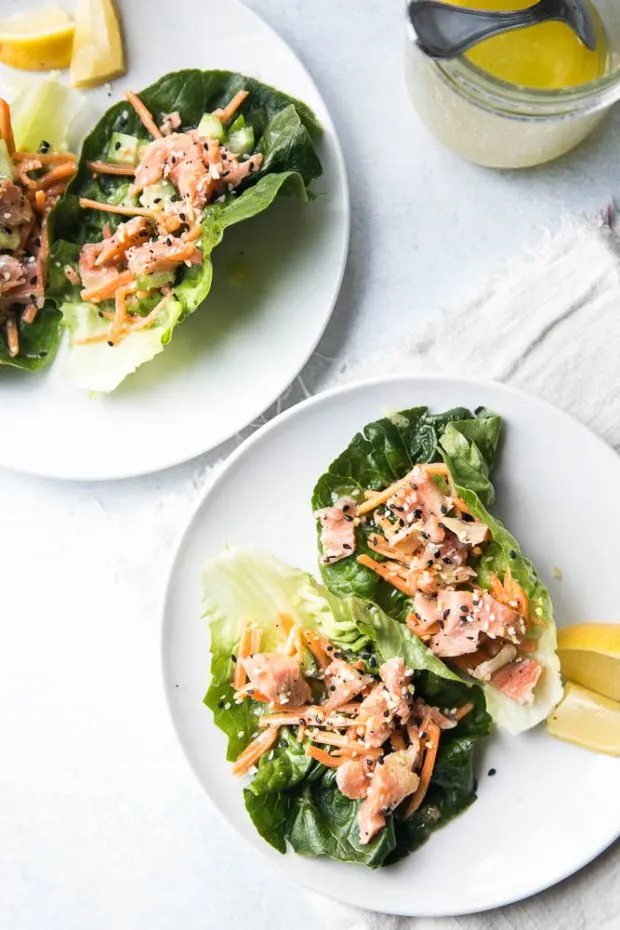 If you make one of my recipes, be sure to post it on social media and tag me at @perrysplate or #perrysplate so I can send you some love!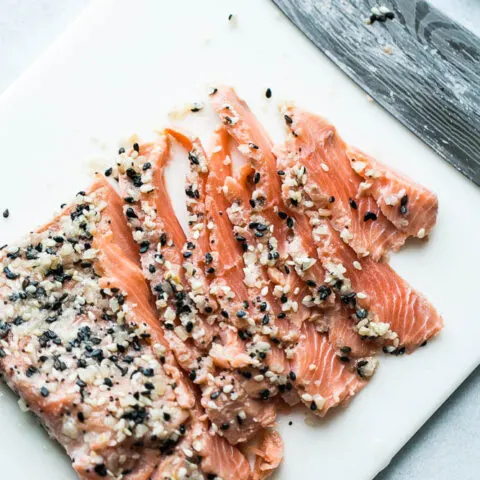 Homemade Everything Bagel Gravlax (Cured Salmon)
Total Time:
4 days
5 minutes
Homemade gravlax is easier than you think! Just a handful of simple ingredients and time is all you need. We love this Everything Bagel Gravlax on lettuce wraps, rice bowls, and avocado toast!
Ingredients
4-6 ounce high quality, wild-caught salmon fillet
1/4 teaspoon pink Himalayan salt or fine sea salt
1/2 teaspoon granulated sweetener (like coconut sugar)
1 lemon
Instructions
Lay a piece of plastic wrap on a work surface -- large enough to wrap the piece of salmon.
Lay the salmon on top of the plastic wrap and sprinkle the salt and sugar on the top of the fillet. Squeeze the juice from 1/2 of the lemon (about 1 Tablespoon). Add 1 teaspoon of the Everything Bagel Seasoning evenly over the salmon as well.
Wrap the salmon tightly in the plastic wrap and place it in a small pan or shallow bowl. A bread pan works well.
Place something heavy on top of the salmon, like a can of tomatoes or coconut milk -- about that size and weight.
Put the pan in the refrigerator for 3-5 days. The salmon should be firmer than it was at the beginning with a deep, salty flavor. The curing time may vary depending on the thickness of your salmon.
Remove and discard plastic wrap and any juices that may have leaked out.
Slice the salmon very thinly. You may want to sprinkle more Everything Bagel Seasoning and lemon juice on top when you serve it.
Store covered and chilled for up to five days.
Notes
Nat's Note:
If your salmon is more than 1/2 inch thick, increase the salt and sugar by 1/4 teaspoon.