These Paleo-friendly meal plans are for six dinner recipes and a dessert thrown in for fun! All of these recipes are paleo friendly, seasonal, and most can be easily adapted to be Keto/Low-Carb or Whole30 friendly.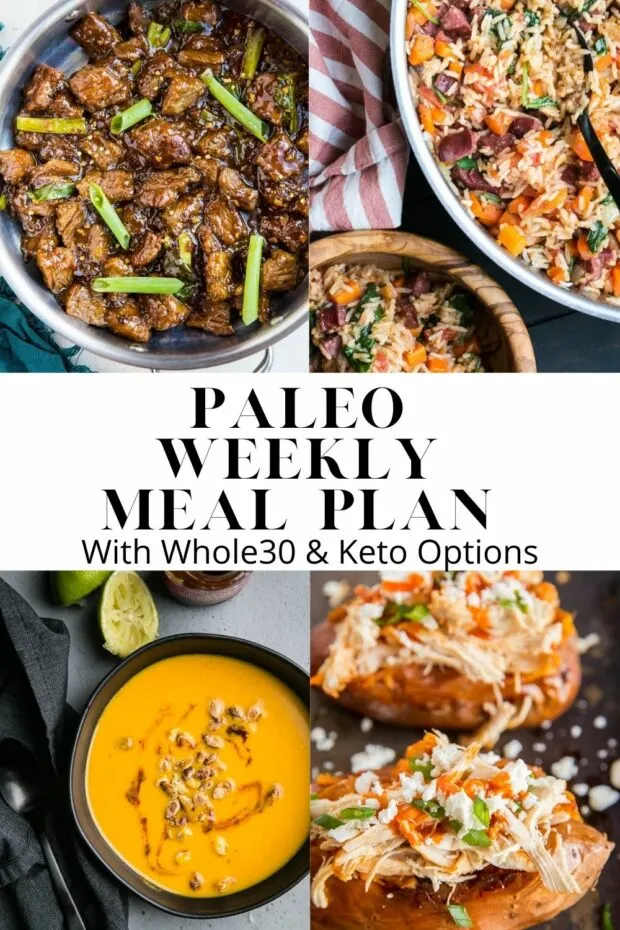 Happy Valentine's Day Weekend!
We're hunkered down with nearly a foot snow on the ground visiting with my parents who braved the weather to visit us. This morning I surprised the kids with a Valentine's Breakfast Board, so they're full of candy and covered in snow.
Lots of bold flavors in this week's meal plan including TWO ways to use buffalo/wing sauce, my current favorite butternut soup, and Julia's delicious muffins!
Enjoy and stay warm!
xoxo
Natalie
---
Sunday
EASY 30-MINUTE PALEO MONGOLIAN BEEF — This healthy Mongolian Beef recipe includes tender yet crispy chunks of flank steak in a sweet and tangy sauce that will knock your socks off!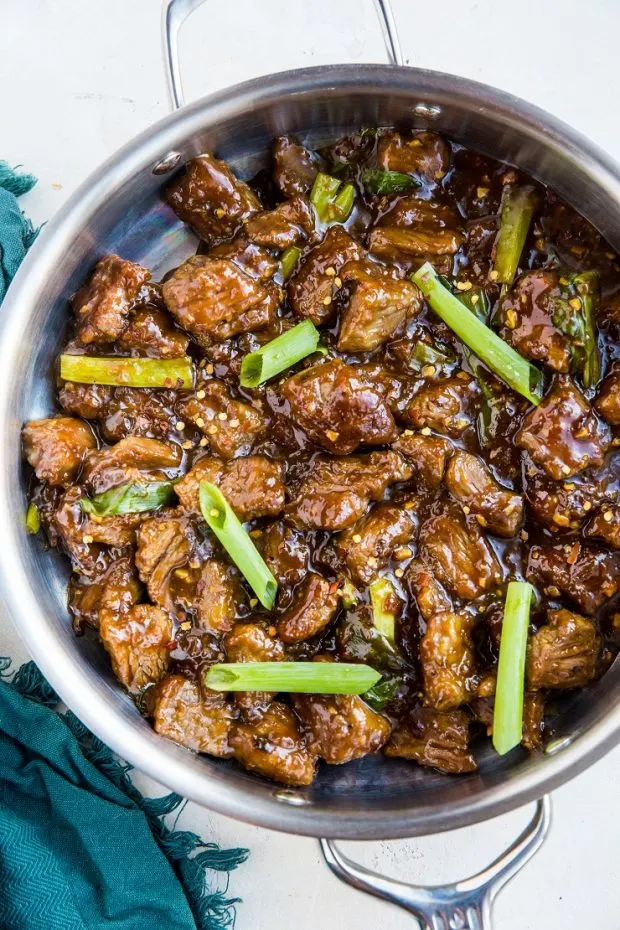 Special Diet Note: Recipe is paleo and whole30.
Prep Ahead: No advance prep is necessary! This recipe comes together in 30 to 40 minutes.
Substitutions: Use liquid aminos instead of coconut aminos to make low-carb
Monday
CHIPOTLE-LIME SQUASH SOUP – Just a handful of ingredients are in this creamy, paleo-friendly soup — including a punch of chipotle!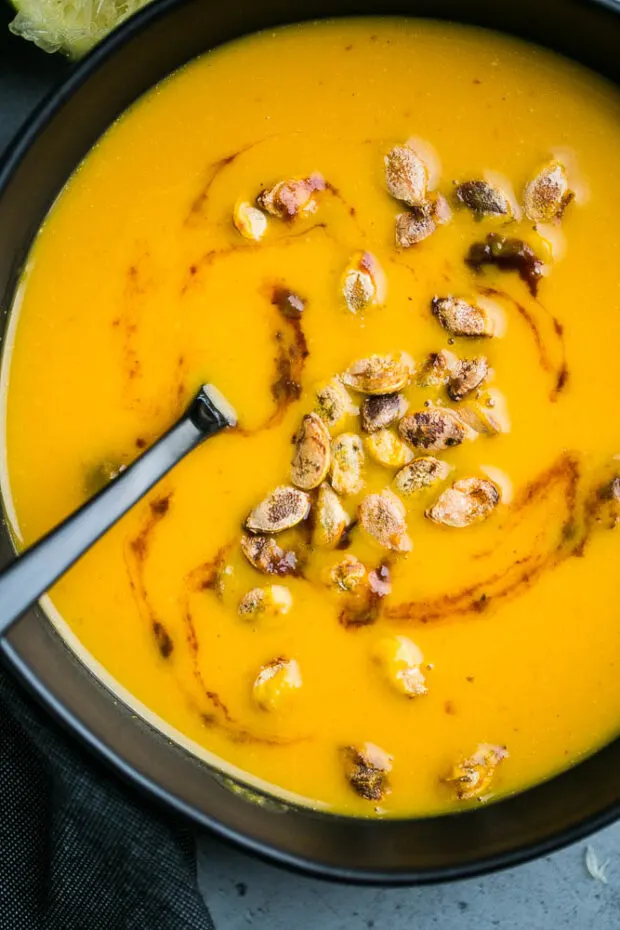 Special Diet Note: Recipe is paleo and Whole30 friendly (watch the ingredients in the chipotle peppers).
Prep Ahead: If using a whole squash, you can roast it ahead of time.
Substitutions: Use kabocha squash in place of butternut if you like.
Tuesday
BUFFALO CHICKEN STUFFED SWEET POTATOES – Lucky for us, the shredded buffalo chicken in this recipe is so simple, requiring only a few basic ingredients. It can be done any ol' night of the week quickly and easily!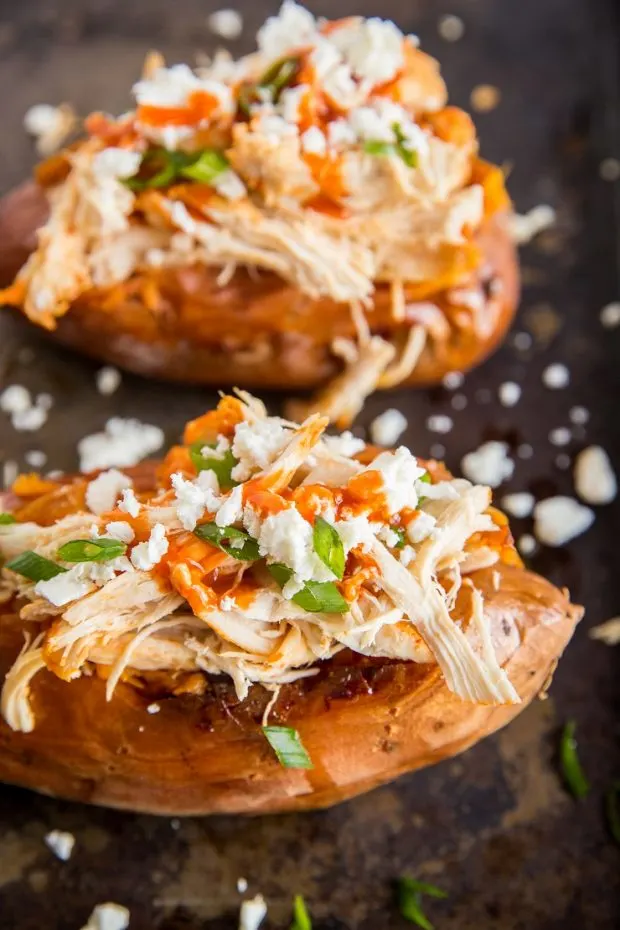 Special Diet Note: Recipe is primal and can be made paleo by omitting the feta cheese.
Prep Ahead: Roast the sweet potatoes up to 4 days in advance.
Substitutions: Use rotisserie chicken for a quick and easy meal!
Wednesday
EASY CAJUN SAUSAGE & RICE SKILLET — This easy sausage & rice skillet is one of my favorite ONE PAN meals. And bonus — it's done in about 30 minutes!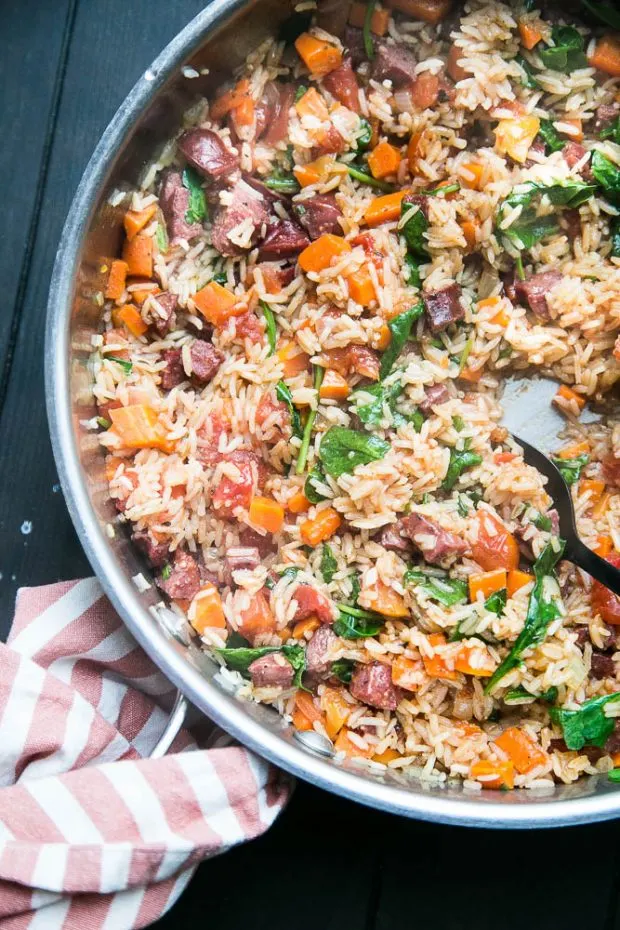 Special Diet Note: Recipe is gluten & dairy free. If you don't do rice, there's an adaptation in the recipe notes.
Prep Ahead: No advance prep needed!
Substitutions: Swap out the rice for cauli rice to make it keto/low-carb & grain-free.
Thursday
PALEO CHICKEN ADOBO — Quick and easy Paleo Chicken Adobo recipe made soy-free and refined sugar-free. This sweet and tangy Filipino-inspired chicken recipe is amazingly flavorful and results in tender, delicious chicken!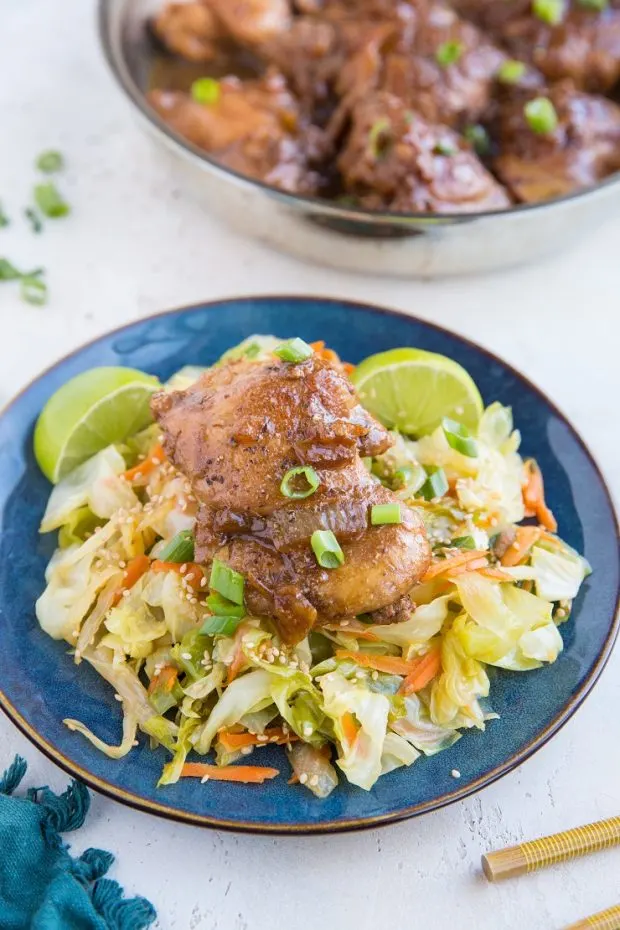 Special Diet Note: Recipe is paleo and whole30.
Prep Ahead: Chicken can be marinated up to 24 hours in advance.
Substitutions: Replace the coconut aminos for liquid aminos if desired. This will also make the recipe keto.
Friday
HOT & SWEET ORANGE PULLED PORK — This sweet and (slightly) spicy meat is a fun twist on pulled pork! It's great in tacos, wraps, on baked potatoes, or any way you'd eat BBQ pulled pork.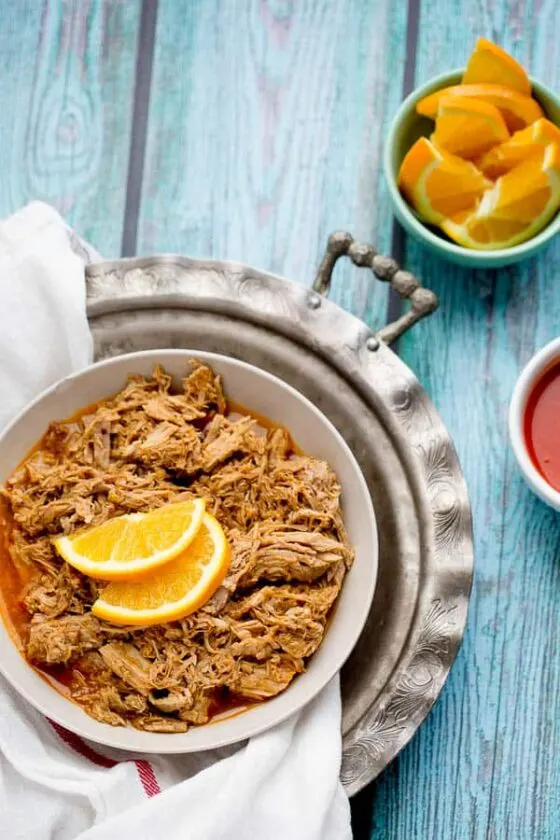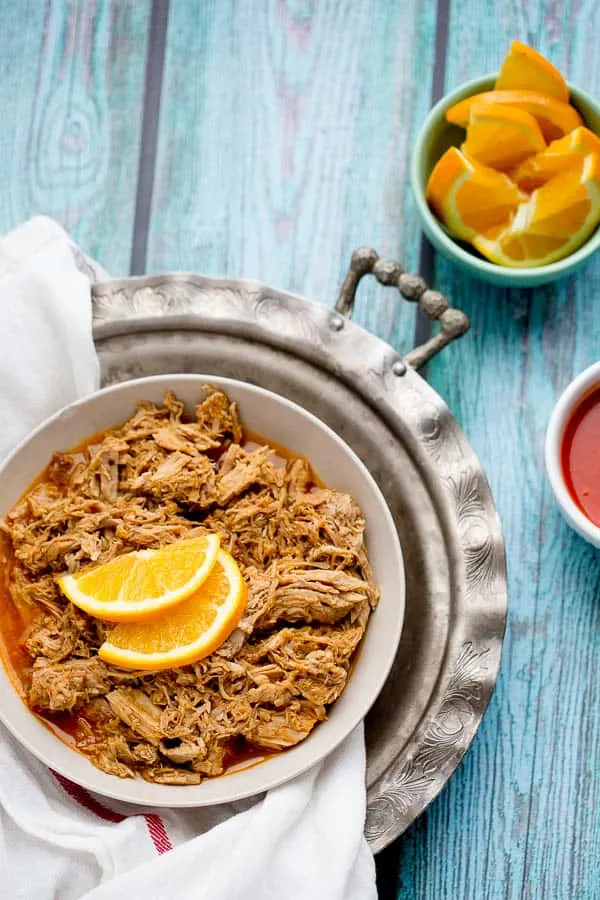 Special Diet Note: Recipe is paleo and Whole30 friendly.
Prep Ahead: This can be cooked up to 4-5 days in advance and reheated when necessary. Recipe includes both slow cooker and Instant Pot instructions.
Substitutions: You can use the buffalo sauce you used in Tuesday's meal in place of Frank's Original. Recipe is Whole30 friendly using dates, but if you aren't doing a round, feel free to use honey or another type of sweetener instead. Serve pulled pork over salad greens, rice, or alongside some roasted vegetables.
Dessert
KETO CHOCOLATE CHIP COOKIE MUFFINS — These little treats are the best of both worlds. Crispy top, soft buttery interior, so much chocolate goodness in each bite!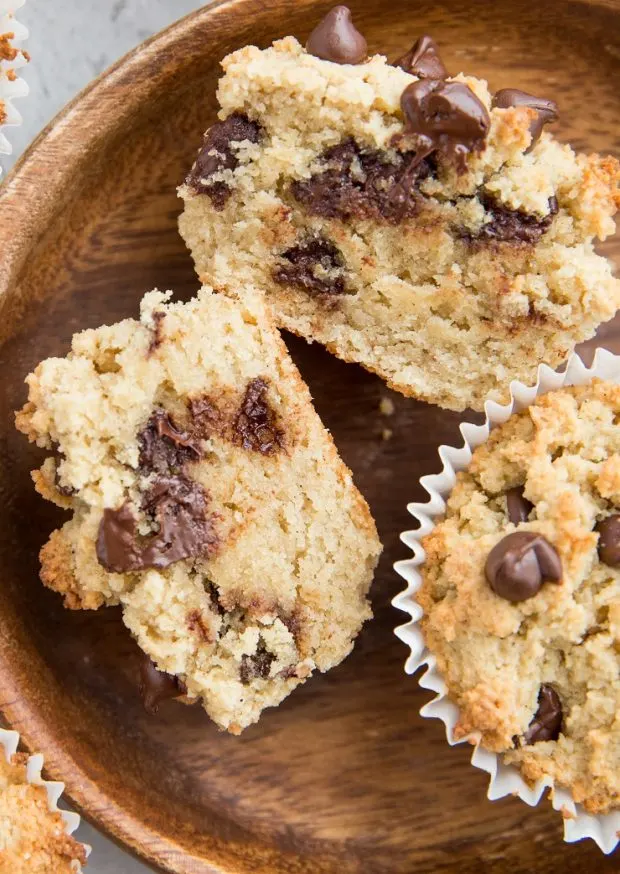 Special Diet Note: Recipe is paleo.
Prep Ahead: No need to prep ahead!
Substitutions: Swap out the honey for maple or use another type of nut you prefer.
Grocery List
Click HERE to download a handy printable grocery list!