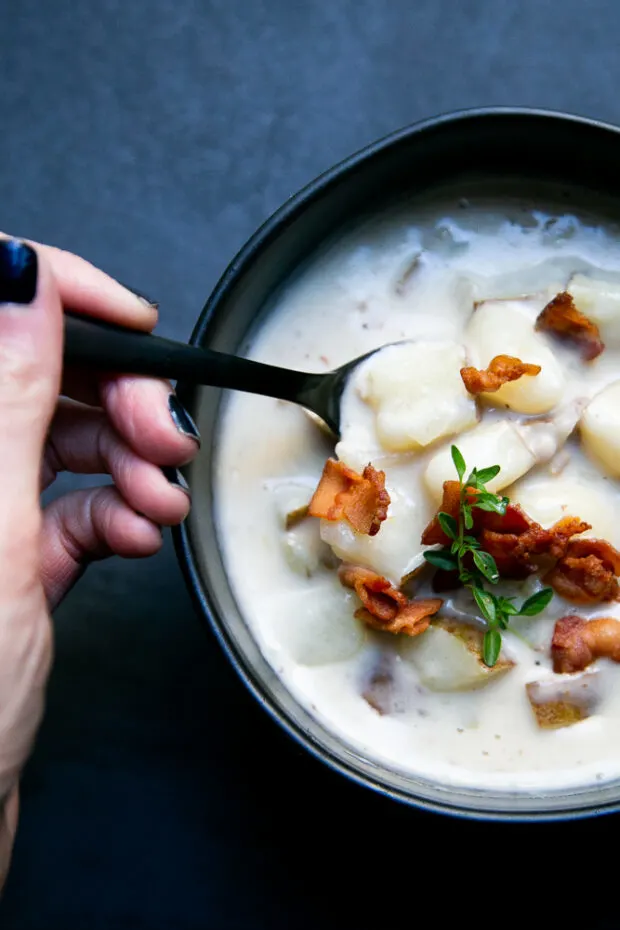 Up until a few years ago I thought making clam chowder would be a pain. I never ate it unless I was in a restaurant. (Mmm. Chowder on both coasts is pretty fabulous.)
When I watched my grandma make it I realized how easy it was to make homemade clam chowder.
I like my grandma's clam chowder because it isn't too…. clammy? Fishy? I know that's the whole point of clam chowder, but I like a hint of clam and not a punch in the face.
I used her recipe as a jumping off point to make a gluten-free version that's easily made dairy-free!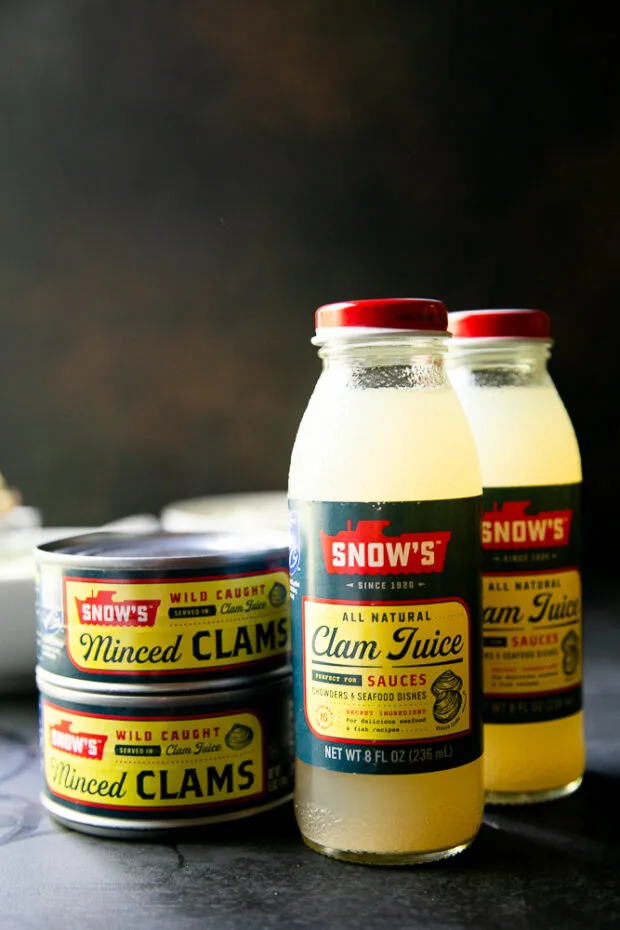 Clam chowder is basically a creamy potato soup with some clams and clam juice.
Where can you buy clams and clam juice?
Guess what? You can get clams and clam juice at just about any grocery store! You can find them near the tuna and other canned fish/meat.
What type of clams should I use?
Most stores carry minced clams and chopped clams. I prefer the minced clams because I'm not fond of the chewiness of clams.
Does that make me a clam chowder poser? I hope not.
Answer? You can use whichever one you want — either minced or chopped.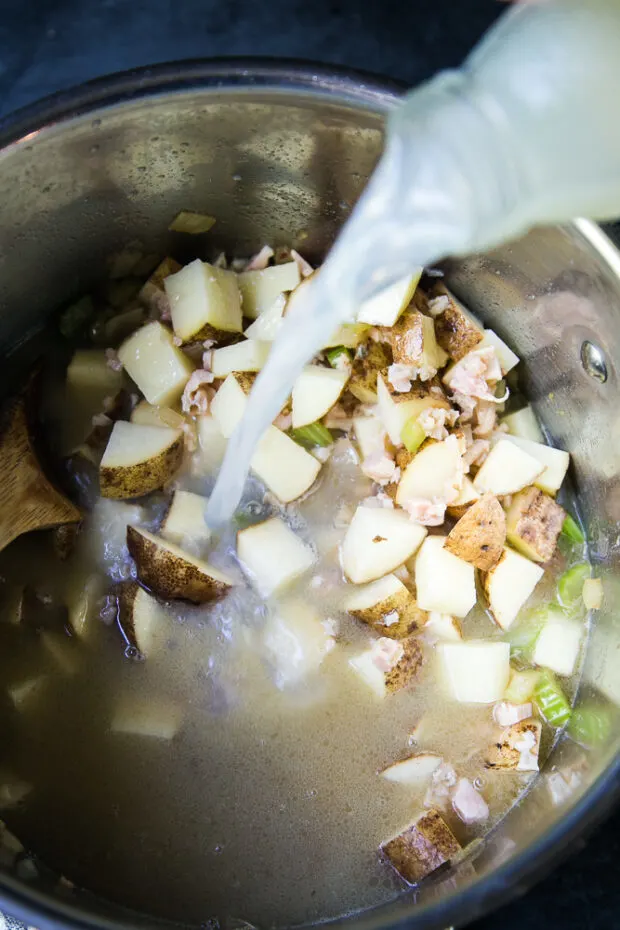 There are a lot of ways to make clam chowder! I included instructions for stove top, slow cooker, and Instant Pot in the recipe.
Can I use something other than potatoes in clam chowder?
Sure! If you're avoiding nightshades or just want something other than white potatoes use small cauliflower florets or chopped turnips for a similar flavor.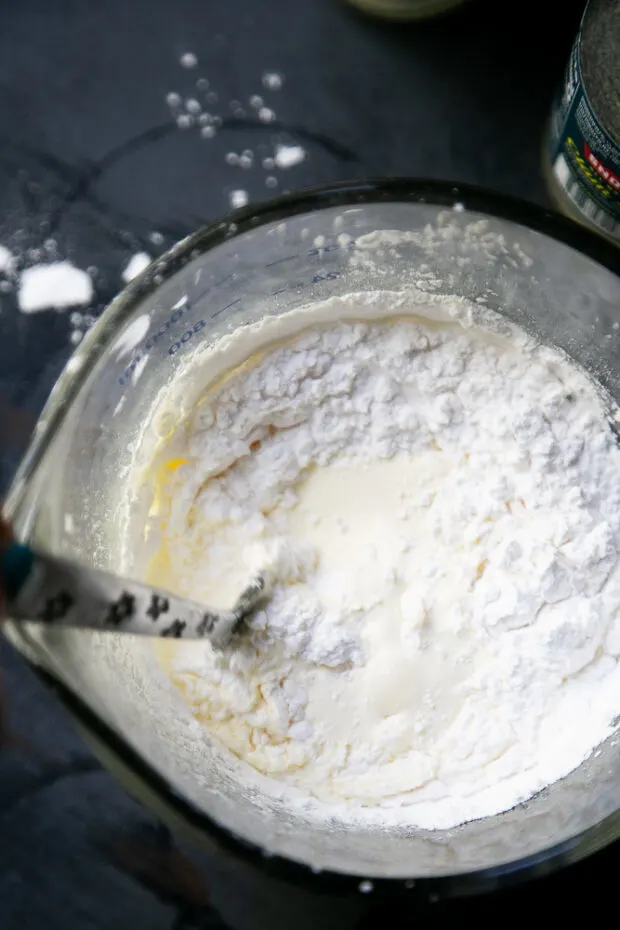 Can I use something other than tapioca flour?
This recipe is gluten-free as written, using tapioca flour as the thickener. You can also use cornstarch or arrowroot four in equal amounts.
Can I make this clam chowder dairy-free?
Yep! I use coconut cream (from a can of chilled coconut milk) to create a creamy texture. The dairy-free instructions are located in the recipe notes.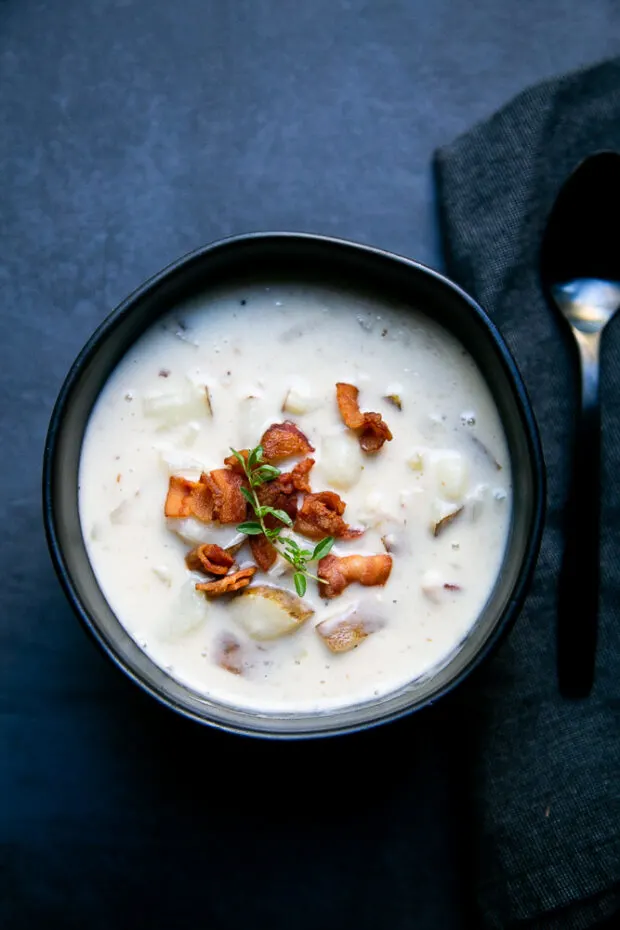 I love cream soups so much. I just want to dive head-first into that bowl.
I topped mine with bacon, but that's totally optional. (It hurts saying that last part. Bacon should never be optional.)
If you like this recipe, try my Buffalo Ranch Chicken Soup! It is thick and hearty like a chowder and one of my favorite recipes from my Instant Pot cookbook!
---
If you make one of my recipes, be sure to post it on social media and tag me at @perrysplate or #perrysplate so I can send you some love!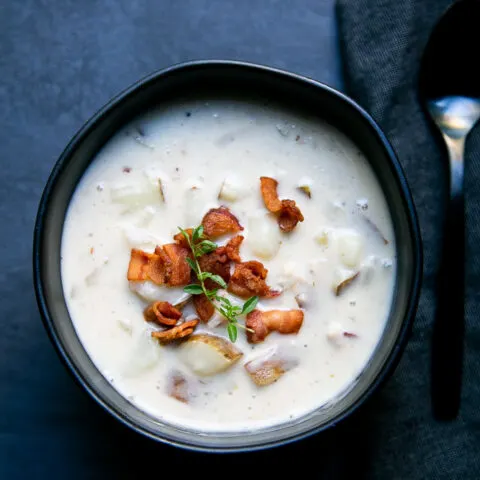 Clam Chowder with Bacon (Gluten-Free & Dairy-Free)
This clam chowder recipe is based on my Southern grandma's recipe. I made a few tweaks to make it gluten-free and even dairy-free, if you like! Bacon wasn't originally part of her recipe, but I think she'd approve. I also included instructions for stove top, Instant Pot & slow cooker.
Ingredients
1 10-12 oz package of uncured bacon
1 1/2 cup small diced onion
1 1/2 cup small diced celery
2 pounds white potatoes, cut into 1/2-1 in pieces
2 6.5-oz cans chopped or minced claims, undrained
16 ounces clam juice
2 cups chicken or vegetable stock
2 teaspoons sea salt
1/2 teaspoon black pepper
1 sprig fresh thyme or 1/8 teaspoon dried thyme
1 1/4 cups of heavy cream (see note)
1/3 cup tapioca flour
Instructions
Cut the bacon into 1/2-inch strips and cook them in a big soup pot over medium-high heat, stirring often, until they're as crisp as you like. Reduce the heat if the bacon begins to scorch or smoke.
Using a slotted spoon, transfer the bacon to a paper towel lined bowl to drain. Leave the bacon drippings in the pot.
Bring the pot with the bacon drippings back up to medium-high heat and add the onions and celery. Cook for about 5 minutes or until the onion looks translucent, stirring and scraping the browned bits from the bottom of the pot.
Add the potatoes, clams, clam juice, broth, salt, pepper, and thyme. Bring to a boil, then reduce the heat and simmer on medium low for 15-20 minutes until the potatoes are fork-tender.
Meanwhile, in a large glass measuring cup, whisk the tapioca flour into the heavy cream.
Remove the chowder from the heat and wait until it stops bubbling. Slowly pour in the cream mixture while stirring. The chowder should thicken up pretty quickly. If it doesn't, put it back over the heat for a few minutes until it starts to bubble. Stir often because it scorches easily.
Taste, and add a little salt if you think it needs it.
Ladle into bowls and sprinkle with some crispy bacon to serve.
FOR INSTANT POT: Follow the first 4 instructions, using the saute mode. After adding the ingredients in step 4, seal your Instant Pot and cook at high pressure for 7 minutes. Let it naturally release steam for 10 min, then pull the steam release to let the rest of the steam out. When it stops bubbling, continue with steps 5 and 6.
FOR SLOW COOKER: Saute bacon in a skillet and set aside. Add the onions and celery and ingredients from step 4 into your 4 or 6 quart slow cooker with 3-4 tablespoons of the bacon drippings. Cover and cook on low for 5-6 hours until the potatoes are tender. While the soup is hot, stir in the cream as it describes in step 6. If it doesn't thicken right away, turn the cooker to high heat and let it cook for another 15 minutes.
Notes
Nat's Note:
To make this dairy free, omit the heavy cream and replace it with a refrigerated can of coconut milk. (A regular 13.5 oz can.) In step 5, remove the pot from the heat, then open the chilled can of coconut milk and carefully scrape out the hardened coconut cream. Add the cream to the pot and pour the remaining liquid into a large measuring cup to whisk in the tapioca flour. Add a 1/4-1/2 cup of broth or water if you need more liquid to incorporate the flour. Stir it into the pot (make sure it's not bubbling or you'll end up with chewy bits of tapioca all over your soup).
Recommended Products
As an Amazon Associate and member of other affiliate programs, I earn from qualifying purchases.