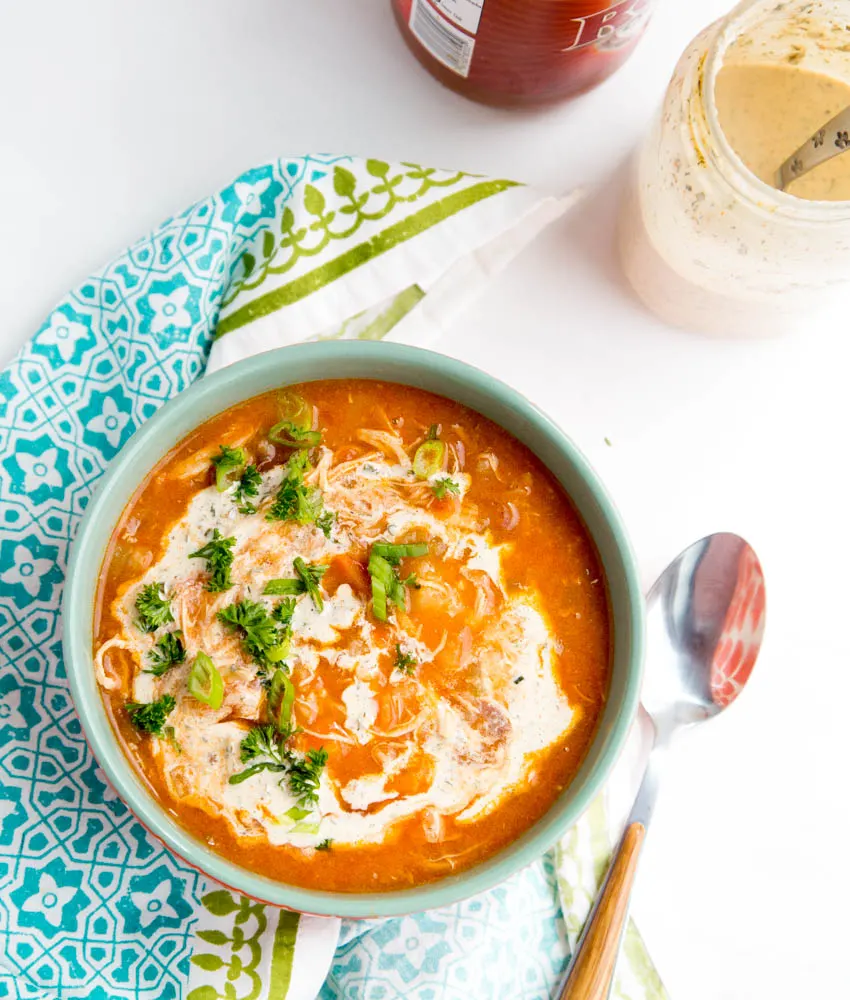 If you have a copy of my 2nd cookbook, The Big Book of Paleo Pressure Cooking, this Buffalo Ranch Chicken Soup might look familiar to you.
It's by far one of the most popular recipes from that cookbook — which, by the way, turned 2 last month! So many of you had made this and tagged me on social media. I love how much you love it!
It's also my bestie's and my husband's favorite soup from the book.
You should trust them. They ate a lot of stuff while I was recipe testing.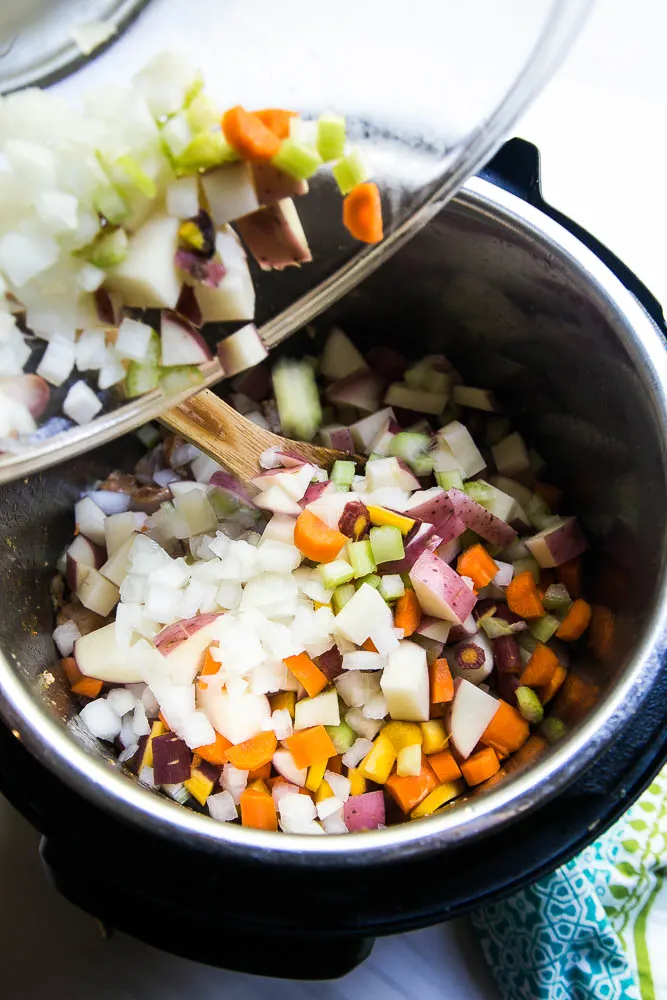 Since this one was such a winner, I wanted to give it a home here on my site.
I wish I could post everything in my book on here, but I think my publisher would give me the stink eye.
This recipe is so easy to throw together in your Instant Pot.
You have an Instant Pot, right? If not you should rectify that immediately.
Why having two Instant Pots is the best idea ever
I have two 6qt Instant Pots (Um, recipe testing, so it's justified, right?)
I have never regretted this.
Especially on nights when I make Instant Pot Pot Roast and Instant Pot Mashed Potatoes at the same time.
Or put some Instant Pot Black Beans in at the same time as Instant Pot Cilantro Lime Rice or Instant Pot Chipotle Salsa Chicken. It's really the best idea. Truly.
I just bought an 8qt because I saw a screaming good deal during Black Friday. So now I have THREE.
I can make even BIGGER pots of soup and bone broth. My family is soup obsessed and leftover (if there happens to be some) don't last long around here.
Back to this Buffalo Chicken Soup.
I feel like I was late on the buffalo train. Everything has been buffalo-ified.
I tiptoed in with my Buffalo Ranch Spaghetti Squash Bake and fell hard, friends.
Especially since Frank's Hot Sauce is Whole30 friendly!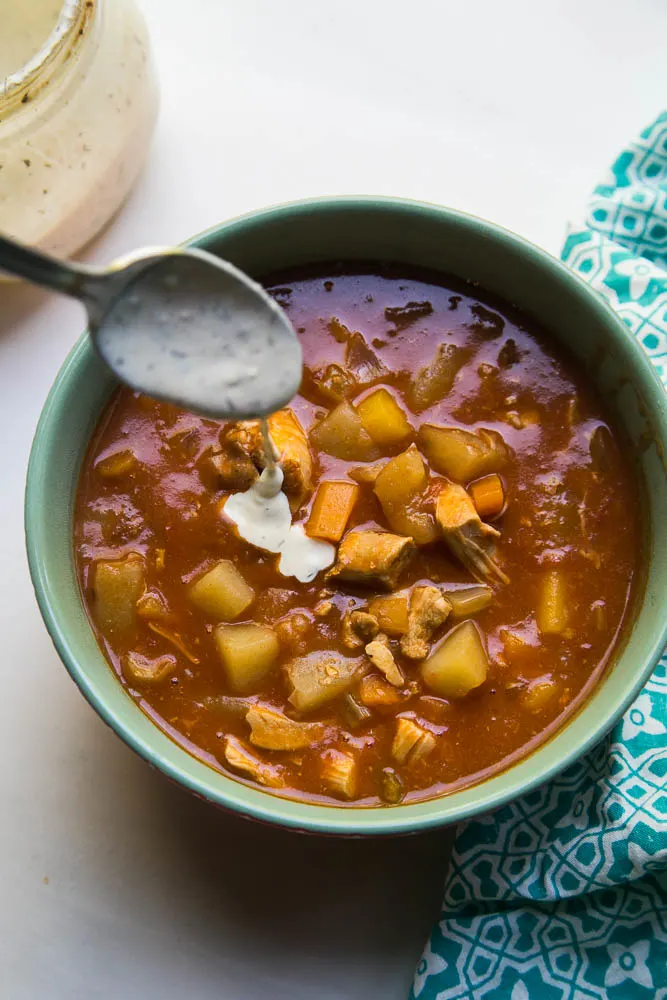 And anything that gives me the green light to drizzle ranch into gets my vote. Always.
More Uses for my Chorizo Seasoning Blend
Another note — This recipe uses my beloved Chorizo Seasoning Blend. It's a knock-off of the spice blend Chipotle uses in their pork-chicken chorizo. Turns out it's super versatile and great in so many things — a nice alternative to taco seasoning.
It's easy to put together, but you might want to do that part ahead of time to save you an extra few minutes.
If you make extra Chorizo Seasoning, you can use it in these other recipes….
Copycat Chipotle Chorizo Bowls were the original use for that blend and it makes a great meal prep protein!
It's also the secret to The Best Chicken Fajitas! Seriously the best marinade you'll ever make.
Or try it in another chicken soup recipe! This Instant Pot Chicken Tomatillo Soup is SUPER tasty and a family favorite.
---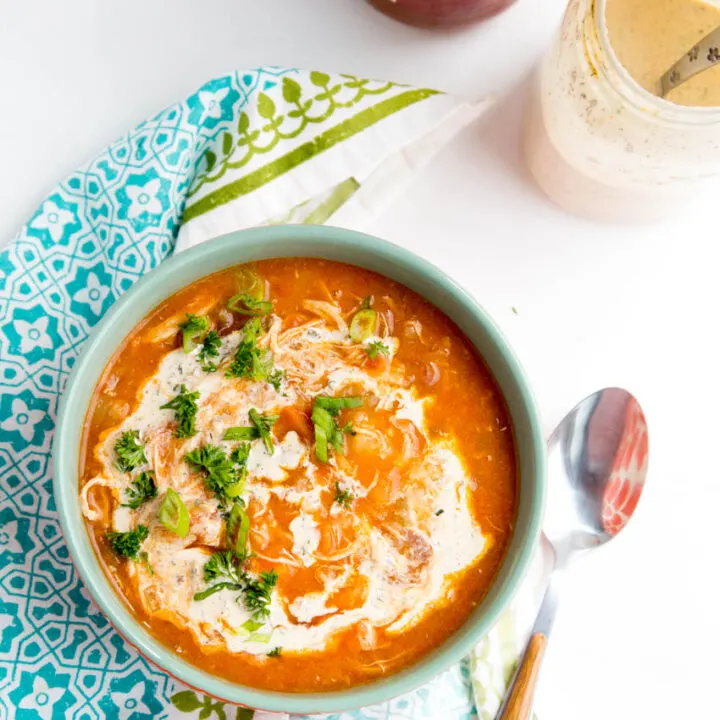 Instant Pot Buffalo Ranch Chicken Soup
Using ranch dressing as a drizzle for a soup might seem odd, but it's the perfect finishing touch to this spicy, buffalo-style soup. If you're feeding little ones who might be turned off to the heat, reduce the amount of hot sauce by half.
Ingredients
1 - 1/2 pounds chicken breast or thighs, cut into 1-inch pieces
3 Tablespoons butter, ghee, or avocado oil
1 15 oz can crushed tomatoes
1 cup diced onion
2 medium carrots, peeled and diced
2 celery stalks, diced
1 pound potatoes (red or sweet), cut into 1/2-inch pieces
1 Tablespoon minced garlic
1/2 cup cayenne pepper hot sauce, like Frank's
1 1/2 cups chicken broth
1 13 ounce can coconut milk
3 Tablespoons tapioca flour
Paleo-Friendly Ranch Dressing and chopped fresh parsley, for serving
Instructions
Place the chicken on a large plate and sprinkle with the Chorizo Seasoning.
Turn the cooker to the high Saute setting. Add the ghee to the pot, and when it has preheated, sear the chicken pieces on each side until golden brown.
Add the tomatoes, onion, carrots, celery, potatoes, garlic, cayenne pepper sauce, and chicken broth the pot.
Close the lid and the steam vent and set the cooker for high pressure for 10 minutes. Let the cooker release steam naturally for 10 minutes, then manually release the rest of the pressure.
Whisk the coconut milk with the tapioca flour, and stir the mixture into the chowder. Turn the cooker to medium Saute and cook until bubbly and thickened. Turn off the cooker.
Serve the chowder with a drizzle of Paleo-Friendly Ranch Dressing and a sprinkle of fresh parsley.
Notes
FOR SLOW COOKER: You may choose to sear the chicken on the stovetop or simply add it to the slow cooker along with all of the ingredients except for the coconut milk and garnishes. Whisk the tapioca flour into the broth or the hot sauce before adding it to the cooker. Cook on low for about 6 hours. Stir in the coconut milk at the end. Serve with garnishes.
FOR STOVETOP: Follow saute directions in the recipe using a big soup pot. After adding the tomatoes, etc, bring the mixture to a boil, then reduce heat to medium-low and simmer for about 20-25 minutes or until chicken is tender. Turn the heat off of the pot and let it cool to the point where it's not simmering anymore. Whisk together the coconut milk and tapioca flour and slowly stir it in. Turn the heat back to medium heat and let it bubble for a minute or two to thicken. Serve with garnishes.
Recommended Products
As an Amazon Associate and member of other affiliate programs, I earn from qualifying purchases.