These Paleo-friendly meal plans are for six dinner recipes and a dessert thrown in for fun! All of these recipes are paleo friendly, seasonal, and most can be easily adapted to be Keto/Low-Carb or Whole30 friendly.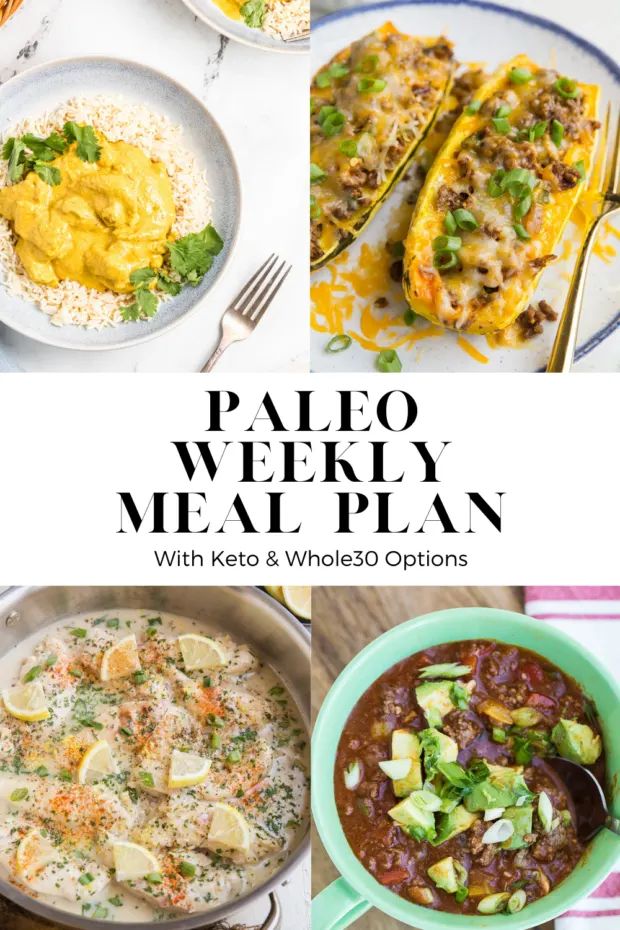 Hey friends!
Hello, October! The best month, right?
This month's Paleo Meal Plan is filled with seasonal produce (hello, squash!), cozy soups, and a fun grain-free dessert.
Enjoy all the coziness of the month!
Natalie
---
Sunday
30-MINUTE CREAMY LEMON GARLIC CHICKEN — Easy, quick 30-Minute Creamy Lemon Garlic Chicken is a miracle meal! Loaded with creamy, zesty garlicky flavor, you'll never look at bland chicken breast the same way!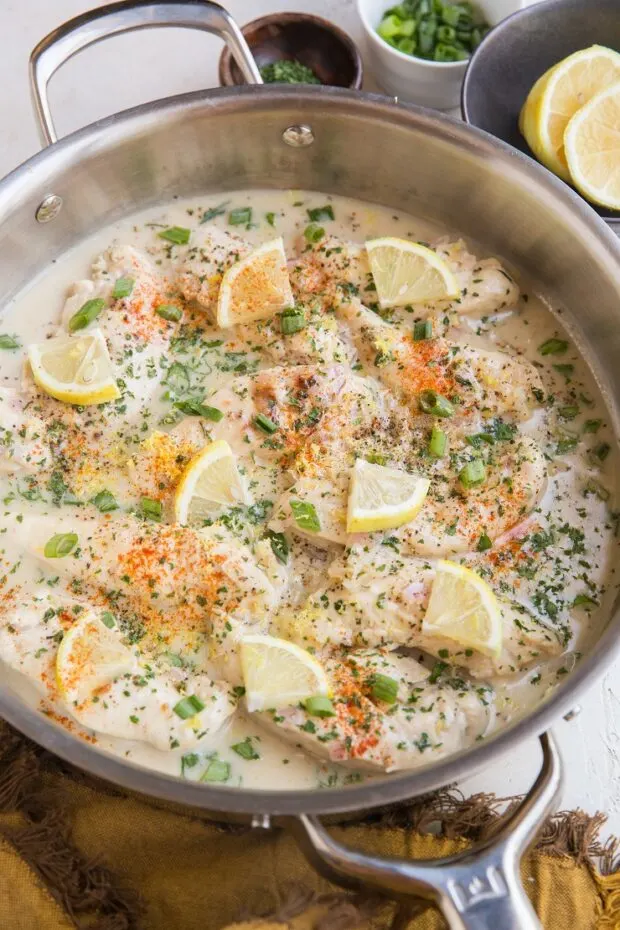 Special Diet Note: RRecipe is dairy-free, paleo, keto, and whole30.
Prep Ahead: This dish comes together very quickly! No advance prep is needed.
Substitutions: Serve with your favorite side dishes. Steamed brown rice and sauteed veggies are great!
Monday
SMOKY BBQ BEEF CHILI — This chili falls into the category of "Best Chili I Can Make in an Hour". It's fully of smoky spices in a rich sauce spiked with some BBQ sauce. The leftovers are delicious heated up over baked potatoes, too!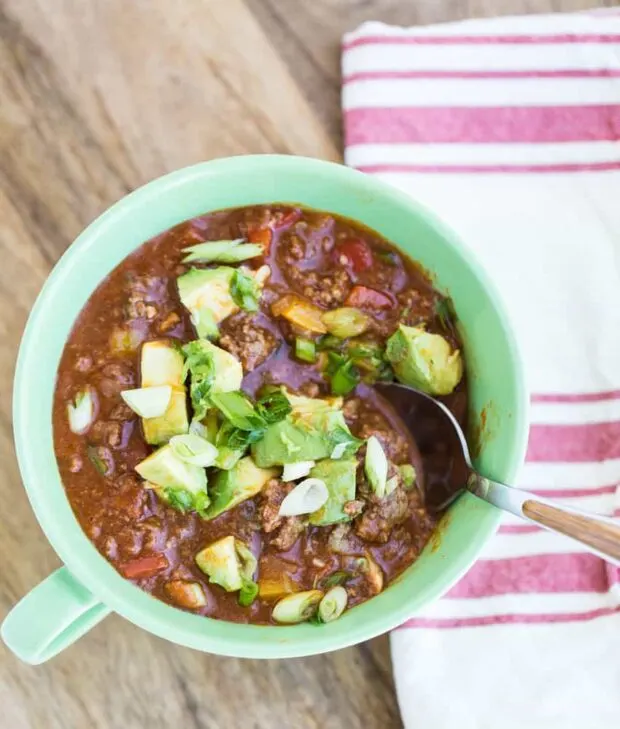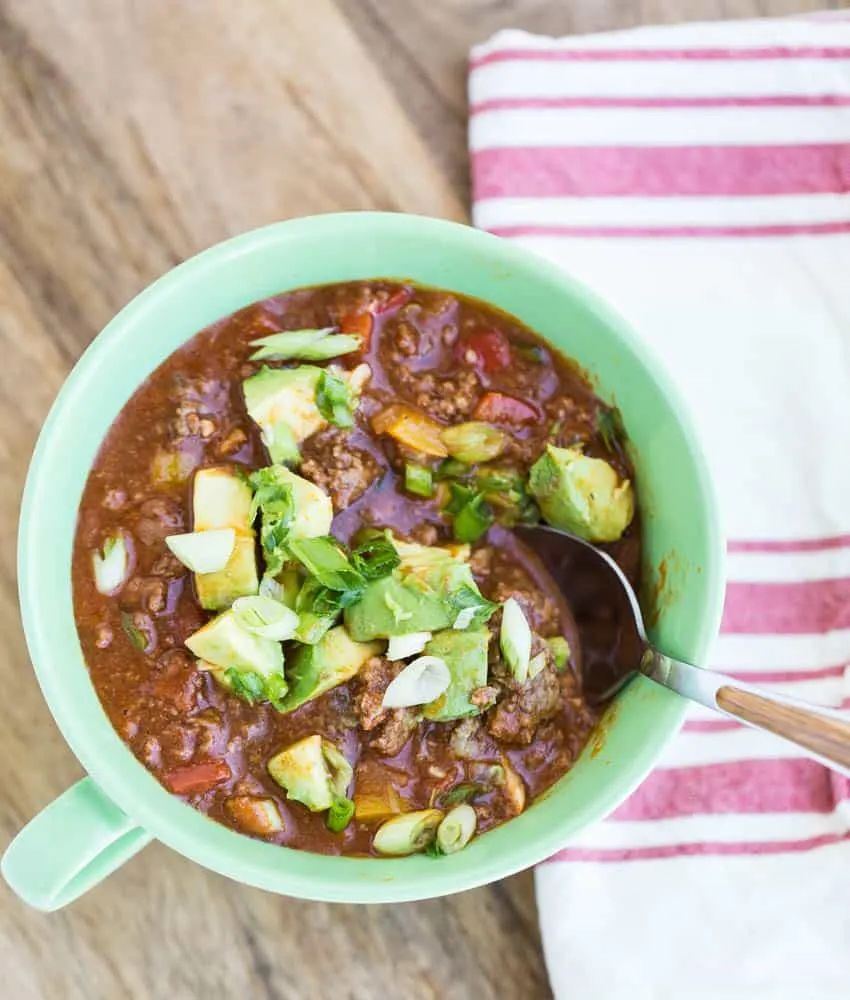 Special Diet Note: To make this recipe paleo, swap out the beans for another pound of ground beef. You can also use coconut aminos instead of Worcestershire and find a low-sugar BBQ sauce like Primal Kitchen.
Prep Ahead: No need to prep ahead! Although this chili (like most chili) gets better after chilling for a day or two.
Substitutions: I like to top my chili with avocados and sliced green onions. Use whatever toppings you prefer.l free to toss in your favorite vegetables.
Tuesday
ROASTED GARLIC KALE SPAGHETTI SQUASH WITH SUN-DRIED TOMATOES — Spaghetti Squash with roasted garlic, kale, sun-dried tomatoes and walnuts makes for a comforting, low-carb meal requiring only 5 main ingredients! Plus the recipe is simple to prepare!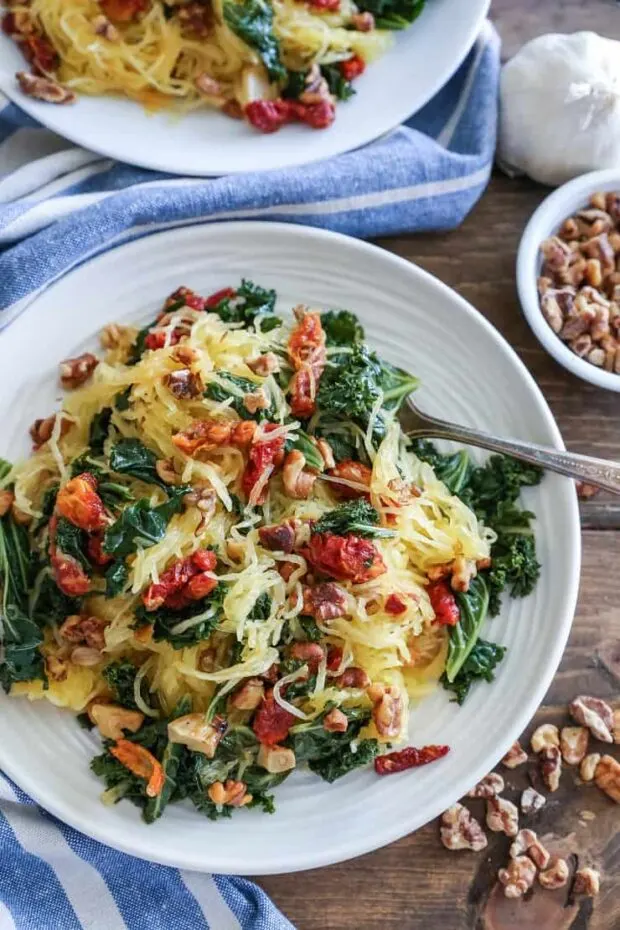 Special Diet Note: Recipe is vegan, paleo, whole30 and low-carb. Add your favorite protein such as leftover or rotisserie chicken or baked salmon for a more substantial meal!
Prep Ahead: The spaghetti squash can be roasted up to 5 days ahead of time.
Substitutions: Add kalamata olives, capers, artichoke hearts, and/or feta cheese if you'd like! Add protein of choice.
Wednesday
MANGO CHICKEN CURRY — If you have someone who is new to Indian cuisine, this Indian-inspired recipe is a great one to start with. Feel free to use frozen mangoes, if you like.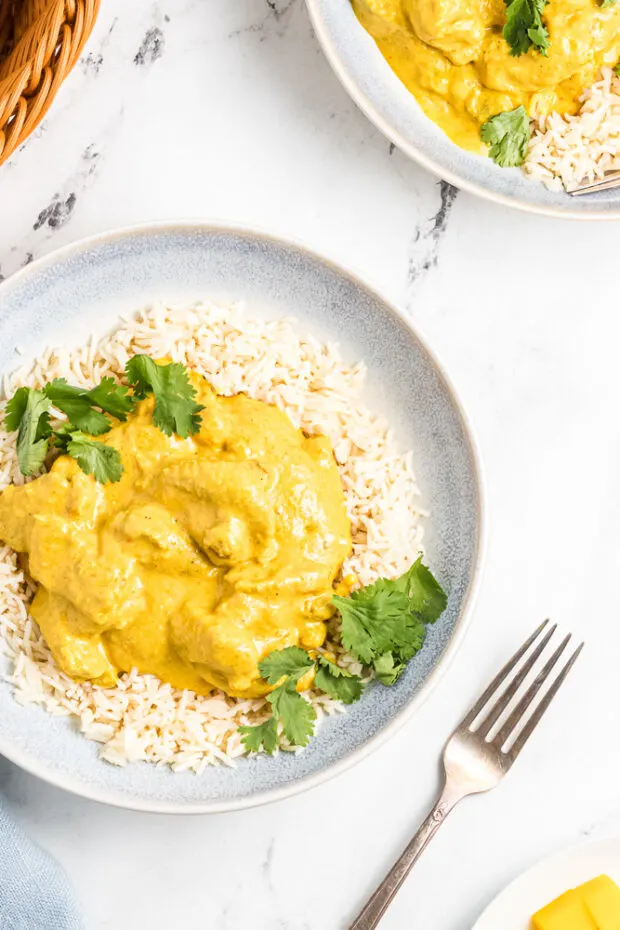 Special Diet Note: Recipe is paleo & Whole30 friendly (if you serve it with cauli rice)
Prep Ahead: No prep ahead needed. Although you could make the blended sauce 1-2 days ahead of time.
Substitutions: Serve with jasmine rice, cauliflower rice, or roasted vegetables.
Thursday
TACO-STUFFED DELICATA SQUASH — Taco Stuffed Delicata Squash with chili-spiced ground beef, onion and cheese is the ultimate healthy comforting meal!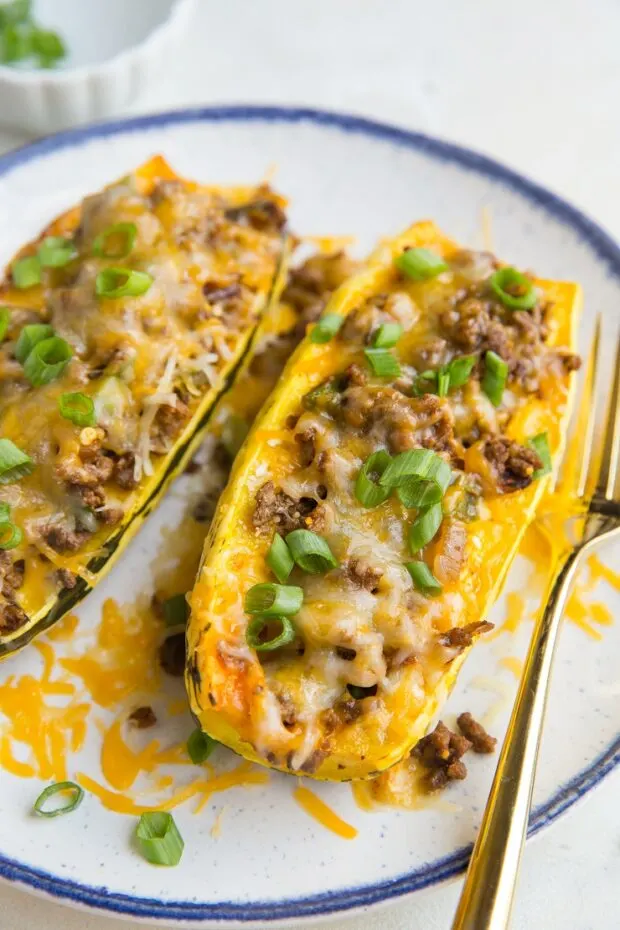 Special Diet Note: Recipe is low-carb and keto-friendly. Make it paleo by using a raw milk cheddar or skipping the cheese.
Prep Ahead: The delicata squash can be roasted up to 4 days in advance, and the meat can be cooked up to 3 days ahead of time.
Substitutions: Use your favorite cheese in place of cheddar or skip the cheese to make it dairy-free.
Friday
AZTECA SQUASH SOUP WITH CHORIZO — I love roasting the seeds from the butternut squash to use as a crunchy topping for the soup! This soup is also easily made meatless by omitting the chorizo.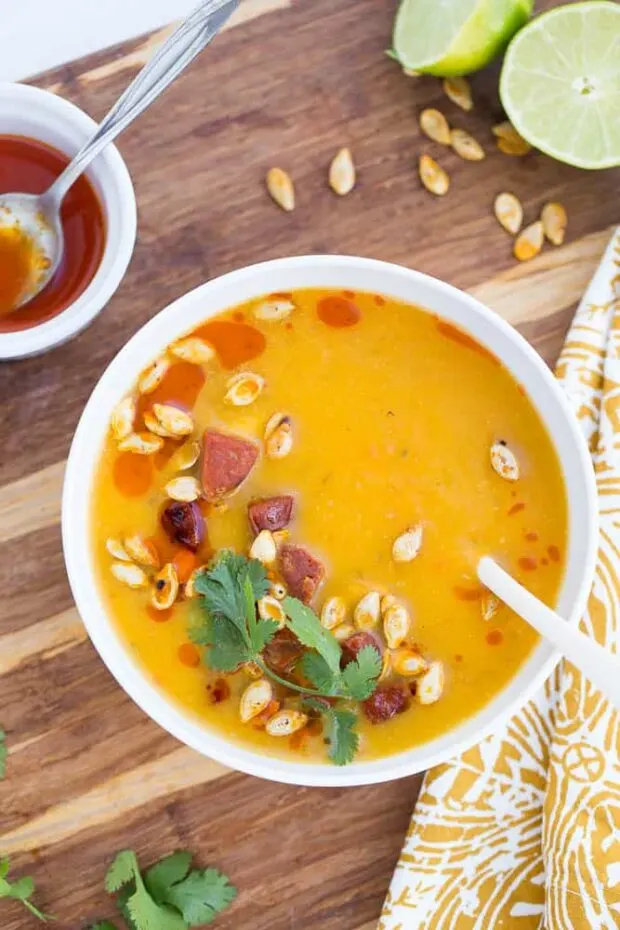 Special Diet Note: Recipe is Paleo. Use Aidell's Chicken-Apple Sausage or another compliant sausage to make this Whole30 friendly.
Prep Ahead: You can roast the squash ahead of time or buy pre-cut squash and roast the cubes.
Substitutions: You can use kabocha or a couple of acorn squashes for this soup, too.
Dessert
GIANT PALEO CHOCOLATE CHIP COOKIES — These Giant Paleo Chocolate Chip Cookies are incredibly chewy with the perfect crisp around the edges and are made with only 7 basic ingredients. This low-fuss cookie recipe tastes just like the real deal, yet it is grain-free and refined sugar-free.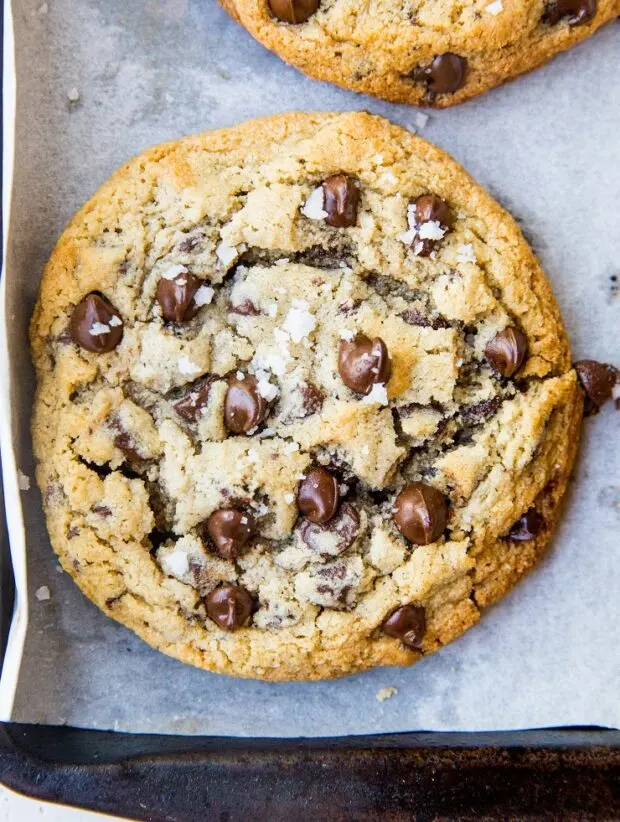 Special Diet Note: Recipe is paleo and there is a keto option within the recipe post.
Substitutions: Use coconut oil instead of butter to make the cookies dairy-free. You can also use a sugar-free sweetener and/or sugar-free chocolate chips to make these low-carb
Grocery List
Click HERE to download a handy printable grocery list!