This dark chocolate homemade peppermint bark recipe is easy to make, and I included an option to make it keto and dairy-free, too!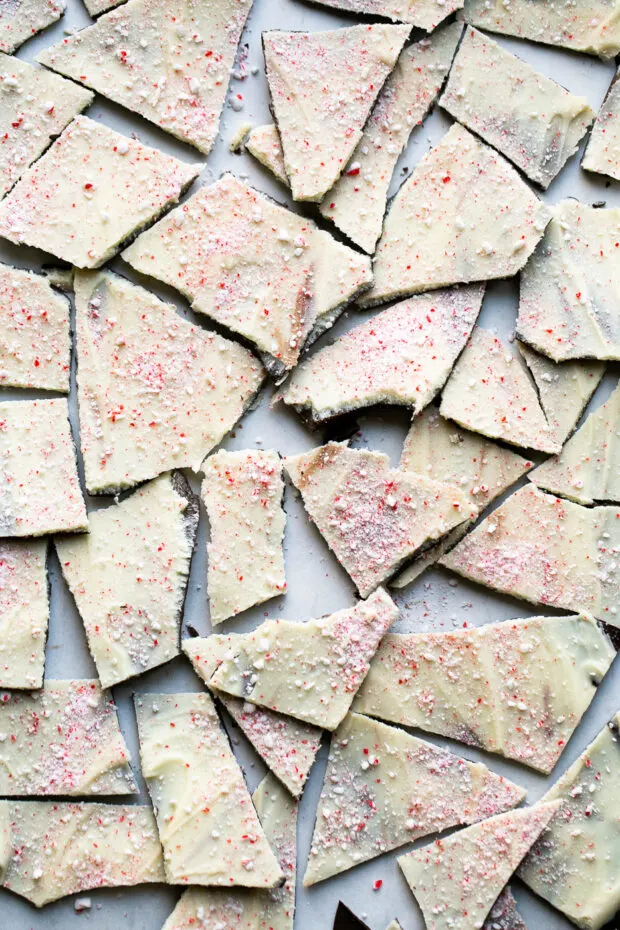 Peppermint bark is so great isn't it? It's one of my favorite treats during the holidays and SO easy to make.
I wrote a post a while back about How to Make Chocolate Bark with a recipe for Blackberry Bacon Bark Bites, but I wanted to specifically talk about peppermint bark since it's the most common type of chocolate bark.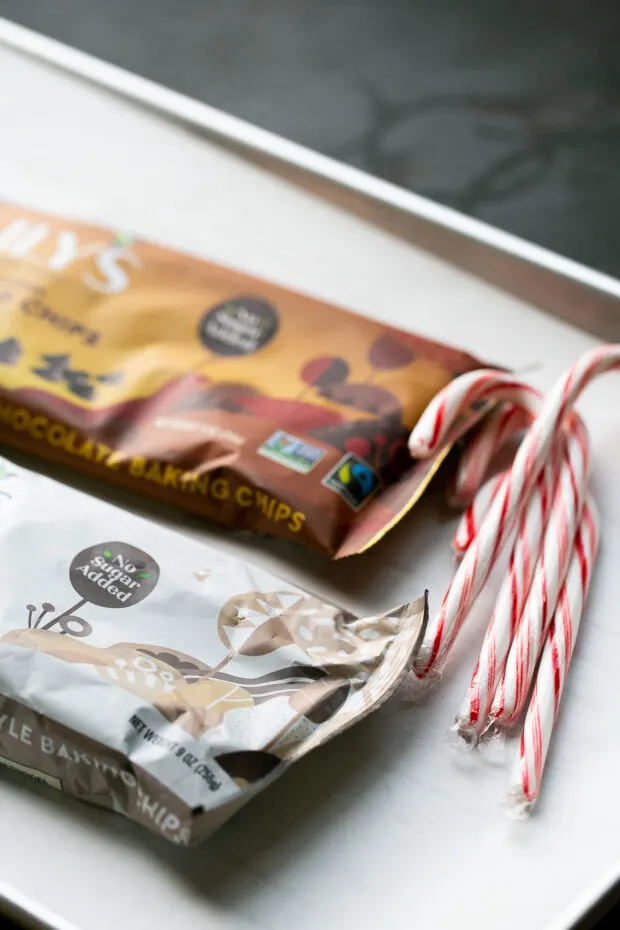 How to make Keto Chocolate Peppermint Bark
To make keto peppermint bark, simply switch out your regular chocolate for low-carb friendly chocolate. Lily's chocolate is my favorite one to use because it melts well and it's easy to find these days in most grocery stores.
Lily's chocolate is also on Amazon and you can find it discounted on Thrive Market (use that link to get $25 off your first order!)
Obviously candy canes aren't keto-friendly, but a small amount of crushed candy cane sprinkled on the bark wouldn't throw your macros off too badly. There are 10g of sugar in one candy cane and you only need 1 or 2 for this whole pan of peppermint bark.
If you're REALLY not wanting to use candy canes, then leave them out.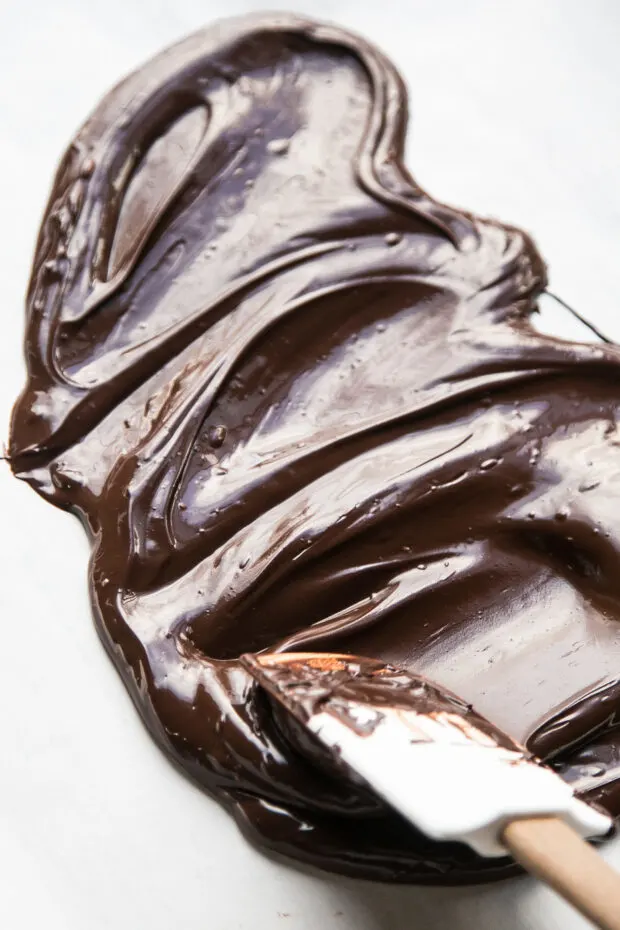 How to melt chocolate chips for chocolate bark
If you're using low-carb chocolate, it's the same process as regular chocolate.
Just put a small amount (8-10 ounces at a time) in a microwave-safe bowl and heat for 20-30 second intervals on high — stirring between each interval.
You don't want to put it in there for 1-2 minutes straight or you'll burn your chocolate. White chocolate chips are especially prone to burning.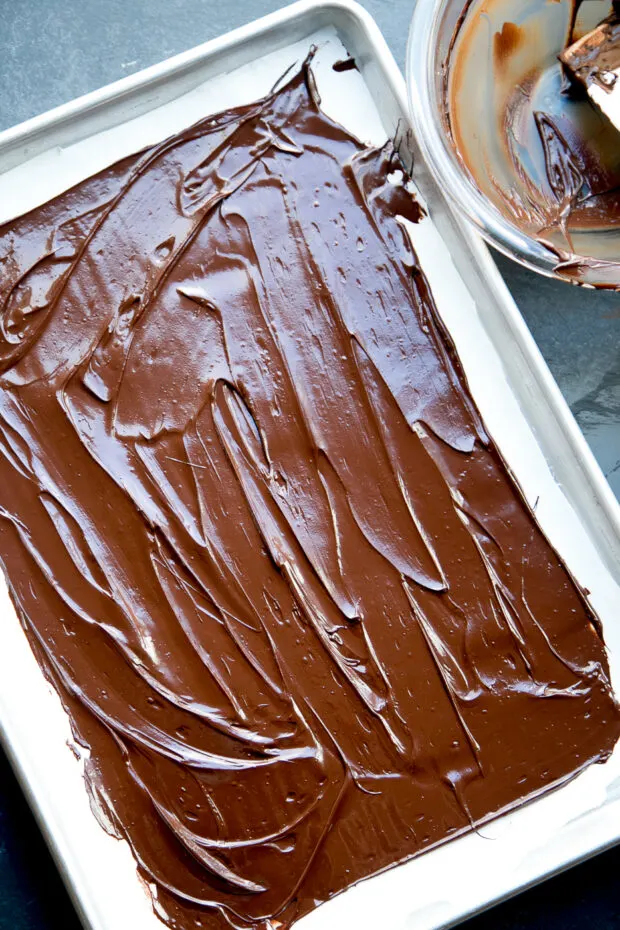 The best kind of chocolate for melting
If you can find high quality chocolate melts (the ones that look like little disks) they tend to melt more easily than regular baking chips.
If you live near a WinCo foods, they have Guittard chocolate melts in their bulk department which work great!
Craft stores like Michaels sells colored candy melts that work well, but it's usually very low quality and doesn't taste as good as actual chocolate.
If you have a big block of chocolate, you can use that, too. Just chop the chocolate into 1/2-inch bits first.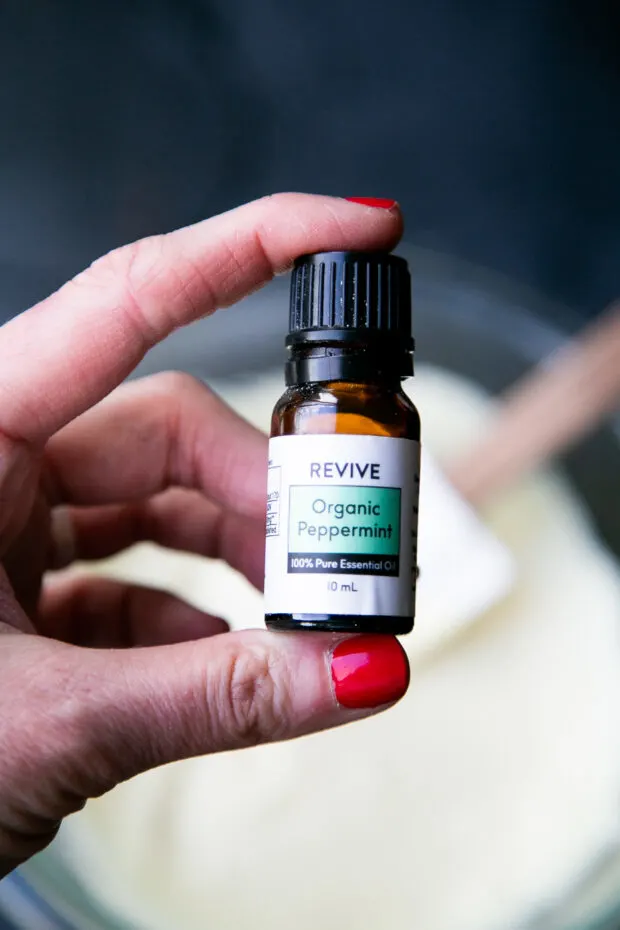 What kind of peppermint flavoring is good for chocolate?
When you add flavorings to chocolate, you have to be really careful that it doesn't contain water.
I ALWAYS use peppermint essential oil when I make peppermint bark because there's no water and it's super concentrated so I only need a few drops.
I love this Organic Peppermint Oil from Revive. (If you use the code PERRYSPLATE10 you can get 10% off your order or 15% off $100 or more.)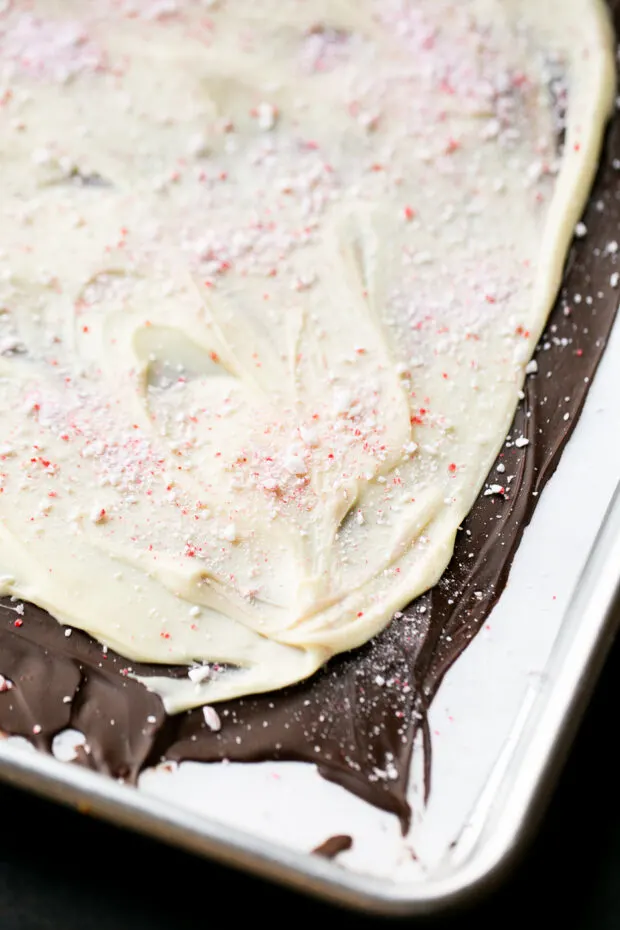 How to Make Peppermint Bark
Classic peppermint bark has a double layer of chocolate — regular chocolate on the bottom and white chocolate on top.
First, spread out the melted milk or dark chocolate on a piece of parchment. Let it harden completely (I put mine outside since I live in Idaho. Just make sure it isn't raining or snowing!)
Then spread out the melted white chocolate.
Sprinkle the candy canes.
Let the whole thing harden completely.
Break it into pieces. (My favorite part.)
The whole thing can be done in less than 30 minutes depending on how quickly your chocolate hardens.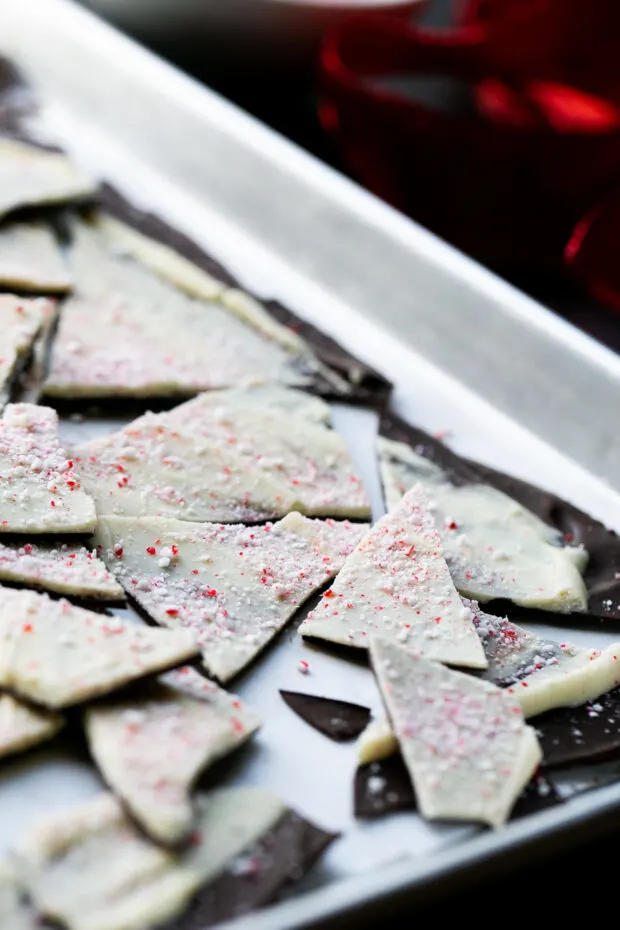 Fun, right??
Breaking it up is so fun. My kids love doing this part.
Peppermint Bark as an easy neighbor gift
Peppermint bark is a quick and easy treat to give to neighbors and friends, too. I love it because it stays fresh for a long time and it's easy to package in a cello bag or a cute little box or tin.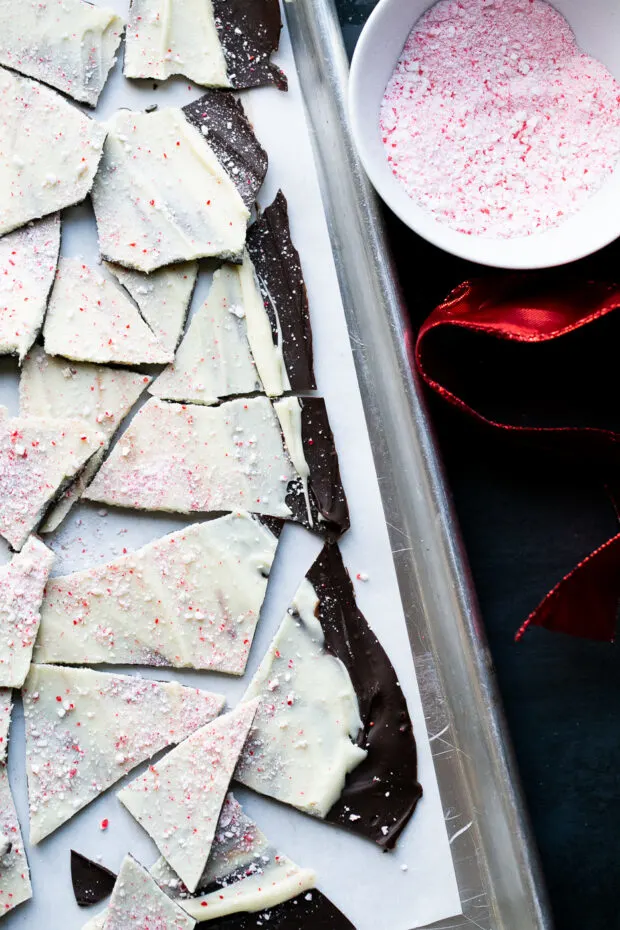 Ways to serve Peppermint Bark
Have some extra peppermint bark lying around? Here are a few creative ways to use it if you don't want to just eat it right out of the container. (That's OK, too.)
Sprinkle it into your hot chocolate or on ice cream.
Chop it up and make some peppermint bark cookies with either a chocolate or vanilla cookie base.
Air pop some popcorn, drizzle it with white chocolate and sprinkle some peppermint bark on top.
Add some bark to a fun dessert tray with all of your leftover holiday treats and take it to a gathering. (Hello, New Year's Eve!)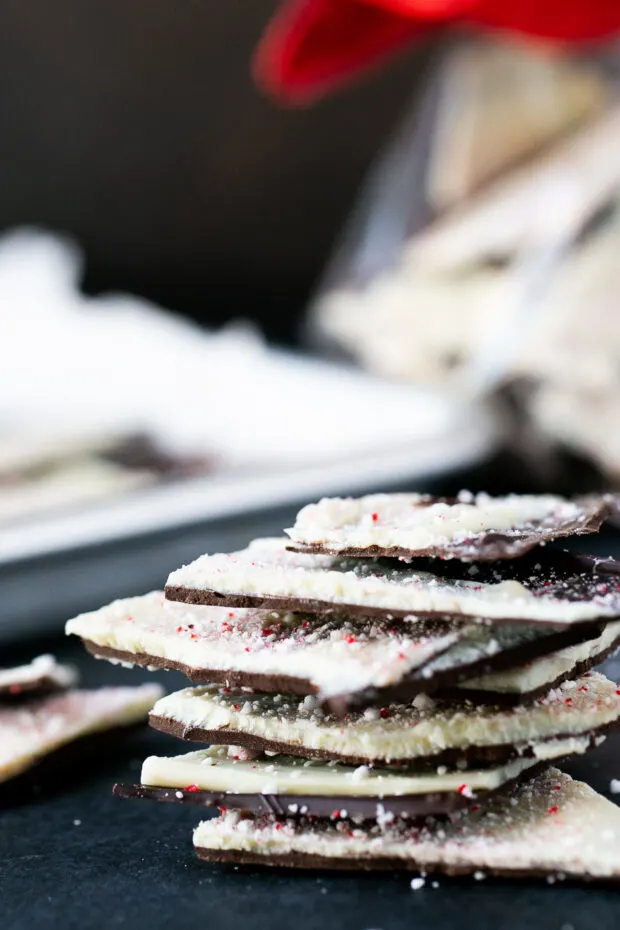 More Holiday Treat Ideas on Perry's Plate
Here are a few more ideas for easy treat giving!
How to Make Chocolate Bark is a great one for more ideas on making homemade chocolate bark!
Dairy-Free Loaded Chai Caramel Popcorn is filled with dried apples, pecans, coconut flakes and covered in a delicious chai-spice caramel sauce!
Paleo Samoa Cookie Bars make a great addition to a cookie plate! And great for gifting to those who have gluten, dairy or nut allergies.
Blackberry Bacon Bark Bites are another keto chocolate recipe that is unique and fun for giving.
Best Paleo Chocolate Chip Cookies with Sea Salt is a paleo-friendly take on a classic chocolate chip cookie!
---
If you make one of my recipes, be sure to post it on social media and tag me at @perrysplate or #perrysplate so I can send you some love!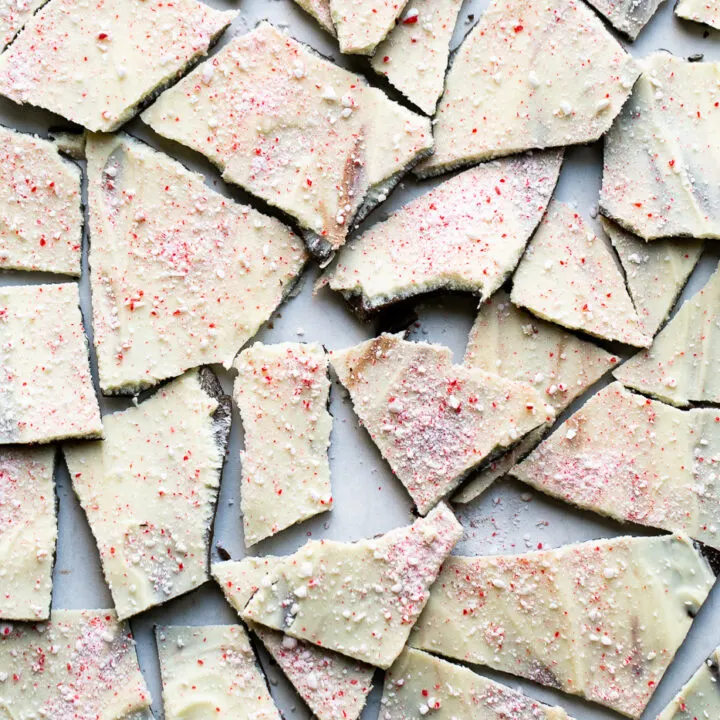 Homemade Peppermint Bark (Keto option)
Additional Time:
10 minutes
This easy homemade peppermint bark recipe can be done in under 30 minutes! I added suggestions for making this keto-friendly and/or dairy-free.
Ingredients
9 ounces milk or dark chocolate chips
9 ounces white chocolate chips
10 drops peppermint essential oil
1-2 candy canes (optional)
Instructions
Line a large rimmed baking sheet with parchment paper.
Melt the milk or dark chocolate by putting the chips/melts into a small microwave-safe bowl. Cook on high for 20-second intervals, stirring after every one, until the chocolate is completely melted.
Spread the chocolate in a thin, even layer on the parchment paper. Put the pan somewhere cold (like the fridge, freezer, or outside if it isn't raining or snowing) for 5-8 minutes until the chocolate is completely firm.
Meanwhile, melt the white chocolate in another small, microwave-safe bowl in the same way, stirring after every 20-second interval. When the chocolate is melted, stir in the peppermint oil.
Crush the candy canes using a food processor or in a zip top container with a rolling pin.
Spread the white chocolate over the hardened chocolate. Sprinkle the candy canes on top of the white chocolate.
Put the pan somewhere cold again until the whole thing is completely firm. Break the bark into pieces. Store in a cool, lidded container or in the refrigerator.
Notes
To make this bark low-carb/keto friendly, use low-carb chocolate. I recommend Lily's because it melts well. The candy canes are optional if you're worried about the extra sugar.
To make this recipe dairy-free, use dairy-free chocolate chips.
Recommended Products
As an Amazon Associate and member of other affiliate programs, I earn from qualifying purchases.
Nutrition Information
Yield

10
Serving Size

1
Amount Per Serving
Calories

200
Total Fat

11g
Saturated Fat

6g
Trans Fat

0g
Unsaturated Fat

4g
Cholesterol

8mg
Sodium

39mg
Carbohydrates

22g
Fiber

1g
Sugar

20g
Protein

3g
The information shown is an estimate provided by an online nutrition calculator. It should not be considered a substitute for a professional nutritionist's advice.