Paleo Vanilla Bean Frappuccino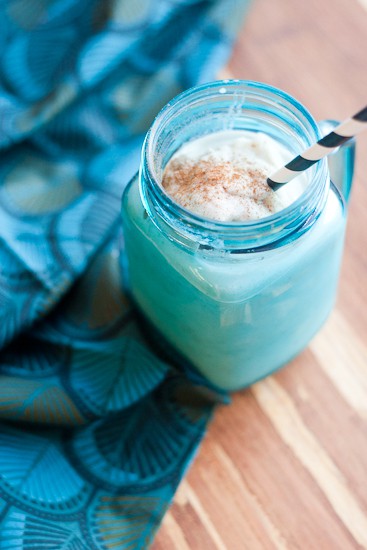 I feel like I've been missing out on these for so long. Unnecessarily.
I don't drink coffee. Like, ever. Because of this, I didn't think Starbucks ever had a place in my life. Sure, I've had their hot chocolate a few times and a cupcake once, but neither impressed me much. Especially for how expensive they were.
Then a very good friend informed me that their vanilla bean frappuccino didn't have coffee in it. And that it was pretty amazing with a dash of cinnamon on top.
The next day I texted Steve when he got off and he brought one home.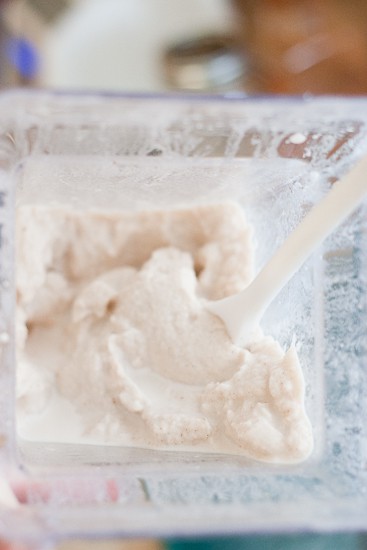 Delicious. Like super-duper delicious. But also super-duper sweet.
I loved the idea of them though, so I decided to make my own naturally-sweetened, dairy-free version. (That doesn't cost $5 a cup.)
I created a base, froze half of the base into ice cubes and stored the rest in the fridge. When I was ready for one, I blended the cubes with the liquid base and made a half-frozen drink that has the same consistency of an A&W Root Beer Freeze. (Seriously, have you ever had one of those? To die for.)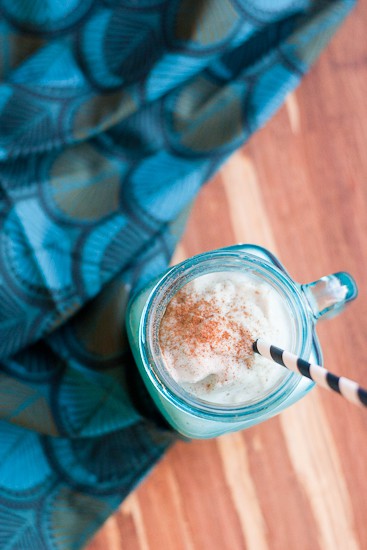 The good news is that you can keep a big supply of cubes in the fridge and whip up some liquid mixture whenever you want a frappuccino.
The bad news is you're out of luck for a few hours if you don't have a supply of cubes.
Don't run out of cubes.
Paleo Vanilla Bean Frappuccino
Yield: Serves 2-3

Prep Time: 10 minutes

Total Time: 10 minutes prep + freezing time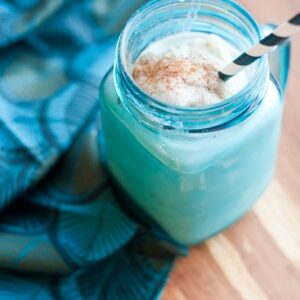 Ingredients:
2 1/2 cups almond or coconut milk
3 Tablespoons date paste (see note)
1 vanilla bean
1 teaspoon vanilla extract
pinch of salt
vanilla stevia, to taste (optional)
dash of cinnamon
coconut cream (optional)
Equipment: An ice cube tray, for freezing.
Directions:
Put the milk and date paste in a blender. Split open the vanilla bean with a sharp knife and scrape out the insides using the back of your knife. Reserve the pod. Put the insides in a blender with the milk. Add the vanilla extract and pinch of salt. Blend the mixture until thoroughly combined. Taste and add a little vanilla stevia or more date paste if you'd like it sweeter.
Pour enough of the milk mixture to freeze one standard tray of ice cubes. Freeze.
Meanwhile, cut the reserved vanilla pod in half width-wise and put it in the remaining milk mixture. Chill until ready to use.
When the portion in the freezer is frozen solid, put the cubes in the blender. Discard the pod from the liquid mixture and pour it over top. Blend.
To serve, divide the frappuccino between two glasses (or three, if you're feeling generous) top with a drizzle of coconut cream (optional) and a dash of cinnamon.
Repeat all summer.
Nat's Notes:
Making date paste is easy. For directions, follow the link below to the date paste post I wrote. If you don't want to make it, you can use 2-3 pitted medjool dates. You'll have to blend it longer to get them chopped up finely.
Vanilla beans are pricey, I know. You can substitute vanilla bean paste (Nielsen-Massey brand is great). The vanilla bean paste does have sugar, though, so if you're completely avoiding refined sugar you may want to get a vanilla bean or simply use extract.
Visit my post on making date paste!