These healthy meal plans are for six dinner recipes and a dessert thrown in for fun! All of these recipes are (mostly) paleo friendly, seasonal, and most can be easily adapted to be Keto/Low-Carb or Whole30 friendly.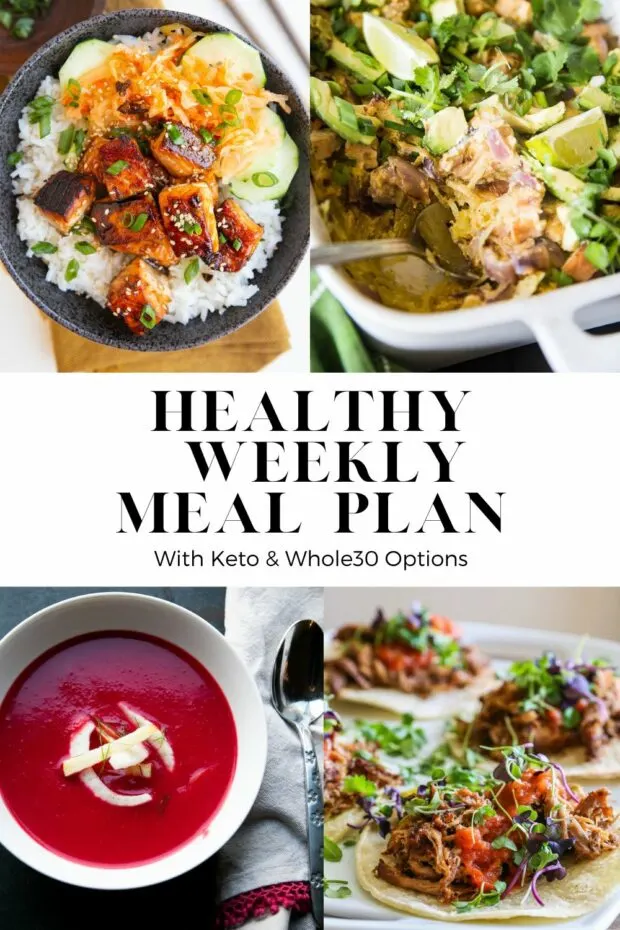 Can I give you a virtual hug?
We made it through the holidays. And if where you live is anything like Boise, it's gray and cold and sad outside.
Maybe the hug is more for me. Ha.
Yummy, nourishing food helps, too, and Julia and I put together a colorful, cozy collection of recipes to warm us all up.
A couple of soups, some fabulous looking tacos, my favorite spaghetti squash bake, and the most beautiful salmon bowl I've ever seen.
Plus a homey spiced apple crisp for dessert. Let's eat, friends.
xoxo
Natalie
---
Sunday
HEARTY GROUND TURKEY SOUP WITH VEGETABLES — Hearty ground turkey soup with vegetables is a clean and comforting meal perfect for soothing the belly and soul. Make it if you're feeling under the weather, or if you just love a great nourishing soup recipe!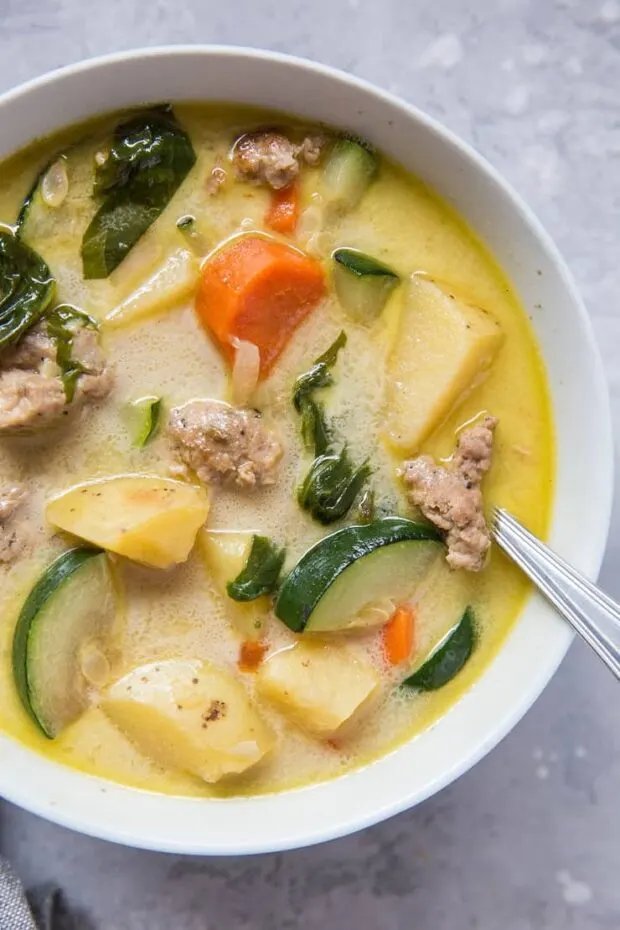 Special Diet Note: This easy soup recipe comes together rather quickly! No need to prepare anything ahead of time.
Prep Ahead: This recipe is paleo and whole30. I can be made low-carb by replacing the potatoes with a different low-carb veggie like cauliflower or broccoli.
Substitutions: Feel free to swap the vegetables for any of your favorites.
Monday
PUREED BEET SOUP WITH FENNEL & CITRUS — This delicious and smooth beet soup is as tasty as it is gorgeous! It's fruity and earthy and is served with a sweet apple-fennel slaw. I included directions for Instant Pot, slow cooker, and stove top!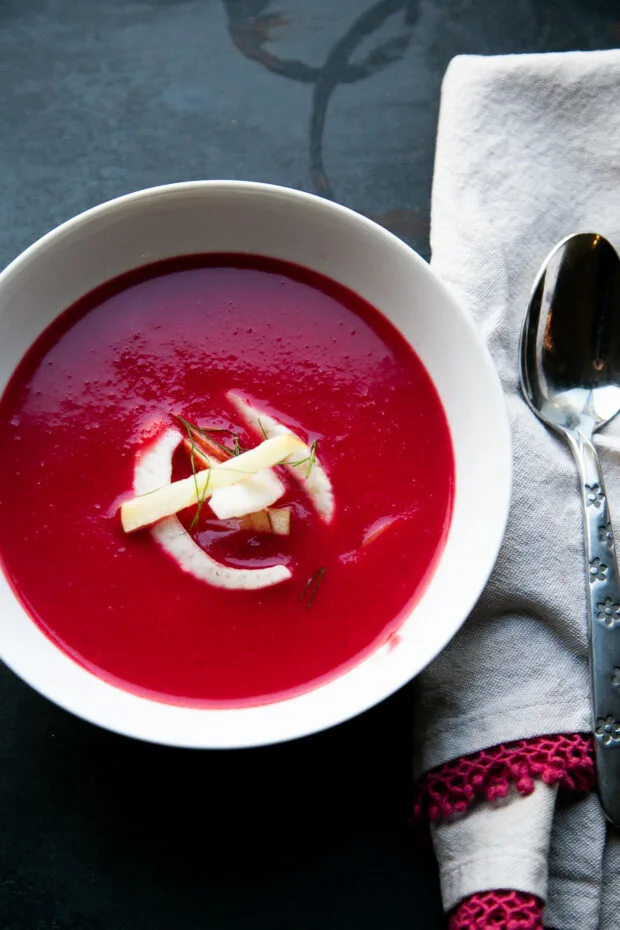 Special Diet Note: Recipe is paleo & vegetarian.
Prep Ahead: Beets, fennel, shallots, and carrots can be chopped ahead of time. This soup freezes well, too, so you can make the whole thing ahead of time.
Substitutions: Use vegetable broth to make this vegan.
Tuesday
CRISPY SESAME SALMO — Fresh salmon gets chopped into bite-sized cubes then pan-seared to crispy tender perfection in this simple yet amazing Crispy Sesame Salmon Recipe. Sweet and savory sticky salmon will surely bring life to your weeknight meals!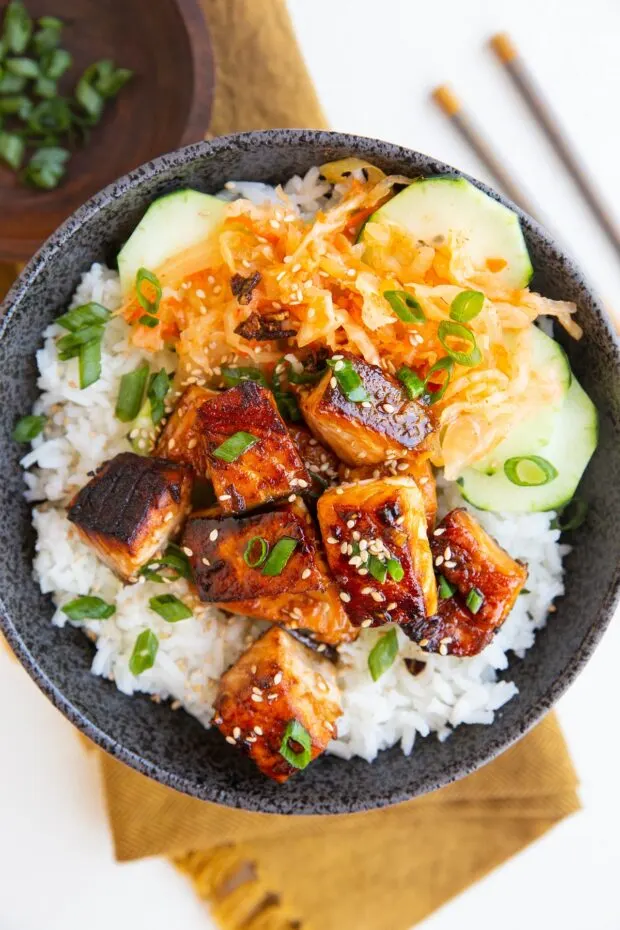 Special Diet Note: The recipe on its own is low-carb, paleo, and whole30. Pick your side dishes according to any dietary lifestyle you're trying to follow.
Prep Ahead: No advance prep is necessary, as the salmon is best when served fresh.
Substitutions: Pick your favorite bowl ingredients to serve with the salmon, such as white rice, brown rice, cauliflower rice, slaw, greens, avocado, edamame and veggies of choice.
Wednesday
GREEN CHILE CHICKEN & SPAGHETTI SQUASH BAKE — This Green Chile Chicken & Spaghetti Squash bake is PERFECT for meal preppers or those who like to prep components of a meal ahead of time. I love the addition of green salsa and a splash of paleo ranch to give it some creaminess. Avocados on top are a must.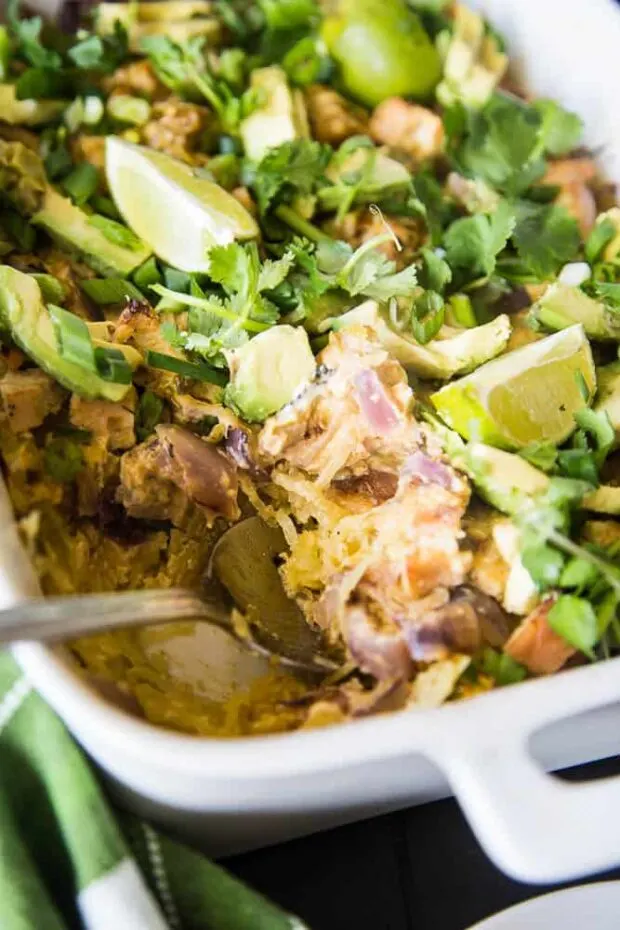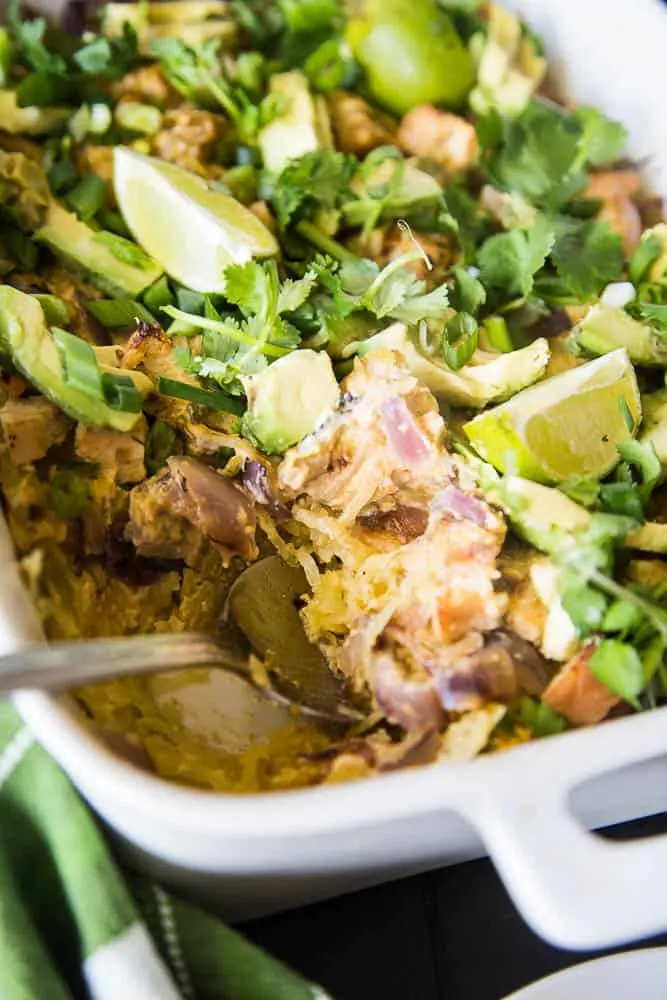 Special Diet Note: Recipe is paleo and low carb friendly.
Prep Ahead: Chicken, onions, and spaghetti squash can be roasted ahead of time and shredded/sliced.
Substitutions: I have a great paleo ranch recipe using dried ranch mix you can keep on hand all the time. The recipe is here: Paleo Ranch Dressing. If you'd rather not use paleo ranch, use an additional 1/2 cup of salsa verde.
Thursday
CROCK POT BEEF BARBACOA — Crock Pot Beef Barbacoa makes for amazing beef tacos, burritos and burrito bowls. This simple, easy beef barbacoa recipe results in amazing flavor and texture for a perfect result every time!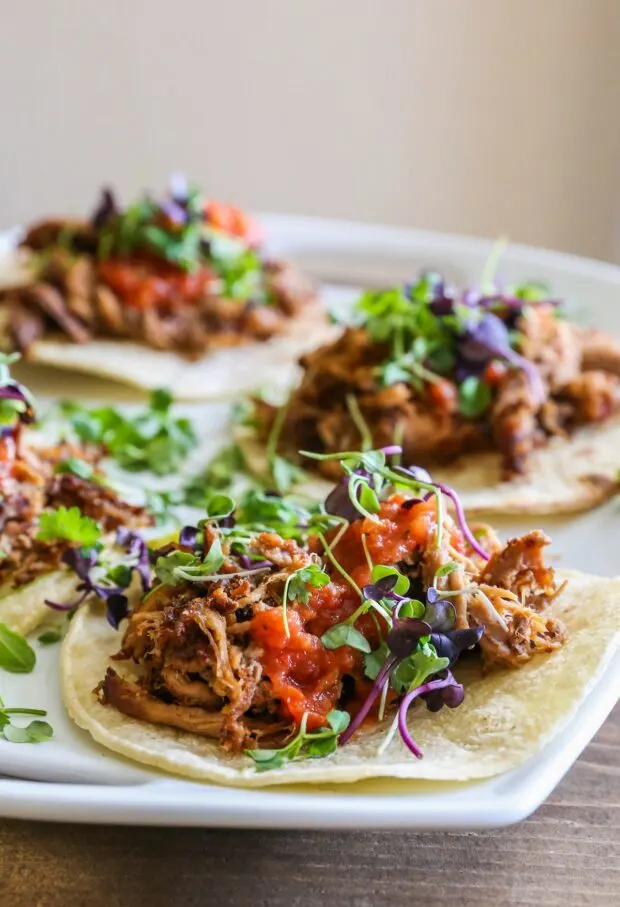 Special Diet Note: Recipe is low-carb, paleo, whole30.
Prep Ahead: No advance prep is needed, as everything goes into the crock pot at the same time for an easy-prep recipe.
Substitutions: Add more or less chipotle peppers depending on your spice tolerance. You can also use a pork roast instead of beef roast for this recipe!
Friday
EASY CAJUN SAUSAGE & RICE SKILLET — This easy sausage & rice skillet is one of my favorite ONE PAN meals. And bonus — it's done in about 30 minutes! (And everyone will like it. Honest.)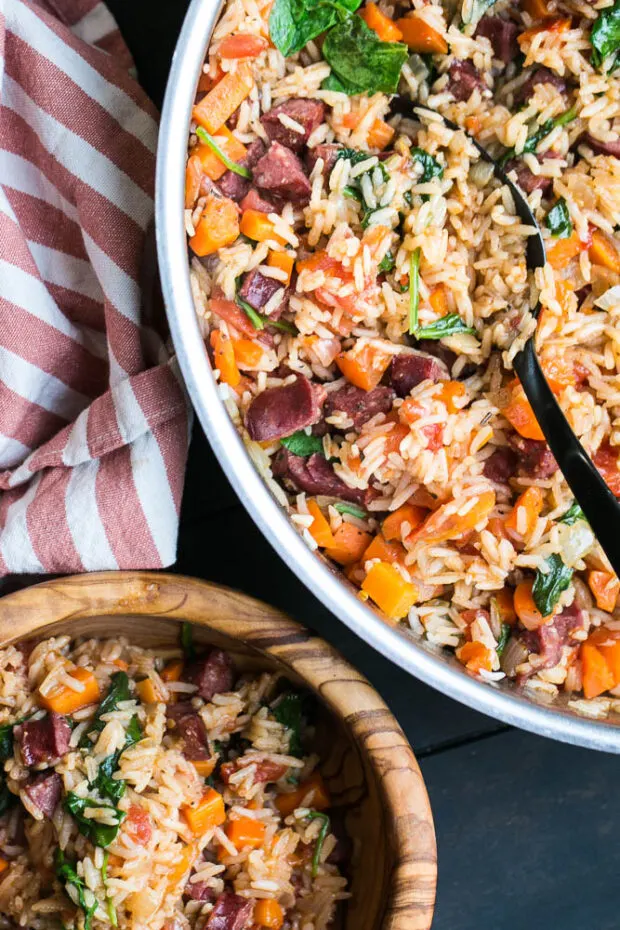 Special Diet Note: Recipe is gluten-free & dairy-free.
Prep Ahead: Because this recipe comes together so quickly, no advance prep is needed.
Substitutions: You can substitute the rice for 1 cup of uncooked quinoa. If you'd rather use brown or wild rice, omit the broth and add COOKED brown or wild rice toward the end after the vegetables have softened.
Dessert
HEALTHY APPLE CRISP — A grain-free Healthy Apple Crisp recipe with almond flour topping is a comforting, delicious dessert healthy enough to enjoy for breakfast. And only 7 basic ingredients!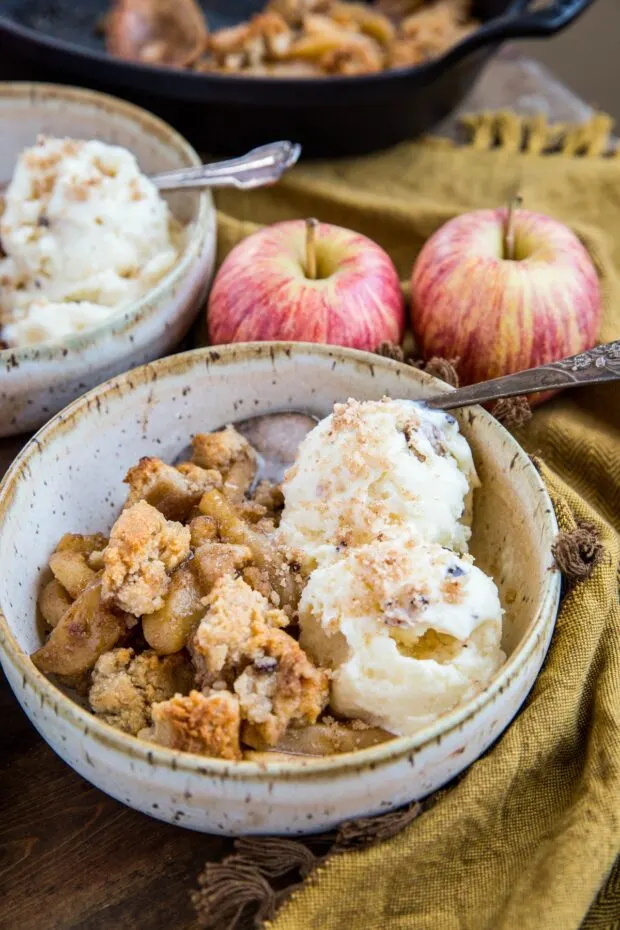 Special Diet Note: The apple filling can be made up to 2 days ahead of time if need be.
Prep Ahead: This yummy dessert recipe is paleo, grain-free, vegan, and refined sugar-free.
Substitutions: The almond flour can be swapped out for hazelnut flour or cassava flour. Use 1/4 cup of melted butter instead of coconut oil if you prefer.
Grocery List
Click HERE to download a handy printable grocery list!