These healthy meal plans are for six dinner recipes and a dessert thrown in for fun! All of these recipes are (mostly) paleo friendly, seasonal, and most can be easily adapted to be Keto/Low-Carb or Whole30 friendly.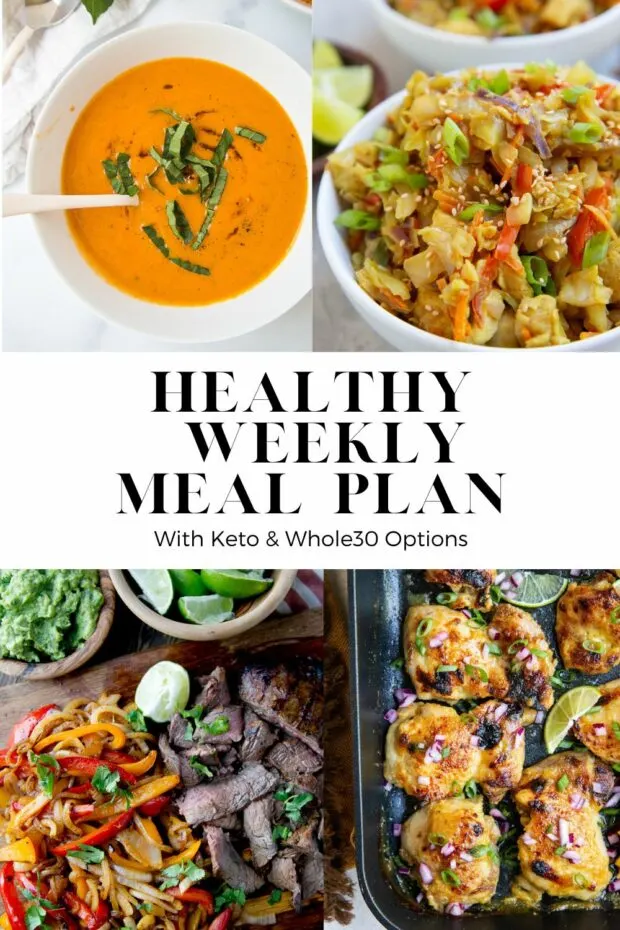 Hey, friends!
The time is winding down for fresh, summer produce and light summer meals, so we're enjoying them as much as we can before things cool off!
Julia's Canned Salmon Salad and my Spicy Shrimp Rolls (or bowls) are great meals for hot days!
If you have an abundance of garden tomatoes, this Simple Roasted Tomato Soup is THE BEST tomato soup that can be dressed up in a lot of ways or eaten simply as is.
Julia's Cuban Mojo chicken gives me tingles. So does that Strawberry Frozen Greek Yogurt!
Enjoy the sunshine while it lasts!
xoxo
Natalie
---
Sunday
SIMPLE ROASTED TOMATO SOUP — Use up some extra garden tomatoes in this simple and flavorful Roasted Tomato Soup! Swirl pesto into it or dip a grilled cheese sandwich. Or freeze it and save it for a cold day in February.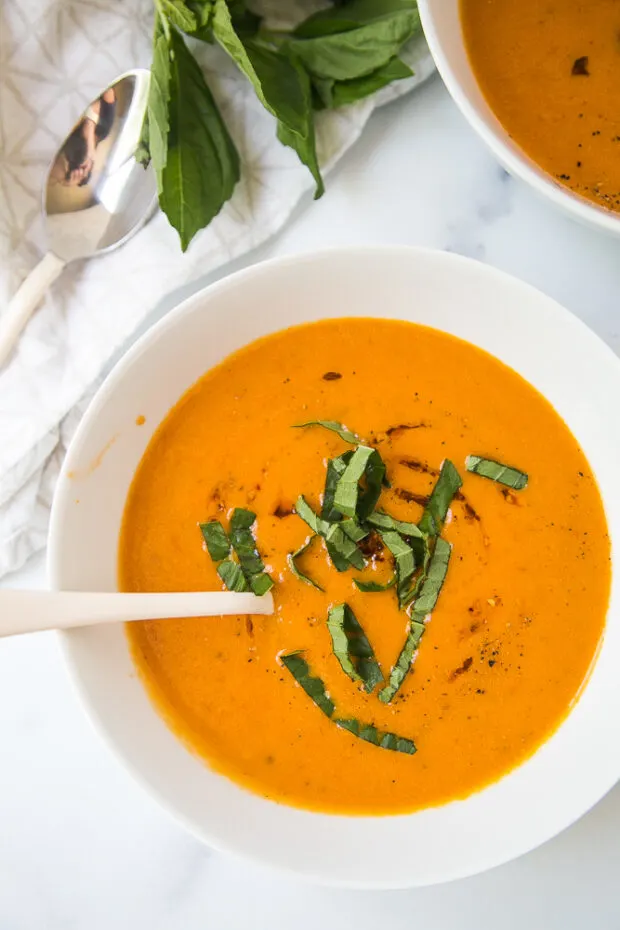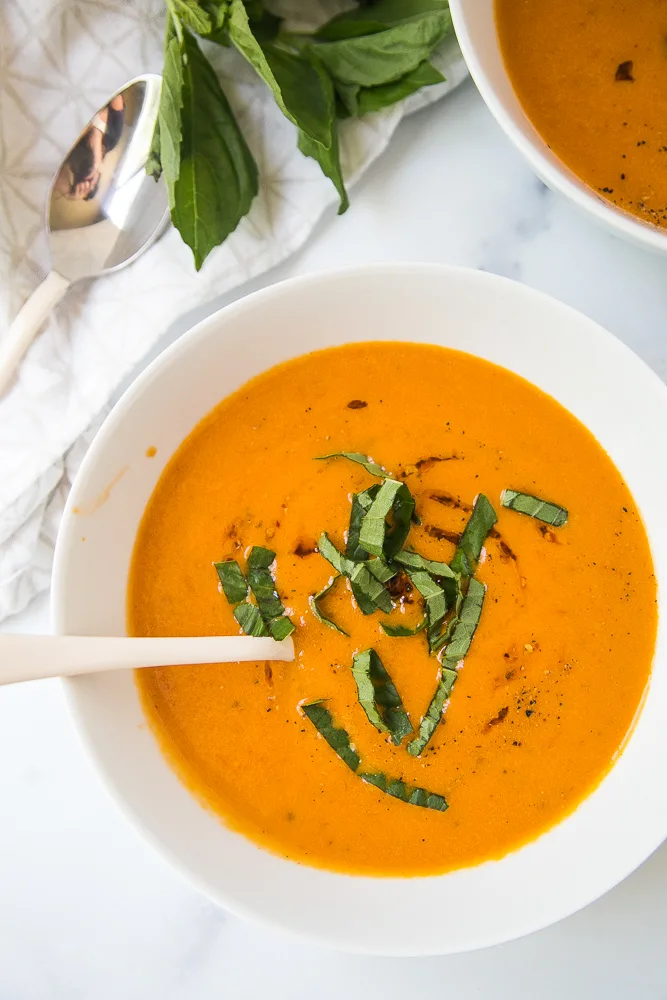 Special Diet Note: Recipe is paleo-friendly and vegetarian using vegetable stock.
Prep Ahead: Vegetables can be roasted ahead of time.
Substitutions: Serve with a simple salad or add some leftover protein to make a heartier meal.
Monday
THAI CHICKEN AND CABBAGE BOWLS — This recipe features fresh vegetables like bell pepper, carrots, ginger and garlic, tender chicken breasts, and a delicious sauce to bring everything together.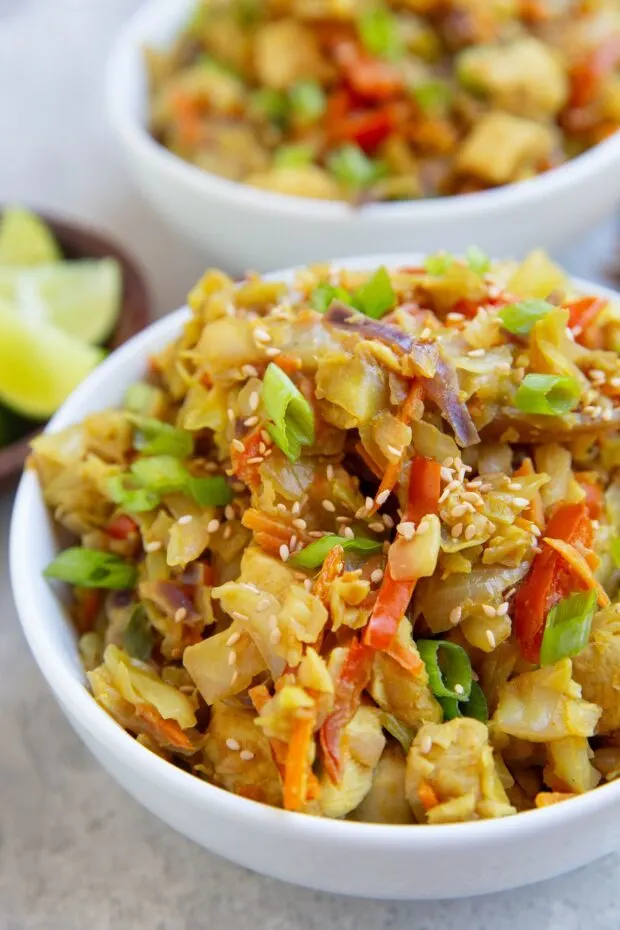 Special Diet Note: Recipe is paleo-friendly and can be made whole30 compliant by omitting the pure maple syrup from the sauce.
Prep Ahead: This recipe comes together relatively quickly, so no advance prep is needed. If you'd like to make the sauce ahead of time, you can do so up to 5 days in advance.
Substitutions: Swap out any of the vegetables with your favorite vegetables. broccoli, cauliflower, bok choy and zucchini are all great options. You can replace the chicken with any type of ground meat.
Tuesday
MARINATED STEAK FAJITAS — Flank steak and veggies are marinated in a smoky marinated with a touch of heat to make these super flavorful fajitas! Use them to make traditional fajitas or throw them on a salad (our favorite way to eat them!)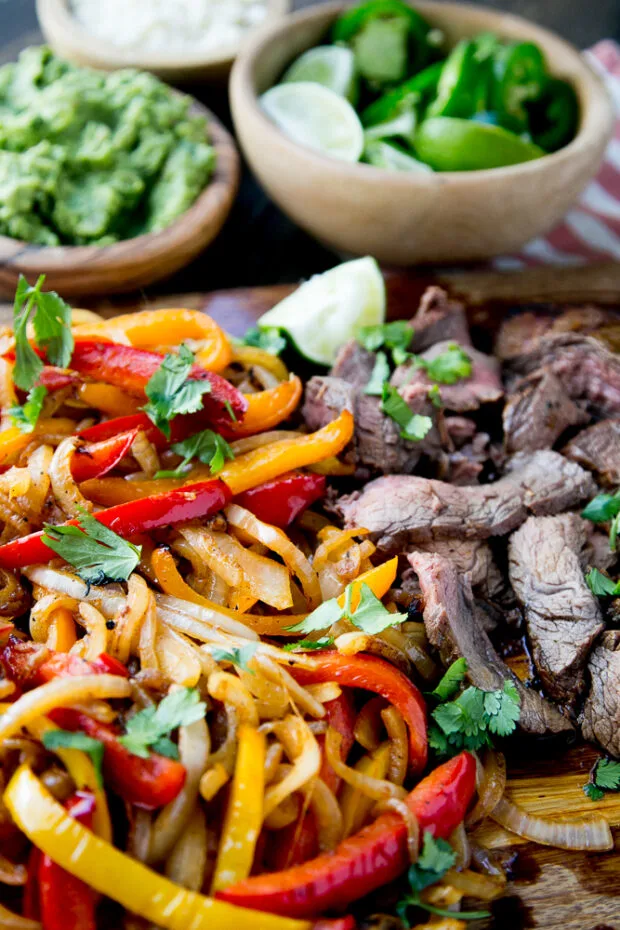 Special Diet Note: The meat and vegetables are paleo friendly. Serve it over some salad greens with some guacamole or sliced avocados if you don't want to use tortillas.
Prep Ahead: The meat can be marinated up to a day in advance.
Substitutions: I really love my Smoky Chipotle Taco Seasoning in this recipe, but feel free to swap out for your favorite taco seasoning.
Wednesday
EASY CANNED SALMON SALAD — A mayo-free healthy salmon salad recipe for a high-protein lunch.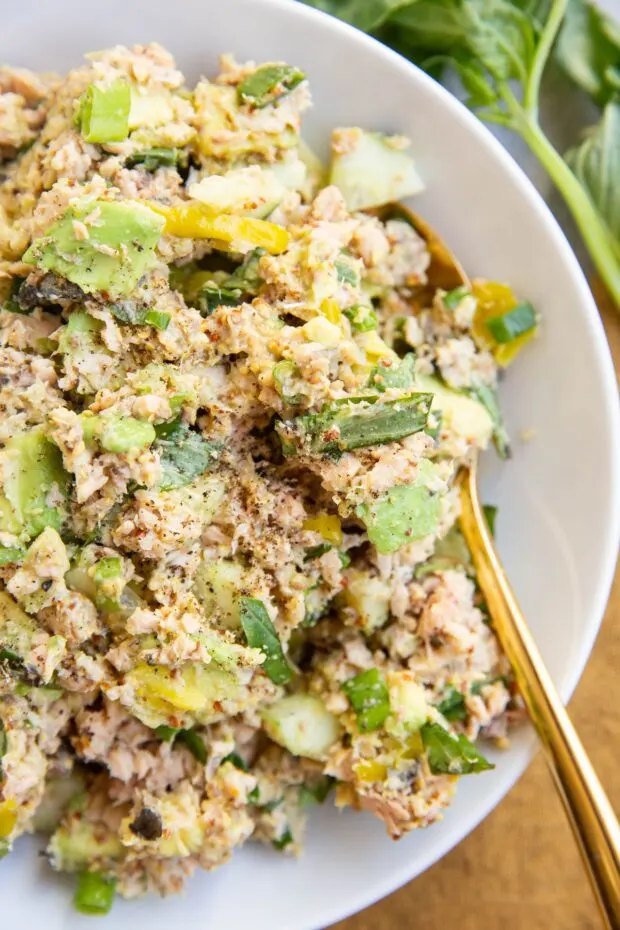 Special Diet Note: Recipe is paleo, low-carb, and whole30.
Prep Ahead: Recipe is best when served fresh. If you want to make it in advance, mix everything but the avocado togeher then add the avocado just before eating.
Substitutions: See blog post for all sorts of adaptations.
Thursday
SPICY SHRIMP ROLLS OR BOWLS — You can make them as spicy or as mild as you like — just pull out some frozen shrimp and you can have these shrimp rolls (or bowls!) on the table in under an hour.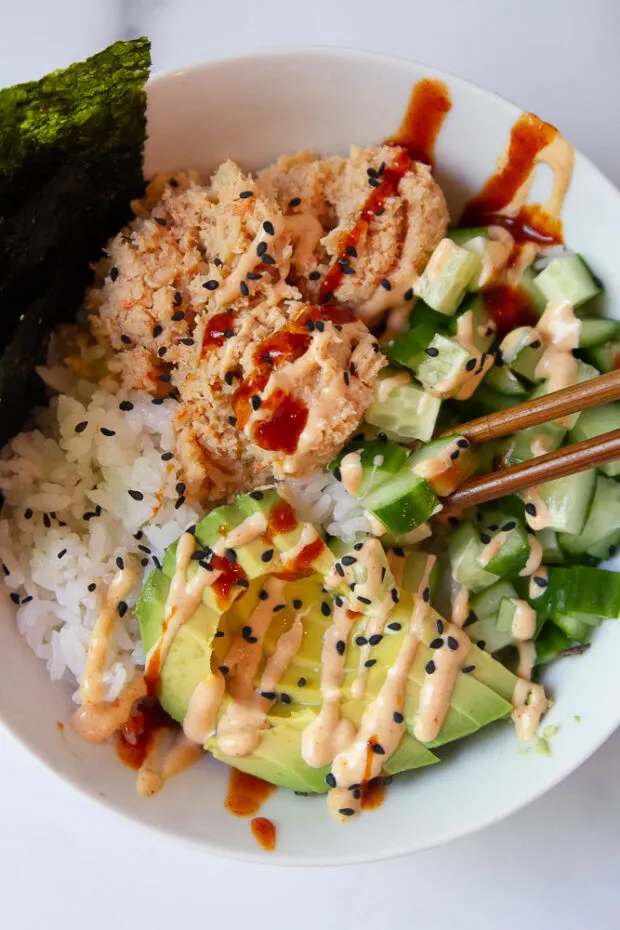 Special Diet Note: This recipe is gluten-free and dairy-free. The shrimp salad itself is paleo-friendly if you use avocado-oil mayonnaise.
Prep Ahead: The shrimp salad and cucumbers can be prepped a day or two in advance. It's better if the sushi rice is at room temperature when you use it, so I recommend making it earlier in the day or the day before and let it sit out for a few hours to get the chill off.
Substitutions: If you're wanting this to be grain-free, I recommend using Roasted Cauliflower Rice and turning these into Spicy Shrimp Bowls instead of sushi rolls.
Friday
CUBAN MOJO CHICKEN THIGHS — This recipe features a delicious Cuban Mojo marinade, resulting in a citrusy glazed, tender chicken with incredible flavor and texture.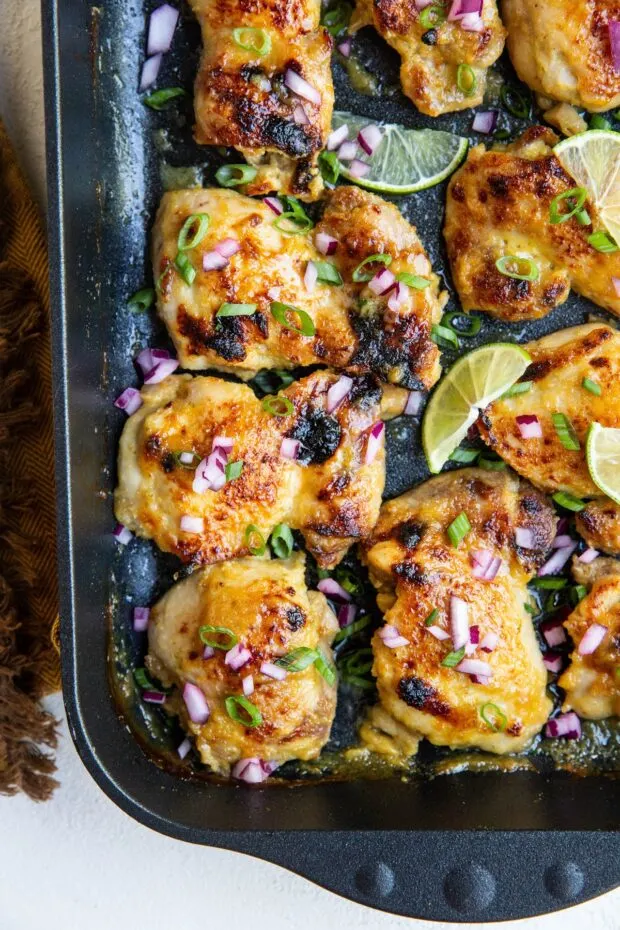 Special Diet Note: Recipe is paleo-friendly. To make it whole30 or low-carb, omit the pure maple syrup.
Prep Ahead: The chicken can be marinated up to 24 hours in advance.
Substitutions: Use any combination of fresh citrus for this Cuban chicken recipe.
Dessert
THE BEST STRAWBERRY FROZEN GREEK YOGURT — This strawberry frozen Greek yogurt is DELICIOUS and crazy easy — just buzz up a few ingredients in the blender and pour it into your ice cream machine! Greek yogurt gives it a boost of protein and frozen strawberries make it easy to make this easy summer dessert anytime you like.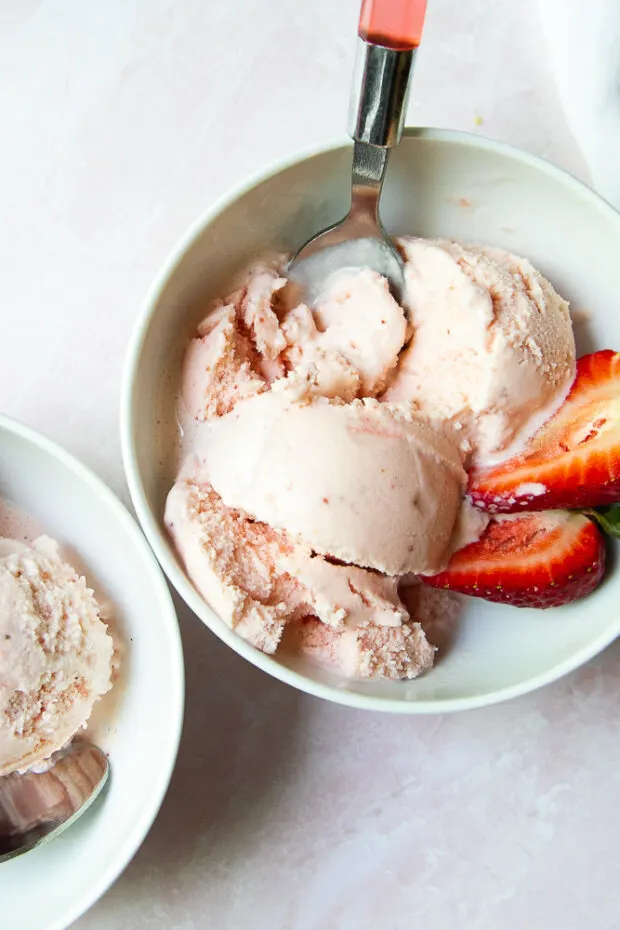 Special Diet Note: Recipe is gluten-free and low in sugar depending on the sweetener you use.
Prep Ahead: Make ahead not necessary unless you'd like it firmed up in the freezer for a few hours before you serve it.
Substitutions: Swap out the strawberries for frozen raspberries or blackberries if you like. If you're wanting this to be dairy-free, you'll need to find some dairy-free Greek yogurt.
Grocery List
Click HERE to download a handy printable grocery list!