Steak-Inspired Slow-Cooked Beef
House is looking better. Not perfect, but good enough for now.I had some pieces of chuck roast in the freezer. I wanted the meat to be flavored like the steaks my mom and dad make all the time, but I didn't want to cut them and grill them like steaks because chuck roast is a pretty tough cut of meat. Only a slow cooker could make something edible out of it. So . . . I tweaked their marinade recipe to accommodate my slow cooker, threw in the meat and hid under the kitchen table in suspense.
As much as I would like to hide for 8 hours under my table (with a pillow and the latest issue of Bon Appetit), I didn't really do that. Sophie would have found me for sure.
The result? Amazing, flavorful, moist, slow-cooked-pot-roast-shredded-beef stuff. I'm not sure what it is, but it, along with the remaining juices, was fabulous over garlic mashed potatoes!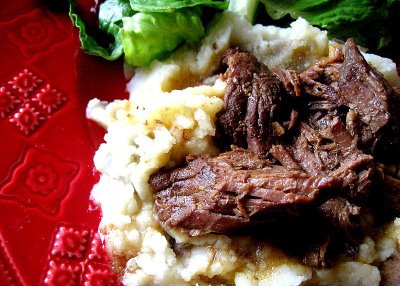 Steak-Inspired Slow-Cooked Beef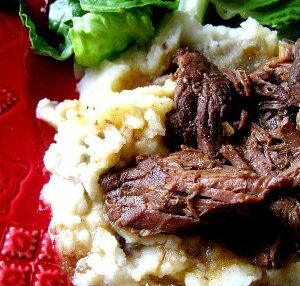 Ingredients:
1.5 – 2 pound roast, whole or cut into 2-3 large chunks
Generous sprinkle of salt and pepper
1/2 cup beef broth
1/4 cup coconut aminos or tamari sauce
4 cloves of garlic, chopped
1/2 – 1 teaspoon crushed red pepper flakes (depending on how spicy you like it)
Juice from half a lemon
Directions:
Place roast (thawed or frozen) in a 2.5 – 4 qt. slow cooker, and season with salt and pepper. Add remaining ingredients over beef. Cover and cook on low for 8-10 hours. Sprinkle with lemon juice and serve beef and juices over mashed potatoes, rice, or noodles.
If you wanted to make shredded beef sandwiches, just take the beef out a little early, shred it, return it to the slow cooker and cook for another 20-30 minutes.
from Perry's Plate (inspired by Mom & Dad's steak marinade)