Mango Pudding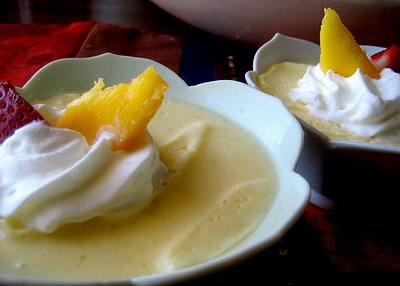 I loved the way Poornima garnished her pudding, so I added strawberry slices as well. Gorgeous!
For this month's Taste and Create swap, I was paired with Poornima from Tasty Treats. Poornima had so many mouth-watering Indian dishes on her blog, but because I'm still in a post-vacation fog, I opted for something simple. I chose this mango pudding because I've never had mango pudding, and I don't think I've ever made pudding entirely from scratch before. We loved it! I used frozen mango chunks to make my mango puree, which tasted great, but I bet it would have been even better had I used fresh. I bet you could use different kinds of fruit, too. Hmm. . . strawberry pudding?!
Mango Pudding

Ingredients:

1 cup water at room temperature
2 1/2 tbs unflavored gelatin
1/2 - 3/4 cup sugar
2 cups mango puree (fresh or canned)
1 1/2 cups evaporated milk or heavy cream
1/2 cup chopped mangoes
whipped cream and mango slices for garnish

Directions:

Pour the water into a large glass or metal mixing bowl and sprinkle gelatin over the top. Let it rest for 5 minutes.

Meanwhile, put a couple of inches of water into a saucepan and heat to boiling. When gelatin mixture is ready, place bowl over the top and reduce heat to medium, ensuring the boiling water doesn't touch the bottom of the mixing bowl. Heat the mixture and stir until gelatin has melted and the mixture is transparent. Add sugar and stir until it has dissolved.

Remove the bowl from heat and whisk in the evaporated milk and mango puree. Gently stir in the chopped mangoes. Pour into wet serving bowls and refrigerate for 2 hours or until firm.

Serve chilled topped with whipped cream and slices of mango.

Nat's Notes
1. A 1 pound bag of frozen mango chunks and about 1/2 c or so of water made about 2 cups of puree.
2. Yes, I chose the cream.