Stuffed Zucchini with Ground Turkey
Because of my zucchini rampage I have four new recipes to show you. If you're sick to death of hearing about zucchini, please have mercy on me. I love it. It's in season. And I (still) have a lot of it. This first recipe isn't new to us, and I actually thought it was on the blog already, so I made it again so I could get a photo of it to update the post. But the post wasn't there. So here it is.These stuffed zucchini from
Simply Recipes
are hollowed out zucchinis stuffed with a mixture of ground turkey, vegetables and fresh herbs. Using fresh herbs makes a big difference here. So does using Parmesan cheese. I love Parmesan.I just saw a variation of this posted on
Our Best Bites
, but instead of baking the zucchini, they grilled it! (The girl who posted it made a comment about how baked zucchini gets slimy, but this doesn't at all, I promise. There's no marinara sauce, so that probably helps.)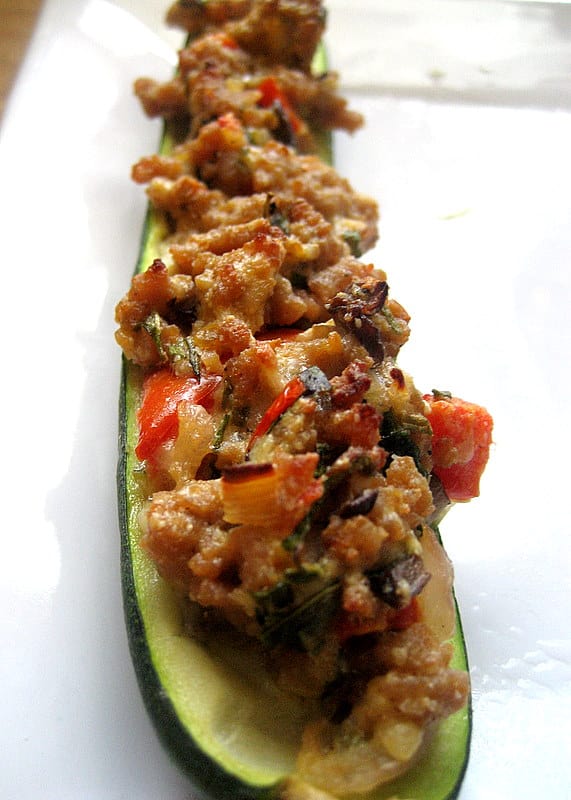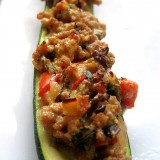 Stuffed Zucchini with Ground Turkey
Ingredients:
1 zucchini about 12 inches long, or 6 medium ones
3 tablespoons olive oil
1/2 cup chopped onion
3 cloves garlic, minced
1/2 cup chopped mushrooms
2 tablespoons dry white wine (or chicken broth)
1 pound ground turkey
2 diced tomatoes
3 tablespoons chopped fresh basil
1 teaspoon chopped fresh rosemary
3/4 cup grated Parmesan cheese
1 egg, lightly beaten
2 teaspoons salt
1/2 teaspoon pepper
Directions:
Cut zucchini in half lengthwise. Scoop out insides, leaving shells about 1/4 inch thick. Reserve about half of the insides.
Heat 2 Tbsp of olive oil in a skillet on medium high heat. Sauté onion and garlic until soft. Add mushrooms and reserved zucchini insides, and sauté another 2 minutes. Remove from skillet and set aside. In the same skillet heat a Tbsp of olive oil on medium high heat. Add the ground turkey. Lightly brown the turkey, stirring only occasionally. After the turkey browns on one side, stir it so that it has a chance to brown on other sides. Cook until the ground turkey is lightly browned, about 6 minutes. Stir in the reserved onion and mushroom mixture. Add the wine or chicken broth. Stir in tomato, basil and rosemary and cook 1 minute longer. Drain any excess fat. Remove mixture from heat and set it aside.
When mixture has cooled, add cheese, egg, salt and pepper. Fill zucchini shells with mixture. Fill a baking pan with 1/4 inch of water. Place filled zucchini halves in pan and bake at 375 degrees for 40 minutes, until golden brown. Remove zucchini from pan and serve while hot.
Serves 4.
Nat's Notes:
1. If you don't have an open can of chicken broth and don't want to open a new can to get 2 T out, just use water instead.