Toasted Coconut and Ginger Blondies
I've been in love with coconut and ginger lately. When I saw this recipe on the
Tropical Traditions
website (where I now buy my coconut oil), I think I gasped audibly.And made them within a week. We LOVED them. They're chewy and sweet, but not overly sweet as most blondies tend to be. They're also not greasy, which surprised me, considering the high saturated fat content of coconut oil.Speaking of . . .
After my previous blurb about coconut oil, I did a little more research. (Ya, I should have done that earlier. *forehead slap*) Not all coconut oil is created equal. The most nutritional benefits come from the unrefined, "virgin" coconut oil, which smells and tastes like coconut — unlike the refined types which are virtually odorless and have no coconut flavor. However, because all coconut oil (both refined and unrefined) is almost entirely saturated fat, any type of coconut oil would be better to cook at higher temperatures than, say, olive oil. . . something to do with unsaturated fat molecules breaking down under heat.
My hubs could tell you the chemistry behind it. He explained it to me several times, but due to the thousands of diapers I've changed, and the countless sleepless nights I've had in the last couple of years, my short-term memory is . . .
what was I talking about?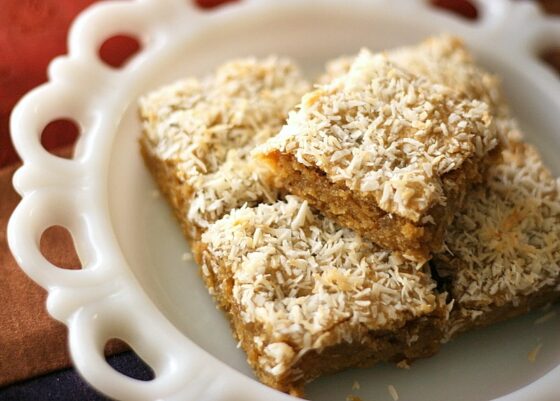 Toasted Coconut Ginger Blondies

Ingredients:

1 cup sifted flour

1/4 teaspoon salt

1/4 teaspoon baking powder

1/8 teaspoon baking soda

1/2 cup chopped crystallized or candied ginger

1/3 cup butter, coconut oil, or palm shortening

3/4 cup packed brown sugar

1 egg

1 tablespoon vanilla extract

1/2-1 cup flaked unsweetened coconut

Directions:

Preheat oven to 350 degrees F. Lightly grease an 8x8 baking pan. Whisk the sifted flour, salt, baking powder and baking soda together into a small bowl. Stir in the crystallized ginger.



Melt fat of choice gently over low heat in a medium sized saucepan. Add brown sugar, mixing well. Let cool slightly if warm.

 Whisk egg and vanilla extract into the sugar mixture. Add flour to the sugar mixture in small amounts until well combined, stirring after each addition just until incorporated.

 Spread batter into prepared pan and sprinkle flaked coconut on top. Bake for 15-25 minutes.



from the Tropical Traditions website