Creole Salmon Patties
Before I go into this awesome recipe, I want to brag about my husband for a minute. In a few short weeks Steve will be finishing chiropractic school and along with his D.C., he'll be receiving a C.C.W.P., which stands for "Certified Chiropractic Wellness Practitioner."
Basically, he'll be a wellness expert as well as a chiropractor. Steve has a blog now where he discusses different aspects of health and wellness. He's quite good, too. I added a permanent widget on the sidebar (aren't I a good wife-y?) in case anything pops up that may interest you.
And now. . . an awesome, healthy salad!
(I was going to mention Steve in my last post, but "And now . . . some ooey-gooey cinnamon rolls!" wouldn't fly after talking about wellness. Everything has its place. :))
So, salmon. . . I've noticed that when I buy fresh salmon, freeze it, then cook it, it's never as good as if I cook it while it's still fresh. I had a chunk left in the freezer and decided to try these out. They turned out moist and flavorful! You could throw these over a salad like we did or put them in buns with all of your favorite burger fixings like we did for our kids.You can even substitute a different kind of fish, different spices, and swap out the cilantro if you're on the "cilantro tastes like soap" train.
Speaking of my kids, they loved these. Even the child who doesn't like salmon.
Heh. Sneaky Me.
P.S. Remember to get wild-caught salmon and not farmed. Farmed salmon eats grain (Interesting — you don't see grain floating around in the water out in the wild. Why would they feed that to them? Oh yeah, it's cheap.). Consequently, the meat from farmed salmon has way too many omega-6 and not enough omega-3 fatty acids. Steve could tell you the specifics and why it's important for our health. (That might be a good blog post, actually.)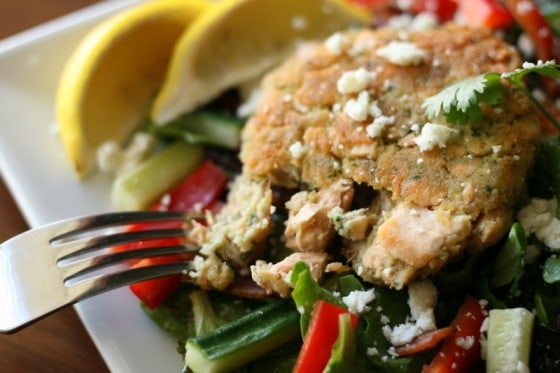 Creole Salmon Patties

Ingredients:

1 lb cooked salmon fillet, skin removed
1 can cannellini, great northern, or other white beans
1/2 cup fresh cilantro leaves, loosely packed
1/4 cup dry bread crumbs
1 egg
1/2 tsp creole seasoning (like Tony Chachere's)
pinch of salt and pepper
oil, for light pan-frying
salad greens, lemon wedges, or buns/fixings for serving

Directions:

Preheat oven to 375.

Place the beans, cilantro, bread crumbs, egg and creole seasoning into a food processor. Process until smooth. Transfer mixture to a medium mixing bowl and crumble in the fish. Using your hands, gently mix, then form into 8 patties.

Drizzle a couple tablespoons of oil into a large skillet and heat to medium heat. Cook patties in the pan (in a couple of batches if you need to) for about 10-12 minutes, flipping once, until lightly browned on both sides and cooked through.

Serve over salad greens with a light dressing and a couple lemon wedges or on a hamburger bun with fixings.

Makes 8 servings.

Nat's Notes:
1. My favorite way to cook salmon is by sprinkling it with lemon-pepper, creole seasoning, a bit of salt, and couple pats of butter and then wrap it in a loose foil "packet". Grill for 8-10 minutes, checking for doneness.

adapted from I Never Grew Up via CuisineNie