A collection of the best salmon recipes I have! We LOVE salmon around here and like to roast it, grill it, and cure it! Lots of different recipes for all kinds of tastes.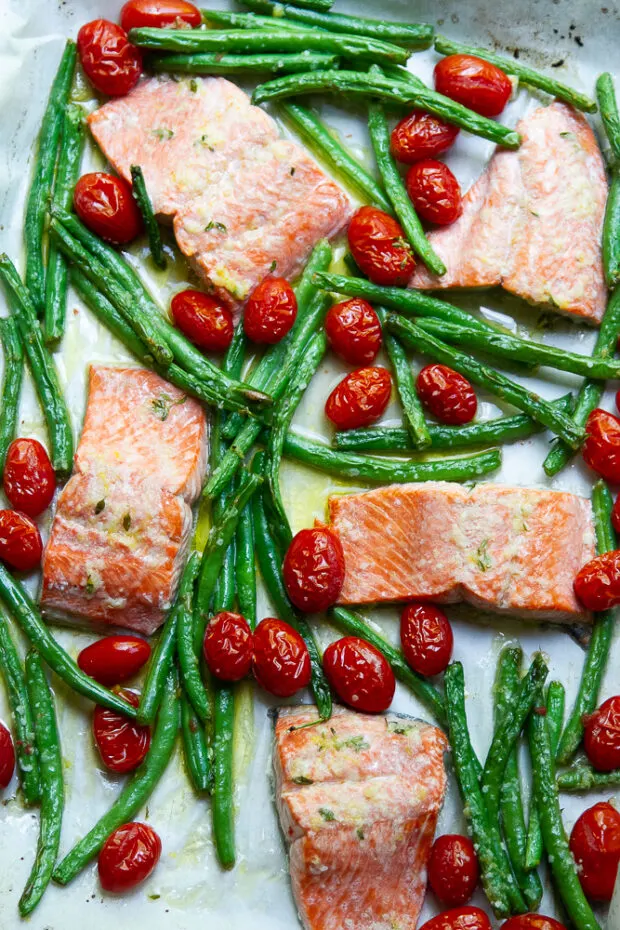 Friends, I just ADORE salmon. And I'm super grateful to live in a place where I can get really great wild Alaskan salmon.
Whether you are preparing wild salmon or farmed salmon, these recipes are ALL winners! Most of them are super easy and quick to prepare on a weeknight or would be great for company, too!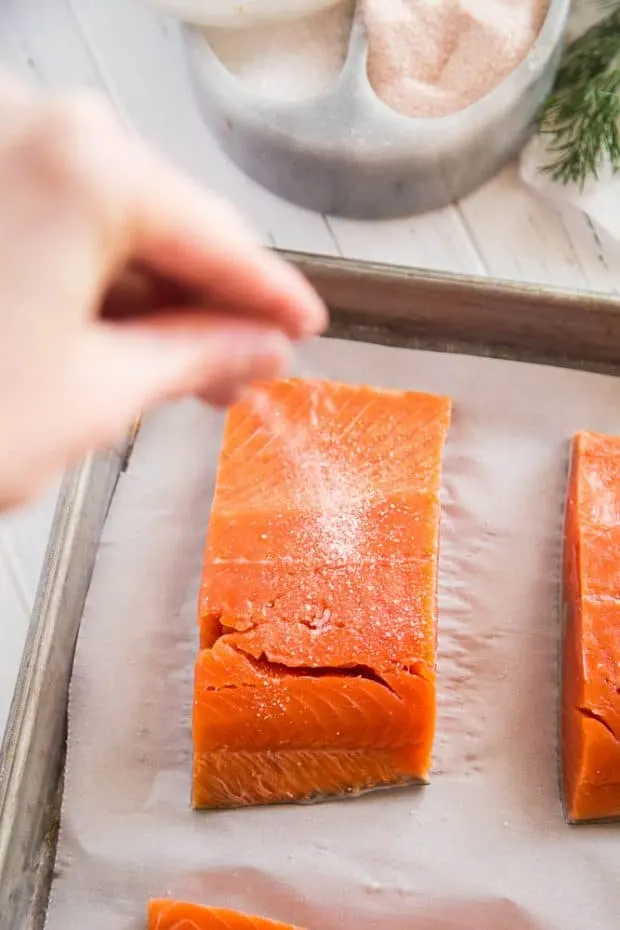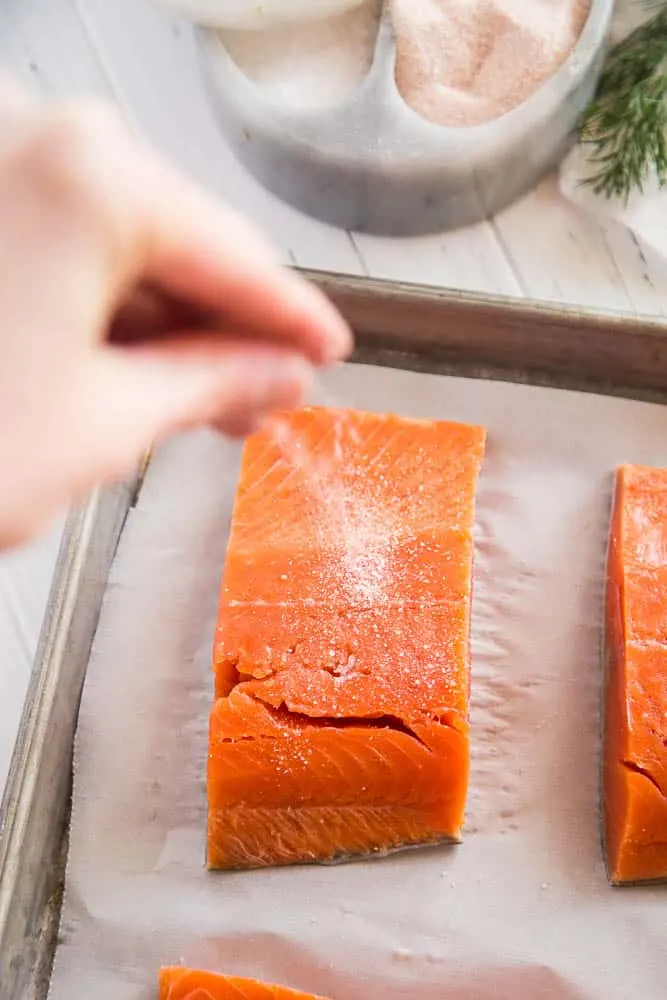 I went a little salmon crazy lately recently and posted a bunch of new easy salmon recipes! I decided to gather them all up into one post for easy reference.
There are all kinds of salmon recipes here – most are roasted salmon recipes, there are a couple of gravlax recipes (If you're never made cured salmon, it's REALLY easy. And super tasty!), and some things to do with smoked salmon — including making your own!
My Best Salmon Recipes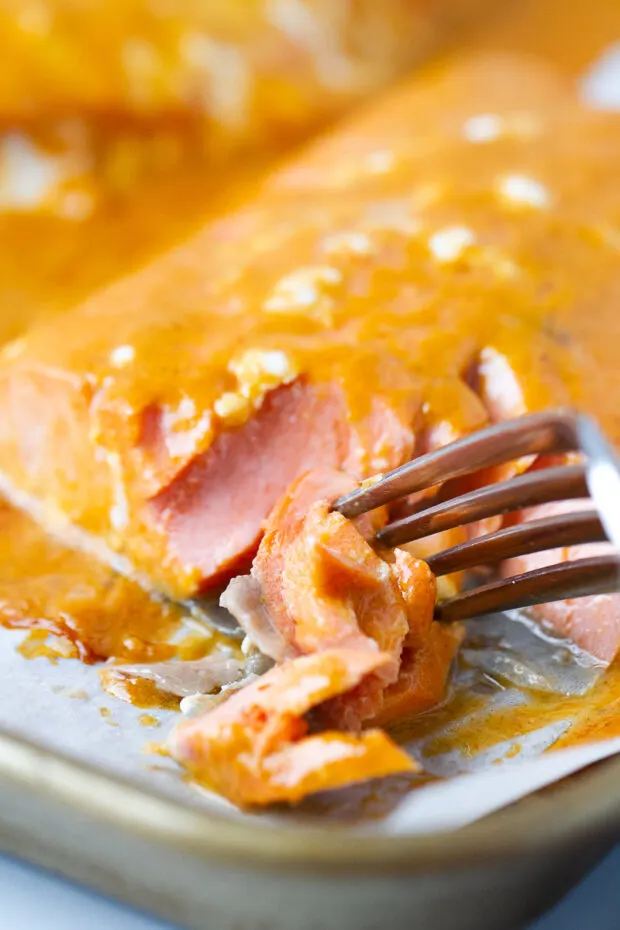 Spicy Baked Buffalo Salmon – This TWO ingredient Spicy Baked Buffalo Salmon recipe is crazy easy and pairs with all kinds of vegetabe options!
Salmon & Asparagus Green Goddess Bowls – Roast some salmon and asparagus, buzz up some green goddess dip, and you're well on your way to the springiest bowls you've ever eaten.
Baked Honey Mustard Salmon – This simple baked honey mustard salmon has only four ingredients! Make it for an easy weeknight dinner alongside some roasted vegetables or a fresh salad.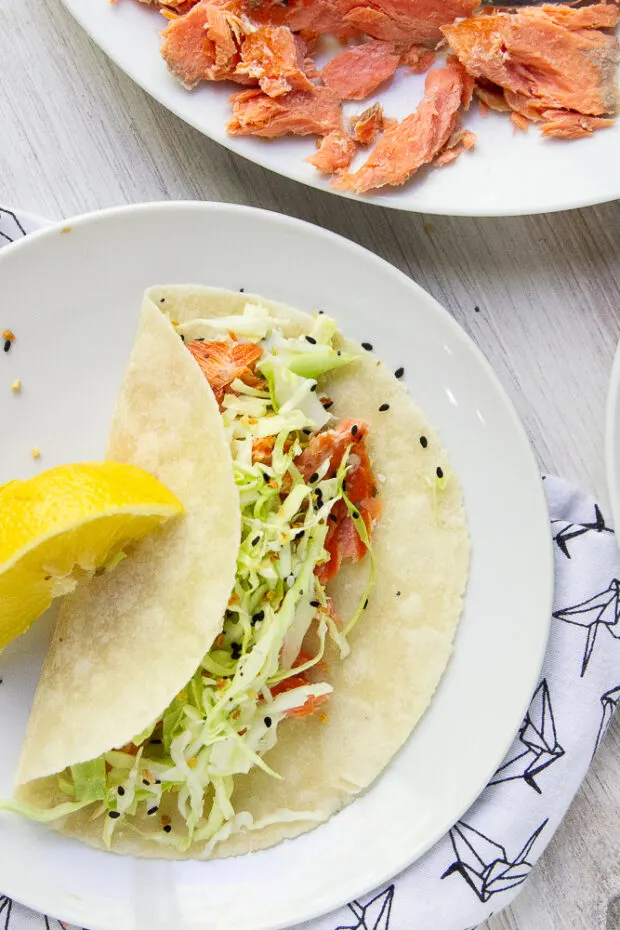 10-Minute Smoked Salmon Tacos – I tossed these quick smoked salmon tacos together for lunch one day and lunchtime was never the same. They're so easy with a smear of cream cheese, some pre-shredded lettuce and a sprinkle of Everything seasoning
Garlic Butter Salmon Sheet Pan Dinner – This easy, versatile garlic butter salmon sheet pan dinner comes together easily with any quick-cooking vegetables you like! Just 10 minutes under the broiler and dinner is on the table in a flash.
Pineapple Salmon Curry – This delicious curry is filled with vegetables, sweet pineapple, a rich coconut curry sauce and topped with a tender grilled salmon fillet! Fancy enough for company and easy enough for a weekend family meal.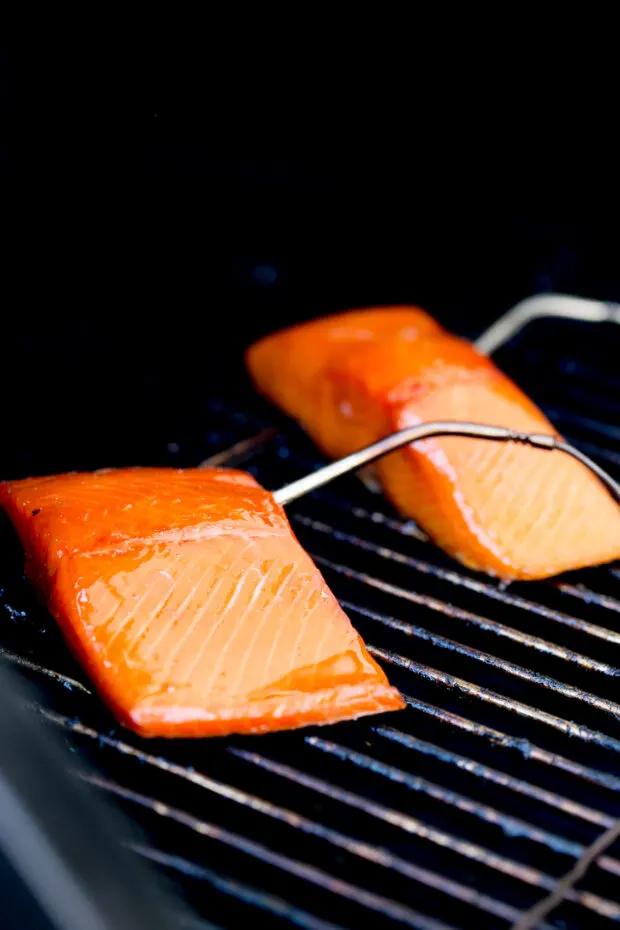 How to Smoke Salmon in a Pellet Grill – Smoked salmon is SUPER easy to make in your smoker! I love brushing mine with maple syrup during smoking to create that sweet-salty crust on top.
Smoked Salmon Board – A smoked salmon charcuterie board makes the perfect appetizer (or meal!) during the holidays! Here are some tips for creating a smoked salmon board that everyone will love whether it's a fancy brunch, a cocktail party, dinner parties, or Christmas Eve with your family.
Sweet Chipotle Salmon with Hot Honey Glaze – This simple chipotle salmon has a triple punch of sweet, smoky, & spicy! The hot honey glaze is a MUST and is super easy to make.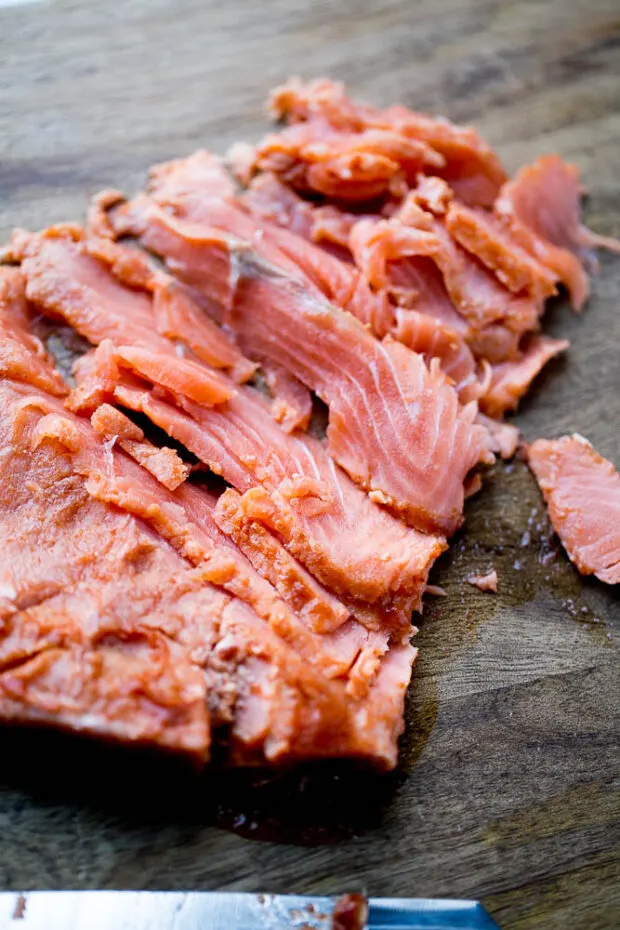 Sriracha Lime Gravlax – Homemade gravlax is easier than you think! Just a handful of simple ingredients and time is all you need.This homemade gravlax is especially good in a sushi or poke-style bowl.
Everything Bagel Gravlax – We love this Everything Bagel Gravlax on lettuce wraps, rice bowls, and avocado toast!
Creamy Garlic & Dill Salmon – I think dill is one of the most underrated herbs out there. It really shines in this roasted salmon recipe with a creamy garlic sauce baked on top!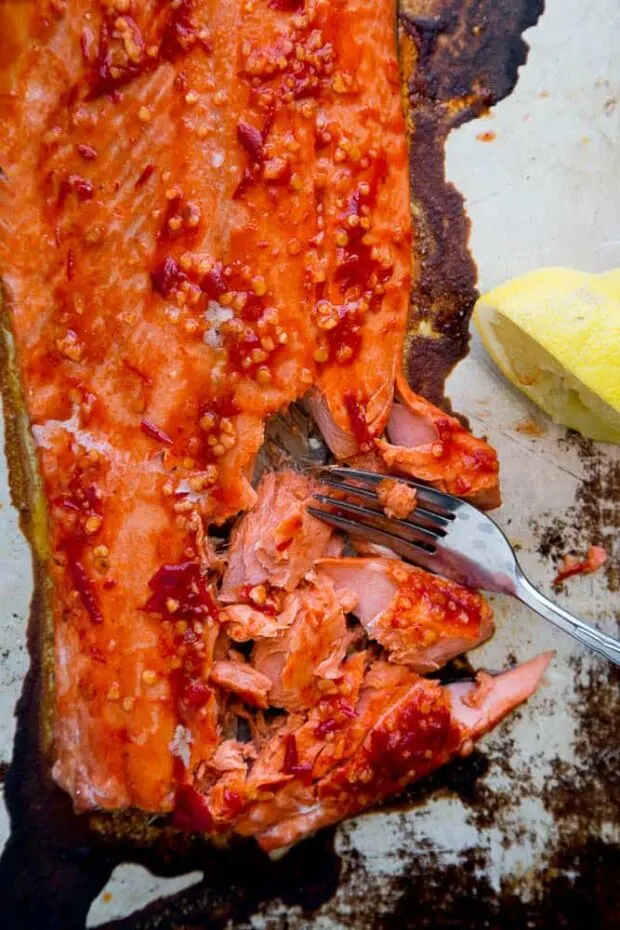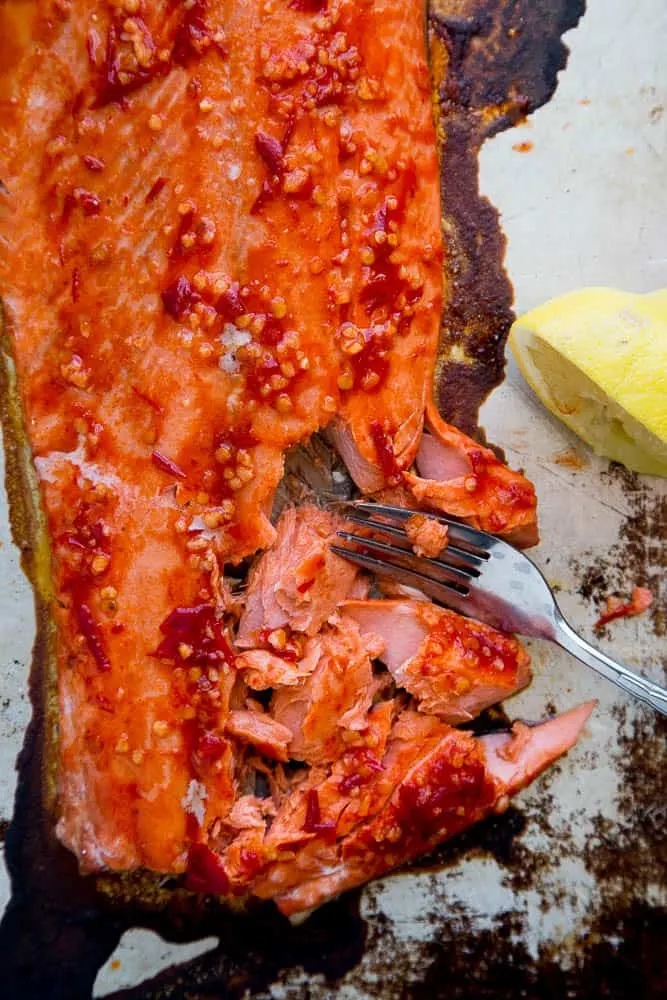 5-Ingredient Harissa Roasted Salmon – This spicy Harissa Roasted Salmon is a summertime favorite! There are only 5 ingredients and you can make it on the grill, too.
Grilled Salmon in Foil – Throw this foil-packet salmon on the grill and serve it with a fresh green salad for an easy weeknight summertime dinner!
---
If you make one of my recipes, be sure to post it on social media and tag me at @perrysplate or #perrysplate so I can send you some love!