This TWO ingredient Spicy Baked Buffalo Salmon recipe is crazy easy and pairs with all kinds of vegetabe options! Can't find the Primal Kitchen Buffalo Sauce? No sweat — I've got a work around in the recipe notes!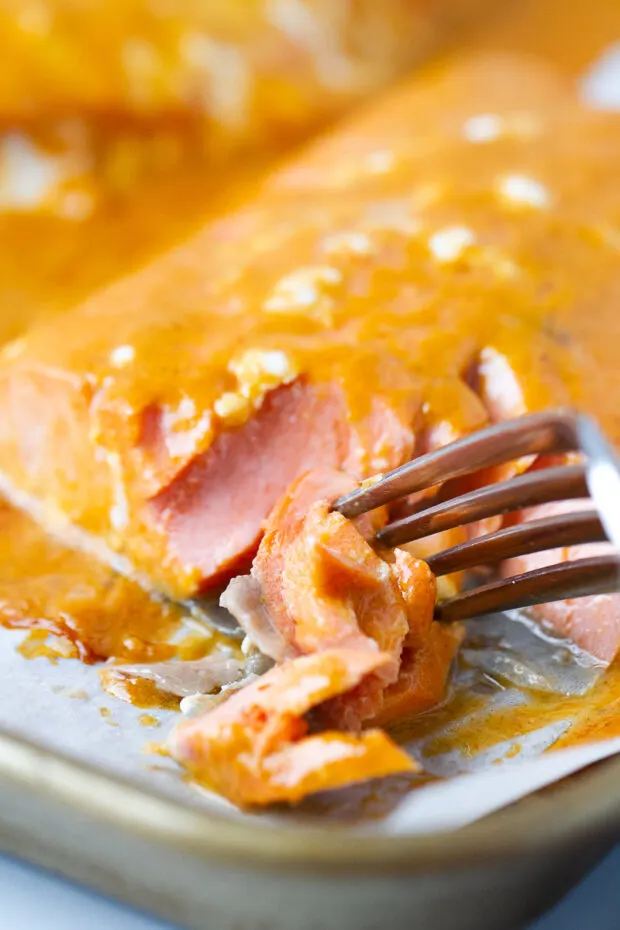 One day I had a big, fresh full-sized wild salmon fillet from Costco and zero plans for it. So, in typical Nat fashion, I cut it up into small fillets and seasoned each one differently.
And then we had a tasting session. That's one of my favorite things to do.
My favorite version of salmon was simply a smear of Primal Kitchen's Buffalo Sauce. I buy this stuff at Costco and it's crazy good. It has all of the tasty flavors of a creamy buffalo sauce without SO much heat. And it's gluten free and dairy free, too!
I can see this buffalo salmon being a great protein for meal prepping. You can eat it with just about any roasted vegetable some salad greens, cooked grains, or a light cabbage slaw. It's also delicious served warm, room temperature, or chilled.
How to make buffalo salmon
Place your fish fillets on a rimmed baking sheet lined with parchment paper, sprinkle with Kosher salt and add a smear of buffalo sauce.
Then bake it!
That's it, my friends.
What kind of salmon is best for this recipe?
Whatever salmon you can find that fits into your budget — and isn't already seasoned.
I love getting big wild Alaskan salmon fillets at Costco when they're in season. The frozen wild salmon fillets work well with this recipe, too.
Whether you buy fresh or frozen, wild or farmed, this recipe is going to be delicious. *chef's kiss*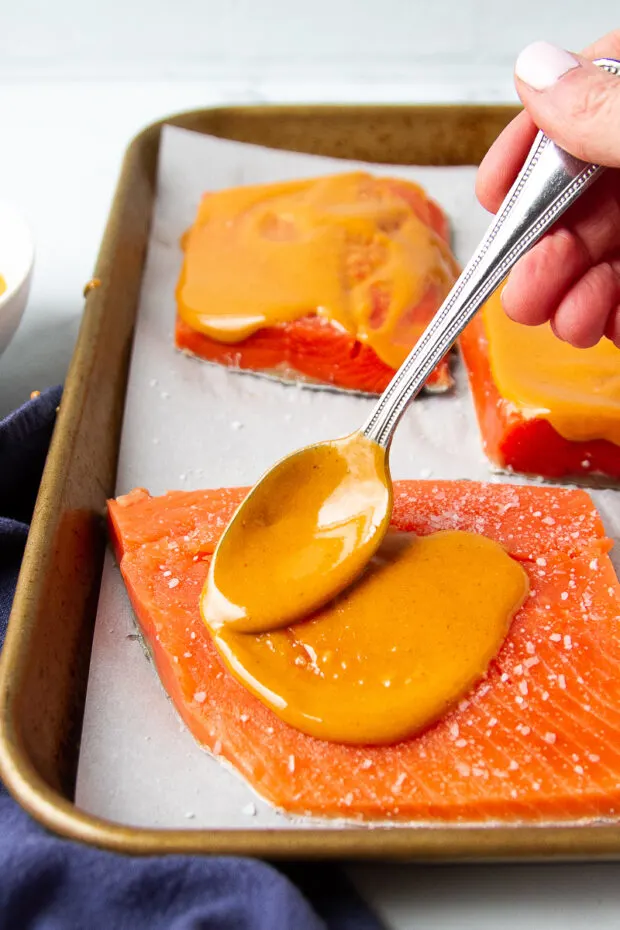 Can I use a different type of fish?
Don't like salmon? *sniff*
It's cool. You can use any other type of fish fillet — cod, halibut, rockfish, or another type of firm white fish would work well here.
Can I use chicken instead of salmon?
Buffalo chicken is basically the bomb. I haven't tried baking chicken this way, but I suspect it would do well. Just make sure your chicken pieces aren't too thick and bake in about 15 minutes so your buffalo sauce doesn't burn.
Try it out and drop a comment here to let me know if it worked!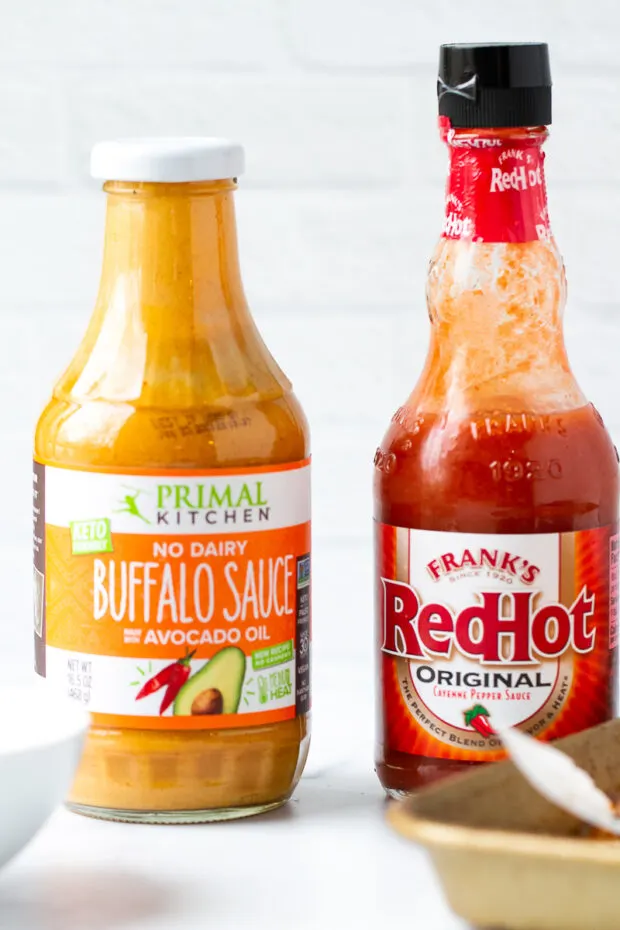 Homemade buffalo sauce
If you don't have or can't find the Primal Kitchen buffalo sauce here's a work around option for you:
Whisk these creamy buffalo sauce ingredients VERY well:
Cayenne pepper sauce (like Franks Hot Sauce)
Mayonnaise
Melted butter
Garlic powder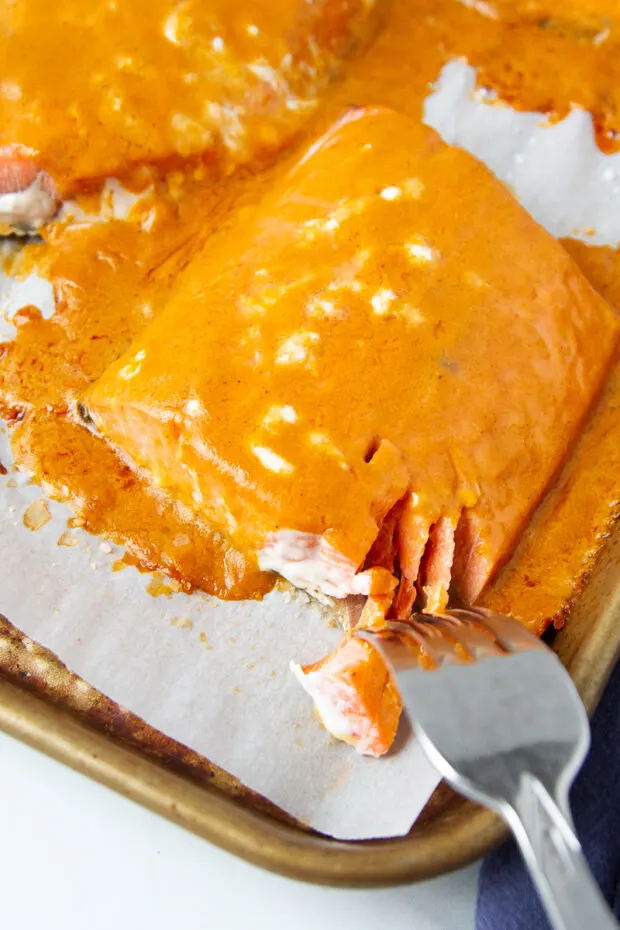 What to serve with baked buffalo salmon
Oh, friends. There are a lof of ways you can eat this spicy baked salmon. If you'd like to serve it with a side or two, here are some suggestions:
Southwest Cabbage Slaw is a lime & olive oil dressed cabbage slaw that goes with almost everything. I have deep feels about this cabbage salad.
Instant Pot Potato Salad is a cool and creamy and slightly ranchy and would pair well with this moderately spicy salmon.
Cucumber Jicama Slaw would help cool things off, too! (Psst… this slaw + the buffalo salmon would make some killer tacos. Just sayin'.)
Cabbage Steaks with Dill Pesto and Crispy Roasted Shredded Brussels Sprouts would be great veggie sides or addiitons to a grain bowl with this salmon and a little extra buffalo sauce!
If you wanted to turn this salmon into some other dish, try adding some crumbled blue cheese and making a buffalo salmon salad.
Or buffalo salmon pasta! Buffalo salmon wraps would be good as well with some creamy blue cheese dressing.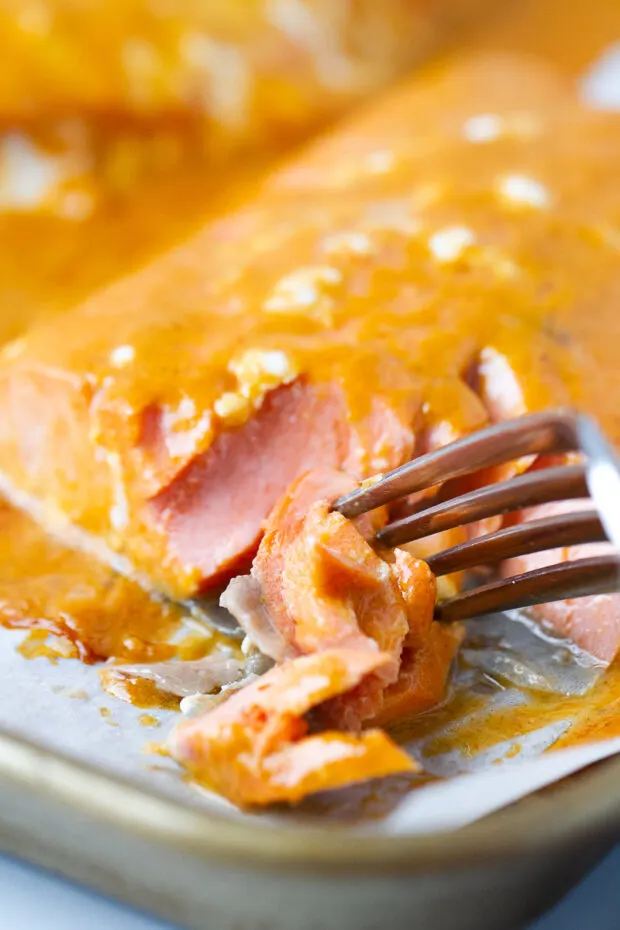 More Buffalo Inspired Recipes
Instant Pot Buffalo Ranch Chicken Soup
Buffalo Ranch Chicken & Spaghetti Squash Bake
More delicious salmon recipes on Perry's Plate
Salmon and Asparagus Green Goddess Bowls
Garlic Butter Salmon Sheet Pan Dinner
Sweet Chipotle Salmon with Hot Honey Glaze
5-Ingredient Harissa Roasted Salmon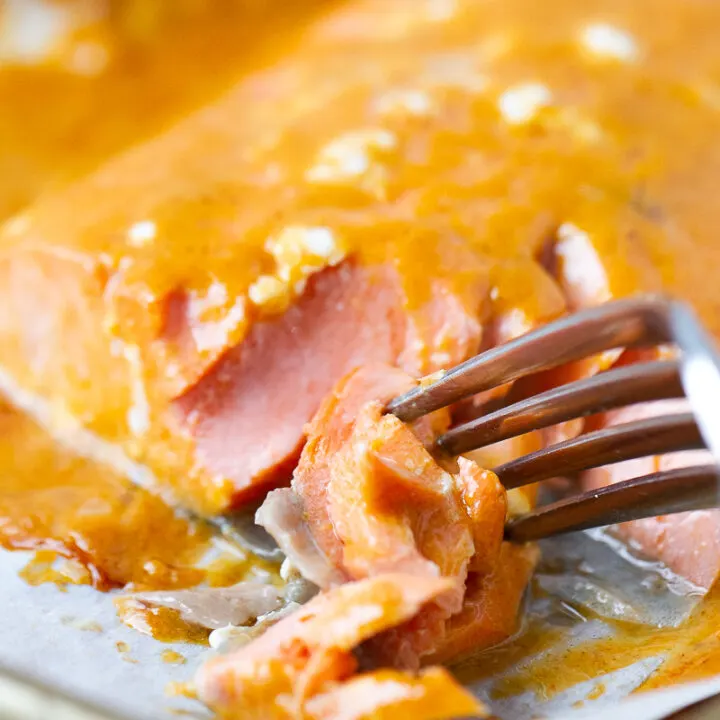 Spicy Baked Buffalo Salmon
This TWO ingredient Buffalo Salmon recipe is crazy easy and pairs with all kinds of vegetabe options! Can't find the Primal Kitchen Buffalo Sauce? No sweat -- I've got a work around in the recipe notes!
Ingredients
6 salmon fillets (5-7 oz each)
Kosher Salt
1/2 cup Primal Kitchen Buffalo Sauce (see note)
Instructions
Preheat oven to 350F. Line a rimmed baking sheet with parchment paper.
Lay the salmon fillets on the parchment a couple inches apart. Sprinkle each one with a little Kosher salt.
Spread about 1 Tablespoon of buffalo sauce on each fillet.
Bake for about 15 minutes or until salmon is just barely cooked through and flakes easily with a fork.
Serve immediately.
Notes
If you can't find the Primal Kitchen Buffalo Sauce, whisk together these ingredients REALLY well and use this homemade creamy buffalo sauce instead.
1/4 cup cayenne pepper sauce (like Frank's Hot Sauce)
1 Tablespoon mayonnaise
1 Tablespoon melted butter
Pinch garlic powder
Recommended Products
As an Amazon Associate and member of other affiliate programs, I earn from qualifying purchases.
This post may contain affiliate links. Any purchases made by using these links won't cost you any extra and helps keep my content free. These links may be Amazon links as I am part of the Amazon Associate Program.