This simple baked honey mustard salmon has only four ingredients! Make it for an easy weeknight dinner alongside some roasted vegetables or a fresh salad.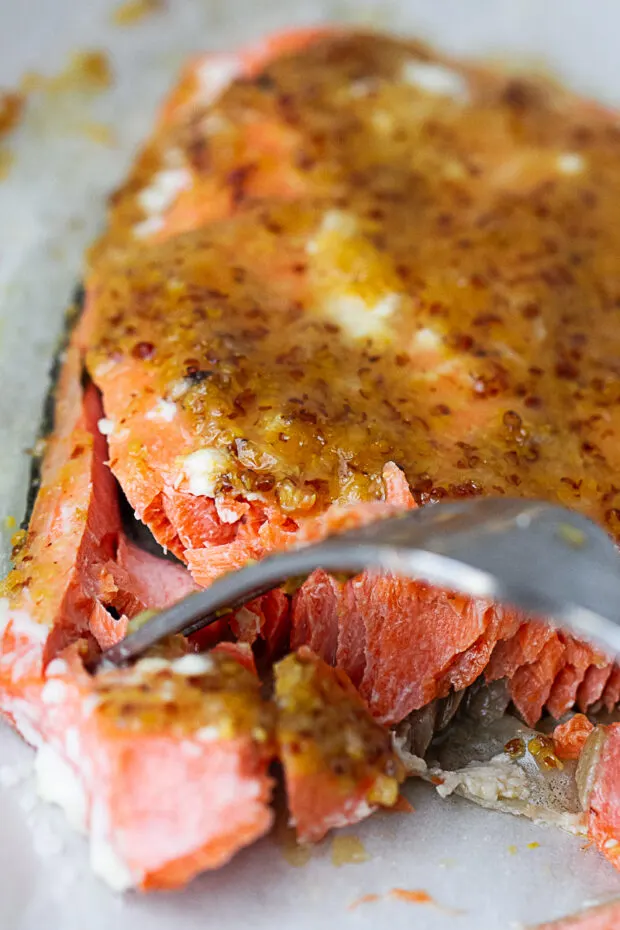 I adore salmon. Baked salmon, grilled salmon, salmon in a parchment packet. All of it.
I'm glad I live where I do, too. It's easy to find wild Alaska salmon at reasonable prices.
One day I bought a big fillet and forgot about it for a few days since it was in the garage fridge. Oops.
When I realized I had zero days left before that salmon would get funky, I brought it inside and cut it into smaller portions.
Feeling creative, I flavored them all differently and baked them in the oven. After a little tasting session with Steve & the kids there were two clear front runners.
This honey mustard baked salmon was one of the favorites.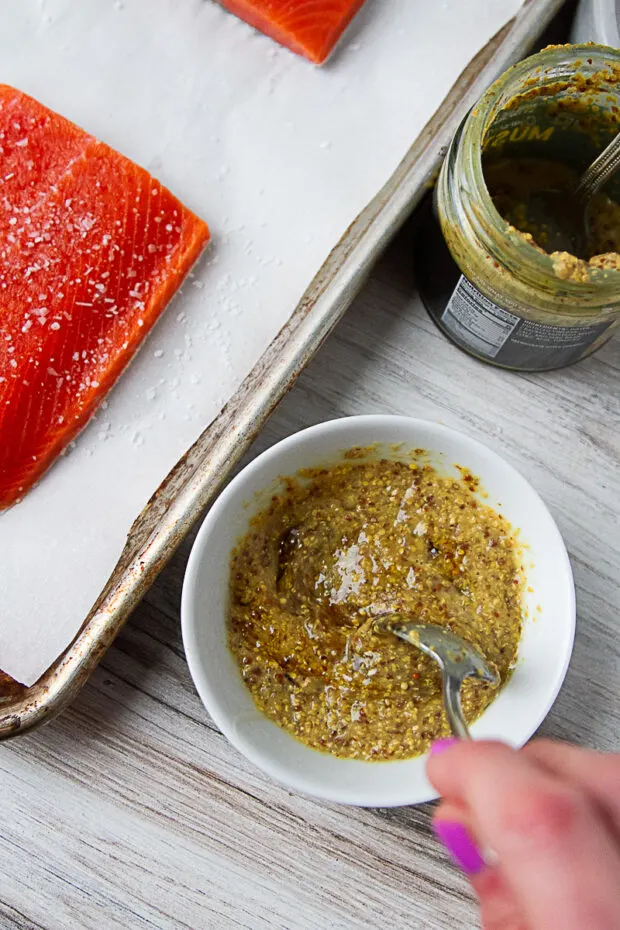 What type of salmon is best for easy honey mustard salmon?
Whatever you can find and fits in your budget will work here. Just make sure it isn't pre-seasoned.
I prefer buying fresh wild Alaskan salmon in large fillets.
You could buy wild or farmed salmon that has been frozen if you want. I used frozen salmon fillets for this recipe and it turned out beautifully.
Check for pin bones
An important thing to remember when you prepare salmon is to check for pin bones (which are actually calcified nerve endings and not actual bones, but still — you don't want to eat those).
Run your fingers along the surface of the salmon, pressing slightly. If you feel any, simply pull them out with a pair of tweezers, a pair of pliers, or your fingers if they're easy enough to remove.
What's in honey mustard sauce?
This baked salmon recipe is crazy easy, friends. You only need four ingredients plus salt. (I don't think we count salt, right?)
There are a lot of different types of honey mustard sauce and honey mustard dressings. I kept it simple here. You only need:
whole grain mustard
honey
garlic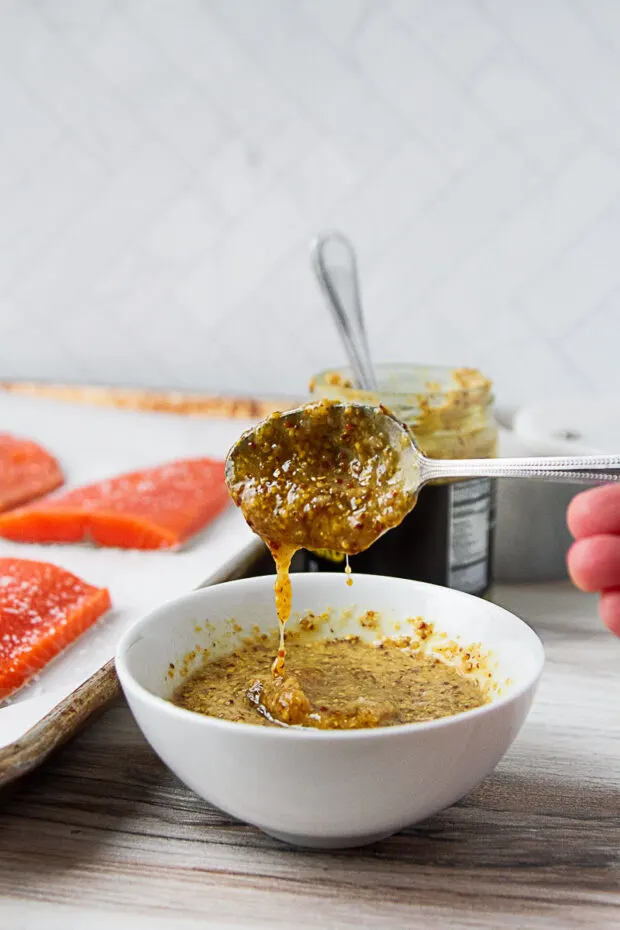 Why Whole Grain Mustard?
Mostly because I love it — it's more mild than regular Dijon mustard.
You could use Dijon mustard if you like, for a more pronounced mustard flavor.
Regular yellow mustard is very strong and not the best choice for this recipe.
Can I use something other than honey?
Sure. If you'd rather use pure maple syrup, that would be delicious as well.
How long does it take for salmon to cook in the oven?
For most salmon fillets it will take about 15 minutes. This might vary up to a minute or two depending on the thickness of your fillets.
Should I bake my salmon covered or uncovered?
For this recipe, I recommend baking it uncovered so the glaze can reduce and intensify in flavor.
Salmon is also good cooked covered most of them — like in an alumium foil or parchment packet.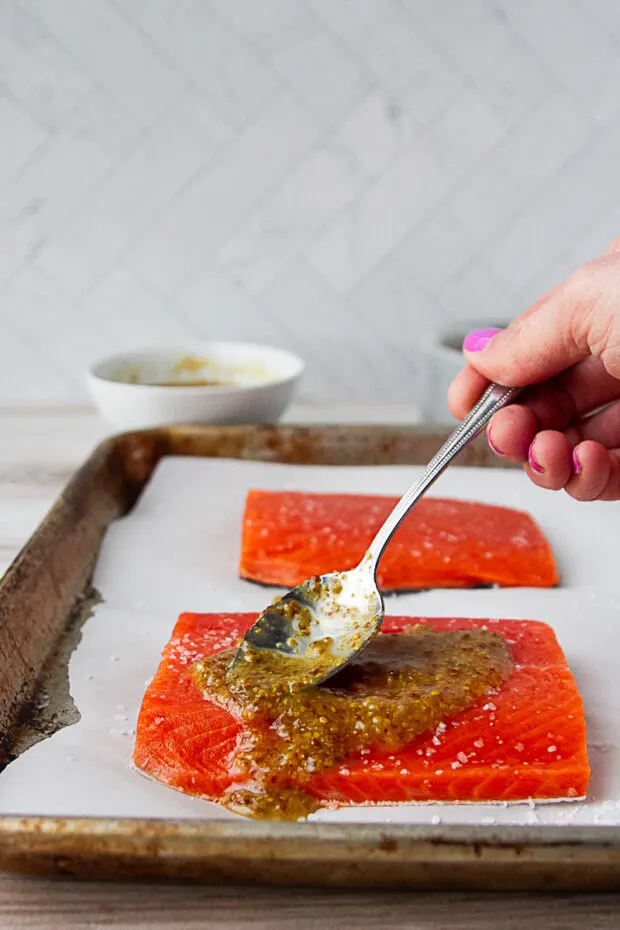 Cooking variations
Air Fryer
Make honey mustard salmon in an air fryer by following the glaze instructions in the recipe, placing the seasoned fillets (3 or 4 at a time depending on the size of your air fryer) and cooking at 400F for about 7-9 minutes depending on the thickness of your fillets.
Foil packet
I LOVE fish cooked in foil or parchment packets and honey mustard salmon in foil is delicious, too. After you brush the sauce on the salmon, tuck them individually or all together into a parchment or foil packet (see this Fish en Papillote post) and bake them on a baking sheet at 375F for 10-15 min depending on the thickness of your fillets.
Pan Fry
You may cook this recipe on the stovetop if you like, just put the salmon in a greased skillet skin-side down at medium heat, cover with the honey mustard glaze, then cover and cook for about 6-8 minutes or until the salmon is just cooked through.
Grill
If you plan to make honey mustard grilled salmon, wait and brush the sauce on the fillets during the last few minutes of grilling so it doesn't burn or completely drip off. Treat it like you would BBQ sauce.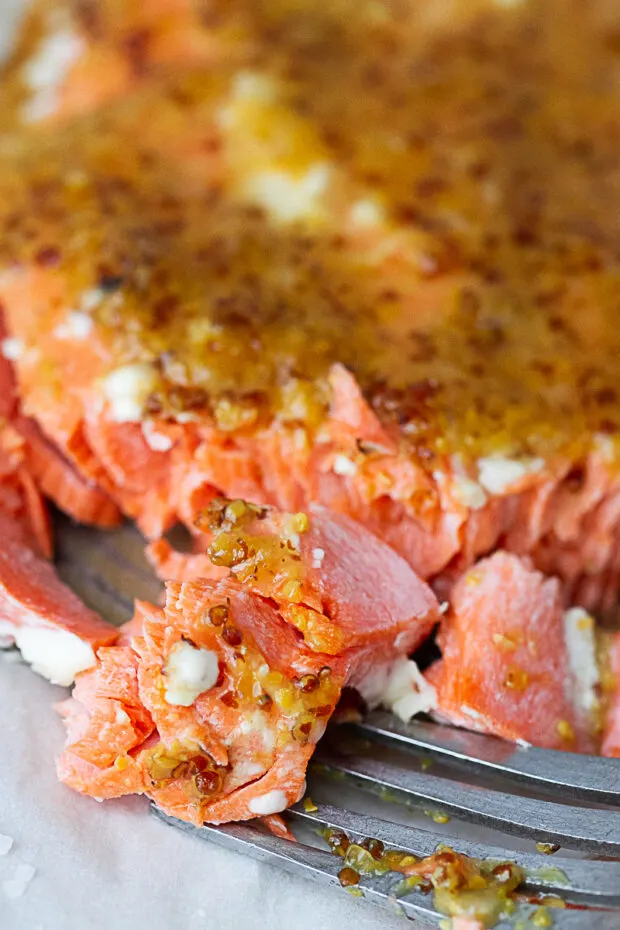 What to serve with honey mustard salmon
Roasted Vegetables: An easy side would be roasting a pan of vegetables either right before or right after your salmon since you'll need a higher oven temp.
Garden Salad: A caesar salad or a garden salad with a vinaigrette dressing would be a delicious side.
Here are a few other ideas that would go well with mustard and honey salmon:
Roasted Potato Salad with Dill Scallion Vinaigrette
Roasted Crispy Shredded Brussels Sprouts
More Easy Salmon Recipes
If you like this honey mustard salmon recipe, try one of these other easy salmon recipes on my site!
Garlic Butter Salmon Sheet Pan Meal
Smoked Salmon in your Pellet Grill
Creamy Garlic & Dill Roasted Salmon
5-Ingredient Harissa Roasted Salmon
---
If you make one of my recipes, be sure to post it on social media and tag me at @perrysplate or #perrysplate so I can send you some love!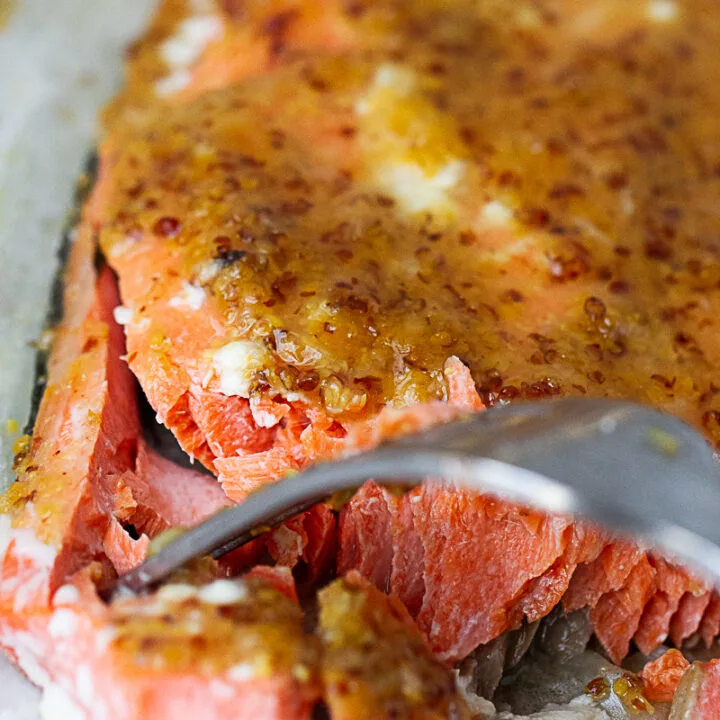 Baked Honey Mustard Salmon
This simple baked honey mustard salmon has only three ingredients! Make it for an easy weeknight dinner alongside some roasted vegetables or a fresh salad.
Ingredients
6 salmon fillet (about 5-7 oz each)
Kosher salt
1/4 cup whole grain mustard
2 Tablespoons honey
1 large garlic clove, finely grated or Microplaned
Instructions
Preheat oven to 350 degrees F, and line a baking sheet with parchment (or spray with nonstick spray).
Lay the salmon fillets on the prepared baking pan a couple of inches apart. Sprinkle each fillet with a generous pinch of salt. Like, a big, 3-fingered pinch.
In a small bowl, mix the mustard, honey, and grated garlic. Spread about 1 Tablespoon of the honey mustard mixture over each fillet.
Bake for about 15 minutes or until the fish flakes easily with a fork and is just barely cooked through.
Serve.
Notes
You can use pure maple syrup in place of the honey if you like.
If you want to bake a full-size salmon fillet, you'll need to double the honey mustard mixture. Baking time should be about the same depending on the thickness of your salmon.
Recommended Products
As an Amazon Associate and member of other affiliate programs, I earn from qualifying purchases.
Nutrition Information
Yield

6
Serving Size

1 fillet
Amount Per Serving
Calories

496
Total Fat

28g
Saturated Fat

5g
Trans Fat

0g
Unsaturated Fat

20g
Cholesterol

143mg
Sodium

306mg
Carbohydrates

7g
Fiber

0g
Sugar

6g
Protein

51g
The information shown is an estimate provided by an online nutrition calculator. It should not be considered a substitute for a professional nutritionist's advice.
This post may contain affiliate links. Any purchases made by using these links won't cost you any extra and helps keep my content free. These links may be Amazon links as I am part of the Amazon Associate Program.